Although I love the atmosphere of a public gym and getting to jam through a good workout with some of my buddies, there's nothing quite like being able to workout at home. You can do whatever you want, whenever you want, and there's no one who can tell you otherwise.
Working out at home gives you the privacy to not get weird looks during a certain exercise. It gives you the freedom to crank up your own music as loud as you want and not have anyone disagree with the fact that you're blasting Katy Perry (not going to point any fingers here). And best of all, it gives you the sanitary peace of mind knowing there wasn't some guy with the flu coughing all over the equipment you're using 10 minutes earlier because he just couldn't resist the gym on a sick day.
Okay, all kidding aside, those are some of the best benefits of exercising at home: privacy, freedom, and hygiene. But another popular reason is that it's convenient. A lot of us don't always have the time to make it to the gym, so we need an easy solution at home to use on those busier days.
Whatever your reasons are, home workouts are becoming more and more popular as fitness brands continue to release all sorts of awesome new gym equipment designed specifically for at-home use. That being said, searching for the best home exercise equipment can be a little intimidating if you're new to fitness and/or you don't have a lot of previous experience with workout equipment, but that's totally fine! I'm going to walk you through a list of the best exercise equipment for home use, and I'll even tell you who makes the best products in each category.
STRENGTH TRAINING
Adjustable Dumbbells
Adjustable dumbbells might just be the best home fitness product ever invented. In fact, if you only buy one piece of equipment to use at home, it should be a pair of adjustable dumbbells. For those who don't know, free weights like dumbbells are absolutely vital when it comes to fitness. Think about how many exercises require a dumbbell! They are widely considered to be the #1 best tool for exercise, and if you want to get the most from your home workouts, you need to use them.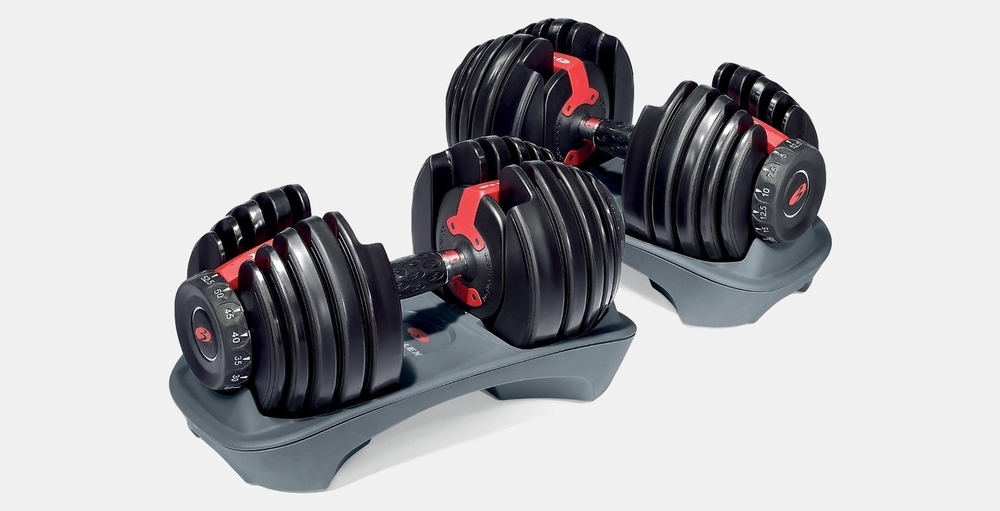 Adjustable dumbbells are brilliant because they pack an entire rack of dumbbells into a single convenient set. The concept is quite simple really: a dumbbell with multiple weight attachments that allows you to adjust the weight with the twist of a dial or the slide of a pin. Now, instead of spending over $1,000 on a rack of dumbbells and having them take up an entire half of a room, you can spend a couple hundred bucks and get a pair of adjustable dumbbells that takes up no more than a single square foot.
Best Choice: Bowflex SelectTech 552 Dumbbells (pictured above)
Not only are these the #1 best-selling set on the market, but they're also the #1 highest-rated by customers. Adjustable from 5 pounds up to 52.5 pounds, this sub-$300 set is high-quality, durable, and insanely easy to adjust. All you do is twist a dial and go. A few months ago, we did a thorough hands-on test on the six most popular sets of adjustable dumbbells for our Best Adjustable Dumbbell article, and the Bowflex SelectTech 552 was our favorite set.
Pull-Up Bar
Did you know the pull-up is rated one of the best exercises of all time for both men and women? And guess what, this isn't just great at sculpting a beautiful back and strong arms. Every big fitness company from Fitness Magazine to Men's Fitness talks about how this seemingly simple movement has been found to strengthen the entire body through its raw body weight force.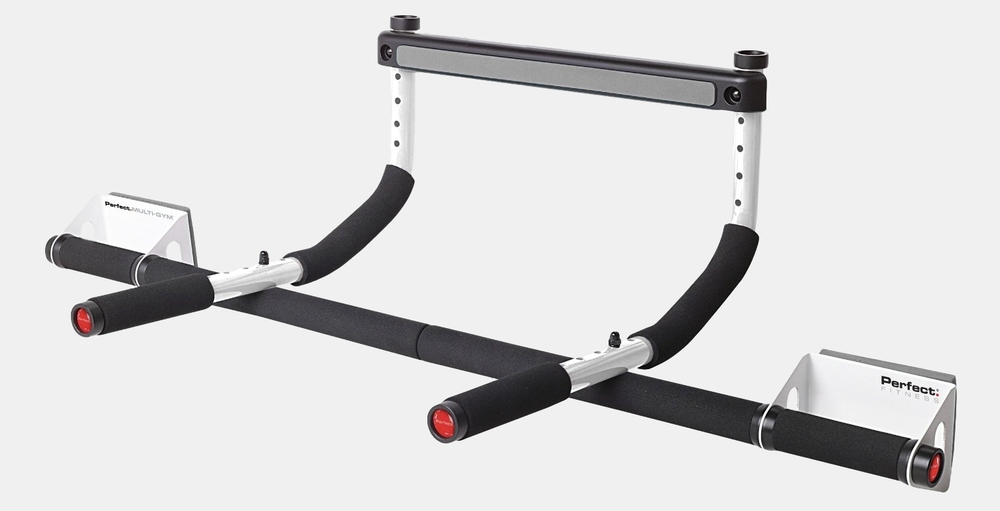 Although pull-ups can be a little difficult at first, anyone can learn and become stronger with practice. Getting a pull-up bar for your home gym will help you do exactly that. Doorway pull-up bars were really only introduced in the last decade or so, but they've quickly made a major impact in the home exercise category. They're relatively inexpensive, and you can easily place one of these in nearly any doorway in the house and start running through the different pull-up variations. Or if you have the space, you can opt for a full blow Pull Up Tower or cage, which gives you a lot more options for moves and a greater range of motion. Just grab some of the Best Workout Gloves so that your sweaty palms don't become your literal downfall.
Best Choice: Perfect Fitness Multi-Gym Pull-Up Bar (pictured above)
The fitness team over at The Sweethome did a super in-depth test of the top 6 doorway pull-up bars and found that the Perfect Fitness bar was the best choice. Here's what they had to say about it: "The Perfect Fitness Multi-Gym had the best combination of price, ease of setup, and range of pull-up variations. It accommodates the widest range of door frame sizes and locations, which means it's more likely to work out of the box in your house."
Resistance Bands
In my opinion, resistance bands are one of the most underrated fitness tools in the industry. There are honestly so many benefits to them that I'm not sure where to start. They're highly versatile, easily portable, and fun to workout with (just to name a few). But the biggest and best benefit of all is going to come as a pretty crazy surprise to most people. If I told you that training with bands offered more physical benefits than free weights, would you believe me? Probably not, but it's scientifically proven.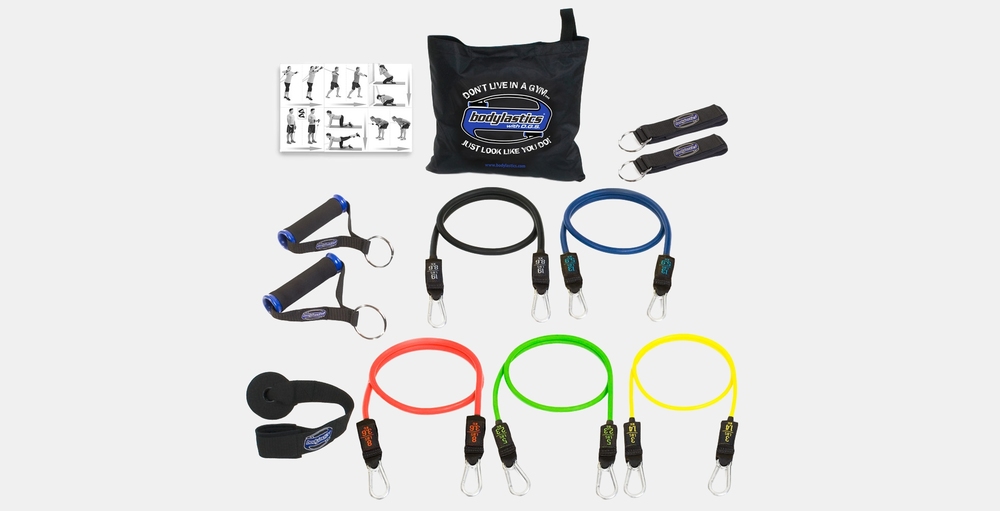 There was a study done comparing free weights and resistance bands. Both were found to increase muscle strength and tone the body, but in addition to that, bands specifically were found to provide greater muscle power and a more functional strength (so you can actually use those newly built muscles), as well as better injury prevention so that you don't get hurt in the future. And did I mention how cheap these are? At a mere $20-30 per set, resistance bands are an absolute must-have when it comes to home exercise equipment.
Best Choice: Bodylastics Resistance Band Set (pictured above)
Bodylastics has the highest user rating out of any other brand, using premium quality elastic materials and a patented anti-snap cord that prevents bands from snapping and potentially injuring you. Their set comes with 5 bands of various resistances, 2 comfortable handles, and 2 custom door anchors all for only $30. This set is the clear winner when compared to other sets, as outlined in our Best Resistance Bands article.
Ab Roller
An ab roller isn't just good at helping you sculpt a killer six pack, these are great for improving your core strength as a whole. Why is this important? If you talk to any knowledgeable fitness trainer, they will tell you, "A strong core leads to a strong body." And it's absolutely true. Your core muscles (the ones that wrap around the stomach area) are used in almost every movement of the human body – not just in exercise, but in daily life.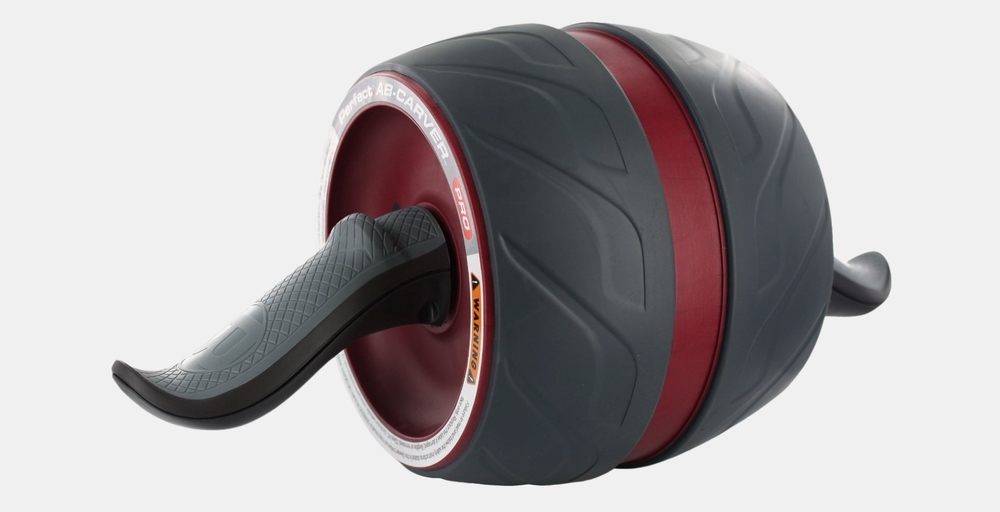 This is the foundation that the rest of your body counts on to provide support and stability, and without a strong core, the rest of your body cannot continue to develop in strength. Because you're working out at home, you're limited to the amount of ab exercises you can do, so you need to make sure you're doing it right. An ab roller is hands-down the best way to develop a rock-hard core from home. A few sets of these every night and your stomach will soon be washboard material.
Best Choice: Perfect Fitness Ab Carver Pro (pictured above)
The Perfect Fitness model takes ab rollers to an entirely new level. The ultra-wide rounded wheel design gives you the ability to not only roll straight, but also left and right to target specific areas such as the obliques (outer abs) to get a truly complete abdominal workout. It's extremely well made, and the handles are ergonomic and comfortable to hold.
Kettlebell
Just like the resistance bands, a kettlebell is another one of those simple-yet-extremely-beneficial types of home exercise equipment. This is probably the only piece of fitness equipment that can simultaneously build strength, cardio endurance, balance, and flexibility all in one movement: the kettlebell swing. This unique exercise has greatly risen in popularity over the years and is now named on the Top 10 list of the best exercises of all time because of its powerful physical benefits.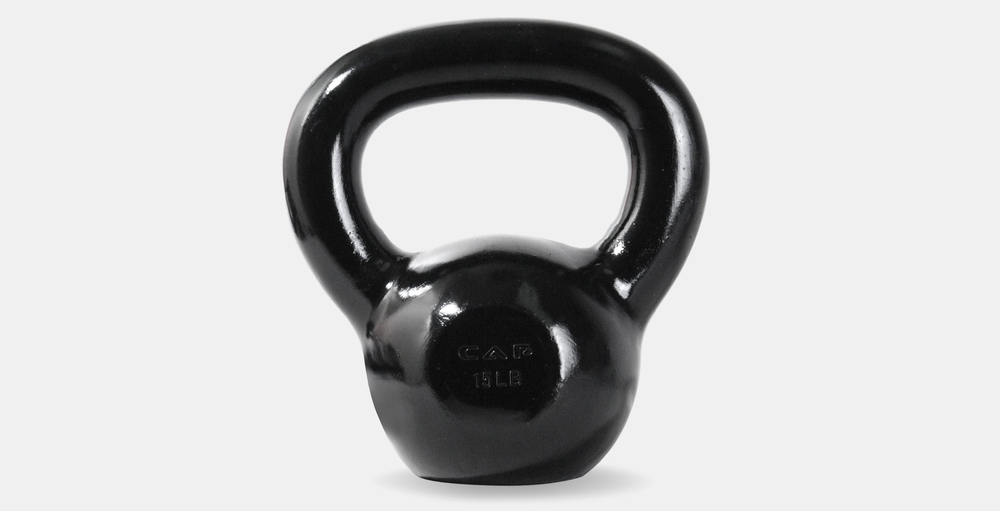 However, while the kettlebell swing may be the most popular exercise using this unique little weighted ball, that doesn't mean you have to stop there. The kettlebell can also be used for a number of different exercises, and if you do it right, can be used to workout almost any muscle group on the body. For ideas, check out Greatist's killer kettlebell workout guide. It's only been shared 500,000 times, no big deal.
Best Choice: CAP Enamel-Coated Kettlebell (pictured above)
Kettlebells are a pretty simple product, so the top pick really just came down to was price and comfort, and the CAP kettlebell was the best value for your dollar. As far as choosing which weight is right for you, it depends on your strength. Women usually choose a weight in the range of 15-40 pounds, whereas men usually choose in the range of 30-70 pounds.
Weight Bench
Having a weight bench opens you up to a world of new exercise possibilities to add to your home workout routine, most notably for chest and back exercises. Pretty much every chest exercise besides the push up requires you to lay back on a weight bench, and they're really helpful for back exercises to help keep your stability and not strain your lower back.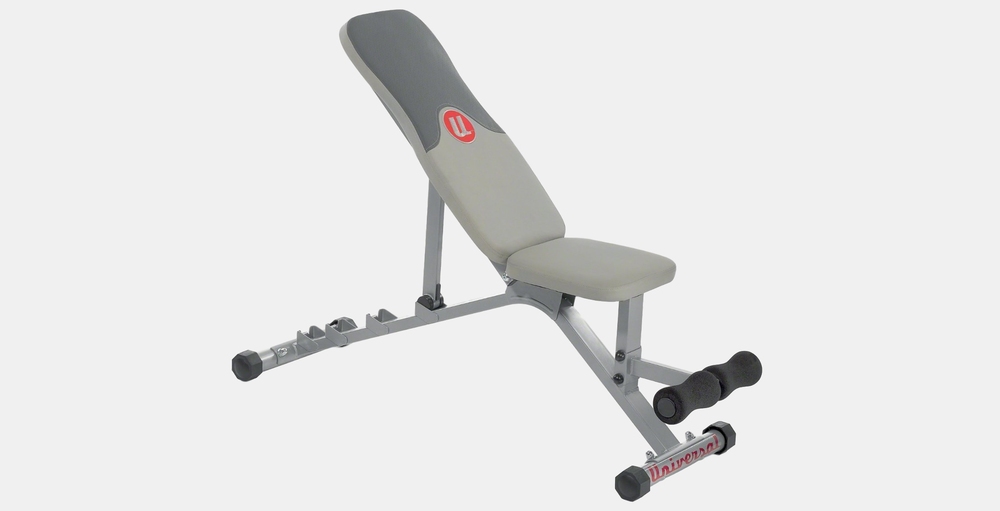 Most weight benches these days are adjustable, which is awesome because it gives you the ability to change the angle of the bench in increments from 0-90 degrees. This is important because it gives you ultimate flexibility in your exercise options; for example, instead of just regular flat bench press, now you can do incline and decline press as well (along with many others). The thing I like the most, though, is if you invest in a quality weight bench now, this is something that should easily last the rest of your life.
Weight benches are like a gateway into all kinds of fun workout equipment. Once you have one, you'll find yourself needing other accessories and attachments. A bench press is something that's good to have. It's really similar to a weight bench, but it usually features some extra bells and whistles. It's great for bench press (obviously), ab work, bicep curls, and back exercises. Check out our Best Cheap Bench Press article to find a good one.
Once you get really into home fitness, you can invest in a squat rack to go around and above your weight bench. It'll really take your workouts to the next level and give you an all-in-one whole body workout station in your very own home. We've got a breakdown of the Best Cheap Squat Racks in our review article. We have also taken an in-depth look at the Fitness Reality 810XLT Super Max Power Rack, which is like if a squat rack and a pull up tower had a baby.
And if you are doing some real heavy lifting, don't forget to get one of the Best Backbraces for Work and Heavy Lifting and definitely get yourself some of the Best Weightlifting Gloves so that you get a good grip to lift more and don't hurt your wrists. They might seem like silly accessories, but just look at any pro in the gym and you'll see that they are all geared out with gloves and braces.
Best Choice: Universal 5-Position Weight Bench (pictured above)
Weight benches can vary a lot in quality, comfort, and price, and the Universal bench offers everything one could want. It's adjustable in 5 different positions, it's comfortable and stable, and best of all, it's cheap without sacrificing quality. For half the price of most of the other adjustable bench options, you get a high-quality product and a happy wallet. (Just an FYI, Golds Gym makes a close second. Read the Golds Gym XRS20 Weight Bench review for more info.)
Medicine Ball
Medicine balls have been around for thousands of years. It is said that Hippocrates, an ancient Greek physician known as the "Father of Western Medicine," used to fill animal skins with weight and give them to his clients to throw and lift as a means of improving strength and core functions. Well, we've come a long way since filling animal skins, but medicine balls are just as important today as they were back then when it comes to fitness and exercise.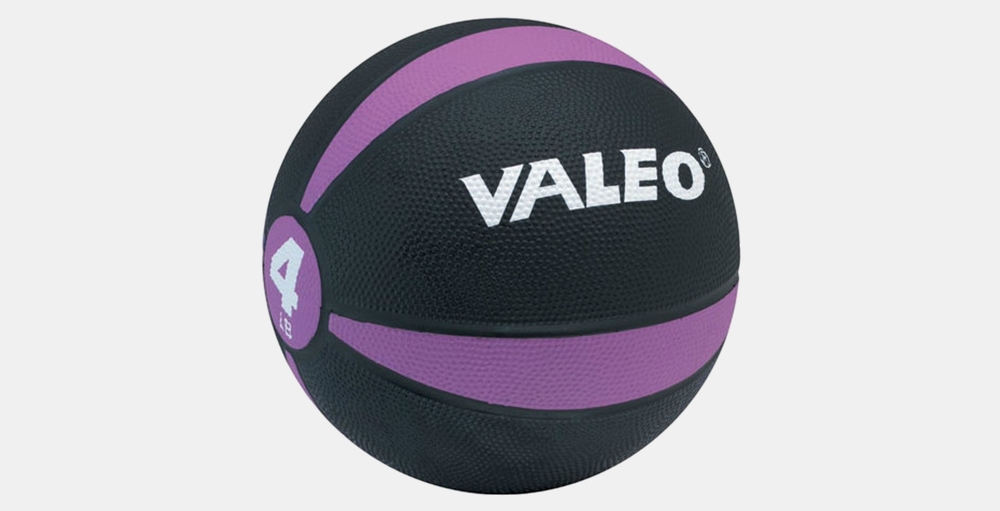 A medicine ball is a great low-cost addition to any home gym, available in a variety of different weights and sizes. (Check out are comprehensive Best Medicine Ball article for a full range of choices) They are dominantly used for core exercises (which we already discussed the importance of), but can be used for many full-body exercises whether it be for strength training, cardio, or balance. Greatist actually also has another great guide for medicine ball exercises.
Best Choice: Valeo Medicine Ball (pictured above)
Medicine balls aren't really an expensive product, so this choice really came down to quality & durability, and the Valeo medicine ball was the obvious top pick. Valeo is a highly popular fitness brand that has been around for years. Made of a textured rubber material, their medicine ball is rated higher than any other option in the category.
Foam Roller
A lot of people have never heard of a foam roller before, and it kind of blows me away every time somebody says that to me. A foam roller is a piece of hard foam shaped like a cylinder, typically about 1-3 feet in length, and they're used to relieve muscle soreness. If you've never used one before, it's the most soothing post-workout experience you could ever imagine.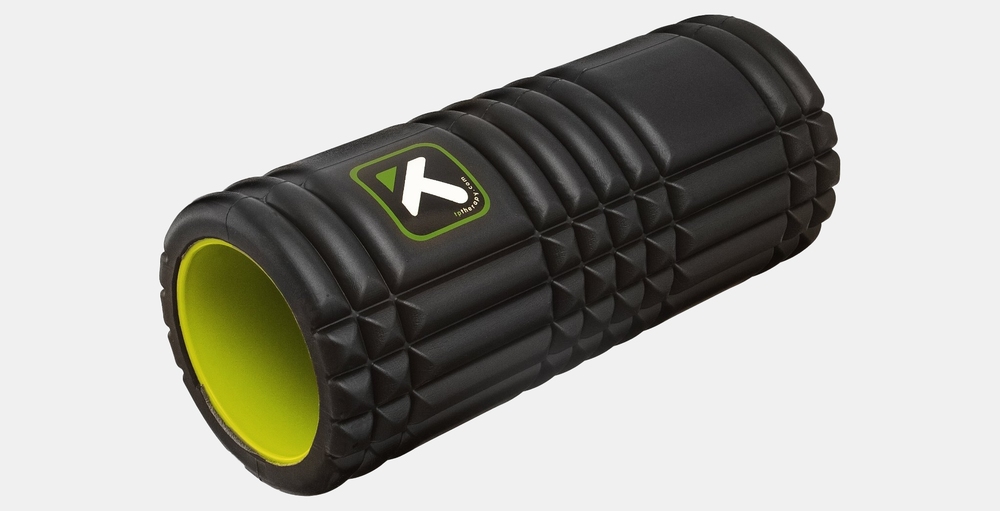 After a workout, your muscles build up with a natural substance called lactic acid, which is what irritates muscles and gives you the feeling of soreness. When you lay on foam roller, the pressure pushes the lactic acid out of your muscles, getting rid of the soreness. But that's not all, foam roller exercises help you gain flexibility and mobility in tough places like your hips, IT band, and others. You can get a good exercise mat to put on the floor under you while you roll so that you don't cause any additional pain. I use a foam roller both before and after a workout, and I promise you that is not going to change anytime soon.
Best Choice: TriggerPoint GRID Foam Roller (pictured above)
There are three types of foam rollers to choose from, but the most popular (by far) is the grid-style, made famous by the TriggerPoint brand. This foam roller is an industry favorite, recommended by everyone from physical therapists to professional athletes. After you get one, make sure to check out our popular foam roller exercise guide for tutorials.
CARDIO
Rowing Machine
If you haven't kept up with the fitness industry much, rowing is quickly becoming one of the most popular exercises in the world with many fitness trainers calling it, "the #1 cardio exercise of all time." But why? What's with the out-of-nowhere rowing craze? For starters, it's not just any old cardio exercise, and contrary to popular belief, it doesn't just work your back muscles. Rowing is a full body workout that uses a massive 84% of the muscles in your body, making it an incredible hybrid exercise that's great for both cardio endurance and strength training.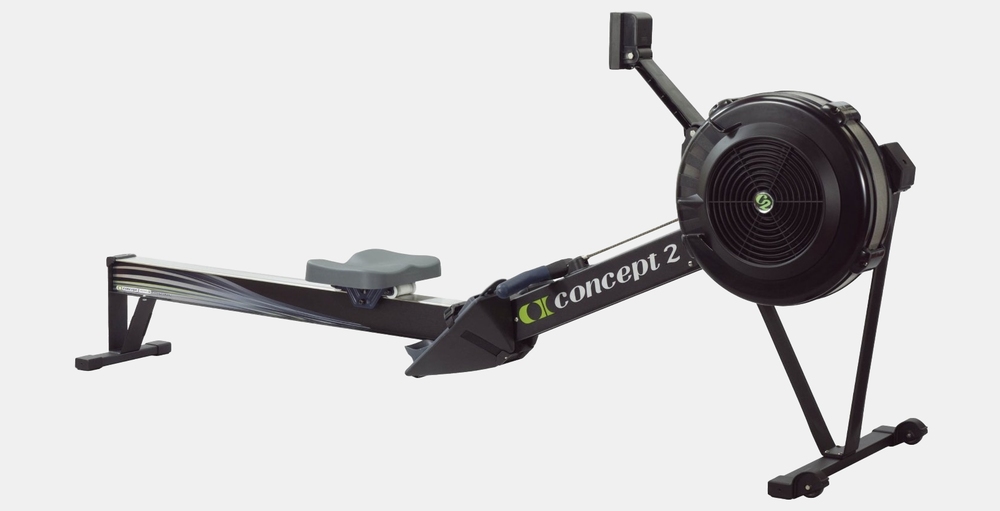 And believe me, people are catching on to its amazing physical benefits. It's low impact, high intensity, and anyone can do it. International gym chains are adding these to their facilities left and right, and there are even rowing-specific cardio studios popping up across the nation. But better yet, there are a considerable amount of affordable, high-quality rowing machines designed specifically for at-home use. If you've never given a rowing machine a try, I highly recommend it. This is hands-down my favorite cardio workout.
Best Choice: Concept2 Model D Indoor Rower (pictured above)
The Concept2 Model D takes the win, and there is absolutely nothing else that comes close. It currently has over 700 customer reviews on Amazon, and an astounding 98% of those are 5-star reviews. I have to admit, at first I was skeptical to see a product reviewed this favorably. In the fitness industry, someone always has something to complain about. But I did my research and these are all honest, verified-purchase reviews. Well done, guys!
Exercise Bike
Rowing might be, "the new spinning," but that doesn't mean there's anything wrong with spinning! Cycling is still a great way to pump up your endurance and get an exhausting cardio workout, whether you're riding an actual bike outside or using an exercise bike inside the comfort of your own home. Not only does it improve your cardio endurance, but cycling can help strengthen your bones, improve your posture and coordination, and relieve you of stress.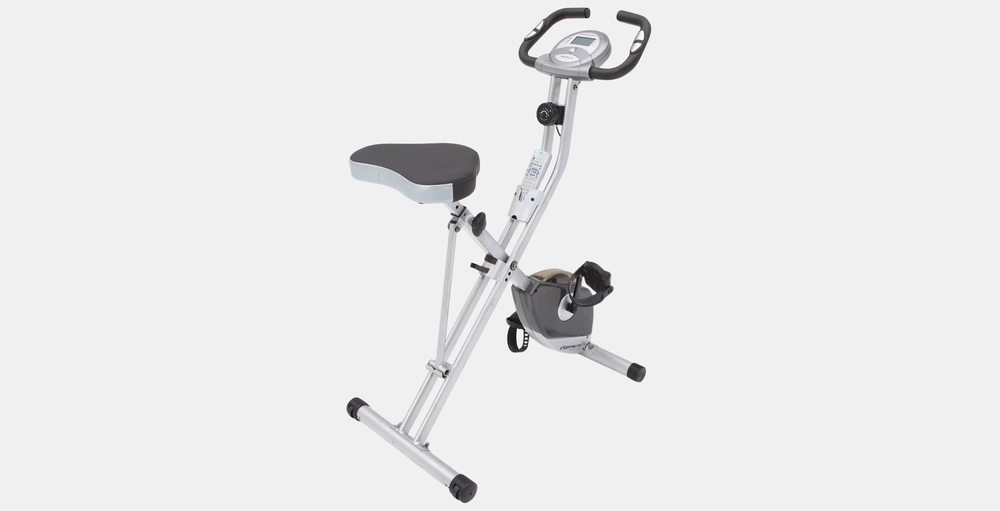 Stationary bikes have been the go-to home cardio machine for as long as I can remember, and there are literally hundreds of great options to choose from online. Some are designed for regular fitness enthusiasts, whereas others are designed for more serious cyclers, so making the right choice just comes down to your own personal goals. Check out our top pick below.
Best Choice: Exerpeutic Folding Magnetic Exercise Bike (pictured above)
This is the #1 best-selling exercise bike on Amazon, and for good reason. The Exerpeutic bike has an 8-level magnetic resistance system so you can adjust the tension level for easier/harder workouts, plus an integrated pulse monitor to track your heart rate. It's got a comfortable seat, and it even folds up to save space in the house when you're not using it.
Punching Bag
A punching bag is probably not the first thing that comes to mind when you think "cardio workout." But make no mistake, this can be one of the most intense whole body workout routines you'll ever try. There's a reason why those kickboxing classes at the gym are so insanely popular. Have you ever noticed how martial arts fighters and boxers are almost always ripped?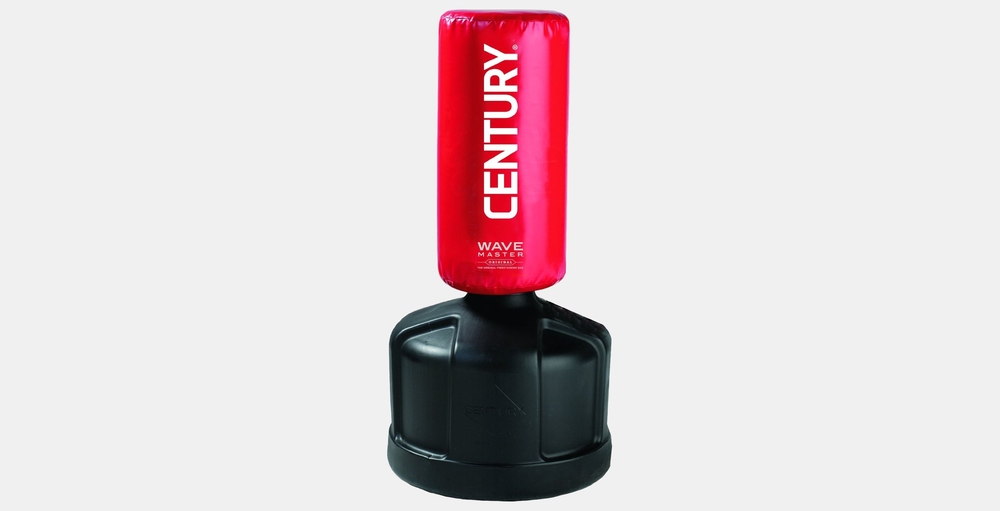 Boxing is often used as a form of High Intensity Interval Training (HIIT), a popular workout method known for destroying fat and cranking up your stamina. Instead of long cardio sessions of low/moderate intensity, HIIT flips things around and uses short sessions of high intensity. Think: 5 minutes of straight boxing, 5 minute rest. Do a few cycles of that and you'll be dripping sweat like never before. Punching bag workouts quite literally, "pack a punch." This is a calorie-scorching cardio workout that'll shred fat and keep your endurance in top shape.
You can choose from a traditional punching bag or a speed bag. Speed bags will give you a huge cardio and coordination boost. We've got all the boxing info you need to set up the perfect at home training spot. Take a look at our Best Speed Bag Platform, Best Speed Bag Swivel, Best Speed Bag, and Best Speed Bag Gloves articles to make sure that you are set up like a true champion.
Best Choice: Century Wavemaster Freestanding Training Bag (pictured above)
Since most people don't have easy access to be able to hang one of the more deluxe punching bags inside the house, a freestanding bag is the perfect excellent solution for use in a home gym. With three height settings, an incredibly sturdy base, and a high-quality brand like Century, the Wavemaster Training Bag is the easy top pick.
Vibration Platform
This is probably the most unconventional cardio machine on the list seeing as you really aren't moving around all that much, but vibration platform training is a new workout trend currently making its way through the fitness industry. Vibration platforms are exactly what they sound like: you stand on a machine platform that vibrates at different levels of intensity. The vibrations sent through your body stimulates your muscle fibers and cause them to stabilize and contract, which is essentially what they do during any typical physical exercise, but vibration stimulates the muscles far better than traditional exercise.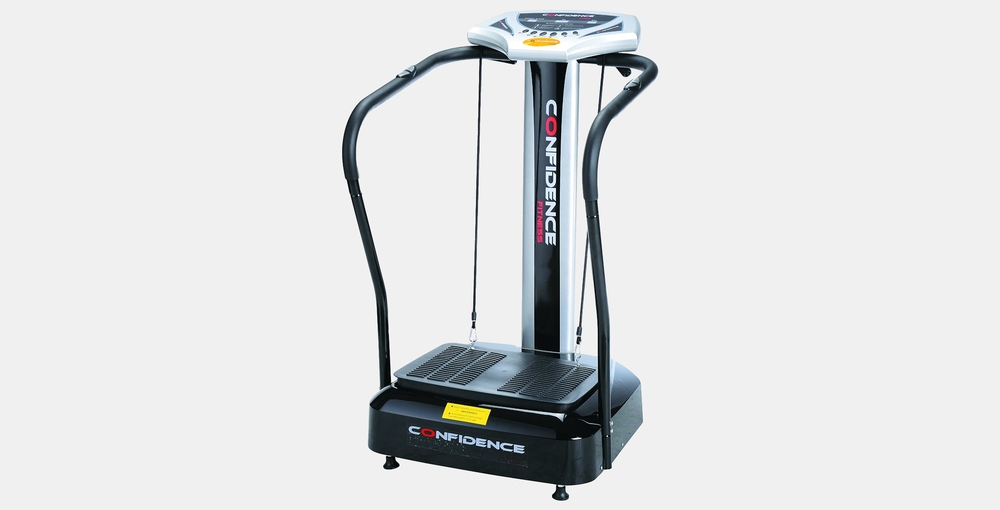 There's a lot of controversy surrounding vibration platforms because, as with any new workout method, there aren't many studies on them yet, but users love them and according to the fitness knowledge base BreakingMuscle.com, "the studies are promising." Here's what I know about them: my parents have one at their house, and they absolutely love it. Being in their 60's, standing on the vibration platform is just about the only form of physical exercise they do these days, and they're constantly telling me how using the vibration machine each day has them feeling healthier, stronger, and more active than they've felt in years. Just read the customer reviews for yourself. People are seeing real results and they're loving every minute of it.
Best Choice: Confidence Fitness Vibration Platform (pictured above)
This vibration platform has several different intensity levels to choose from, as well as two workout straps to help you get the total-body treatment. To be honest, the Confidence Fitness platform excels without really having to try too hard. Most of the other options online don't have great reviews, but the Confidence model has over 1,300 positive reviews with customers raving of its benefits (this is the model my parents have & love).
Jump Rope
Ah, the good old jump rope. I bet you haven't thought about one of these things since physical education class in middle school! Believe it or not, using a jump rope has a lot of surprising benefits besides just improving your endurance and burning calories (which it does very well, by the way, 10 minutes of jump rope is equivalent to 30 minutes of running).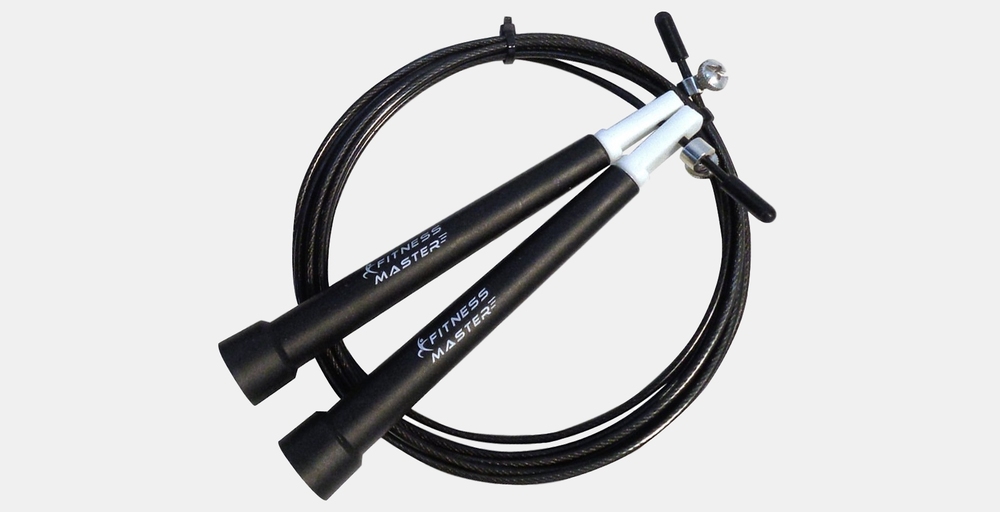 Jumping rope actually increases bone density and decreases foot and ankle injuries because the jumping movement teaches you to be on the balls of your feet instead of being flat footed or on your heels. It also improves your coordination and heightens your reflexes because of how closely you're paying attention to the movement, which is why you see professional athletes like boxers constantly using them in between their training. Jumping rope was not just a sweaty routine from grade school, there's a lot more to this than meets the eye.
Best Choice: Fitness Master Jump Rope (pictured above)
The Fitness Master isn't anything fancy; just your regular, functional jump rope. It's a great value for your dollar, and my favorite part is that it's adjustable! Finally a solution to the annoyance of a jump rope that's too short or too long- hated that when I was younger. In any case, check out our full Best Jump Rope article for more great choices.
Treadmill
One of the more obvious pieces of home gym equipment is the treadmill. These days, treadmills are more high-tech and feature-packed than ever before, but the same original principle remains: they provide a great way to get a walk or run inside the comfort of your own home. The reason I like treadmills so much is that they let you change the angle you want to run at. I live in a relatively flat area so I don't have any good hills or inclines to walk/run up, so my treadmill gives me exactly that.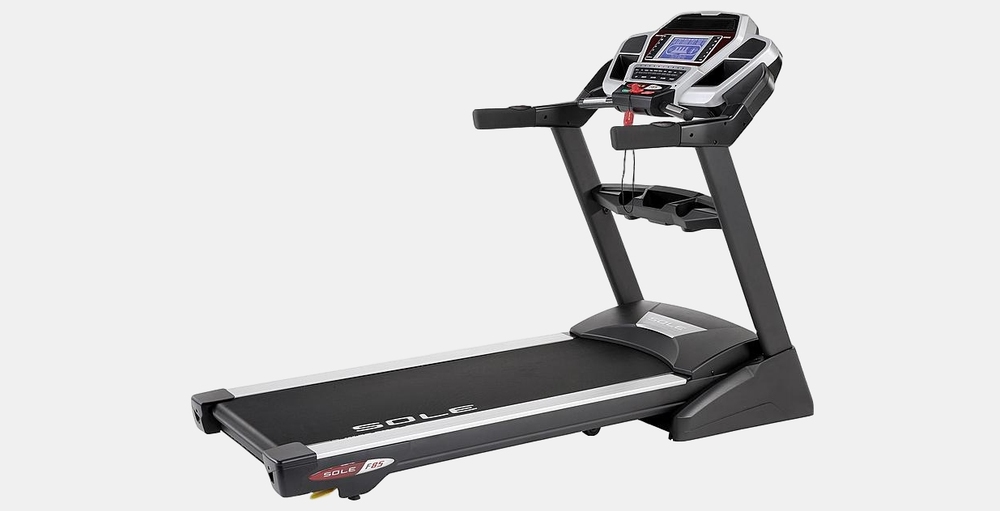 With so many different treadmills on the market, you have a lot of options here to get exactly what you're looking for. You can get one that's smaller for tight rooms, with speakers to play your favorite tunes, or even a self-powered non-electrical model for the energy-conscious. The choice is entirely yours.
You can up your cardio and strength game by walking/running/jogging on a treadmill in a weighted vest. Trust me, it's an insane whole body workout that will get you results quick. Actually, the best weighted vests are a great piece of gym equipment in their own right. So are the best ankle weights. But I digress…
Best Choice Overall: Sole F85 Treadmill (pictured above)
There are an incredible list of benefits that make the Sole F85 the top choice in treadmills, such as: an extra-wide 22″ running pad, a beautiful 9″ LCD display, a perfect MP3-compatible sound system, 8 programs to choose from, an industry-leading warranty, and a proprietary Cushion Flex Whisper Deck to help reduce impact on the joints by 40% when compared to traditional running on asphalt. In addition, it folds up to save space in the house when you're not using it. Highly recommended.
Best Choice On A Budget: Sunny Health & Fitness Treadmill
Treadmills can be pricey, but it's one of those pieces of gym equipment that you usually get what you pay for, which is why I recommend the Sole F85. However, not everyone wants to pay $1,800 for a treadmill, and I don't blame them. If you're looking for a budget-friendly treadmill, the Sunny Health & Fitness treadmill is an excellent low-cost alternative.
Things To Consider Before Buying Home Exercise Equipment
While it's always tempting to just click and buy as soon as you see an awesome piece of gym equipment, there are three quick things you should consider before you buy.
Fitness Goals
Defining your fitness goals is the first and most important thing everyone should consider before buying workout equipment. Let's run through a couple examples below and talk about the best home exercise equipment for each type of goal:
• Weight loss. If losing weight is your primary goal, then both cardio exercise and strength training are going to play important roles in helping you cut fat. A lot of people only think, "cardio, cardio, cardio," but they forget that building muscle is also a great way to reduce body fat. Losing body weight can be challenging, so you're going to want to attack from all angles if you want the best results. I'd say a rowing machine would be the best piece of gym equipment to start with because of how well it combines cardio and strength training. Combine that with strength training with a set of dumbbells or a kettlebell, and you've got a calorie-destructive duo that's sure to help you lean out in no time. Remember to stick to a healthy diet, though!
• Building muscle. If building muscle is your main priority, then strength training is obviously going to be the number one road to success for you. This was my goal when I started, so I can give a lot of pointers with this one. The best home exercise equipment to start with would be a set of dumbbells, a weight bench, and a pull-up bar. You might think you need things like a fancy leg press machine, but you don't! In my opinion, these three pieces of gym equipment are the most important assets to any home gym, and you can certainly build a solid foundation of muscle with these alone. As a matter of fact, I was able to put on over 25 pounds of muscle using just these before plateauing and needing something more (got myself a nice power rack and barbell set).
• General health & fitness. A lot of people just want to workout to stay in shape or to keep healthy in general, and that's awesome! You're only given one body and one life, so staying in shape is something everyone should have on their list of priorities. The best part about this goal is that you have the ultimate flexibility in how you want your home gym setup. As long as you commit to a good nutritional diet and daily exercise, your home gym can be as small or as big as you'd like. At the very least, I'd say a set of free weights would be a great choice for this category. Adjustable dumbbells give you endless opportunities and can be used to workout nearly any part of the body. An exercise ball would also be good, since you can use it to do different exercises and to stretch. Check out or Best Exercise Ball article.
Space
The second big consideration to make is the amount of space you have. You could buy the best home exercise equipment on the planet, but that probably won't do you much good if you don't have anywhere to put it. Whether you're using a room in the house or a full-space garage, measure the floor space you have available and then always make sure to check the dimensions on gym equipment before buying. For example, if you're thinking about a nice treadmill for your studio apartment, find the dimensions online and then measure out an area for it so that you know exactly where it's going to fit before it gets delivered. It's always a good idea to plan things out so you don't get stuck with this size and space dilemma.
If you are really, really tight on space, they make these cool bodyweight training kits that you can set up in any doorway. You'll get a good, core-centric workout. We went through a bunch of the best options in our TRX Basic Kit review, so be sure to check that out if you don't have the space for a full-blown home gym.
When looking at your space, be sure to consider other things, like the type of flooring and the amount of head space you have. You don't want to ruin your carpet or your ceiling! You can find the Best Gym Flooring reviews in our helpful article to protect your nice floors as well as your gym equipment.
Budget
Money, the so-called root of all evil, and yet the only thing standing between you and that beautiful new set of adjustable dumbbells. The last big consideration to make is your budget! Consider how much you actually want to spend on equipment and then choose products once you've established a reasonable budget for yourself. Remember, the best home exercise equipment isn't always the most expensive.
With so many brands and products available these days, you've got items ranging from super cheap to ridiculously expensive, and the best equipment is usually somewhere reasonably in between. When suggesting best choices for all of the home exercise equipment we listed above, we compared things like quality and price to make sure we were suggesting something that was both top-quality and cost-effective.
Best Home Exercise Equipment Brands
With the health and fitness sector being one of the biggest industries in the world, there are thousands of brands marketing their products and trying to convince you why theirs is best. Over time, there are certain key brands that have proven themselves as leaders in the fitness market, and those are the ones we recommend in most cases. Here are a few examples below.
Bowflex
Bowflex is likely the first name that comes to mind when anyone thinks about home gym equipment. The extremely well-known brand has been producing fitness equipment since 1986 and has become a staple in the fitness industry, with many people agreeing that they make the best home exercise equipment on the market.
Bowflex offers a huge variety of products in nearly every equipment category: free weights, home gym systems, cardio equipment, and more, all of which come with a satisfaction-guaranteed warranty and return policy. This is pretty important when considering equipment because it gives you peace of mind knowing your purchase is 100% worry-free and that you'll have immediate assistance if you ever experience an issue. Out of the dozens of brands I've tested, Bowflex is one of my favorites.
Perfect Fitness
Despite having only been around since 2004, Perfect Fitness has established a pretty powerful reputation in the fitness industry (and more specifically, the home fitness category). The company was founded by Navy SEAL Alden Mills, who used his tough SEAL training as a core principle when designing their products. They became wildly popular when they released the "Perfect Pushup" in 2006, which was a unique rotating push-up bar that promised to engage more muscles in a more natural movement than traditional stationary push-up bars. Since then, they've released several new products and continue to grow larger every year. What I love about their equipment is how simple, yet highly effective it is. I have several Perfect Fitness products in my home gym, and I definitely recommend this as a great brand to purchase from.
Weider Fitness
Joe Weider was a pioneer to the world of bodybuilding and to the fitness industry as a whole. This is the man who co-founded the International Federation of Bodybuilders (IFBB), created the Mr./Ms. Olympia bodybuilding contests, and published several of the top fitness media companies like Muscle & Fitness and Men's Fitness. His contributions to the industry were monumental and timeless. With that being said, the line of fitness equipment he designed follows suit as some of the best home gym equipment in the game. Weider Fitness offers a pretty wide variety of home gym setups from benches to free weights to home gym systems, but where they really excel is in their Total Body Works line. The TBW products are very popular, and offer a great value for your dollar.
Ironmaster
Ironmaster is another great brand to choose from. Founded originally in 1978, Ironmaster is a firm believer in high-quality equipment and unique design. All of their equipment bears a somewhat old-school traditional look and feel, which is pretty cool, but look a bit deeper and you'll see that everything has new-school quality and clean-cut designs. For example, at first glance their adjustable dumbbells boast a traditional grainy iron-plate weight setup and steel handle, but holding everything together is their patented quick-lock system which is design for easy use and a tight, rattle-free weight stack. Another thing that's nice about Ironmaster is their highly personal customer service team. It's always refreshing to see a company so dedicated to a great customer experience.
4 Must-Haves For Any Home Gym
Jeff Cavaliere, founder of popular fitness company Athlean-X, is a world-renowned professional athlete trainer and physical therapist. Former head physical therapist and strength coach to the New York Mets, he is one of the most respected fitness experts in the industry and has been featured by numerous national media companies, including Men's Fitness Magazine. In this video, Jeff goes over the best home exercise equipment that he personally recommends, saying there are 4 must-haves.