While squats are considered by many to be the king of all exercises, this is ironically one of the most common exercises that people give up when transitioning into a home gym. But why? Well, most people have misconceived notions that the only home-oriented squat racks available are those huge power towers that cost thousands of dollars, but that's not true. There are several high-quality yet cheap squat racks available that can easily fit your needs for a reasonable price.
To make your life easier, we went through dozens upon dozens of squat racks in order to figure out which models offered the best value for your dollar. After comparing things like quality, features, and price, we also went through hundreds of actual hands-on user reviews so that we could make an educated decision on which models were the best choices. It took countless hours of research, but we finally have the top choices as well as our #1 pick for best cheap squat rack.
We'll spill the details of the winner down below, but let's start by comparing the Top 5: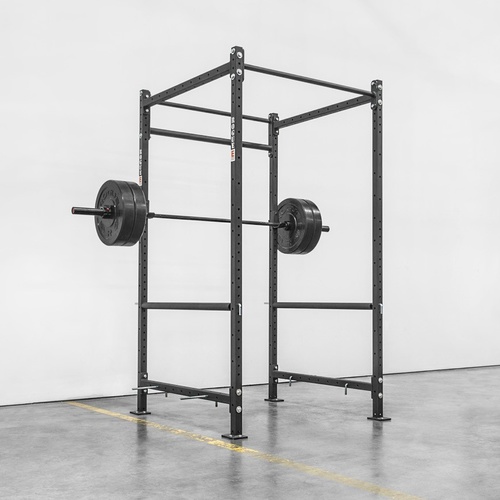 Comparison Guide: Top 5 Best Cheap Squat Racks
 
Valor Fitness BD-7
Titan T-3
TDS Power Rack
Atlas Power Rack
Atlas Squat Rack
Weight Rating
600 lbs
1,000 lbs
1,000 lbs
800 lbs
600 lbs
Safety Catches
Yes
Yes
Yes
Yes
No
Plate Storage Pegs
4
4
2
2
2
Other Features
Cable pulley, lat pulldown, pull-up bar
Dip bar, pull-up bar
Built-in resistance band holder, pull-up bar
Pull-up bar
N/A
Warranty
3 years
1 year
Lifetime
10 years
10 years
Dimensions
Yes
Yes
Yes
Yes
No
MSRP
$549
$490
$305
$399
$299
 
Top Pick: Valor Fitness BD-7 Power Rack
Our top pick for the best cheap squat rack is the Valor Fitness BD-7 Power Rack. This is the best you're going to find for the price if you're looking for quality and low cost. Rated for 600 lbs within the rack, made of heavy-gauge steel and several fantastic features – this thing must be pricey, right? Nope! Despite the slightly higher MSRP, you can pick this bad boy up for under $500. Due to a simple design, lack of flashy paint and a brand that the general public is unacquainted with, this beast of a squat rack can be yours for a bargain price. Let's talk about some of the features that earned the Valor Fitness BD-7 our selection as the best cheap squat rack.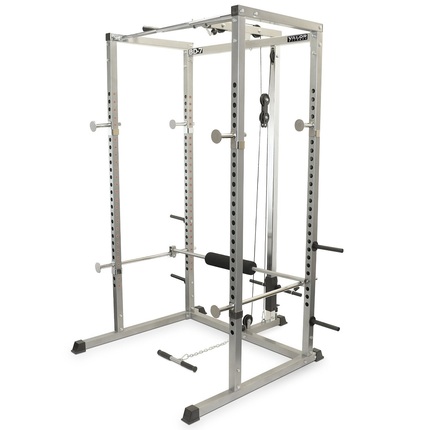 Safety Catches
This rack includes 4 safety catches that are adjustable and can be used no matter your height or what lift you're using. There are also 2 squat safety catches that run through the rack (also adjustable) that are rated to a whopping 800lbs, so you can squat or perform rack pulls without the fear of damaging your floor should you fail on a rep. Since there are four adjustable catches, you can really get versatile with your workouts and use them for partial reps and ROM work.
Plate Storage
Plate storage! Plate storage! This rack has plate storage! That is a VERY rare feature for racks even $600 and up price range. In fact, there are several racks that will cost you around $1,000 that don't even come with plate storage! And if they do, it's typically only two pegs. This rack has FOUR plate storage pegs, so you can save space in your home gym without plates laying around everywhere.
Lat Pulldown Attachment
For under $500, this is an insane feature. Lat pulldowns are a core back exercise for any athlete focusing on training for strength or hypertrophy, and a squat rack with one installed in this price range is a steal. Most lat pull attachments are flimsy, but this attachment can hold up to 250lbs.
Low Pulley
Here is another feature that many racks don't have, which makes this squat rack a true steal. A low pulley system, combined with the lat pulldown attachment and squat rack itself takes care of all of your exercises. You literally do not need any more equipment to get a total body, weight-training workout.
Pull-Up Bar
This feature is actually pretty standard among power cages. However, this pull-up bar is particularly nice because it is knurled and not covered in foam, which means it will last longer and will help you keep a solid grip.
From the lengthy list of features to the very reasonable price, there's no two ways about it – this is a fantastic deal, and there's no question why it won our selection as the best cheap squat rack. Even if this rack was double the price, it would still be a good value. If you're in the market for a squat rack and have the space for the Valor Fitness BD-7, you'd be doing yourself a disservice not to snag it while you can.
Runner Up: Titan T-3 Power Rack
Our runner up is the aptly named Titan T-3 Power Rack, and a titan it is. While it doesn't pack quite as much of a punch in terms of versatility as the Valor BD-7 does – the T-3 does have a few things that our top pick does not have: a rating of 1,000lbs and a dip bar.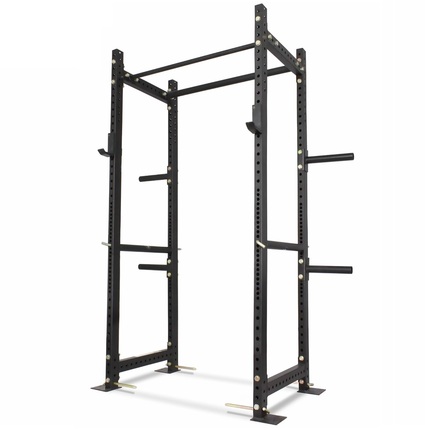 The Titan T-3 rack was barely edged out of first place by the BD-7 due to the amount of attachments and raw versatility that the BD-7 has. Although it didn't get our top pick, the Titan T-3 still has a plethora of fantastic features and a sub-$500 price point, which is not something that is extremely common for high-quality squat racks, let alone power cages like these.
Remember the plate storage on the BD-7? Four 8" pegs of plate storage; and guess what? The T-3 has them too. This rack also features not one, but two pull-up bars – one 1.5" bar and one 2" bar. Some people prefer a thicker bar to grip so it's nice to have the option, plus they both have light knurling to help you keep a tight grip.
The dip bar is a fantastic feature – one that our top pick lacks. Dips are a great exercise and the ability to supplement your workout with them is a really cool and effective feature of this rack. However, instead of being off to the side like many dip stations, it has a handle protruding towards the center from each side of the of the rack.
These are easily removable, but if you want to leave them on it will make entering and exiting the rack a little bit of a hassle, and if you affix them to the rear posts, they could get in the way of other lifts. A very minor annoyance, but something worth mentioning.
All-in-all, this is a great rack that's definitely worth its $460 price tag. It is constructed similarly to many power racks out there, but the strength, plate storage and dip bar make it an exceptional value, and thus our runner up.
#3: TDS Wide Base Power Rack System
Next on our list of the best cheap squat racks, we have the Wide Base Power Rack System by TDS. Featuring a walk-through design and a rating of up to 1,000lbs, like the T-3, this squat rack is a tank. But why have we awarded this tank the bronze medal in lieu of silver or gold?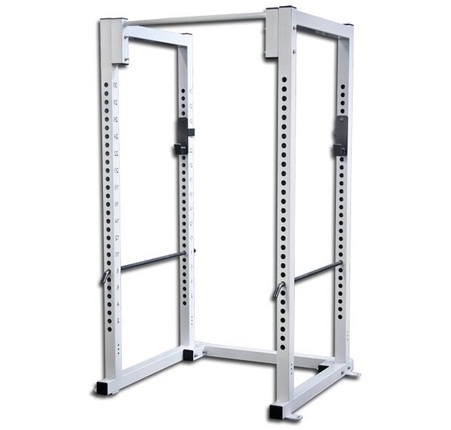 Well, for starters, the versatility isn't on par with the BD-7 or Titan Rack. The BD-7 features a low pulley, a lat pulldown attachment and 4 safety catches – features that the Wide Base Power Rack System do not have. The Titan T-3 has 4 plate storage pegs and a dip station, which the TDS rack also does not have. With that said, it still does have several great features.
As mentioned before, this rack holds up to 1,000lbs, which is great for the price point – even more than our top pick. If you lift heavy often and have worked up to some pretty high PR's, this squat rack will handle them with ease. The walk-through design also offers some versatility for placement. With most squat racks, there is one entrance and that's it. With a walk-through rack, you can come into the rack and leave from both sides, which could be good for different lifts and however the designated space you have in your home is situated. This rack also has our beloved plate storage. It's 2 pegs instead of the BD-7's 4 pegs, but it's still great for the price.
Another interesting feature of this rack is that it has built-in band holders. If you've never used bands before, they are used to train a certain range of motion on big, compound lifts such as deadlift, squat and bench press. The bands have slack in them during part of the range of motion and have tension in them for another part of the range of motion – the more tension, the more resistance.
Bench pressers use this method to add strength to their lockout, which is also a method that can be used for squats. Using bands is pretty advanced stuff, but the fact that this rack has this feature is impressive and practical nonetheless. The Wide Base Power Rack System also features a sturdy, multi-grip pull-up bar to supplement your back workout. Overall, for under $400, this thing is pretty stacked, and a great buy.
#4: Atlas Power Rack Cage (with bench racks)
Next in our ranking, and next step down in terms of price point is the Atlas Power Rack. This squat rack is almost as bare-bones as a power cage can get, which could be a good or bad thing depending on what you're looking for.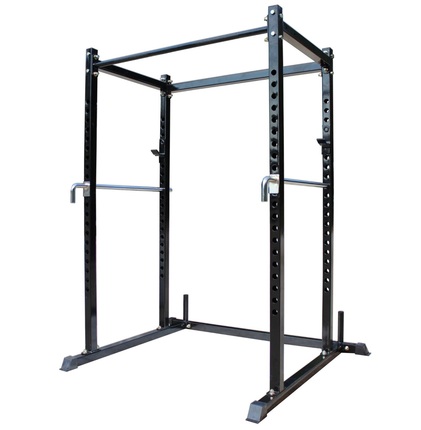 At around $250, this is an extremely affordable squat rack. Because of this, all of the bells and whistles that made put our top pick in its place have been stripped down to a raw, functional, affordable arrangement of steel posts. The Atlas Power Rack has a rating of 800lbs, safety bars on either side, two adjustable catches (which will be used primarily for racking your bar) and a pull-up bar. Basic, but solid.
However, when you start looking for power cages in this price range, you start running into problems, whether they be large or small. A consistent problem customers are having with this rack is that the safety bars fit VERY tightly into the holes drilled into the frame, which causes a loud scraping noise and paint to chip off every time you adjust the bar.
In my book, that's not a deal-breaker, but it can be annoying, especially if you have either thin walls or your home gym will be in an area where people are in the next room or nearby. If noise isn't a huge concern of yours, this is a very solid and functional rack for the price if you can live without the extra features like plate storage and pulley systems.
#5: Atlas Squat Rack (also with bench racks)
With its big brother in 4th place, the Atlas Squat Rack rounds out our list; and, it is the only half-rack on the list. A half-rack is basically just that – half of a power rack. This particular half-rack consists of 2 posts to rack the bar connected by another post with some catches and plate storage on the side.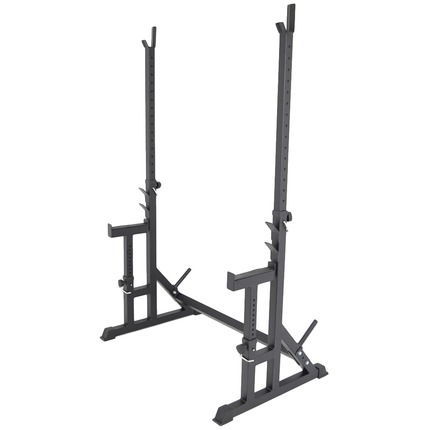 Now, if you're just looking to get a good workout and not looking to push yourself to failure, half-racks are fine. The depth is adjustable on the 2 safety catches attached to this rack so you can decide how deep you want to go on squats.
However, half-racks do not offer the amount of safety that power cages do. In a cage, you can fail forward, backward or downward. In a half-rack, you can only fail downward safely. You can technically fail forward, but with the little support, half-racks tend to tip during a forward failure. With that said, the average fitness enthusiast could get some great use out of this rack.
As mentioned previously, this rack features plate storage (1 peg on either side) and adjustable safety catches. There are also two rack positions on the posts before you get to the top of the post (the adjustable part where you would rack the bar while performing squats, or any other lift that requires the bar to start out at chest or upper-back level. The adjustments are easy and the catches are rated for 600lbs.
The most appealing part of this rack is definitely the price. At $130, this is by far the least expensive rack on the list. This rack would also be a good choice if you have low ceilings, as with a power cage you're almost always looking at a structure taller than 7 feet. If you're on a tight budget or have low ceilings and don't use a ton of weight or lift out of your comfort zone very often, the Atlas Squat Rack would be a great purchase.
Things To Consider Before Buying A Squat Rack
You may be so excited that want to just jump right online and hit that 'Buy Now' button, but before you do that you may want to make a few of the following considerations.
Space
So you've found the perfect squat rack in your price range, and you can't wait to get it installed. It has extra plate storage, a pull-up bar and you got a crazy good deal on it. You see on the side of the box that the height is 9 feet – but wait, your ceilings are only 9 feet high.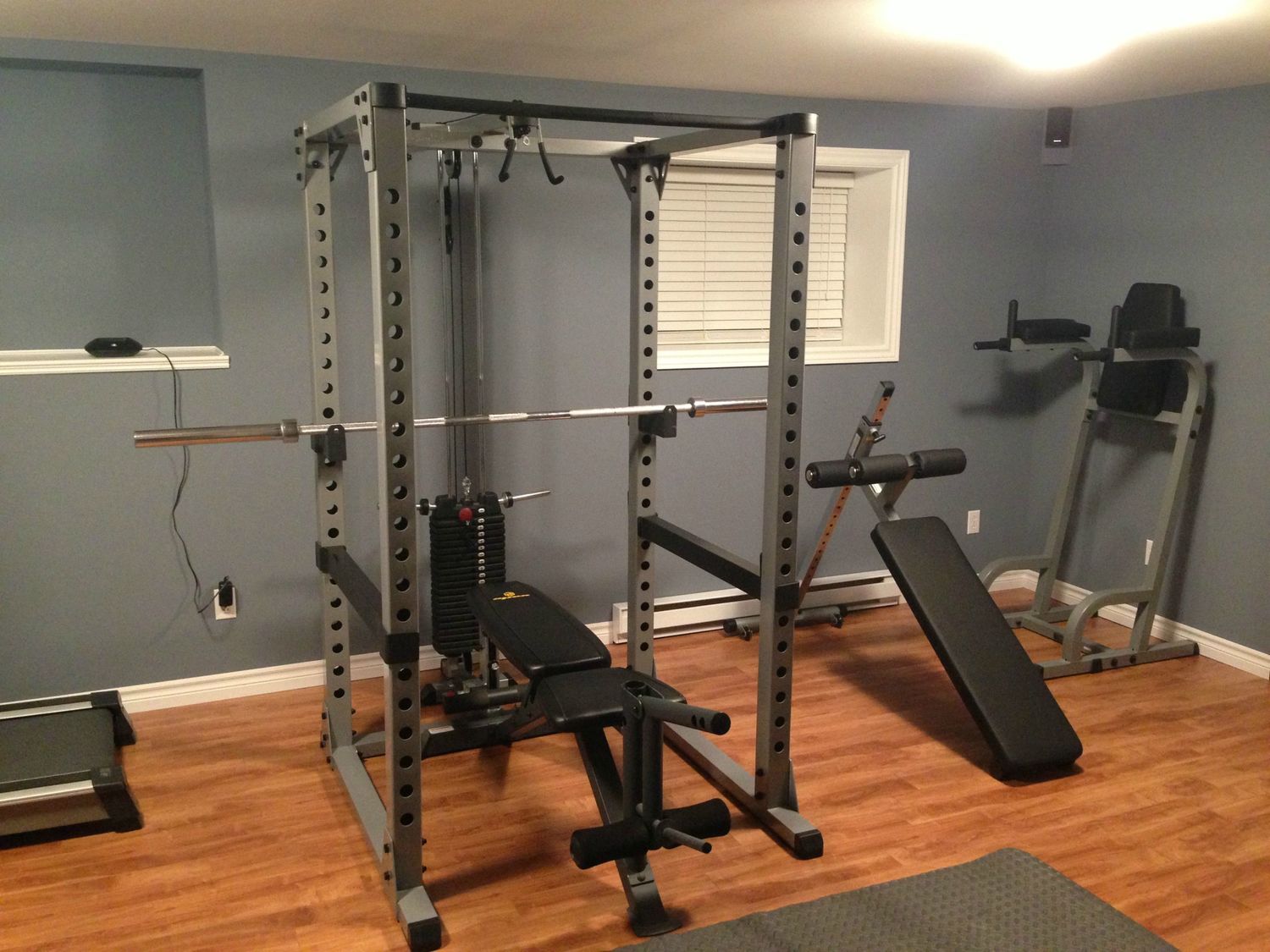 If you don't have enough space for your rack, you won't be able to use it, or even fully assemble it. A common mistake when measuring for a squat rack is only measuring for the space the actual rack takes up. If a rack is 4'x4' on the floor within appropriate height and that's the amount of space you have, you're hot to trot, right? Wrong.
An Olympic barbell is 7 feet long – this suddenly increases the size to 4'x7'. The top of the rack, which features a pull-up bar, barely fits in the room vertically – but are you going to do half reps on every pull-up where your head never clears the bar? Suddenly the clearance isn't there. Take the time to play out different scenarios in which you may need space so you can plan accordingly so you aren't stuck with a rack you can only use partially, or not at all.
Price
Unlike adjustable weight benches, squat racks have pretty defined tiers without a whole lot of overlap. This can help you clearly define your price range in what you are looking for in a power rack. A lower price range will get you a set of squat stands, slightly more will put you into the range of a half-rack and so on and so forth.
Determining your price range is important so you can sort your options and shop around to get the best value for your needs. Make sure to do a thorough comparison before you choose your squat rack; and after, you define your range, deeply consider the rest of these aspects of your potential squat rack.
Durability
Most power cages are built like tanks, with the utmost in safety consideration. However, looking at the stats is still extremely important. A common mistake is to only like at the steel gauge thickness of the posts, when the gauge and durability of the catches (the bars that are there in case you fail on a rep) is also extremely important. Does the rack have moving parts or parts made of rubber that could be worn down? All of these must be taken into consideration to make sure that, within your price range, you're going to end up with the rack that you can get the most life out of.
Extra Features
Extra features are what sets racks apart in the mid-to-upper price ranges. Plate storage is a huge positive to have, as it saves space and allows quick setup and tear-down of the bar. A pull-up bar is also a great feature offered on several squat racks, which can help you build a better back and a more athletic physique. Do you prefer holes or slots on your rack? How about hole/slot spacing, is that important to you? Once you've defined your needs for space, price and durability, take a look at the extra features to find the bench that was perfectly made for you.
The Different Types of Squat Racks
Finding the best cheap squat rack for your home gym also requires that you decide why type of rack you want. There are a few different choices, and depending on your own setup at home, one may work better than another.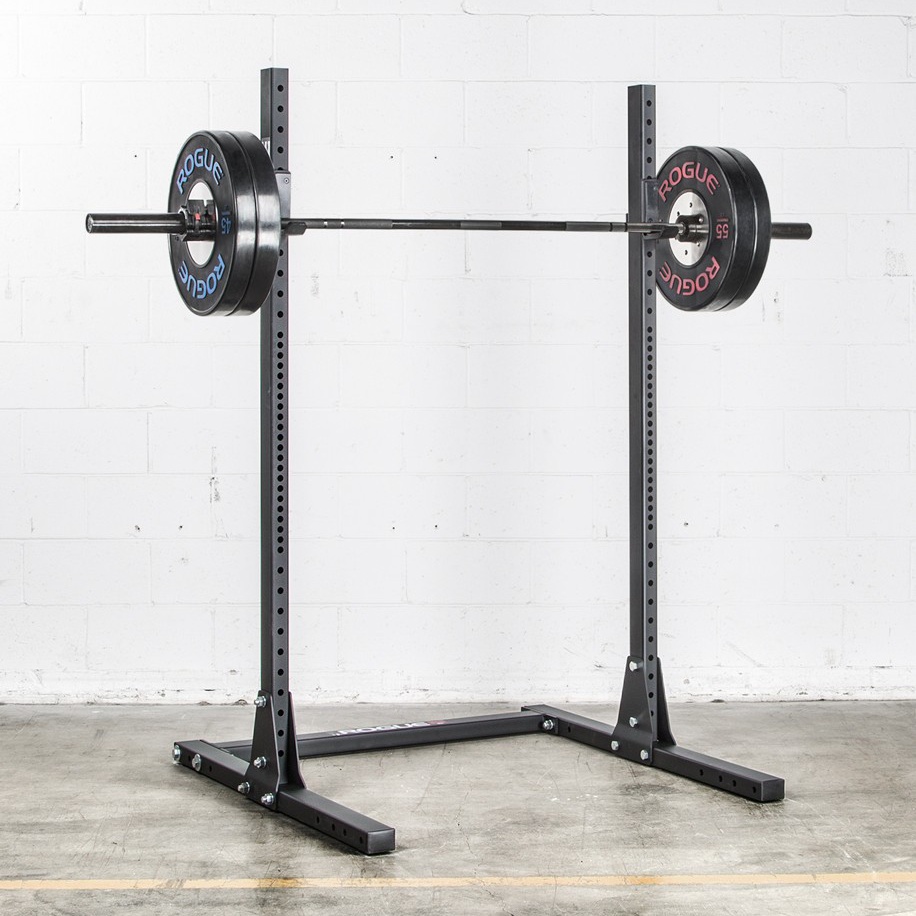 Squat Stands
Squat stands are what the name implies – two separate, unconnected vertical posts on which the bar can rest. Think of the squat stand as the fitness equivalent of the sawhorse or car jacks– not the prettiest piece of machinery, but gets the job done.
Squat stands are generally on the cheaper side of the squat rack spectrum, which makes them a great budget choice for those who don't want to break the bank, but still get under the bar without stepping foot in a big-box gym. However, keep in mind that most squat stands do not have safety bars that act as a catch if you fail a rep. Squat stands simply allow you to start and finish your set with the bar in position, with the exception of a few high quality sets of stands that have built-in catches.
A benefit of squat stands is that they do not take up much space, and they can be easily put away after your workout. If you have limited space, or are using a space to workout that has another function the rest of the time, squat stands could be an effective way to add some more exercise possibilities into your home workout.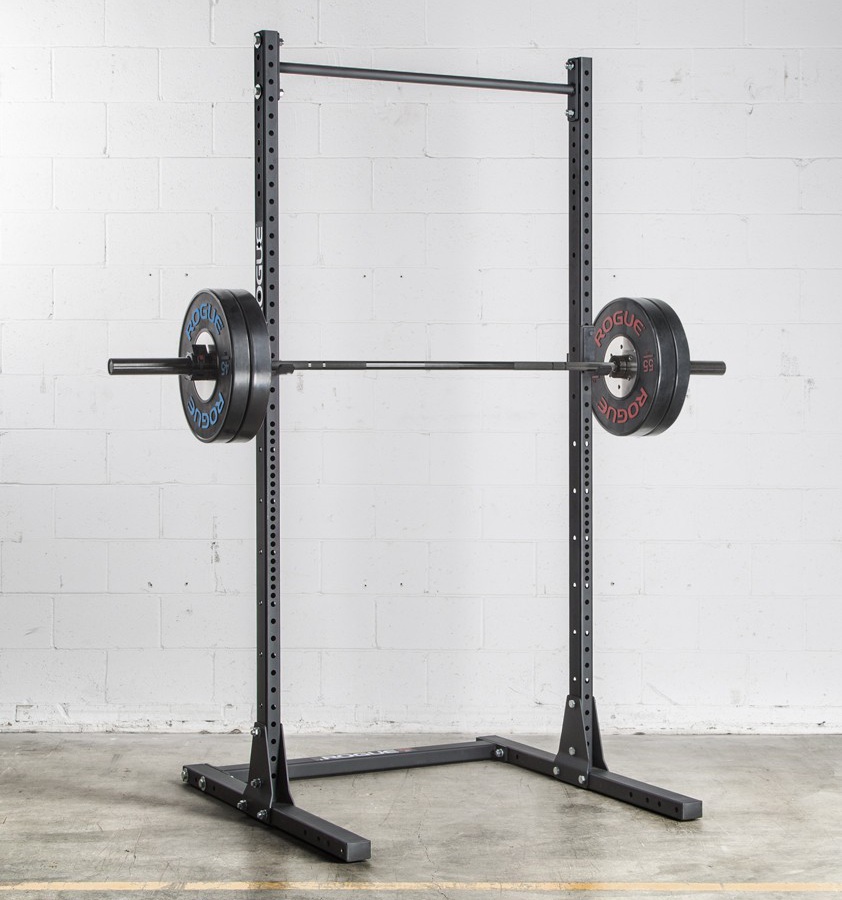 Half-Racks
Half-racks are a definite step up from squat stands, but don't offer the versatility of a power cage, while often taking up the same amount of floor space… so why would you ever consider one of these? Well, mainly because they are generally significantly less costly than power cages. A
half-rack is essentially connected squat stands – or a power cage without a top; whichever way you'd like to think of it. That means that it has posts for you to set your bar, with the bonus of having support bars in place in case you fail a rep, which is an option that most squat stands will not have.
Half-racks can offer several features, such as plate storage, multiple rack adjustments and other attachments or options. A half-rack is a great option for people with low ceilings in their home gym. Of course you'll be opting out of a pull-up bar in your squat rack, but if it's an even trade-off for you. Not only will you be able to fit your rack in your home gym, you'll save some money as well.
There are several great options for half-racks out there, ranging from shorter to taller (important for the tall folks out there – if the rack is shorter than where you rack a bar during squats, you have a rack that is useless) with several other features and options to choose from.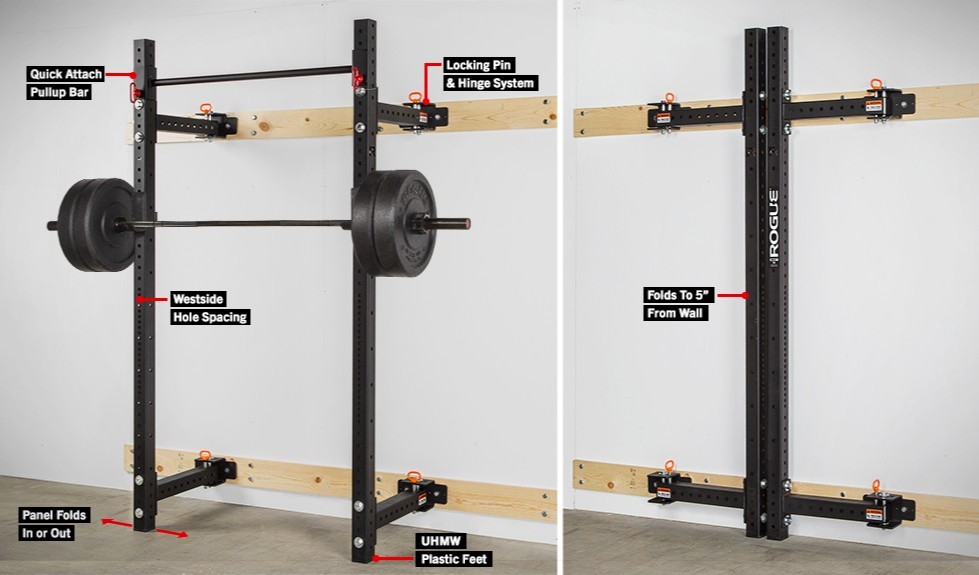 Wall-Mount/Folding Racks
Wall-mounted and folding squat racks have been subject to a lot of controversy in the fitness world. They are stigmatized to by flimsy and expensive – overall a poor value. However, there are a few decent wall-mounted racks out there with slim designs, but they often require high ceilings.
If you have more of a horizontal space issue, or you have a room which you would like to turn into a home gym part of the time while retaining it for another purpose the rest of the time, a folding rack might be a good option for you as long as you find one that's strong and are able to secure it properly. Wall-mounted racks generally require a stringer (a thick board running horizontally along your wall which is secured to the studs in the wall itself) for mounting, which can be a hassle to install.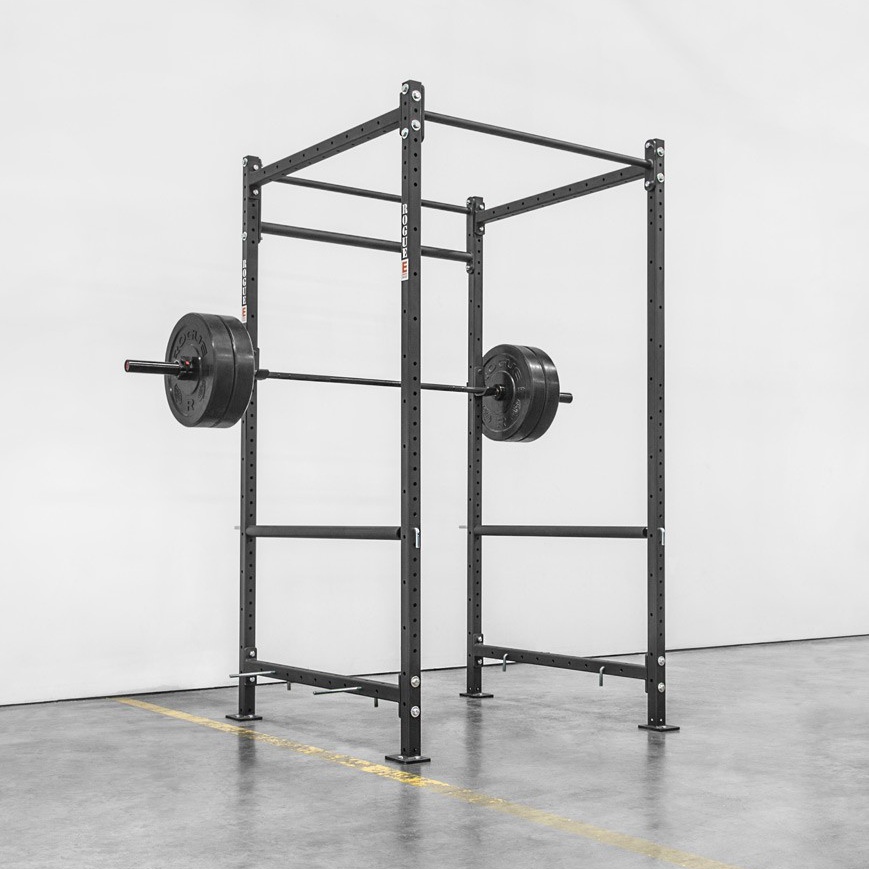 Power Cages
Power cages are heavy-duty squat racks for the serious lifter. They are the safest variety of squat rack, and also the biggest and most expensive. Power cages usually have a pull-up bar, several bar adjustment options and several other options including plate storage. These racks also have added safety due to lifting in the middle and having thick-gauge steel in front of, under, over and behind the bar. It is impossible to drop the bar outside of the rack without twisting and turning (hence the term "cage", making it a great way to protect yourself and your home from a failed rep).
Power cages are available from several manufacturers, so try to avoid paying for a brand name unless there are features on the more expensive model you just can't live without. Power cages are big, functional hunks of very strong steel, there's no need to spring several extra hundred dollars for a flashy powdercoat or add-ons you most likely won't use.
Benefits of Having A Good Squat Rack
Although you can get a good workout with any exercise equipment for home (if you have the know-how), you won't be able to train heavy lifts at home safely without a squat rack. There's really no ifs, and's, or but's about it. For those of us who are tired of big box gyms and want to transition to training at home, but are still very serious about our workouts, we require a squat rack to get the kind of workout we're accustomed to.
Cageless Olympic lifts are still an option, but the safety is called into question when you're setting PR's, exhausting the muscle or otherwise lifting heavy without a spotter. A squat rack is an investment in your home gym, but once you find one in your price range with all of the features you're looking for, you'll never turn back. Squat racks are a staple of home fitness, whether they be a fold-out rack in the garage or a half-rack in your basement.
Must-Have Accessories
Unfortunately, a squat rack isn't going to get you ripped on its own. You need something to lift! There are several Olympic barbell sets up to 300lbs on the web, which you can usually pick up for under $500. These can be used inside and outside of the rack, with lifts such as power cleans or overhead presses (which may not be able to clear the rack depending on how tall you are).
Another common accessory for a power cage is a dip bar. Dip bars, of course, open up the possibility of adding tricep and chest dips to your home workout, which are both great developers to add size and strength to your upper body.
Final Thoughts
For less than half of the price of a bare-bones commercial power cage, you can get the BD-7, our illustrious top pick. The other racks on the list can also be solid choices for different reasons, whether its space, price or specific features you're looking for. So measure your space, define your price point and get to shopping. Another thing to note is that many of these manufacturers sell add-ons to these racks, so if one of the benches in our top 5 catches your eye but you want a little something extra, check the manufacturer's website for accessories they may offer.