Bottom line upfront: My top stress ball choice for reasons you'll see below is the Gaiam Hand Therapy Ball Kit
Have you ever been cranky? Stressed out? Anxious? Tense? Arthritic? Sore? If you answer "no" to any of these questions, then it is time you return from your faraway magical fairyland. But if your answer is "yes," then it would be a terrible miscarriage of justice if you weren't also asked the age-old follow-up question: Are you a ball squeezer?
Stress relief balls are the craze right now because they work. These spherical little wonders are so effective and have so many benefits both physically and psychologically, that the choices may seem a little overwhelming. Choosing the right one shouldn't add to your already elevated tension, but if it does, here's a list of the 14 highest-rated and best-selling little tension tamers on the market. If you are really looking for some intensive hand therapy, you should focus primarily on the first 7 picks on our list.
1. Gaiam Hand Therapy Exercise Ball Kit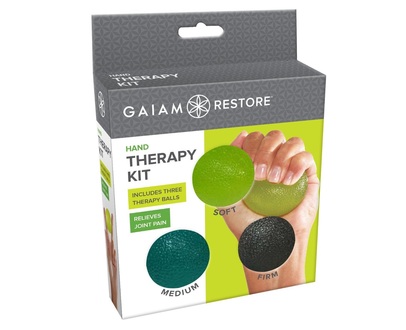 There is a reason that this kit is the best stress ball on Amazon. Stress relief balls treat more than just anxiety, but they are also effective physical therapy tools for relieving pain from conditions like carpal tunnel. The Gaiam Restore Hand Therapy Exercise Ball Kit is geared more towards the strengthening aspect, as it offers three different types of resistance so that you can customize your hand therapy for optimal results.
This is the ultimate choice if you are looking to maintain strength in your hand and reduce stiffness. If you are new to the game (and even if you aren't), Gaiam includes an illustrated exercise guide so that you can get the most out of your therapy. Each stress relief ball is about 2 inches in diameter and made of rubber.
Here's what consumers are saying:
The good: Their size makes them the best option for intensive hand therapy, particularly for recovery from injuries, stress relief and relief from the effects of daily computer use.
The bad: The rubber material attracts lint, so make sure to keep these in a clean area.
2. The Friendly Swede Stress Ball Combo Kit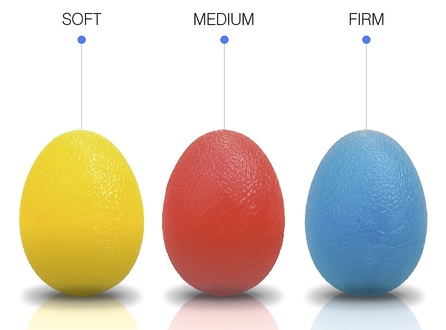 Boasting the highest rating among consumers as the second best seller, and comparable to the Gaiam kit, The Friendly Swede Stress Ball Kit also offers varying firmness to accommodate current levels of strength and progression while alleviating pain.
The egg-shaped design of each stress ball measures 2.5 by 1.75 inches, and the rubber material has a slightly textured feel, so even though they are also rubber, they attract less hair and lint than some of the other brands out there.
Consumer thoughts? They are excellent for grip strengthening. Their egg shape, although could be rendered slightly offensive, is a better fit for the hand than the traditional round products on the market, but they may not be the greatest choice for larger hands.
3. Serenilite Dual-Sense Stress Relief Ball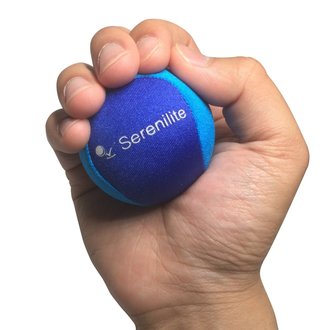 This 2.25″ stress ball is designed to appeal to multiple senses to maximize the benefits on physical strength and mental health. The Serenilite Therapy Ball is marketed as the all-encompassing choice to enhance every benefit attributed to stress balls. The purpose of the dual color design is to create a therapeutic effect through what is referred to as color therapy.
The color combos specifically target certain emotions: The Ocean Breeze blue color combo promotes a soothing of the senses, Springtime Serenity's green and pink promotes emotional relief, and Electrical Surge's red and purple mentally powers you through your exercises. It should go without mention, that these are all great for stress relief as well.
Not only calming to the senses, it also has a gel core like the majority of the physical therapy balls. A smooth, durable and tear resistant material surrounds the gel core.
Consumer list of pros: It is not sticky or overly dense and bounces back easily.
Consumer complaints: Overpriced and overhyped.
4. ACF Grip Strengthener Ball Kit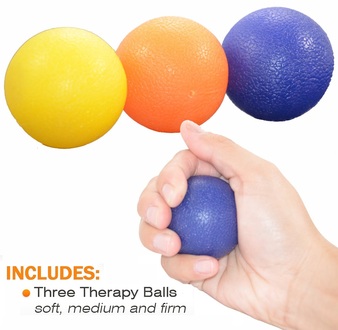 If you have an old lady grip, you might want to get a good set of stress balls like those offered up in this ACF Grip Strengthener kit. These three gel balls come with the customary firmness variations of soft (yellow), medium(orange), and firm(blue), and so it is comparable to the others, but it does address one of the most common complaints that arise when it comes to your standard choices: They are specifically designed to fit all hand sizes.
The brand aims their marketing specifically at athletes, but does recommend the product for those suffering from conditions affecting the hand, forearm and elbow. The stress balls are also marketing for musicians such as guitarists and drummers that need to strengthen their hands.
What reviewers like: The product comes with a lifetime guarantee or your money back, so you know they aren't cheaply made.
What reviewers don't like: There are no instructions or guide to help you with specific exercises.
5. Revive Scented Therapeutic Gel Ball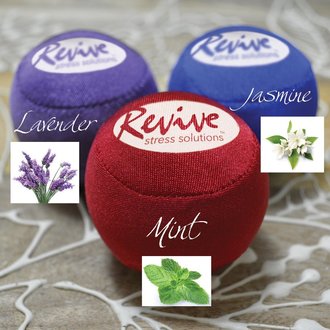 Smelly balls are no longer an issue with this particular choice. The Revive Stress Solutions Scented Therapeutic Ball appeals to multiple senses in its efforts to alleviate your tension and maximize the results in the process.
Unlike the Serenilite ball that utilizes just color-therapy color combinations, this one uses color-coded aromatherapy to appeal to your sense of smell. The purple smells like lavender the blue stress ball smells of jasmine and the red offers a calming mint scent. Each stress ball has a gel core encased by a Lycra exterior.
What does each scent do?
Lavender scent: Relaxes and soothes while offering relief from headaches, insomnia and anxiety. This one is great for stress relief!
Jasmine Scent: Revitalizes and calms for enhanced emotional well-being.
Mint scent: Elevates and enhances mood and mental function
What do people think about these?
The majority of consumer reviews agree that the scent is long-lasting, as the stress ball comes with a drawstring bag to keep it in when not in use. The gel is not cold too the touch or lumpy like other stress balls with a similar core. Consumers consistently review that the quality is higher than many other choices on the market.
The downside: The scent might be overpowering for those individuals with allergies or a sensitivity to fragrance. The common consensus from the minority who did not like the product? The jasmine and lavender stress balls smell a bit like a French brothel, while the mint has no discernible fragrance at all.
6. CanDo Digi-Squeeze Hand Exerciser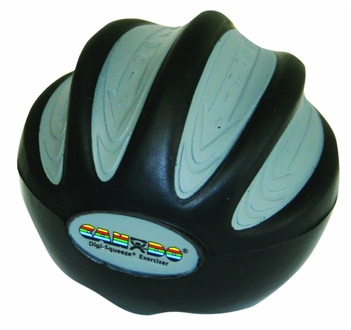 The sophisticated CanDo DigiSqueeze Ball has finger and thumb indents for individual digit strengthening for both left and right hands. The foam stress balls are available in small, medium, and large sizes with an impressive five options for resistance.
The brand targets injury-recovery as the primary product purpose. The small one measures 3 inches, medium measures 4 inches and the large measures 5 inches. Each size comes in a variety of colors. Another added bonus is the exercise guide that comes with it.
What reviewers like about it: Perfect product for hand injury rehab.
Reviewer dislikes: Too much stank.
Consumer advice: Make sure you get the right size and resistance.
7. Tangle Creations Relax Therapy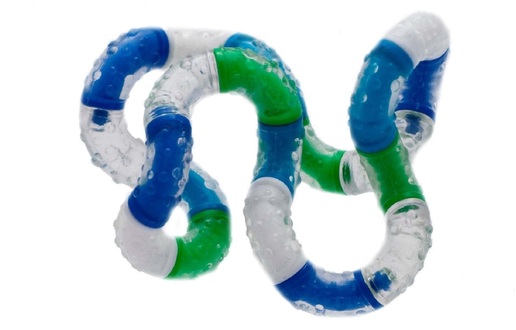 Resembling DNA, the ergonomic Tangle Creations Relaxation Tool deviates from the norm and provides twenty interconnected pieces with which to keep your hand as happy and occupied as much as your balls do! Sure to be as popular as Adderall among the ADHD crowd, these contraptions even link together if you need more stimulation.
Go ahead and harvest that fidget into something that actually serves a purpose: strengthening muscles and alleviating tension. Bordering copyright infringement of the game Bop-It (but luckily leaving out all that anxiety-causing timer crap), Tangle Creations urges you to Touch it! Twist it! Turn it! With the rubber coating, manipulation is easy and satisfying.
What real people like about it: It really is a great aid for those suffering from anxiety disorders and serves as an effective habit-breaker.
What real people dislike: Too small and weak. Avoid handling with Hulk-like force.
About the next few options…
Our next picks are deviations from the standard stress bells and are geared more towards the novelty end of the spectrum. Time to have some fun!
8. Stress Ball Paul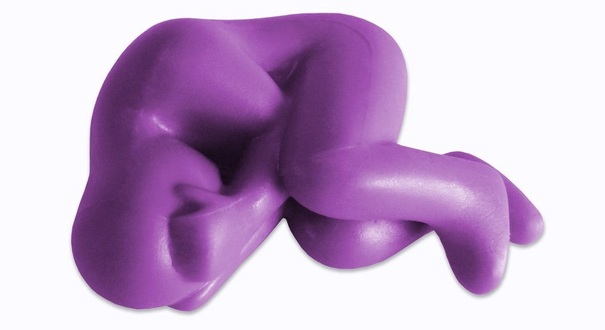 Silicone balls? Well, not exactly. Paul is shaped nothing like a stress ball, but he is certainly curled up into one. Measuring 2.4 x 3.1 x 1.4 inches, Stress Ball Paul nestles nicely into the palm of your hand so that you can squeeze the crap out of him when frustration cues. Who wouldn't want to take their anger out on a silicone man who is perpetually locked in the fetal position?
Likes: Stress Ball Paul brings entertainment value to every office and envy to every coworker who has to go without.
Dislikes: Paul is a bit emaciated. It must be very hard to eat in that position.
9. Emoji Pack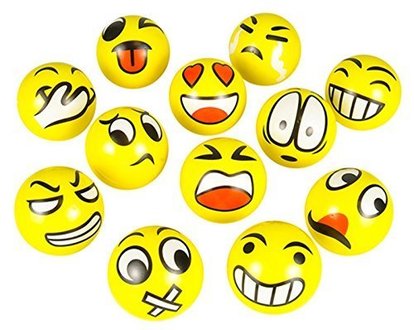 One of the newest products to the stress management scene is the Emoji Stress Ball Set, complete with the 12 most common Emojis that we all know and love. With a polyurethane outer shell and a foam core, they measure a whopping 4 inches in diameter.
What consumers like: The novelty aspect of the product.
What consumers dislike: The stress balls are too big for your hand and can't really be considered a hand therapy stress ball as they are too big to serve that specific purpose. While the core may be foam, it is encased with a polyurethane layer that makes it too firm to squish.
10. Farm Animal Pack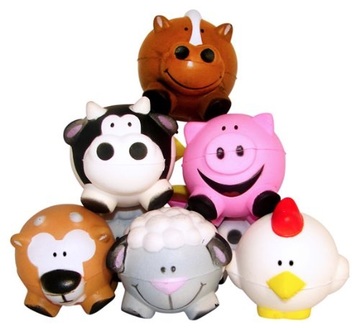 Purchased in sets of twelve, the Farm Animal Stress Ball Set seem more geared toward kids than adults. They have a playful air about them. Like the other novelty items, these are not exactly stress "balls", but rather squishy bundles of fun in the shape of different farm animals.
Each set consists of two of each: chickens, cows, pigs, sheep, horses, and bulls. Made of foam, they are easy to squeeze. Measuring in at 2 ¼ inches, they do emulate the size of many of the other stress balls.
The good: These make great gifts. Moooove over sports balls! These are a great alternative gift if your recipient isn't into athletics. They are also soft and priced well for the quantity that you receive.
The bad: Consumers seem to be at an impasse as to whether the variance in densities are intentional or not. While some consumers appreciate the variation and see it as a benefit, others see it as poor quality control leading to an inconsistent product.
11. Sports Pack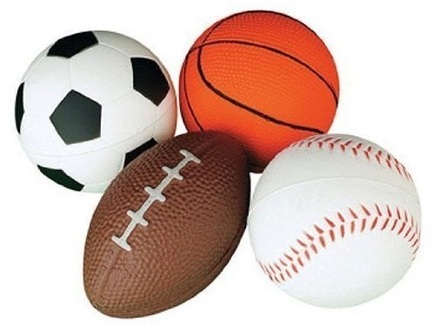 If you have never seen any of the stress balls at the beginning of our list, designed to treat not just tension but the various conditions of the hand, chances are you have at least spotted one of these simple, popular balls representing your favorite sports. They are often gifted in the office.
There are quite a few brands and so they will of course vary in size, but are generally made of foam and tend to be nice and squishy. The most popular place to get the Sport-Themed Set is usually on Amazon.
Favorite among consumers: The baseballs tend to be a favorite because they are awfully close to the size of the real thing.
Disliked among consumers: They can often have a strong chemical odor.
12. Human Face Anti-Stress Pack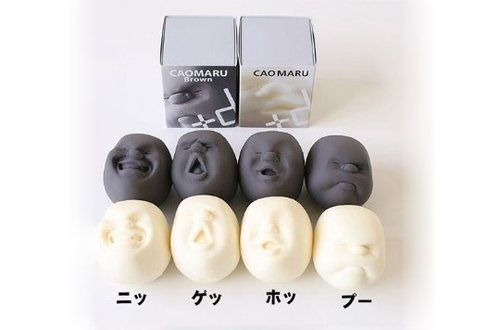 Let's face it, laughter is the best medicine, and these Japanese-designed Human Face Stress Balls provide the maximum legal dose of hilarity available over the counter. These vary slightly from the traditional stress reliever in a fun and exciting way: The stress ball, made of pliable polyurethane resin, is made to look like a face—one that can be manipulated into different expressions. While this doesn't exactly make it work the same way as your average stress ball, and virtually has no effect on conditions of the hand, it has the potential to make you feel better when you can't direct your anger at a real, live person. They put a face to the stress ball, because to put the ball to a face is considered assault.
What consumers like about it: The ensuing laughter.
Most common complaint: The chemicals with which these are made create a very off-putting smell.
Reviewers suggest getting an authentic Caomaru face ball rather than the knockoff for better quality and lack of stink.
13. Doctor Who Adipose Stress Toy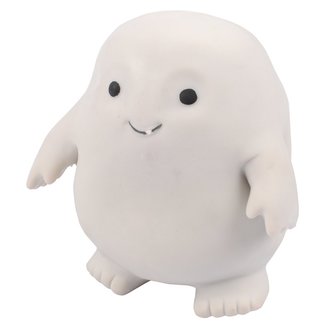 Adipose from Doctor Who is sure to be your…wait for it…. partner in crime as he assumes the form of a doll on which to unleash your angst! "Toy" seems to be an appropriate coinage rather than hand therapy stress ball, as the putty-like consistency is less resilient than the foam, gel, and rubber alternatives. It also measures in slightly larger than the average 2.25-2.5 inch rivals. Doctor Who fans seem most likely to be happy with this product, and if you're a fan then you can get the Doctor Who Adipose Stress Toy easily on Amazon.
The good: Great to have on display or just laying around for the occasional squeeze.
The bad: It stinks, is poorly constructed, and gets dirty quickly.
The ugly: Spontaneous combustion likely at high temperatures. Avoid prolonged sun/heat exposure.
Consumers suggest washing first and dousing in cornstarch to remove both stink and stick for optimal experience.
14. Chinese Baoding Balls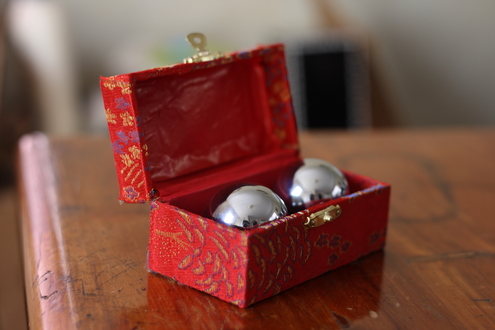 First made of iron and believed to have many medicinal purposes, these meditative Chinese Baoding Balls are available today in a variety of materials, commonly stainless steel. They are lightweight, and hollow. When rolled in the hand, the resulting chime sound is soothing to the user. They should be circled both clockwise and counter-clockwise around the other.
Like many stress balls, they stimulate circulation and exercise the hand and forearm. They are available in different sizes but the standard is 1.5 inches.
Consumer suggestions: Get the smoothest, shiniest ones you can find. Avoid materials that might result in uneven, misshapen balls. Nothing good can come from uneven, misshapen balls.
Which Kind Is The Best Stress Ball For You?
Choosing the best stress ball really shouldn't add to your tension. Everyone has a personal preference, and some products may be better suited for one person than another purely based on the reason for using one in the first place.
Obviously there are options specifically geared more for towards hand therapy, namely the 3-ball kit options. Others are more for the sporadic use and/or entertainment, like Adipose and the human face mashers.
Some are firm with little give, others are more malleable, while still others are squishy and springy. The density of the stress relief ball really depends on the material inside, and generally there are three different types when it comes to your choices:
Foam
Foam balls are most often the novelty stocking-stuffer type of product. You can expect sports balls, for instance, to be made of the squishy material. They will maintain shape for a little while but will wear out fairly quickly, as they aren't generally constructed for intensive use.
Gel
Physical therapy balls are more often than not made of a gel core. While the material surrounding them may vary, the gel provides both firmness and a little squish. The gel, even though covered by an external material or fabric, tends to feel cooler to the touch than the other materials. This helps with inflammation of the hand as well.
Rubber
These are some of the firmer options that are available. Rubber is bouncy but also firmer and denser than both foam and gel, and is generally pretty tear resistant. They are likewise a good selection for hand therapies, but may be a little too firm. Varying resistance kits would be a good selection when made of rubber. The downside: Rubber has a tendency to collect lint and hair.
Final Words
As you can see, ball squeezing is the hottest thing among the stressed out population, so there is really no need to feel self-conscious if this is your first time exploring the rapidly-growing fad.
If you are looking for intensive hand therapy to strengthen your hand and/or forearm, consulting your doctor or physical therapist on some of these choices may help you narrow down the best option for you. Otherwise, the novelty options are great go-to options for a quick pick-me-up.