If you want to get the most bang for your buck as far getting fit and losing body fat, you simply cannot beat the humble jump rope. Rope jumping is still the best thing you can do to churn through the calories while ramping up your cardiovascular fitness fast. In this article, we'll break down the jump rope market and provide you with the best of the best.
Epitomie Power Skip Jump Rope
Our favorite jump rope is the Epitomie Power skip jump rope, a fully adjustable, extremely durable rope with comfortable handles and an excellent swivel action.  A great feature with this rope is that you can lengthen or shorten the rope to make it usable for people between five foot and six foot, eight inches in height. The handles are fitted with smooth glide ball bearings, enabling the rope to provide a smooth, natural performance no matter how fast you skip.
The maximum comfort foam material of the handles ensures that you get a firm, comfortable grip. The ergonomic design of the handles themselves put your wrists in the best position to avoid any discomfort. All in all this is a very sleek, functional rope that will last the distance. It's also extremely good value for money, especially when you factor in that it comes with a DVD training guide.
Why the Epitomie Power Skip Rope is Our Top Choice . . .
Extremely durable
Fully adjustable
Smooth glide ball bearings
Great value for money
Fitness Factor Adjustable Jump Rope
Our second top rope, the Fitness Factor Adjustable Jump Rope, is another very impressive training aid that you can pick up for just a few bucks. I especially loved the anti tangle feature of this rope as there's nothing worse than having to untangle a rope when you're in the zone to get jumping. This is another very durable rope that is both snap and crack resistant. It's also got ultra comfy handles that are padded with a soft foam material, yet still allow you to get that secure grip that you need.
This is another rope that is adjustable in length, allowing people from 4′ 9" to 6′ 6″ to use it. However, the adjustment process on this one is a little bit more tricky than with the Epitomie rope, which is one reason why we didn't rate the Fitness Factor as our number one rope. It also doesn't have the ergonomically designed handles that relieve wrist pressure that you get with the Epitomie rope. This rope is a little bit cheaper than the Epitomie but it doesn't come with a DVD.
What we love about this rope . . .
Tangle-free
Fully adjustable
Comfortable handles
Very durable
Buddy Lee Jump Rope
The Buddy Lee Jump Rope is a precision rope that bears the name of its creator, Olympian wrestler and gymnast Buddy Lee. This is a 9 foot long rope that features a unique patented swivel that has been designed to reduce drag and friction as the rope is swinging through the air. A side benefit of this innovation is that it also stops the rope from getting tangled. Another feature we love about the Buddy Lee rope is that it features a simple yet very effective system that allows you to shorten or lengthen the rope in seconds. This makes it instantly usable by both children and adults.
The handles on the Buddy Lee jump rope are each nine inches long, which is quite a lot more than you get on other ropes. The handles are ergonomically streamlined, though they don't provide you with the level of padding that you get with our first two ropes.  The actual cord on this rope is constructed from top quality PVC and has been crafted to ensure the most speed can be generated as possible. Ball bearings in the handles provide you with a smooth rotation.
Our favorite things about this rope . . .
Patented swivel action
Easy length adjustment
Extra long handles
Tangle-free
Fitness Master Jump Rope
The Fitness Master Jump Rope is a nine foot long that is fully height adjustable. A highlight with this rope is the smooth swivel action that you get from the  high quality ball bearings that have been fitted into the handle. It gives you an extremely fast spinning, professional rope. The wire cable of the rope is completely tangle free. It is encased in a black thermoplastic urethane coating. This keeps the actual wire from damage if and when it crashes into something that it shouldn't.
The Fitness Master Jump Rope is a very compact, tidy unit, making it great to take with you on the road. You can easily adjust the length of the rope, which iss agreat bonus.
Our favorite things about this rope . . .
Smooth swivel action
Fast spin
Tangle free
Easily adjustable
Rage Fitness Jump Rope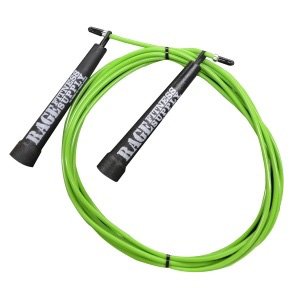 The Rage Fitness Jump Rope is a simple rope with long tapered handles. However, it is also the fastest of all the ropes that we reviewed. That makes this a great choice for experienced users but not so ideal for newbies. A lot of the increased speed comes from the extra long tapered handles which promote a faster swivel action at the wrist. The taper is also ergonomically designed to reduce wrist discomfort. Another key factor in the speed of the rope is the use of speed ball bearings inside the handles.
This rope is completely friction free. It is also completely adjustable with a quick change enabling it to be used by people of all different sizes. A vinyl coating covers the cable, providing extra durability and impact protection.
Our favorite things about this rope . . .
Long tapered handles
Fastest rope we have come across
Speedball bearings
Vinyl coating
Survival  and Cross Jump Rope
The Survival and Cross Jump Rope is the rope of choice for CrossFit and MMA training. This is an impressively light rope that will provide you with a very tangle-free free workout. As with the Rage Fitness rope, the Survival and Cross rope is designed for serious trainers rather than beginners. It also comes with tapered handles, enabling a natural wrist action to take place.
This rope an be adjusted to suit with the simple turn of a screw. You may, however, find that the screw pin gets in the way of your hand action, digging slightly into your wrist. We absolutely love the lifetime guarantee that comes with the Survival and Cross Jump Rope.
Our favorite things about this rope . . .
Lightweight
Fast
Lifetime guarantee
BenRan Jump Rope
The BenRan Jump Rope is a very sturdy rope that is able to take a serious beating. It is made from strong 3M pvc. Unlike many ropes, you can use this one on concrete with no problems. There is a quick adjust setting with this rope so that it can be quickly changed up to suit your height. This rope features thick foam grips which provide comfort, but are not as grip friendly as the longer tapered handles that comes with more expensive models. The handles are fitted with ball bearings that give a fast rotation.
Our favorite things about this rope . . .
Very strong
Easily adjustable
Comfortable handles
Jump Rope Buyer's Guide
If you want to get the best exercise experience out of your new jump rope, you had better know what to look for during the buying process. The worst thing you can do is to let the fact that a jump rope is a relatively inexpensive purchase cause you to not take the process seriously. There's not be a lot that goes into  a jump rope, but there are some key factors that you need to consider. Let's check them out . . .
Adjustability
The first thing you need to determine is whether the rope is adjustable. Getting the right length is critical to jump performance. You want to make sure that the rope can be adjusted for use by people of different heights, ideally from under five feet to well over six and a half feet. You want the adjustment to be quick and easy. Look for adjustment screws that stick out and may potentially dig into your wrist.
You will find two types of adjustable rope. The first is a rather long rope that has to be cut down to your length. Obviously this means that you cannot take it back to its original length for taller users. The better option is the rope that allows you to shorten the length and store the excess within the handle.
Durability
You want a rope that is going to last a ling time, ideally for many years. It should be durable enough for use on any type of surface, including concrete. Quality pvc will do fine but will be even better if it is encased in a polyurethane coating. Most ropes that start to break do so at the point where the handles and the cable meet so you will want to check this area for strength of connection.
Weight
When it comes to the weight of your jump rope, you need to hit the ideal sweet spot. If the rope is too light, it will not spin very well and if it is too heavy it will be too slow. The only way to find out really is to try the rope out for yourself. If you're buying online, check reviews to see how well the rope spins.
Ball Bearings
You will want a rope that has quality ball bearings fitted into them. This will ensure a smoother, more natural spinning motion.
Handles
The handles are another area where you need to fin a happy medium. You want them to be comfortable so you don't end up with calluses. But you don't want them so soft that you are unable to get a secure grip. The best ropes will have longer, tapered and ergonomically designed handles that support wrist action and enhance the speed of the rope's rotation.
Jump Rope FAQs
What is So Good About Skipping?
Well, for a start it is one of the top calorie burners on the planet. The calories burned through every minute of jumping rope are on par with a strenuous game of basketball or a six-minute mile run. At 14 calories churned through per minute, skipping is a mega fat burner. But not only that, skipping has been shown to induce the EPOC effect. EPOC stands for excess post exercise energy consumption. It means that you actually burn more calories after your skipping session has finished. So, skip for 20 minutes, and your metabolism rocks into overdrive, transforming your system into a fat burning furnace for the next 24-hours.
Plus, you can skip at home, without having other people criticize or judge your for playing with a children's toy. All kidding aside, a jump rope is one of the cheapest cardio machines ever! You can't talk about the best home gym equipment without mentioning a jump rope.
How Can You Fit Skipping into Your Routine?
Skipping is a great stand alone exercise. You can either do timed 'rounds' of skipping or intersperse rope jumping with body weight exercises such as push ups, wall sits, burpees and crunches.
Maybe you're into weight training to build your body. Well it just turns out that skipping is the ideal complement to your workout. If you want to really get ripped, showing off your newly built muscle to maximum effect, skip for 30 seconds between sets. You will lean out faster than you ever though possible.
How Do You Do the Basic Skip Jump?
Proper body positioning is crucial to skipping effectively. Here are the key points to nailing your skipping posture . . .
o   Stand upright and look straight ahead.
o   Place your feet shoulder width apart.
o   Place your weight slightly forward on the balls of your feet.
o   Maintain a slight knee bend.
o   Actively engage your core, keeping it tight at all times.
Rotate your wrists to swing the rope overhead. Your arms should rotate in small arcs. As the rope comes down toward the floor (it should be some six inches from contact), jump up four to six inches with both feet as you pass the rope under your body. Continue rotating the wrists, swinging the rope in an arc, from back to front.
 Work on maintaining lightness on your feet, timing your jumps to coincide with the rotation of the rope.
Our Final Recommendation
The best jump rope on the market right now is the Epitomie Power Skip Jump Rope. We have ranked it as our number one because it has very good rotation due to its smooth glide bearings. It is fully adjustable, very durable and is terrific value for money. The best rope for advanced rope jumpers is the Survival and Cross Jump Rope, which is extremely fast, light weight and comes with a lifetime guarantee.