Bottom line upfront: We recommend the TRX Suspension Trainer Basic Kit as an entry model home exercise unit for people who are after a functional core-centric workout at home.
If you are looking for the most effective, versatile and functional home gym training equipment on the market, you simply cannot look past the suspension trainer. Introduced by former Navy Seal, Randy Hettrick almost a decade ago, the suspension trainer has quickly become one of the most popular bodyweight training systems in the world.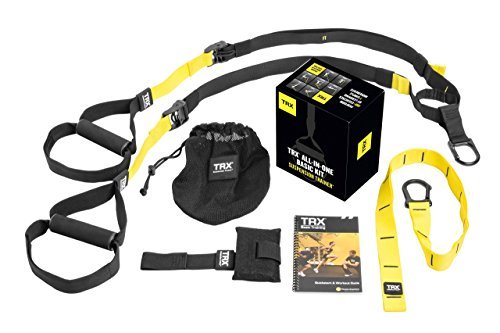 Suspension training provides an entirely new way to work your body. It combines strength, flexibility and balance to give you an extremely functional type of workout that you do not get from traditional barbells and dumbbells. While you are able to work every muscle group in the body, the need to balance your body on every move turns each exercise into a core-centric exercise. And what's more, you can use a suspension trainer anytime, anywhere – and it all packs up into a convenient carry bag.
The original and, arguably, the best suspension trainer is the original TRX. The familiar yellow TRX straps can be seen in commercial gyms and sports facilities all over the planet. In this article, we review the in-home starter pack version of the TRX, the TRX Suspension Trainer Basic Kit. We'll also compare the TRX to 3 market competitors, so you can make the best buying decision.
TRX Suspension Trainer Basic Kit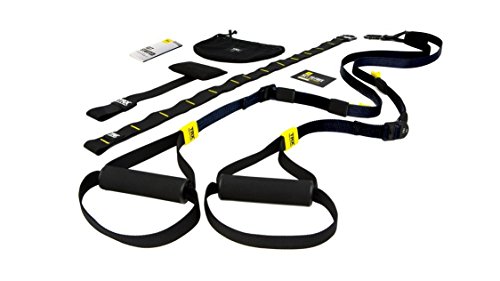 TRX Pros
Lightweight
Versatile
Functional training
Great for taking on the road
TRX Cons
Cannot do many traditional weight training exercises
No progressive resistance
Features
The TRX Suspension Trainer Basic Kit is the in-home version of the full TRX system. While retaining all of the robustness of the original, it is a pared down version for the home user. Here is what the pack includes:
A TRX Suspension training strap
A TRX door anchor
A TRX mesh carry bag
A full color 35-page workout guide
While this system does not provide you with a complete commercial grade set up (there is no suspension anchor for ceiling mounting), you do get a TRX door anchor which allows you to perform most of the exercises that you would with a ceiling mounted anchor. The door anchor is easy to set up and reliable (just make sure that nobody comes through the door while you're working out!).  Be sure to use a durable door as the anchor may cause a mark on it due to the fact that it will be taking the brunt of your entire bodyweight.
As with all TRX systems, this one has been safety tested to 350 pounds. A big problem with the TRX system is that you are limited in the amount of progression that you can achieve. As you know, progressive resistance is at the heart of workout progression. If you want to get fitter and stronger, you need to lift more, run faster or jump higher.
With the TRX system you can make an exercise harder by either moving further away from the anchor point or by increasing the angle of movement. But once you have exhausted these areas, there is nowhere else to go. Of course, with weights, you simply have to put another plate on the bar. This obviously is not a problem specific to TRX but one that is inherent in all suspension training systems.
One of the strengths of the TRX system is the quality of its construction materials. You are going to be relying on the straps to carry your entire body weight so you need to have the utmost confidence in their integrity. The straps on all TRX systems are made from military grade webbing and the buckles are constructed from carbon fiber, so there are no worries with either of them failing on you.
The handles are slip and sweat resistant. They are also ergonomically designed to the shape of your hands and feet and covered in a soft padding for enhanced comfort. Your purchase comes with a fitness guide but no DVD instructions. Fortunately, there are a whole host of easily accessible videos on YouTube that you can watch to get the exercise guidance that you need.
The Bottom Line
The TRX Suspension Trainer Basic Kit is a pared down version of the full TRX suspension training system. It is built around a door anchor as opposed to a ceiling mounted anchor. This means that you cannot do as many exercises as you would be able to do on the full version. however, you are still able to get in a solid workout that covers your entire body with plenty of exercise variety.
As the original suspension trainer, the TRX system is considerably more expensive that many of its competitors. If you are a person who likes the peace of mind of the market leading brand name then you will be pleased to pay that bit extra. However, there are several other players on the market who offer a comparable product at a lower price.
TRX Competitors
Lifeline Jungle Gym XT Suspension Trainer System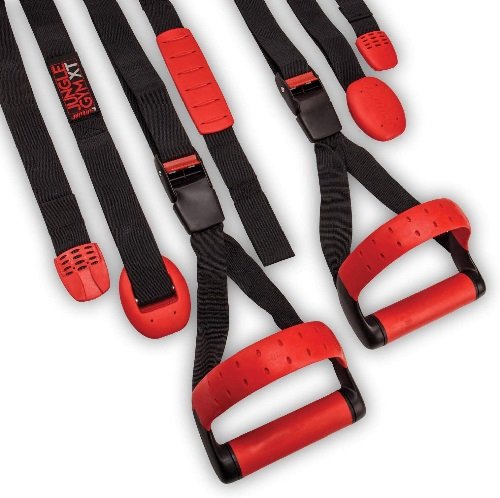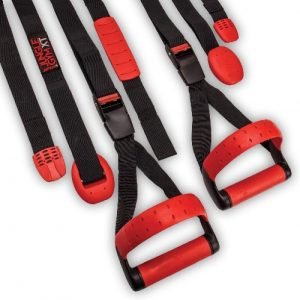 The Lifeline Jungle Gym XT Suspension Trainer System is a popular TRX alternative that features a couple of unique aspects that make it a very functional home gym. Firstly, it has a patented split anchor that allows you to independently place the anchors for each handle. This allows you to have more flexibility in adjusting how your workout targets your muscles. Non-slip rubber foot cradles are another great feature that make this a fantastic alternative to the TRX.
Durable suspension straps allow you to hold your own body weight without worrying about tearing or breakage of the straps.  The length of the straps is easily changed with an adjustable buckle.
A workout sheet with 3 sets of exercises separated by difficulty is provided as well to give you some direction if you are unfamiliar with suspension trainers.
The quality of the construction materials seems to match up, and this suspension trainer system matches up pretty well with the TRX despite using cheaper materials thanks to its innovative design.
GoFit Gravity Bar Bodyweight Training System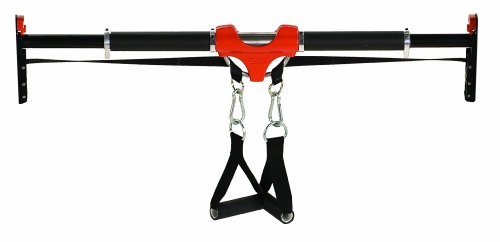 The GoFit Gravity Bar System is a variation on the suspension training model that provides you with a door mounting system that allows you to work with your bodyweight via straps up to a maximum user weight of 300 pounds. With this system you are limited to a doorway use so it is nowhere near as versatile as the TRX or the Ultimate Body Press systems.
Unlike many doorway trainers you can be confident that this system will not leave any nasty markings around your doorframe. It makes use of an easy to operate push button system to quickly adjust the straps to the required length. The straps are made from commercial grade webbing that have been rigorously tested. Double stitching reinforces the seams. The buckles and carabiners on this unit are also of a high quality.
Your purchase of the GoFit Gravity Bar System comes complete with a workout DVD and  Get Started Guide. In addition you get a complimentary door mounted pull up bar. It all adds add up to very good value.
Crosscore 180 Bodyweight Trainer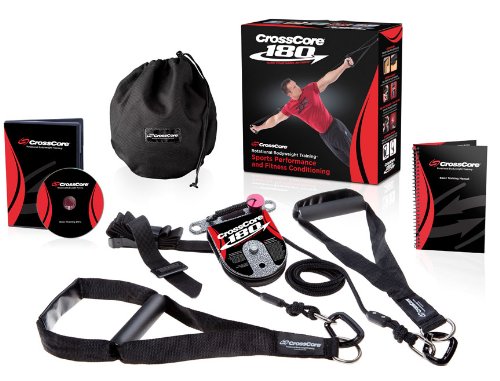 The Crosscore 180 Bodyweight Trainer adds a new twist to the suspension training market with the addition of a unique pulley design that makes the body even less stable than it normally is on a conventional suspension unit. If you want to place the emphasis on working the muscles of your core then that is a good thing. Your core will have to work harder to stabilize your body on each and every exercise that you do.
If you want to use the CrossCore 180 as a conventional suspension trainer, you simply have to insert a locking pin. In effect, you are getting two machines in one device. Of course, the addition of an extra pulley does makes this unit heavier than most but that is a small price to pay for the extra functionality that this innovation provides.
Another unique feature of the CrossCore 180 is that it has handle carabiners that lock into the top of the pulley housing to allow you to do exercises such as pull ps. The handle cradles can be opened so that you can insert your arms when doing such exercises as knee raises. You can also close the grips firmly on the hands to enhance your hold.
As with the other trainers that we have looked at, the CrossCore 180 provides you with quality materials. The webbing on the straps are of military grade and feature double stitching on all the seams. The buckles, pulleys and carabiners are also of a high quality.
The CrossCore 180 system will attach to any anchor point that is 7 to 11 feet from the ground. You also get a free door anchor so that you can use the system when traveling. The system has an impressive 1000 user weight maximum. Your purchase of the Crosscore 180 system includes the rotational bodyweight trainer, door anchor, carry bag, training manual and basic training DVD.
You also get a 2-year warranty on the pulley unit.
Summary
Suspension training provides you with a very functional home workout option for overall fitness. It is not designed as a strength trainer and will not replace the heavy weight training moves like squats and deadlifts. For that, you need to invest in the best home fitness equipment. But if you want a functional core-centric workout that you can do anywhere, it is a great option. The TRX Suspension Trainer Basic Kit provides you with a good entry point into the suspension training market. It gives you the facility to do all of the base exercises vis a doorway mounted attachment and delivers the same premium quality materials as you get with the full TRX version.
If you are after an alternative, which matches up on construction quality and versatility, we recommend the Lifeline Jungle Gym XT Suspension Trainer System.