by
A speed bag is one of the oldest training tools in the boxing book.
You've seen them in just about any boxing movie in existence, and almost anyone can immediately recognize the rhythmic sound of a speed bag pounding back and forth when they hear it.
The skills a fighter learns by practicing with a speed bag are crucial and really can't be taught by any other boxing tool, so training with one is essential if you want to advance in the sport.
There are plenty of easy-to-install platforms designed for setup at home, but some are certainly better than others, so I'm going to show you the top 4 choices to help you find the best speed bag platform to practice with right in the comfort of your own home gym.
#1 – Everlast Elite Speed Bag Platform
Everlast is one of the top brands in producing fighting equipment around the world, so it should really come as no surprise that they make the #1 best speed bag platform. The Everlast Elite Adjustable Speed Bag Platform is fairly simple in design yet solid quality and very affordable, which is like the ultimate trio of perfect qualities that you want from a platform.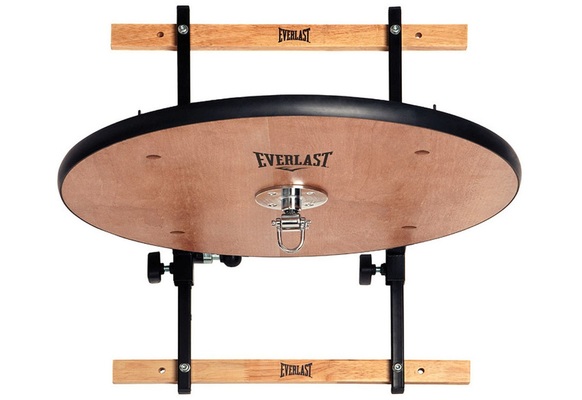 The Everlast platform uses two thick wood support braces to firmly attach to any wall, and the strike board itself is 24″ in diameter and a full 1″ thick. What does this mean for you? You can pretty much slam the bag around as hard and as long as you want without any worries of the platform coming loose or moving. The platform is adjustable in 8 different positions (8″ up or down), giving you the ability to find the perfect bag height to train at, and it's also capable of holding any size speed bag. So you really have a lot of options to personalize the Everlast platform to your exact training specs. The speed bag itself is unfortunately not included, but that's pretty standard with speed bag platform packages so that you have the ability to choose your own preferred bag size and weight.
Besides the great quality and durability, the aspect that really makes the Everlast Elite stand out as the best speed bag platform is the price. While every other speed bag platform is in the mid-$200 range, the Everlast comes in at a super affordable $100. If you're lucky, you can even sometimes get a discount by buying it on Amazon.
A quick thing to give you a heads up about: if you read some of the reviews on Amazon, there are a few complaints about the swivel being less-than-pleasing. These reviews are outdated; Everlast has since fixed this issue and the Elite platform now comes with a new U-shaped Pro swivel that works like a charm.
It's also important to note that Everlast does not include any wall mount hardware. Just like the scenario with the speed bag itself, Everlast does this because not every home is the same and depending on your personal setup, you may prefer certain hardware over others. For those interested, there's actually an excellent tutorial on setting up the Everlast Elite platform in the top customer review on Amazon.
#2 – XMark XM-2811 Speed Bag Platform
Truth be told, the XMark XM-2811 Adjustable Speed Bag Platform is actually quite a bit nicer than the Everlast Elite platform in terms of quality and design. With that being said, I didn't think the upgrade in quality was enough to warrant paying an extra $130 or so in price, so the XM-2811 earned the #2 spot on the list of best speed bag platforms. If the extra price doesn't really concern you and you just want the downright best speed bag platform available, keep on reading.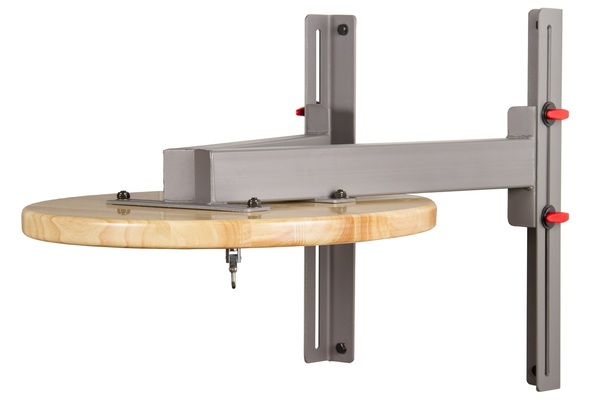 XMark Fitness is a lesser-known company that produces home gym equipment, and it's sad to see that they don't get more recognition for their products. They make extremely good stuff, and often times their products are both better in quality and lower in price than even the highest leading brands (which is why I was so bummed out when their speed bag platform's price was not as affordable as the rest of their products usually are).
The XM-2811 speed bag platform definitely follows suit with XMark's reputation for great equipment; it's one of the most heavy-duty rock-solid platforms on the market. Rather than using wood support braces like the Everlast model, XMark utilizes a powerful dual-beam 11-gauge steel mainframe. In other words, once you screw this into your wall, this thing is not moving unless you want it to. Period. The strike board itself is the typical 24″ wide, but comes in quite a bit thicker at 1.5″ just in case the truck-grade steel frame wasn't sturdy enough (that's a joke in case it isn't obvious). An added benefit to the gnarly steel construction is that it minimizes vibration when you're pounding the bag, so the XMark platform is not only ridiculously strong but also extremely quiet (probably the most quiet platform out there if sound is a concern for you). At the center of the strike board, there's a professional grade ball bearing swivel that's ready to hang any speed bag you've got.
Also like the Everlast platform, the XMark XM-2811 platform is easily adjustable up and down so that you can find your personal sweet spot in terms of speed bag height. However, with the XM-2811 you have a massive 15″ of adjustability compared to the Everlast's 8″. I'm not sure if that's really necessary, but it's certainly not a bad feature to have available in case one of your buddies wants to hit the bag and they're a much different height.
As I said in the beginning, the only issue that sets back the XM-2811 platform is the price, otherwise it would've earned the top spot as #1 best speed bag platform. If you want the best of the best and are fine with spending the extra money, then by all means, get the XMark XM-2811! Hardware and installation instructions are included.
Update: in spring of 2016, XMark released a submodel to the XM-2811 called the XM-4441 platform. It's essentially the same exact platform as the XM-2811, but with a slightly lighter gauge steel to make it more affordable. Thankfully, this lighter gauge steel does not affect the performance of the platform at all; the XM-4441 is still just as rock-solid and powerful as the original XM-2811! But with a much more affordable price tag, the XM-4441 is an awesome addition to XMark's lineup and might honestly be the better choice. Check it out here!
#3 – Valor Fitness CA-53 Platform
Coming in at spot #3 is the Valor Fitness CA-53 Speed Bag Platform. The Valor platform is a nice product, but it's a bit overkill in my opinion. While it gets great reviews from customers, the design is very bulky and there's just a lot going on with the setup that makes it a little too complicated when it really doesn't have to be.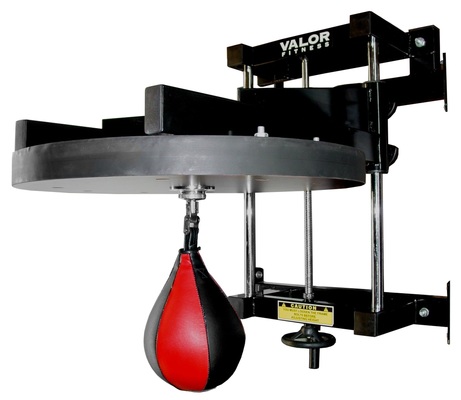 Like the XMark platform, the Valor Fitness platform has a solid steel frame, but it's nowhere near as subtle as the XMark. It's easily two times as bulky, and since the oversized frame doesn't necessarily offer any sort of benefit in terms of rigidness, I don't really see the point in it. It also holds a massive 2″ thick strike board, which is another one of those things that I think is better in theory than in execution. The Everlast's 1″ board works perfectly fine and the XMark's 1.5″ board is even bigger than I think is necessary but it works great with the rest of XMark's setup, but a 2″ thick strike board makes it seem like Valor just beefed up the size of everything on their platform just to make it appear more powerful. At first glance, it might seem that way, but that's just not how it works.
The Valor Fitness platform adjusts a full 13″ using three steel tubes for support (I'm guessing three were needed because of how heavy the platform's bulky design weighs), which is nice to have for finding the best speed bag platform height. You've got a pretty nice swivel integrated in the center of the strike board, and Valor even includes a speed bag to help you get started. It's a little on the cheaper side, but ti certainly works and it's a good addition for beginners.
Even if I look at things completely optimistically and I accept the bigger design, the last thing that really turns me away from the Valor platform is the price. We're talking nearly $300 for this setup. When I can have the Everlast at only $100, or even the superior XMark in the lower $200's, I just don't see any sort of justification in the Valor's huge price tag. That was unfortunately the last strike that setback this platform to #3 on the best speed bag platform list.
#4 – Balazs i-Box Platform
The final platform on the list is the Balazs i-Box. Balazs is a company that specializes in boxing equipment; they're a supplier for a lot of martial arts and boxing studios in the US. All of their products are made right here in the USA, and they're a true American company! Unfortunately, the competitors in the speed bag platform category outdid the Balazs i-Box platform. With that being said, it actually had nothing to do with the Balazs platform's quality! This decision was purely based on price.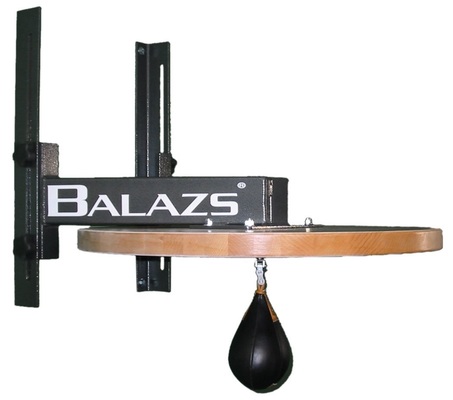 To be honest, the Balazs platform is actually very similar to the XMark. They share the same design, they're both made of sturdy steel construction, but the price on the Balazs platform is about $40 higher than the XMark. Since my job was to find the best speed bag platform, I had to give the higher spot to the cheaper model since it offered the same features for less. If you'd rather support an American company and want to pay slightly higher, the Balazs is undoubtedly a great choice! It's even available in 3 colors (red, yellow, and black) for a nice personal touch. Read more details on it here.
Why Should You Use A Speed Bag?
Using a speed bag is one of the best forms of training you can do as a fighter, no matter whether you're focused on boxing, martial arts, or some other study. There are skills you learn with this type of bag that nothing else can teach you, and the benefits are both physical and mental. As Title Boxing says, "It isn't just about hand-eye coordination or speed."
Let's start off with that, though. This most obvious skill learned is hand-eye coordination. Speed bags move very quickly, and you need to have extremely precise timing to hit the bag on its rebound in the same spot every time. So the faster you pound that little bag back and forth, the faster your brain learns to process the quick movement of the bag. The result in your reflexes is that as soon as you visually see it coming, your hands are already working to punch without you even needing to think about it.
It's also soothing. Most people view fighting sports as an aggressive practice, but for those with experience you know that it can be calming in a way. It's not all about frustration like those people may think. The speed bag is one of the most calming forms of training because the repetitive pounding sound becomes a melodic rhythm, almost like a song, that soothes the mind of the person hitting. The speed bag song acts like a harmony that helps the fighter relax and focus.
You only learn to be calm once you master the initial shock factor, though. And that shock factor is what teaches you to keep your hands up and your eyes open. What do I mean by this? When something is coming fast towards your face, you have a tendency to blink or close your eyes completely. I don't really have to spell it out for you to explain why that's a bad thing in the fighting world. As I said above, the speed bag is moving fast, and since it's repetitively coming at your face, you naturally learn to keep eyes open to watch the movement and your hands up to protect your face from getting hit. These are crucial defense skills that have the ability to make or break you in a split second.
I wouldn't necessarily say that the speed bag is the best form of training for a fighter, but as you can see it undoubtedly plays a vital role in helping you advance to the next level and become the best you can possibly be. Each of these benefits also transfer over into other activities, and the more you practice with the speed bag, the more you'll start to notice your reflexes and coordination seriously improving in other areas of your daily life as well.
Choosing The Right Speed Bag For Your New Platform
Finding the right speed bag really comes down to personal preference. For generalization, bigger or heavier bags are usually used to train power more than speed, and lighter or smaller bags are usually used to train speed more than power. You can choose one end of the spectrum, or find something in the middle that helps you train both evenly. There are also different materials, and quite different prices.
Honestly, a good place to start is to browse speed bags on Amazon. Check our customer reviews and see who's liking what, you can't really go wrong there.
Once you've made your choice, check out this video on how to get started with the basics of speed bag training as well as a few additional tips and tricks.
---
Final Words
Training with a speed bag offers a lot of impressive benefits both physical and mental, so having a platform at home gives you endless amounts of time to practice and up your game. It's an excellent piece of home exercise equipments. For most people, the Everlast Elite platform is the obvious best choice because it's great quality and easily affordable, but after reading the review of each model you can decide which is the best speed bag platform for your own training. Whichever platform you go with, keep your hands up and your eyes open, because that bag is coming for you!