Having a leg press machine in your home gym provides you with a whole new world of choice when it comes to your leg training options. It provides you with a lower back friendly way to place maximum tension on your quads, glutes, hamstrings and calves.
Even though prices on home leg press units have come way down, this will still be one of your biggest gym investments. That's why I've taken the time to dig deep into the home leg press market in search of the best leg press machine for your home gym. After checking out countless options, the clear winner is the Body Solid Leg Press.
The Body Solid Leg Press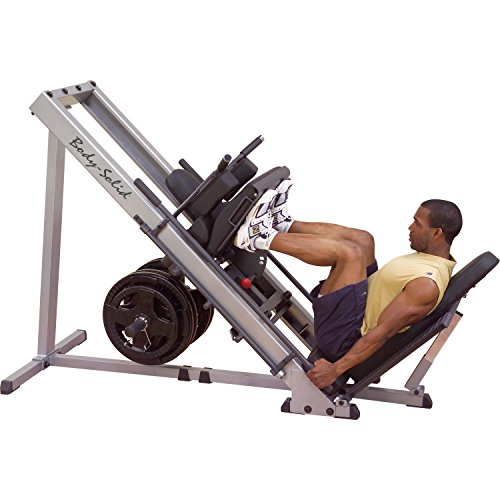 The Body Solid Leg Press and Hack Squat stood out to me because of its functionality, exercise range and the quality of its construction. Let's discover why . . .
Quad Track Rollers
The first thing that caught my attention was the reviews from users on the Body Solid which claimed that this machine provided an amazingly smooth pressing motion. This is due to the quad track rolling system that eliminates friction completely. You will get even weight distribution over both legs.
When you switch to a hack squat position you also get an extremely smooth up/down motion, which is pretty rare when it comes to home leg press machines.
Superior Back Support
When you position yourself into the Body Solid Leg Press you will notice the high level of support given to your back and butt. This is thanks to the 4-inch thick padding that covers the seat and back support. This allows you to get the lower back protection that you need when pushing heavy weight.
Gauge Diamond Foot Plates
The foot plate on your leg press machine is a key to getting in a quality workout. The plates on this machine are non-slip so that you have no worries about lateral movement half way through a rep. The plate is also wide enough to allow for a range of foot placements so that you can emphasize different areas of your quads.
Safe Lockout
The lockout system on a leg press needs to be simple and effective. Ideally it should have more than one lockout to allow you to press to a range of distances. The Body Solid Leg Press provides you with three levels of safety lockout that are simple to engage and extremely secure.
Compact Size
One of the biggest hassles about having a leg press in your home gym is having the space available for it. That's one more thing that makes the Body Solid a winner. It compact size allows it to fit into most home gym environments. It is 83 inches long, 34 inches wide and 56 inches at its maximum height.
Exercise Versatility
The Body Solid Leg Press allows you to quickly transition to a very effective hack squat machine. You can also perform calf raises, one legged presses and glute raises.
Weight Capacity
The weight capacity of the Body Solid Leg Press is one thousand pounds. The weight horns are 12 inches long and take Olympic plates. You can fit eight 45-pound plates on each side of the machine for  total of 720 pounds. The machine itself weighs in at 108 pounds.
Pros:
Sturdy construction
Smooth, fluid movement range
Slip free large foot plates
3 safety lockouts
Some Possible Downsides:
Quite difficult to assemble
3 Leg Press Machines that also Impressed
In our quest for the best home gym leg press machine, we came a few models that really pushed the Body Solid for that top spot. One of them was the Powerline PVLP156X, which is a vertical leg press. This means that you lie on the floor and press directly upwards. This angle has been scientifically shown to place more tension on the quads and less on the glutes, which is great for those wanting to build up their thighs.
However, some people find that they get a blood rush to the brain when exerting themselves in this position. For that reason, I would advise test marketing a vertical leg press in a shop or gym before investing in this machine.
Powerline PVLP156X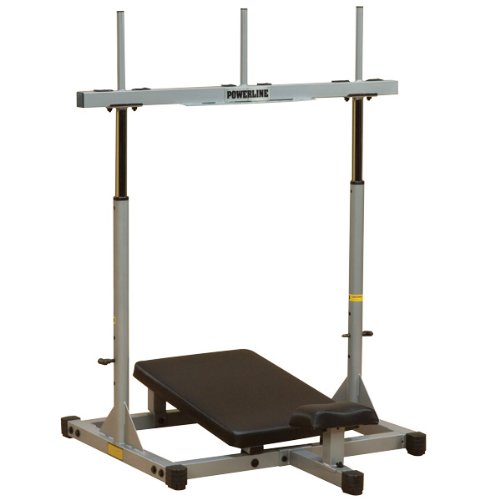 Compactness
The greatest benefit of the Powerline PVLP156X over the Body Solid is that it has a much smaller foot print. You only require a 2 foot by 3 foot space compared to about five times that space for an angled leg press machine.
Nylon Bushings
The most important aspect of any leg press experience is the smoothness of the pressing motion. The last thing you want is a stutter action that forces you to pause half way through a rep. The Powerline leg press is fitted with nylon bushings that ensure that every single rep is fluid and safe.
Secure Deck
The deck which you use to press your feet against is solid and secure. It is also slip resistant and, with this design, you get more versatility as to the width of your foot spacing.
Dual Adjustable Steel Locking Pins
This vertical leg press unit comes with a pair of locking pins which allow you to set the pressing height to your preferred level. These provide you with secure pressing limit. Unlike, angled machines, however, you are not able to adjust the stopping position while you are doing a set of the exercise.
Neck Support
Many vertical leg press machines do not provide you with adequate lower back and neck support. The Powerline is different, providing you with a decent amount of base support padding, along with an extra neck support pad. This is a vital difference which puts you in a far more ergonomically friendly position for the leg press.
Pros:
Compact
Smooth
Very good neck support
Some Possible Downsides
Can't convert to a hack squat
Unable to use safety locks while in use
May cause head rush in upside down position
Force USA 45 Degree Leg Press and Hack Squat Combo
The Force USA 45 Degree Leg Press and Hack Squat Combo is a combination press and hack squat machine which rivals the Body Solid in terms of quality of build and functionality. The lack of non slip foot plates makes this machine a little less preferable than the Body Solid.
Heavy Duty Construction
The Force USA 45 Degree Leg Press and Hack Squat Combo is made from heavy duty 11 gauge 2" x 4" laser cut steel. This makes for a very solid machine that will not provide you with any lateral movement, even when you are piling on the plates. In fact, you can safely add 1000 pounds of resistance to this machine.
Adjustable Footplate
The foot plate on the Force USA provides you with a wide pressing base. Its big advantage, however, is that it can be adjusted to five different positions. This provides you with different angles to hit the quads differently.  Users who are tall will have no issue with this machine as it supports up to 7 feet of height.
5 Safety Lockouts

A total of 5 safety lockout positions protect you while you move heavy weight.  The Force USA 45 Degree Leg Press and Hack Squat Combo is perfect for accommodating anyone who wants to use this machine.
Pros:
Sturdy construction
Adjustable footplates
Storage for plates

Great hack squat option
Some Possible Downsides . . .
Takes up a lot of floor space
Foot plates are not non slip
Powertec Fitness Leg Press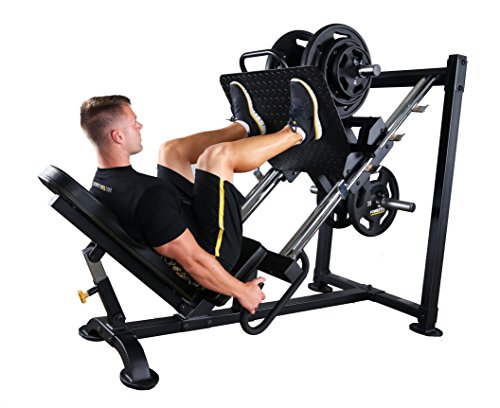 The first thing that hits you about the Powertec Fitness Leg Press is its compact footprint. For a fully functional angled leg press it is amazingly space friendly. But that's just the start of the impressive features on this machine.
Huge Footplate
The footplate on the Powertec is much larger than you find on many competing machines. This allows you to have an infinite variety of foot placement positions. The plate is also non-slip so you won't get any lateral movement throughout the exercise.
Industrial Bearer Rollers
The most important feature on a leg press is the smoothness of the pressing movement and the Powetec guys have nailed it with this machine. That's thanks to eight industrial roller bearings. Not only are these bearings extremely smooth they are also very durable.
Safety Stops
The Powertec leg press has three safety stops that allow you adjust the pressing distance. You are also able to stop at different points of the press if you need to abort the rep for any reason.
Adjustable Back Rest
The positioning of your upper body while leg pressing is critical to the success of the movement. This machine provides you with the ability to adjust the angle of the back rest to suit your height and size. In addition, the seat and back rest feature thick, quality padding.
Heavy Duty Construction
The Powertec Leg Press is rated for commercial use thanks to its heavy-duty construction. It is able to handle up to 1000 pounds of resistance spread over four solid weight horns.
Pros:
Very compact
Smooth action
Adjustable back rest
Safety stops
Slid construction
Some possible downsides . . .
Not suitable for taller people
Only takes Olympic plates
The Bottom Line
The best home leg press on the market right now is the Body Solid Leg Press. This heavy duty quad developer impresses us with its very smooth and fluid pressing action along with the three stop safety lockouts and large slip free foot plates. It also allows for a seamless switch to the hack squat.
The leg press option provided by the Powerline PVLP156X is the best vertical leg press we have come across, with its compact size, smooth movement and added neck support. Just make sure that this type of leg press set-up isn't going to give you a head-ache before you invest.
The Force USA 45 Degree Leg Press and Hack Squat Combo was another great option for a very similar price to the Body Solid. It comes with adjustable foot plates, convenient storage for plates and is extremely solidly made. Finally, the Powertech Leg Press really impressed me with its compact design and heavy duty construction which allows for a 1,000 pound max weight capacity.
No matter which leg press machine you choose, be sure to take a look at some of the other top rated home exercise equipment so that you can build your best at home gym.