Bottom line upfront: The Oster Myblend is the best protein shake blender.
Bodybuilders and CrossFitters unite under this guide as we all need a good blender to mix up our protein shakes after powering through an intense workout at the gym. Whether you are bulking through the winter or working on a new powerlifting PR, protein is essential for muscle building and you need plenty of it! If you're interested in taking your protein shake mixing to the next level, then your first step is to find a good blender. Earlier this year I visited a kitchenware expo where I was able to try over two dozen different personal blenders. At each booth, I explained that I was looking for the best blender for protein shakes, so each brand showed me all the different functions and features that made their model ideal for that use case. Once I got home, I looked up all of the brands online to see what customers thought of each model. After countless hours of comparing each model's functionality and then reading through hundreds of customer reviews, I finally narrowed the results down to a solid top 5. Let's start by comparing each model below: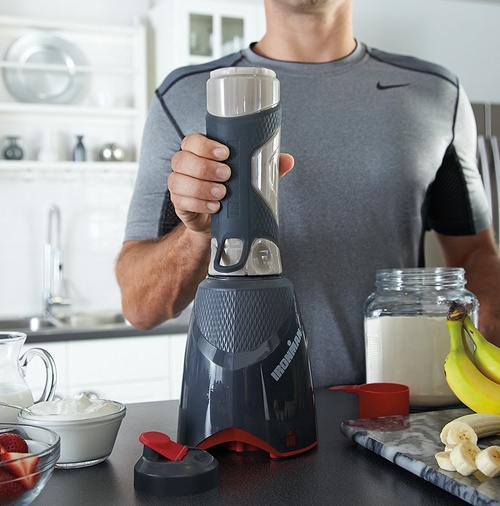 [cs_element_text _id="13″]
Top Pick: Oster MyBlend
For a colorful, sleek and highly efficient blender at an awesome price point, I'd recommend the Oster MyBlend as the best blender for shakes. The Oster MyBlend has become a staple in my kitchen because of this blender's ability to easily mix up all the stuff I throw in for my shakes (I like to get all fancy with several different ingredients). In addition, the lightweight, compact design allows you to fit it neatly on the countertop or toss into a drawer for later use. Let's go through the details on this one to understand why it was chosen as the best model over the rest.

The initial attraction to our best blender for shakes was the efficiency of getting the job done right in the sport bottle. The sport bottle that comes with the blender kit is 20­oz and BPA free, like most plastic products these days I know. What I liked most about this bottle was the liquid capacity compared to other shake mixers on the market. I've found that 16-20 ounces is an adequate amount of fluids for creating a protein shake after your workout, but you are obviously free to mix however much you'd like.
After you mix up your protein shake, simply screw off the blending cap and put on your drinking lid and out the door you go. The drinking cap has a convenient carrying hook, spill­proof lid and the top opens so you can drink easily. The bottle fits right into your cup holder in the car so you can sip on the way to work after the gym.
The way this blender works is innovative and quick which is perfect for those who need to blend and go. Most drinks will be done within a minute thanks to the 250-watt motor (which can easily crush ice, by the way). If you are going to blend with ice, I recommend pulsing ice first before continuous blending in order for the ice to not get wedged between the blades, causing unwanted interruption.
To use the MyBlend, simply toss your liquid of choice with your powder and supplements into your sport bottle. Screw on the blending cap and match the arrow on the blade with the arrow on the base, your blender should sit straight on. From here you have the option to manually blend by pressing the bottle down or continuous blending by locking the bottle into the base unit by turning to the right. Depending on the simplicity of your protein shake (less is better here), your drink will be done in under a minute. Another cool feature on this protein drink mixer is a small resettable fuse in case you accidentally get close to overheating the motor. We all make mistakes, and this little safeguard keeps you from burning out the motor and needing a new one.
As previously mentioned, after you're done blending you can be out the door with your protein shake quickly. When you blend all in your sport bottle, there's barely any clean up besides putting back your ingredients in their respective spots in your kitchen. Leave the base in that void space where the counter meets the refrigerator or store it up in a cabinet. When you get home, simply toss your bottle into the dishwasher or hand wash to use again immediately.
Overall, the Oster MyBlend is easy to use with very little room for error. I use it twice a day for blending protein shakes and have gone 6 months now with no complaints. If you do some serious shake-making and you think you may need a stronger motor than the standard 250-watts, you can upgrade to the Pro version for another $10 or so; however, I've personally been using the base model and it's been working just fine. At a price of $25, this thing is a steal compared to the rest of the blenders in this category (and it's usually even available at a nice little discount on Amazon).
If you're looking for the best protein drink mixer and you want something that's easy-to-use and affordable, the Oster MyBlend can't be beat.
Runner Up: Cuisinart CPB-300
Coming in second place would have to be the Cuisinart CPB­-300 model because of this product's improved versatility and design. The CPB-­300 has a stronger motor than the MyBlend without compromising the slim design for the orderly countertop or adequate storage. However, we had to reign this protein shake blender in 2nd place because of the extreme price difference compared to our number 1 pick. In case you weren't impressed by the Oster model, let's explore the benefits of spending that extra 30 bucks on the CPB-300.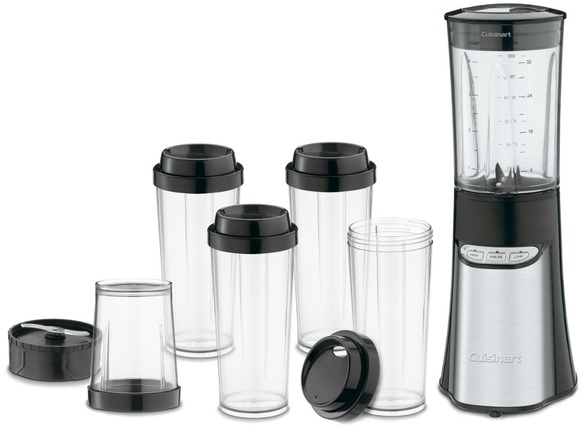 Right off the bat, the Cuisinart CPB­-300 comes out of the box with a ton of additional accessories you may be looking for in a good protein shake blender. What you will notice is the 32­oz blending jar with four 16­oz travel cups by it's side. With a larger blending jar, you can fit more into one shake or even distribute into the travel cups to drink later. This would be beneficial for anyone who is looking to batch blend a smoothie for the morning and another for later.
This model offers good travel lids (that can fit a straw if you prefer) for those on-­the-­go, however the efficiency is not quite equal to our number 1 pick. These travel cups do not have a covered mouthpiece and therefore are not spill proof, a quality I'd that's essential if you want to quickly blend a shake and go. A notable difference between the two products. If you do not want to batch your smoothies, this model does offer the option of blending into the 16­oz travel cups. This protein blender also comes with an 8­oz chopping cup to pulverize seeds if you want to add raw ingredients into your shake.
After loading your ingredients for the ideal protein shake, your blending jar will automatically power on the machine as you drop the jar into the base. From there you will have the option of high, low or high pulse / low pulse. This gives the user 4 options of blending and can offer more flexibility if you like a smoother beverage or if you like some ice flakes in your shakes! The increased motor power will take down frozen fruit easier than a motor with 250 or 175 watts.
Another important thing to note is that you will definitely need more storage space for this entire set. Instead of a base and one bottle, you have 6 different multi-­capacity cups and a base to find room for in your kitchen. As far as design goes, this blender looks good as well, accented with stainless steel and black with LED indicator lights. You can leave it on the counter and not throw off the color scheme of your modern day kitchen.
The extra money spent on this product does not go to waste. You have the option of batch blending or individual blends and if you don't want to clean your travel cup that day… you don't have to! You've got three more days before you have to consider cleaning! However if you are using the 32­oz blending jar and 8­oz chopping cup you will have significantly more cleanup than the Oster blender. So yes, the price comes with the added benefits, but it's on you to decide whether those benefits are worth it. In my case they weren't, which is why I picked the MyBlend.
#3: Nutri Ninja Pro (BL450)
The Nutri Ninja Pro BL450 was our third choice for a few different reasons. Comparable in style to the highly popular NutriBullet, this powerful 900 watt motor will pulverize anything you throw in it while extracting nutrients and vitamins that may get lost in traditional shake blenders. Also included in the Nutri Ninja Kit is a recipe kit for your delicious smoothie desires, so that's a cool little extra. However, we are here with protein shakes in mind! Let's see why the Nutri Ninja Pro made it into our top 5 list as a third choice instead of #1 or #2.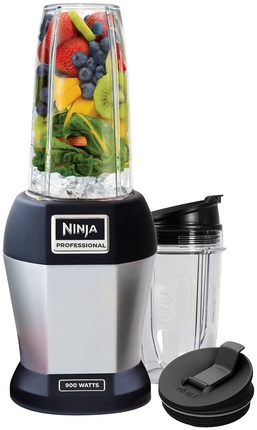 The Nutri Ninja Pro, although attractive in design, has a bulkier base than our previously rated protein shake blenders. This is associated with the significant increase in motor power, the highest we've seen so far. If you were to upgrade to one of the Ninjas more expensive blenders, you can find yourself with a 1,000 watt motor. Ninja is known for manufacturing high ­quality kitchenware products that work efficiently for those with a busy lifestyle. With a strong motor comes a blending blade that spins a high RPMs making blending happen right before your eyes. I found the design cool and trendy with equally impressive results.
The BL 450 model comes with a variety of blending cups: 12­oz, 18­oz & 24­oz. Similar to our previously reviewed, these cups can be blended and taken to go. This is a popular feature amongst personal shake blenders and something you definitely want to take note of when looking into buying the best blender for protein shakes. The travel lids are high quality and resistant to spills with their twist in sip & seal lids. This will give you the added security of knowing that if you drop your shake, the contents won't go all over your car or yourself at that.
After loading your contents into your chosen blending cup, twist in your blending blade and secure the cup into the base. Twist right until you hear the click and simply press down on the top of the cup into the base and you will have a beautiful, smooth and delicious shake ready to go with minimal cleanup. Now, at the core functions and efficiency for the "blend-­and-­go" ideal we are looking for in a shake blender, the Ninja certainly does the job. That is why this got onto our top 5 list.
I would definitely recommend this as the best protein shake blender for those who specifically like to make their own shakes from scratch. If you create your own protein shakes from whole ingredients like kale, hemp seeds, almond butter and the liking, the ultra-powerful motor in the Nutri Ninja Pro will make your world a whole lot easier. The motor smoothes out your selected ingredients and it can be done quickly in comparison to a traditional protein shake blender with extensive clean up. The prepping of vegetables and protein sources are not included into our review so your setup may increase the overall time the process take make your protein shake takes. However, when you get everything into the cup and blended, you can walk out the door in minutes with your shake.
Similar to the Oster MyBlend, I enjoy the feature of just locking the cup into the base and using a simple movement to get the blender going. All of these designs are made to be able to leave on the counter without taking up too much space. The Nutri Ninja Pro fits the criteria but will definitely take up more room than the MyBlend in your kitchen as well as storage. If it wasn't for the high price tag, this product would be ranking higher on our list, but until then we can enjoy the benefits of less expensive and equally efficient personal blenders like the MyBlend or the CPB300.
#4: BlenderBottle Classic
No guide about blending protein shakes could be complete without the BlenderBottle. I mean, these guys were revolutionary in the way they saw convenience for making a protein shake. Mind you, the BlenderBottle is great for those mixing protein powder with a base liquid, but if you're interested in adding any additional ingredients then this probably wouldn't be a good choice for you. This is a no frills, manual protein shaker with an extremely effective design and over 15,000 customer reviews on Amazon still managed to keep a 4.5 out of 5 star rating. Any product that can maintain that volume of reviews with that kind of rating is worth trying for under 10 bucks!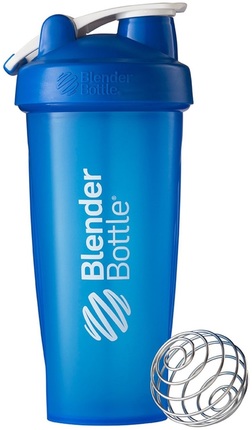 As mentioned, no frills. This protein drink mixer comes with a 20­oz cup, mixing ball and a cap. Sounds kind of flat right? However, this seemingly simple mixing ball is actually a patented system with a 316 surgical steel BlenderBall found only in BlenderBottle products. C'mon, genius! This BlenderBall can mix those clumping protein powders, supplements and pancake mixes (I swear that's advertised) with some aggressive shaking. Get fancy, shake it like a bartender up in the air. Have the BlenderBottle do some backflips or just shake it like a normal person! A secure lid with patented loop top, tapered spout and flip top allows the protein shake to be made on the go. When I use the BlenderBottle, I put my post­workout protein powder mix into a dry BlenderBottle and simply add water on my way out of the gym and I have a shake on my way to work.
Outside of the patented design, the BlenderBottle has a load of colors to choose from online that can suit the needs of everyone. The sky is almost the limit! They have 20­oz, 28­oz and 32­oz with loop top design or the original on Amazon. I personally went for the 28­oz because it was a good fit for myself. I like the size selection that BlenderBottle has to offer and I have not found that in other blending systems. Probably because this is really the only one like it. I have used knock off brands of this time of blending system but they just aren't the same. The base model is only 7 bucks and if you are looking to upgrade in size you are only spending a dollar more per size. If you want a no frills system just for blending powder, you won't be disappointed in this system. Although I love my Oster MyBlend for the additional features, sometimes the BlenderBottle is what I need.
#5: Hamilton Beach 51101BA
The updated and more affordable version of the Hamilton Beach 51101BA is a compact blender that doesn't sacrifice what we are hear to do, make protein shakes. Similar to our #1 pick, this blender offers us the blend on the go quality we are searching for but with a couple of quirks that puts this blender as our number 5 choice overall.

The setup and design for this protein shake blender is a simple black 175 watt motor base with a one­touch blending button and a 14­oz blending cup with stainless steel blades inside the cup. The base has a wrap around cord storage and is compact in design so in relation to our other blenders, easy to store or leave out for quick accessibility. After plugging in the sturdy base and loading your contents into the blending cup, you can secure the cup into the base and press the button to pulse or blend the desired ingredients. What I like about the security feature with the 51101BA is the unlock and lock logos on the cup, reassuring everything is put together safely.
A cool feature this protein drink mixer offers as well is a series of measuring lines so you don't have to guess how many ounces of ingredient you filling with. The measuring cup can be unlocked and taken with you happily knowing you have a secured travel lid with sliding spout feature for easy drinking. The con, the cup only measures up to 14oz and to be safe, you ideally want to fill to the 12oz line. If you are someone who doesn't want a big protein shake, this may be beneficial for you.
The blend and go is feature is definitely available with this protein drink mixer and the concept is successful in practice. The one quirk I found was that the stainless steel blades were inside the drinking cup. Therefore you are taking the blades with you as you go out the door, not as scary as it sounds but some may not like that! Regardless, this blender gets good reviews because of its ability to do the job of blending at an extremely affordable price! I appreciate the blade design on this protein drink mixer that makes up for the 175 watt motor. Why? This blender has the ability to blend frozen fruit into the smoothie successfully versus protein blenders with a larger motor. If you don't put fruit in your smoothies then no need to worry anyway! There is no auto­-continuous blending option for this blender, similar to our top pick except you are pressing a button compared to physically moving the cup.
Although this blender has a couple of funny features, the quality is not sacrificed and that is something I respect about this product. It's also adorable. The storage of this product is not attractive for leaving out on the counter but is efficient in keeping everything together for next use. Simply flip the jar over the base, put the lid on top of the jar and place wherever you'd like! What this lacks versus our top two rated blenders is size for sure. If there was a larger cup for model I would purchase it, granted the price was still affordable. If any upgrade put this product above another few bucks I would still go for the Oster MyBlend.
#6: NutriBullet
The Nutribullet is the stripped-down cousin of the Nutri Ninja Pro, and while it doesn't have all the bells and whistles, it's still worth your consideration. The Nutribullet features an automatic safety switch which is initiated in the same fashion as with the Nutri Ninja Pro; Simply attach the protein blender bottle to the base of the unit.
While the Nutribullet doesn't quite pack the same horsepower as the Nutri Ninja Pro, with 600 watts, you should have no issues blending together a shake to take with you on the go. 
Like the other protein drink mixers we've discussed, the NutriBullet comes with multiple sized shake blender bottle attachments, so you can take with you only the size bottle that you need. The bottles have convenient handles built-in and come with resealable lids so you don't need to worry about spillage while travelling to the gym.
I can say without a doubt that if you're looking for the best protein drink mixer on the market on a budget, the NutriBullet is worth giving a go. 
#7: The Magic Bullet
Last on the list is the Magic Bullet. They don't get much more affordable than this, and if you're looking for the best protein shake blender but don't have a lot of money to spend, then look no further. 
It's no Vitamix, but the Magic Bullet's 200-watt motor is more than sufficient for blending up a little protein powder and some berries. You can get away with throwing a few ice cubes in, but if you go overboard you're going to end up with more of a slushy than a smoothie; The Magic Bullet just can't stand up to lots of ice or frozen fruit.
Although the Magic Bullet is cheap, the manufacturer still stands behind it and offers you a one-year warranty with purchase. In my experience, most cheap blenders don't last more than a year, so this is something worth fussing over!
While far from the best blender for shakes on the market, the Magic Bullet is a worthy contender that gets the job done!
What Features Make The Best Protein Shake Blender?
I'm sure after checking out our ranked protein shake blenders, you probably have some questions regarding what makes a good protein shake. The internet has many options available with plenty of different price points that may or may not be suitable for you. Our buyer's guide ratings are based off of a few carefully selected points for what we feel makes each model the best blender for protein shakes.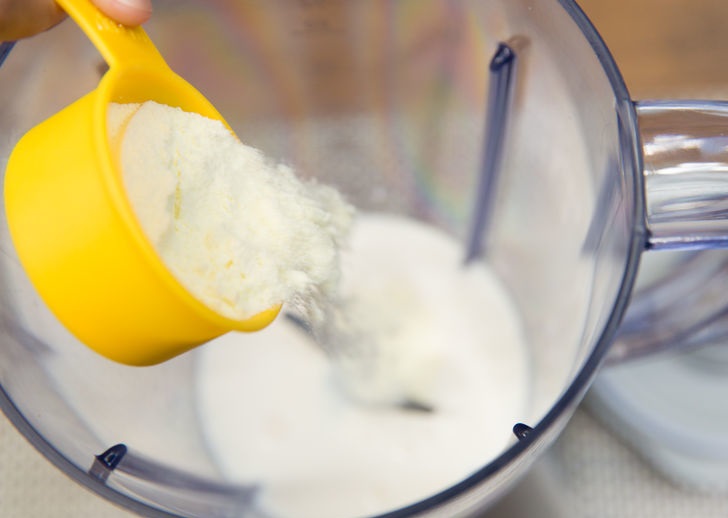 Effectiveness
In the search for an ideal blender, we want to see an effective product, right? When I am mixing my Optimum Nutrition Gold Standard Whey with my BCAA supplement, do I want to stand there for 5 minutes trying to get the chunks out? No! Who does. For an effective blender we want the mixing to be a 1, 2, 3 process and moving on with the day. The effectiveness of each product is relative to the type of product we are reviewing. For example, my BlenderBottle better blend all that mix on my first try versus if I were to buy the Ninja. If I am purchasing a Nutri Ninja I am looking to include whole foods in my protein shake, I want that Ninja to fully blend everything together. We don't want to be digging out chunks of food items and powders.
Speed
Next to an effective functioning blender, how fast can I be out the door with my protein shake ready to go. What we look out for is the Blend­n­Go concept that can be seen in all of these recommended products to an extent. The Oster blender that we ranked #1 is an accurate representation of the Blend­-n­-Go function we are looking for in a blender to the point that you are blending IN a sleek sports bottle. Most of us don't have the time to clean up a blending stick, messy bases and blades, we just want to blend and go.
Fair Pricing
As consumers, we are always looking for the best deal for our hard earned money. We don't want to be spending extra dough on a product if you can get similar benefits from something much cheaper. Not to mention, we're already shelling out an arm and a leg for supplements (unless you've already checked out our guide to finding good cheap protein powders and are using one of those).
For blenders, you can be lured by expensive brands and their promises of being the best nutrient extraction or the most efficient blender. All of our rated blenders are fairly priced for what you are getting out of the product. For example, the Cuisinart CPB­300 has loads of added features for the extra you will spend versus just buying a BlenderBottle. Although, the two have similar objective functions, the CPB­300 has all these extra cups and chopping blades, something that you may be looking for.
Things To Consider When Choose The Best Protein Shake Blender For You
Similar to any product you are looking to purchase, you have to look for what will benefit you the most. If you are still not sure what blender would suit you best, here are a couple good questions to ask yourself before buying a blender for your protein shakes.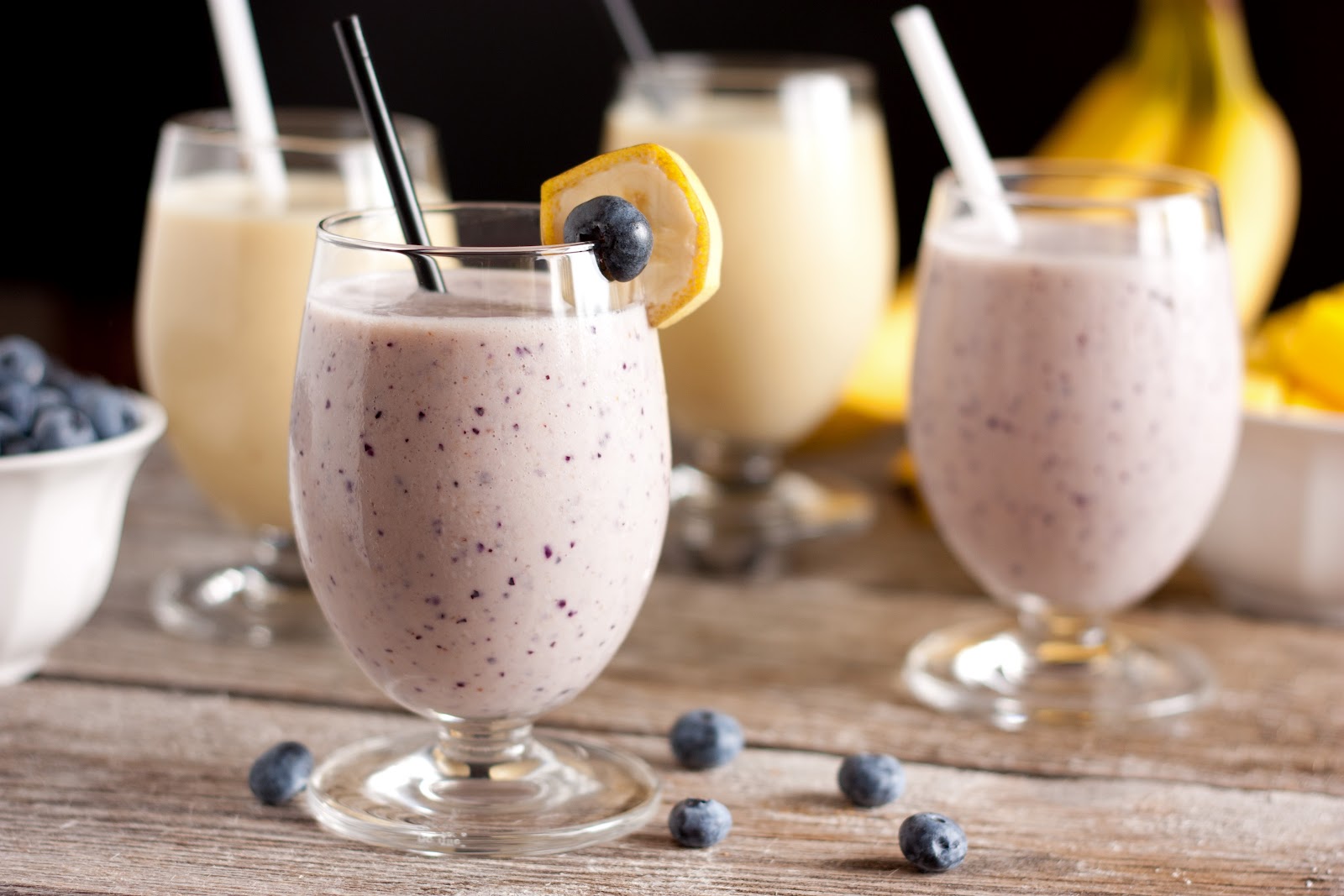 What kind of protein shakes do you like?
If you are a traditional protein powder and water type of athlete then investing in an expensive mechanical blender may not be in the cards for you. A product like BlenderBottle or the Oster could work better for you because they are straightforward, minimal frills and give you want you want… a protein shake. If you take a more involved approach to your protein shake creation and prefer adding ice, bananas, avocado (so good) you will probably stray away from a simple mixer and go for a blender with a standard motor for easy blending. Others like to make their own nut milks and add raw greens to their protein shakes which involves a more complex mixing system with a heavy motor costing you more than a simple personal blender.
How often do you drink protein shakes?
This makes a difference in your search for a good blender. If you are mixing up two protein shakes a day, you most certainly will want to look for a product that has a simple clean­up process. If you have to hand wash your blades and blending cups twice a day, that could become repetitive and take up a lot of time. Personally, I use a blend-and-go type of blender in the morning after my workout and use a BlenderBottle if I go for an afternoon run and want a shake after. They are both easy to clean and each have their purpose into my daily routine.
How much are you willing to spend?
You may not know what your budget is because you are new to working out. That's okay. Get something simple and affordable for now. You can always purchase something more expensive when you know what you want down the road. When you are ready to make that step, pass along your blender to a friend or family member who is beginning to exercise and help them out!
Final Thoughts
I love innovative products that make our busy lives easier especially when this product impacts my health. Owning a personal blender keeps myself in control of what is going in my body and saves you a lot of money! If you have not seen how much pre­made organic protein shakes are these days, go check 'em out then buy yourself an Oster MyBlend to start mixing your own organic protein powders. Do your body and wallet a favor as you start blending some delicious post workout protein shakes. Do you have any other recommendations for your fellow readers in regards to finding the best blender for protein shakes?