Whether you're a veteran chef or a beginner in the kitchen, getting the perfect cut for your vegetables can be a difficult and time-consuming task without the assistance of vegetable choppers. These tools of the trade have entered many homes, cafes and restaurants for quick and efficient culinary cuts such as: slicing, julienning, chopping and grating!
From manual hand choppers to automatic slicing machines, the growing popularity of vegetable choppers has forced producers to give us consumers what we want most, quality and affordability! Depending on your culinary budget, choppers can run you anywhere from fifteen bucks to forty-five dollars with a wide range of options.
If you're tired of not getting those perfect slices for a delicious, creamy potatoes au gratin, then this is the guide for you. We tested dozens of models using several different types of foods and narrowed it down to the Top 5 choices below.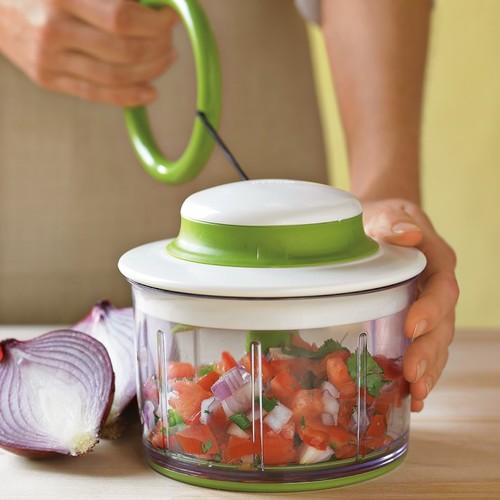 Comparison Guide: Top 5 Best Vegetable Choppers
Black+Decker FP1600B
Ninja Express Chop
Brieftons Manual Food Chopper
Vidalia Chop Wizard
Freshware KT-406
Power
Electric
(450-watt motor)
Electric
(200-watt motor)
Manual
Manual
Manual
Bowl Capacity
64oz
16oz
18 – 96oz available
16oz
48oz
Dishwasher Safe
Yes
Yes
Yes
Yes
Yes
Other
3 unique chopper blades for most precise slicing
Most compact size for small kitchens
3 recipe ebooks included
Container doubles as measuring cup
Adjustable mandoline slicer included
MSRP
$29.99
$24.99
$14.99
$25.95
$34.99
Top Pick: Black+Decker FP1600B
After personally trying each of the options listed above and carefully considering each chopper's features, functionality, price, etc., the Black+Decker FP1600B was my top pick for best vegetable chopper. While it may not be the most popular model (that award goes to the Ninja Express Chop), I felt the Black+Decker chopper was the most well-rounded option offering everything one could want out of a solid vegetable chopper. Let's go through the details below.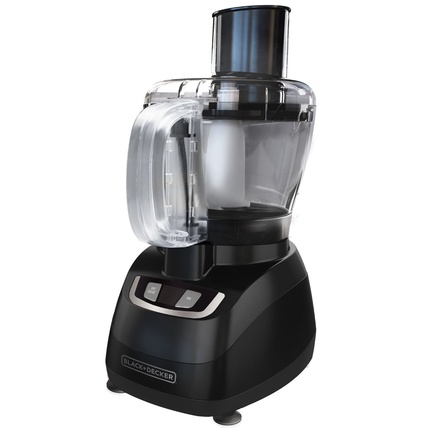 Whether you are a homeowner or renter, odds are you have used a Black+Decker appliance. From wood cutting tools to home cleaning accessories, Black+Decker is a reputable brand known for producing quality goods among many different types of markets. Knowing this, I was not surprised by the results of the FP1600B while preparing a 10 person meal with my cousin.
As I set my board and grater up to begin the long process of shredding carrots, she giggled and pulled out this mechanical slicer, cord neatly tucked away and all. The first feature you recognize is the 8-cup working bowl, essential when you are creating a meal for a large group or batch cooking for the future. Compared to other vegetable choppers on the market, this size working bowl lets you create homemade dressings, meat fillings and deli-style salads that can be made quickly and stored! If you need to meal prep, this will be helpful for you. This user-friendly design is so easy your teenagers can use it (under your supervision of course). Seriously, we introduced my 14 year old cousin to hummus and had him making his own the next day.
The B+D processor comes complete with a stainless steel chopping blade and a reversible slicing/shredding disc, perfect for versatility in the kitchen. This allows the machine to perform a veggie chopping or grating duty efficiently with optimal results. When you are finished grating cabbage, simply flip the disc and shred a carrot, what an easy way to make coleslaw! If you need to chop tomatoes for salsa, switch the disc for the chopping blade and off you go. The change out is quick and easy as these blades spin on a metal shaft in the center of the working bowl, allowing the cook to lift out the used hardware and replace with ease.
Fear not, for these blades will not move until the top of the unit is secured into the safety lock. Growing up working in restaurants I have seen many cut fingers at the first aid kit. Naturally, I had to point out this products interlocking safety system ensuring the blades will not spin until the work bowl is secured. Perfect for chopping veggies and not fingers! In order to assure your processor does not go flying across the kitchen during the slicing and dicing, this unit suction cups onto the counter. After using this product once you will understand why.
Need a mirepoix for stocks or stews? Switch out the slicing/shredding disk for the chopping blade and toss in your carrots, onions and celery for a mirepoix processing party. In no time, you will have the perfect base set and ready to go. In order to get the desired results, I use the pulse option for chopping up a mirepoix base versus continuous operation.
You can also take advantage of the continuous operation of the chopping blade to whip up a smooth hummus, pesto or even peanut butter. If you are mid-hummus creation and decide you want to add more olive oil or those roasted red peppers you've been meaning to get rid of, toss them down the chute and in minutes you'll have your tasty creation. The best part about the FP1600B, you can throw it all in the dishwasher after you are done, an easy clean-up. Who really wants to clean the kitchen after creating a huge meal anyway?
Finally, I have to give props to the creators at Black+Decker for not only making a great kitchen helper, but also making one that's extremely affordable. There are plenty of good vegetable choppers on the market, but most of them will run you upward of forty bucks and more whereas the Black+Decker is available for under $30. The low price (considering everything you're getting with this model) was what really finalized my decision that this is the best vegetable chopper because it's an incredible bang for your buck.
Runner Up: Ninja Express Chop (NJ110GR)
With over 9,000 reviews and a 4.5 star rating on Amazon, you can see why we had to check out the hype around the Ninja Express Chop. As the story goes, the results did not disappoint reigning in this Ninja product as our runner up in the search for the best vegetable chopper on the market. If you are looking for some good garlic mincing qualities with a sleek and dynamic design than you have found your chopper. Choose your color of red, black or gray and watch the magic happen before your eyes as this smaller yet efficient product fulfills all your chopping necessities.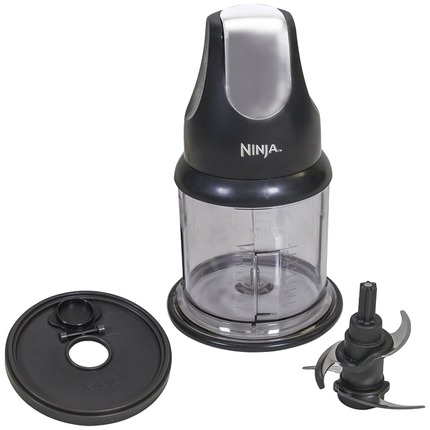 Ninja products are relatively new in relation to their competitors but have made their mark in the industry through their innovative products. The company understands the busy lives we lead in today's world and develop small household products around that idea. The Ninja Express Chop is an excellent display of the kind of innovation in kitchenware that makes cooking quick and easy.
In comparison to our heavier number one pick, this vegetable chopper weighs in at 2.4 pounds, stands 10 inches tall and is ready to chop you up to two cups of vegetables. This compact design opens up counter space and allows the user to store easily when finished. Different than the suction cup placement feature of larger processors, the Ninja Express Chop has a non-slip bottom which is equally as effective granted the size.
What I liked about this chopper was the splash-free cap that is placed between the working bowl and the mechanical head in order to prevent a mess. The anti-spill cap doubles as a secure lid if you want to store directly after using, just remember to take out the blade! This working bowl has the benefit of these features but does not hold nearly as much food as the Black+Decker.
The setup and breakdown of this product is an attractive feature and reflects the goals of Ninja products overall. Start by setting your unit up within reach of an outlet and secure the stacked blade technology piece into the working bowl. Toss your veggies into the working bowl and secure the anti-splash lid leaving the center open for connecting the mixing head to the blade. When you are ready to go, plug-in and start choppin'! Similar to the B+D, this vegetable chopper has speed-pulse technology built in for your desired consistency.
If you want a chunky salsa, give a few pulses and you have a delicious dip. Hold down the large chrome pulsing button if you decide you want something more smooth. Where this differs from our number one is there is no food chute and safety features are not as prevalent. This product does not have as much versatility as the processor but still brings an excellent addition to the kitchen. When you are finished using, carefully remove the blade and… throw it all in the dishwasher! Again, the lovely plus of having dishwasher friendly parts.
If you are turned off by the small holding capacity of this product, Ninja does offer upgraded versions that work equally as well as the little sibling. You can purchase 400-450 watt motor versions or the professional set which offers interchangeable motorheads, three different sizes of jars but will be more than twice as expensive. For $25 you can pick up the Ninja Express Chop online and experience the benefits of this compact yet efficient vegetable chopper (and you can usually even get a nice discount on Amazon.)
#3: Brieftons Manual Food Chopper
For those who enjoy the sweat and tears associated with food preparation (the tears from onions of course!) then you will be a fan of the highly rated Brieftons Manual Food Chopper. This vegetable chopper drastically differs from our previously reviewed because it involves no electricity, you are doing all the work! But don't let this quiet and cute veggie chopper fool you into thinking it doesn't perform, it packs the same punch as the electric choppers with the added benefit of a light arm workout in the meantime.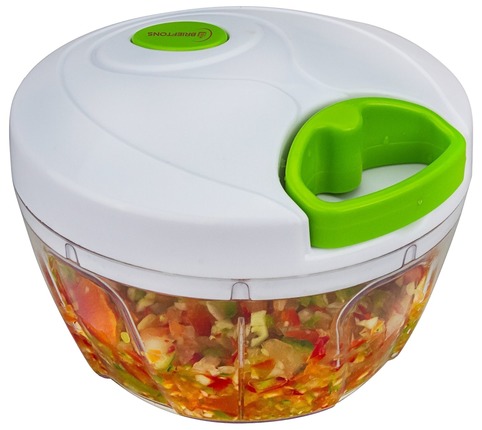 The Brieftons Manual Food Chopper comes in a simple three piece set: 3 cup working bowl, secure lid with a built-in cord pulling mechanism and a dual chopping blade. While the experience of using the manual food chopper is exciting, BE CAREFUL, as these blades are extremely sharp. They will need to be as you are the driving force behind the successful chopping, not a 400 watt motor.
The setup starts by securing the blade into the locator pin of the working bowl. Toss your pre-cut vegetables into the bowl and pop the lid onto the unit. You cannot put a whole vegetable into the working bowl and there is no food chute like the Black+Decker. Make sure to cut vegetables into smaller pieces than you would if using the Ninja and only fill ⅔ of the bowl for maximum efficiency. When you are ready, hold the lid with one hand and pull the cord with your other hand and there you have it. There's no need to cry when chopping red onions anymore!
We ranked this as number three because of the unit's ability to efficiently do what we set out to find, chop vegetables. This vegetable chopper is great for those who conserve electricity and/or live in a tiny space where the bulky machines take up too much room. What this lacks in comparison to the machines is a versatility aspect. Unlike the B+D, you cannot do a quick switch and go from chopping to slicing or even pureeing in minutes. However, this light and top rack dishwasher friendly (a plus!) unit will chop your veggies without noise and hassles that accompany using small kitchen appliances.
What I like about Brieftons' manual chopper is the price point. This product is affordable and offers options you can upgrade to from the 3-cup, dual blade unit for only a few bucks more. For $17.99 you can opt for the tall 4-cup chopper with three blades, a blending stick and a comfort grip lid. These upgrades are still cheaper than base models on the internet and you are not sacrificing any quality!
#4: Vidalia Chop Wizard
The Vidalia Chop Wizard entered the market sporting a simple and effective kitchen tool that can chop vegetables and fruits in one swift and easy motion. After using this product the first time, I have to admit I jumped on board because of how user friendly and quick the process was to get the job done. This product does not require any electricity, is lightweight and can be stored wherever you prefer.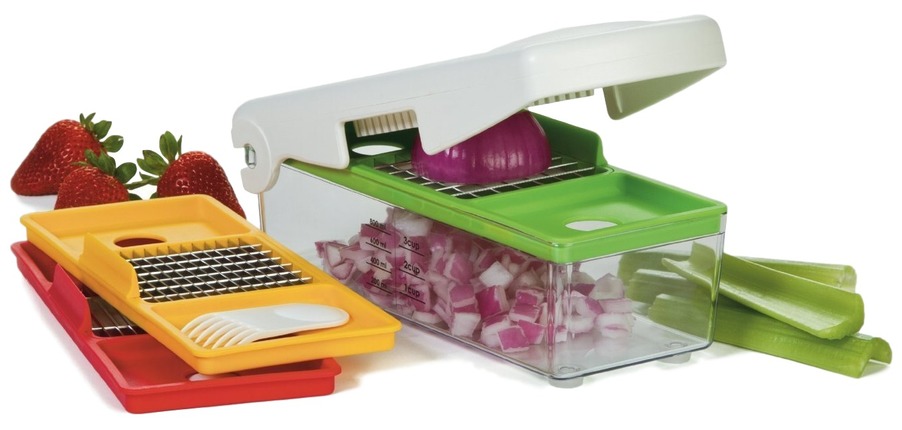 Opening up your chop wizard you will find a 2-cup capacity holder, a lid with raised grid, interchangeable green dicing/chopping plates and a fork-like cleaning utensil. Setting up this unit involved connecting the lid and 2-cup capacity holder together and choosing your dicing or chopping plate. Prep your veggies accordingly; for example, cut your tomatoes in half for chopping or quarter your onion before dicing.
Whichever you chose, simply place the vegetable over the stainless steel blades built into the plate, shut the lid and into the capacity holder your vegetables go! A near perfect and uniform cut every time for building a beautiful looking salad or chopping a mixture of veggies for a stir-fry. Either way, the Chop Wizard will be sure to have your food looking good.
What I really appreciated was the efficiency of this product. You could chop a bag of onions in minutes if you are creating a stock or building a base for soup. All it took what a little pressure when pushing the onion through the blades. I found that dicing tomatoes was not as successful as chopping, the skin of the tomato got caught in the dicing plate and you're stuck trying to get it out. Fortunately, all my vegetables went through with ease besides the tomato and the job was done faster than chopping by hand.
The Chop Wizard can be applied to cutting up fruits, cheeses and even mincing garlic if you'd like! I found this comparable to the Ninja Express Chop, except you are doing more work. There are no changing plates with our second rated pick and you have more control over the cut with the speed pulse technology, so it makes working with it much easier.
With a one, two, three clean-up this product is in the dishwasher and ready for cleaning. In each plate, there is a hole to pop your finger in and lift out the piece entirely. Using the cleaning utensil, scrape out the leftover veggie particles from the pressing lid to make sure you're getting a good wash. No one wants old onion caught in there! What the Chop Wizard lacks compared to our number one pick is not being able to do more than chop and dice. You can spend a mere $8 more on the Black+Decker and get much more usability with much less work, which is why the Chop Wizard landed as the fourth best vegetable chopper.
#5: Freshware KT-406 7-in-1 Chopper
Our fifth and final product under review is the Freshware KT-406 7-in-1 Chopper because of quality and the addition of a mandoline, something we haven't seen yet. If you are the person who likes options in their kitchen, this product may be for you because of this choppers ability to julienne, slice, dice and grate at two different widths. Although this is our most expensive on the list, the benefits of this unit outweigh the price immensely.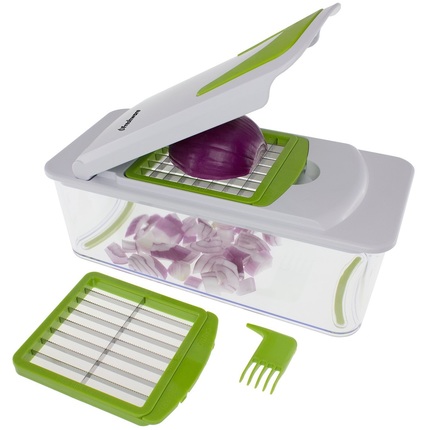 The KT-406 7-in1 is an evolution of the company's base model you can find for $15 on the internet without all the perks. This version has a larger holding capacity allowing up to 6 cups of vegetables to be cut at once. The basic chop and dice operation is similar to the previously mentioned Vidalia Chop Wizard but is ranked underneath it due to the storage difference. Having the interchangeable blades and mandoline are two attributes that got this product on the list, however, storing may get tricky if you have a small kitchen. Anyhow, moving forward!
Adopting a mandoline into the mix gives this product an edge, this tool is normally sold separately for manual vegetable choppers. The adjustable mandoline can cut vegetables from 1mm to 5mm thick, an attractive quality. Freshware provides a safety food holder when using the mandoline and cover for the blade when not in use.
If you haven't picked up my excitement for this mandoline, let me promote one more cool feature. The mandoline has grooves on its sides in order to fit onto larger bowls, if you need. Our number one pick, the Black+Decker FP1600B 8-Cup Food Processor, does everything this product can do at a better price point (and with less work!).
After you are finished using one of the many features, this unit comes with a storage lid so you don't have to dirty up another container! Just toss it in the fridge and you have veggies prepped for later. The manufacturers recommend hand-washing for optimal longevity but can be washed on the top rack of your dishwasher.
What To Look For In A Good Vegetable Chopper
There are literally hundreds of vegetable choppers on the market to choose from, and they are definitely not created equal. Some are easier to use, some have more features – you get the idea. We're going to tell you exactly what to look for when making your buying decision because let's face it, no two kitchens are the same. These are a few of the factors that we considered when choosing the Top 5 models above, and they also helped us make the decision that the Black + Decker FP1600B was the best vegetable chopper.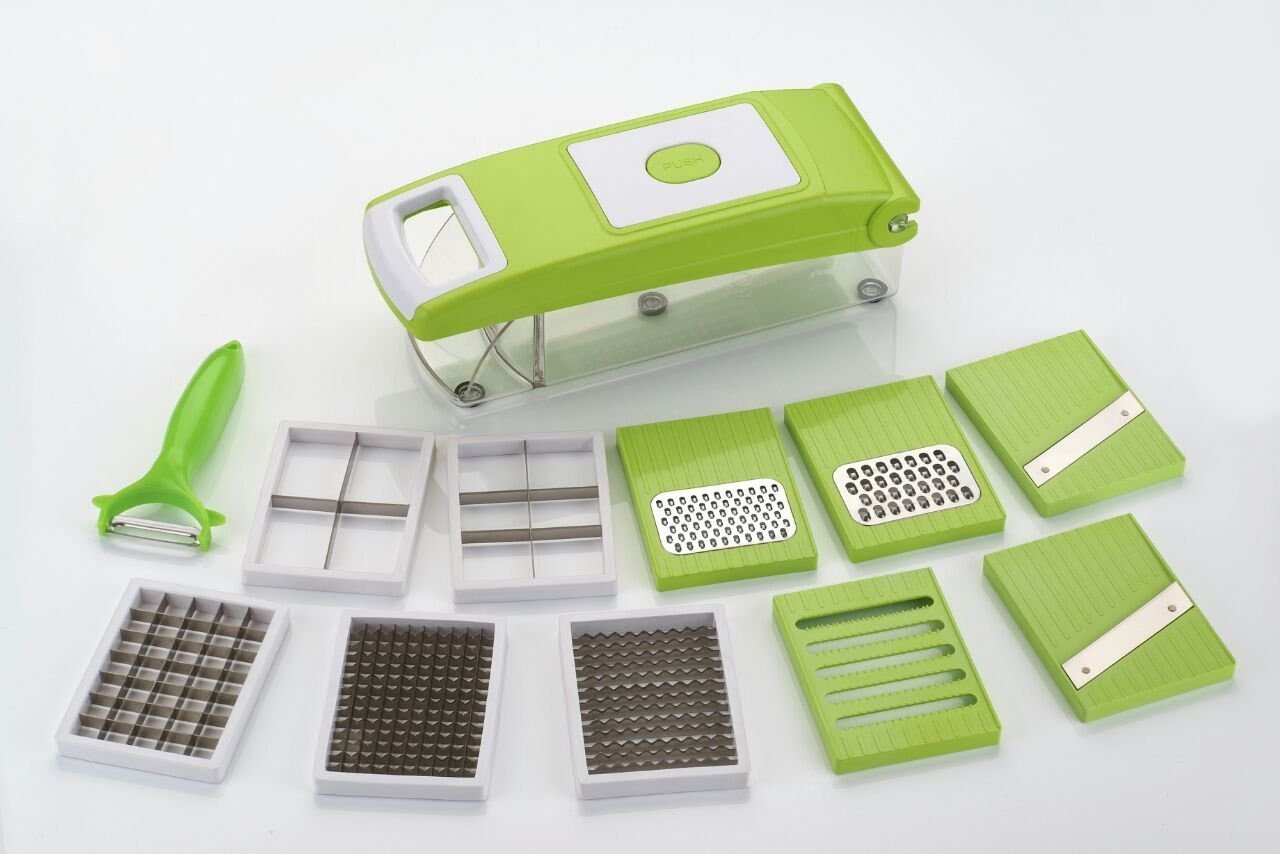 Versatility
An attractive quality of buying a vegetable chopper is the ability to switch on and off between tasks as quickly as possible. What a big part of our rankings consisted of was how versatile the product was. The Black+Decker topped out at number 1 because of the products ability to jump from one kitchen task to the next with a quick flip of a disc. One minute you are slicing, next minute you are grating and five minutes later you are done and almost done cleaning. With a manual product like the Vidalia, the interchangeable blades switch off in a matter of seconds. These are tools to help create swift movements about your kitchen not cause any stress.
Usability
Vegetable choppers that have high levels of usability, or how easy it is to use, made the top five. Usability levels for our recommended products are based off of effectivity, efficiency, error tolerance and how easy the product is to learn.
Being an effective vegetable chopper is simple: does this product chop vegetables? Efficiency is how well the chopper does performs the duty. If there are other attributes with the product, how well do they operate within their functioning? We don't want anyone getting injured when cooking, therefore, getting a product that has the least room for error is a big deal! Yes, a larger processing machine has more room for error than a handheld chopper but pros outweigh the cons for that case. Finally, how easy is it for you to learn? Is this tool going to be difficult every time you chop a vegetable or can my kid get the hang of it?
Cleaning
A good quality chopper should have a reasonable cleaning process. This process can be as easy as disassembling and tossing in the dishwasher or using the cleaning tool included in your kit then handwashing. Take into account whether your chopper splashes out when you are dicing a juicy tomato.
Companies that are aware and listen to their customers have developed anti-splash lids to keep the kitchen clean. If you didn't pick up on it throughout the article yet, I am a huge fan of choppers that are easy to clean. Having used these choppers, I know that what works best for some doesn't work best for others. Fortunately, you have the option; do you want a chopper that you can toss into the dishwasher and be done, or do you want a chopper that needs a little extra TLC after you're done using?
Safety
The first and foremost thing to remember while maneuvering around a kitchen is always safety. Vegetable choppers need sharp blades in order to perform their duties and your product should have all the safety precautions put in place. Most common among vegetable choppers and processors are a type of anti-slip technology underneath so your chopper doesn't move around while you trying to cut up your veggies. For anything automatic, be aware of any interlocking systems in order to get the system started. Removing and changing blades should not be difficult or confusing.
Other Things To Consider When Buying A Vegetable Chopper
The market demand for tools that create ease in the kitchen grows, the options can become overwhelming. Should I get the large, bulky machine or the handheld dicer? Isn't the mandolin an instrument? Assuming you are reading this article, you are probably searching for the perfect kitchen tool for yourself. Let's talk about some questions to ask yourself that will guide you in the right direction of purchasing the best vegetable chopper for your personal needs.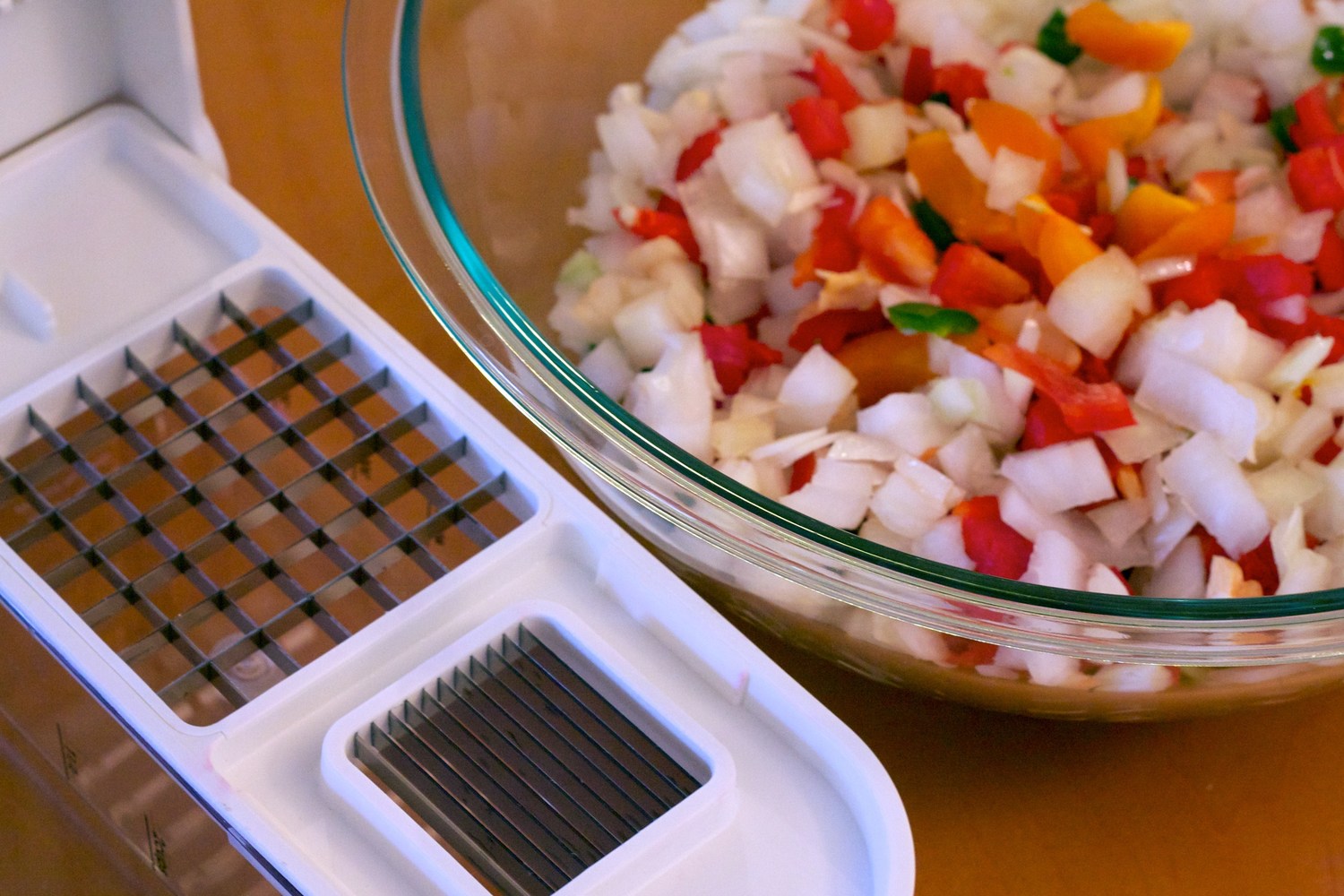 How often do you cook at home?
This question is crucial to figure out which model is the best vegetable chopper for you personally. If you are thinking about what meals you plan to cook for the rest of the week for your family, considering investing in a food processor that can do all the jobs a simple vegetable chopper can do and more. This will cut time out of cooking and cleaning so you can plan some "me" time around that busy schedule. Purchase a safe processor and have your kids do some of the work as well!
If you are a person who cooks every so often and spends a lot of time outside of the house, you probably won't need a 8-cup processor in case you need to dice half of a red pepper. Look into one of the more compact and simple choppers like a Ninja or Vidalia. Ninja's are excellent products for people with busy lifestyles that don't want too much hassle in the kitchen.
How much kitchen storage do you have?
Whether you live in a large house or a small apartment, storage is a consideration that comes into play when buying kitchen tools. Storing can range from a little spot next to the stove or large space in the highest cabinet that you need a step stool for. It's all a matter of what you want to make room for and how much you want to look at your chopper when you walk into your kitchen.
What's your budget?
There are many high-end vegetable choppers out there, but higher price doesn't always equal higher quality. If you have the budget for more expensive kitchen tools you can test the waters! All of the choppers we chose for our Top 5 are considered affordable in comparison to what's on the market and the best quality for your dollar.
Final Thoughts
As technology advances, our kitchens advance with us. You may ask yourself if now is the time to put down the knife and pick up an automatic veggie chopper? If you are looking for a convenient, fun and easy way to speed up the process of cutting veggies, fruits, cheeses and meats, the answer may be yes. From handheld manual gadgets to processors that do all the work, the perfect chopper is out there waiting for you. For us, we've taken on the Black+Decker FP1600B 8-Cup Food Processor as our new kitchen helper and couldn't be happier.