I remember when I first got serious about weightlifting. I'd be that guy leaving the gym, blood running down my shins from numerous sets of heavy deadlifts, but not a single care in the world because I just had a killer lifting session. And besides, scars are cool, right? Sure, for awhile. Fast forward about a year and I was absolutely sick of having to constantly tend to the open wounds, which lead me on my first search for a solid pair of deadlift socks.
There's a lot that goes into a good deadlifting sock. It has to provide good foot support, nice breathability, a snug fit, and most importantly some sort of extra cushioning or padding along the front of the sock to provide protection from the barbell dragging up your shins. Unfortunately, that was WAY harder to find than I thought. Turns out most brands that advertise "socks made for deadlifting" don't actually have any extra padding on the front, it's just different colored stitching to make you THINK it's cushioned. Talk about deceptive marketing.
Over the past few years, I've tested literally dozens of different deadlifting socks trying to find the best of the best, and I'm proud to say I've finally come up with the perfect selection. Let's start by comparing the top 5 choices, and then I'll show you my top pick for the best deadlift socks.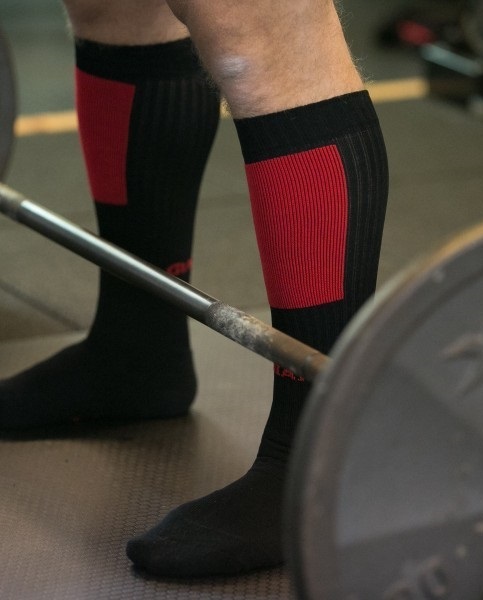 Comparison Guide: Top 5 Best Deadlift Socks
Nike Elite
High-Intensity Training Socks
Fox River Military Boot Socks
Ariat Full Cushion Boot Socks
Mizuno Performance Socks
Under Armour All Sport Performance Socks
Extra Shin Cushioning
Dedicated Foot Support
Sweat-Wicking Fabric
Snug Fit
Top Pick: Nike Elite High Intensity OTC Socks
When Nike's say "elite" we usually just deem it a marketing tool. In this instance, however, they're speaking the truth. Nike, in addition to being the top sports brand of all time, has been a firm friend to our feet for many generations. Although you may be calling to mind the Dunks and Air Jordan shoes, they have also been one of the top suppliers of athletic socks. It only makes sense that they would make a great sock for deadlifting: the coveted Nike Elite High Intensity Training Sock. You've probably never heard of these because they don't get advertised as deadlifting socks, but these are without a doubt the best deadlift socks on the market.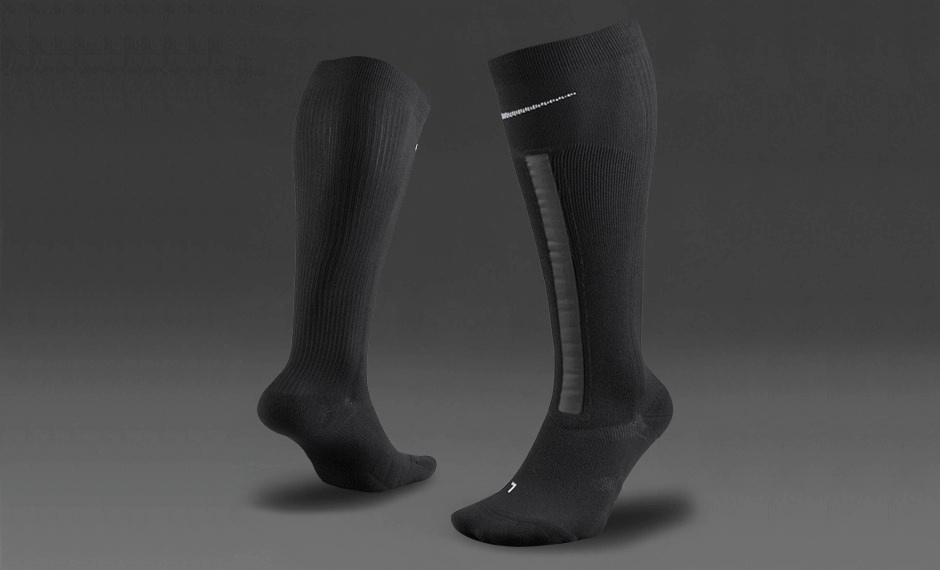 As I mentioned in the introduction to this article, most "deadlifting socks" on the market simply have different colored stitching on the shins to make you think they're padded with extra cushioning to protect against shin scraping. Unfortunately, this is just a marketing gimmick to trick you into buying (so keep that in mind, because if you're shopping around for deadlifting socks, you will inevitably run into this unethical issue).
These Nike Elite socks, on the other hand, actually do have a narrow strip of extra padding that runs all the way up your shin from the top of the ankle to the bottom of the knee, offering the perfect amount of protection for when the barbell rides up during a pull. It might not look like much from the pictures, but take my word for it, that little strip of padding works extremely well.
Since the extra cushioning on these socks is narrow and only on the front of the shins, it allows the rest of the sock to be quite thin in order to promote airflow and help keep your legs and feet cool. Nike's signature Dri-FIT fabric also actively wicks sweat away, which is nice because we all know how over-the-calf socks can sometimes get pretty damp from the sweat. The footbed is cushioned to promote balance and stability so there is solid foot support, and as opposed to most of the socks on this list, these socks actually look cool! This obviously isn't a crucial factor, but it's definitely an added bonus to feel like the coolest guy in the gym while ripping up some heavy deadlifts.
All-in-all, this is the perfect deadlifting sock. The best of the best. However, quality doesn't come cheap – or at least as cheap as we'd like it to. These bad boys will run you about $23-$30 per pair depending on where you get them (see here on Amazon), so they're certainly a bit more pricey than your average pair of Vans crew socks. With that being said, they're well worth the small investment to save your shins from any further damage. If you deadlift often, or make it a central lift to your workout, I'd highly recommend picking up a pair of Nike Elite High Intensity Training Socks. Your shins will thank you.
Runner Up: Fox River Military Boot Sock
Before we get into other features of this sock, let me preface with the top reason why this sock is our runner up: this is one of the few socks on the market that actually has cushion on the shins (just like our top pick, the Nike Elite's). Introducing the relatively unknown Fox River Military Boot Sock.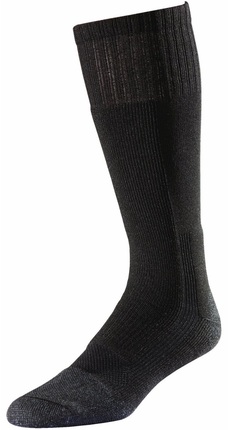 The cushion in this sock runs from the middle of the top of your foot and all the way up the shin, providing more than enough front padding for deadlifting in. As you can see by the name, these socks are military-grade and were really made to protect your feet from tightly laced shoes, but believe me they do the trick to protect shins from barbells too.
In addition to the well-placed cushion, these socks feature mesh panels to increase air flow and keep your legs cool, and moisture-wicking fabric that helps to keep your feet dry. Another great feature of this sock is spandex sections to help the socks stay up. As you may have experienced previously, having tall socks constantly falling can be a huge pain, especially when you're exercising.
Along with being a trusted brand in the boot sock niche and carrying an impressive 4.7/5-star rating from over 500 customer reviews, these may be the best heavy-duty socks you'll ever own. If you want to pull deadlifts while staying cool and safe, it's hard to beat the Fox River Military Wick Dry Maximum Mid Calf Boot Sock in terms of overall protection and versatility. Deadlifting? Wearing combat boots to work? Going hiking? Fox River has you covered with these unsung heroes.
#3: Ariat OTC Full Cushion Boot Socks
By now, I've made it apparent that it's crucial to have cushion on the front to be good deadlift socks, so here is another one of these rare gems: the Ariat Full Cushion Boot Socks. You may not have heard of this brand, but Ariat is an extremely respected name in the cowboy boot industry, and the quality and features of this sock are definitely better than what most of the big-leaguers can offer in terms of socks ideal for deadlifting.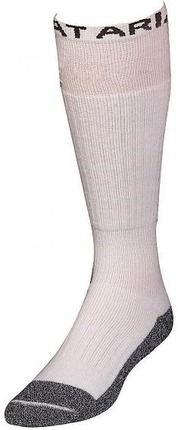 Although not as technically featured-filled as our top pick or runner up, this is still an extremely sturdy sock with a well-placed cushion that won't drain your wallet. The feet and very top of the shin of this sock are standard, medium-weight socks with good arch support, complete with heel and ankle cushion. However, once you hit the bottom of the shin, there is a wraparound of cushion that stretches up to nearly the bottom of your knee.
The fact that the cushion is only wrapped around the area likely to be in contact with the bar on a deadlift and the rest of the sock is medium-weight not only offers you superior protection, but it will keep your feet from overheating as you might with other boot socks. Breathability is a huge factor in choosing the right lifting socks, as you don't want to be deadlifting with a puddle of sweat at your heels. These socks also fit snugly, which mimics a compression sock, increasing blood flow.
These makeshift weightlifting socks are all function and very little flash, coming in plain white with the logo at a very modest $7 per pair. If you're looking for a sturdy pair of deadlifting socks with the added bonus and value of being able to wear them under boots, these are a great inexpensive option.
#4: Mizuno Performance Socks
Although not as widely known as some other major sports brands, Mizuno has been supporting athletes for quite some time, even longer than some of its major competitors. Manufacturing everything from soccer cleats to baseball slider shorts, Mizuno has long been a one-stop-shop for all of your sporting needs – so it's not really surprising that the Mizuno Performance Socks are pretty dang good for deadlifting.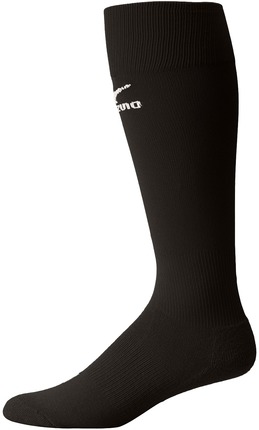 Plainly named, the Mizuno Performance Sock does not offer a cushioned ankle or lower shin; in fact, the best feature of this sock for deadlifting purposes was most likely achieved inadvertently. This is quite a thin sock until you get to the upper portion of the shin – where the bar tends to scrape during a deadlift. Here, they have placed a "Gripper top" to keep the socks from falling down. This Gripper top is quite thick, with elastic to make sure the socks stay up, which makes them great to use as deadlifting socks.
Although this sock doesn't quite measure up to the first two on the list in terms of overall protection and other features, they're still great deadlift socks, and they definitely earned a spot in our top 5.
#5: Under Armour All Sport Performance Socks
For over a decade, Under Armour has been one of the most trusted brands to deliver athletic apparel to everyone from major sports teams to weekend warriors. UA is best known for their "Heatgear" and Coldgear" apparel to help keep you comfortable in extreme temperatures.
However, if we're looking for weightlifting socks, neither of these really cut the mustard – the warm-weather socks are far too thin to offer shin protection, and the cold-weather socks will make your feet sweat if you're exercising in a gym (even with decent air conditioning). With that being said, their All Sport Performance Sock hits the sweet spot between protection and breathability.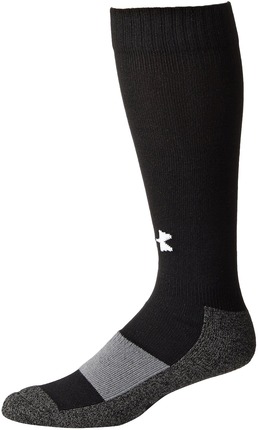 Although these All Sport socks do not offer as much protection or breathability as the others on our list, they still make decent lifting socks. The added cotton gives it a little more bulk than its other athletic socks without turning them into miniature furnaces. What all this boils down to is that this is a decent, medium-weight sock with arch support and cushion on the heel and over the Achilles tendon. With the Under Armour name hanging over them, they cost around $10 a pair. All-in-all, decent sock, but not the best value for what you're getting.
Things To Consider When Buying Deadlift Socks
Since socks vary greatly in several aspects of their construction, it's important to have more criteria than the sock coming up to the appropriate height. Diligent shopping can be the difference between bloody shins and shins without a scratch. There are several different factors to take into consideration when buying deadlift-specific socks, and many of these criteria transfer over to sock buying in general, so take notes to save money and get a better value for your feet no matter the activity. Here are the main things to think about:
Overall Thickness
Thickness is going to be your main concern when searching for deadlifting socks. If you get thin socks, your shins won't be very protected and the bar can still scrape you up considerably. However, if you get super thick boot socks meant for the tundra, your shins will be safe, but you'll be sweating bullets and have some mighty nasty feet coming out of your workout. Finding a happy medium of thick-enough-but-not-too-thick is going to grant you a more comfortable and safer deadlifting experience.
Cushion
Soldiers go to war with armor, why shouldn't lifters? When choosing the best deadlifting socks, finding a pair with some kind of cushioning on the shins is invaluable. Now, bear in mind that these are VERY rare and there are less than ten kinds of sock out there with cushion specifically for your shins. The thickness of your sock will keep it from tearing from the friction from the bar, but the cushion is what can offer another level of protection. From a narrow strip up the shin to a full-calf wraparound cushion, if you can find a sock with dead-to-rights shin cushion, you'll be pulling comfortably and safely until they wear out or the dryer eats one.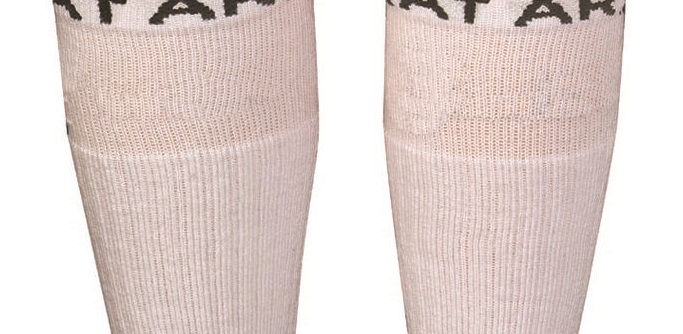 For example, above is a close-up of the shin cushioning on the Ariat Socks (my #3 pick). It might be a little hard to tell because the extra cushioning is the same color as the rest of the sock, but if you look close you can see the additional material padding on the front of the shins. It might not look like a lot (again, due to the color being the same), but trust me – this makes an incredible difference in reducing the shin shredding.
Moisture Wicking Properties
Having trenchfoot in the gym is certainly not the ideal condition to be deadlifting in. Picking a sock that has moisture wicking fabric will help keep the sweat off of your feet so you can pull comfortably. There are several socks that claim to be moisture wicking, but not all of them are, so make sure to read the reviews thoroughly before you try a pair out. Also, several socks have moisture wicking properties in the footbed, but not so much in the leg. If you're pulling up some heavy weight with tall socks on, your legs are going to sweat, and having that sweat wicked away makes for much more comfortable deadlifting.
Price
With a lot of fitness supplements and equipment, there are pretty distinct price points and you generally get what you pay for. This, of course, isn't true all the time, but with MOST fitness products that have several brands in competition with one another there are generally defined price tiers with their reflective quality.
With socks, this is not remotely the case. Off-brand boot socks that offer great protection to your shins from deadlifting can cost 1/3 of what you might pick up a pair of thin, name-brand athletic socks. When searching for deadlifting socks, it would be fruitful to really pick apart the competition and not just go with the flashy name brands, but go with the best quality and bang-for-your-buck.
Marketing Gimmicks To Watch Out For
Unfortunately, athletic socks have been marketed to reflect that the shinier and more multi-colored a sock is, the better it performs. There are also some pretty deceptive tricks used by several athletic sock manufacturers to edge out their competition and drive sales. When looking for weightlifting socks, watch out for these gimmicks that could lead you into a purchase pitfall by getting suckered into an expensive pair of socks that are no better for deadlifting than your 2007-era Fruit of the Looms from Wallyworld. Here are the main gimmicks to watch out for: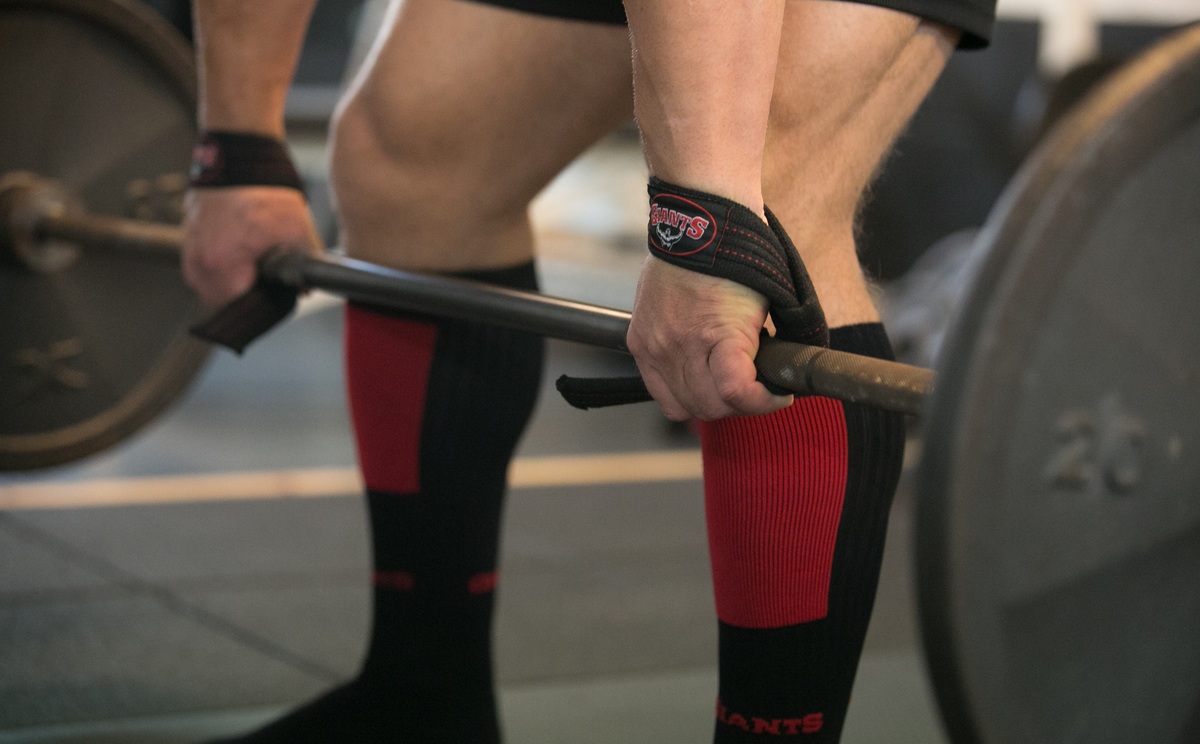 Different Colored Stitching on Shin Area
One gimmick that has suckered many potential buyers is a stitched design on the shin area that's a different color than the rest of the sock. The purpose of this stitching is to provide an illusion that there is some extra protection or padding on the shin, which is just that: an illusion. This is trick used by several companies to feign extra shin protection for deadlifting purposes, meanwhile they are just as thick on the shin as they are on the heel.
In fact, these socks are usually the first to pop up when you do a search for "deadlifting socks". If you decide to stray from our top 5 in the search for your own version of perfect deadlift socks, you'd be much more successful with a search along the lines of "cushioned over the calf sock", or "cushioned boot sock", otherwise a search engine will likely flood your results with the main suppliers that practice this unethical gimmick.
Flashy Arch Support
Having supplemental arch support is a great feature to have in socks for running, but it is almost a wasted feature in deadlift socks. When you're deadlifting, you need a solid, flat base to push down on. Since your foot isn't in motion and is only used as a base, extra arch support is kind of beside the point.
That's not to say arch support is useless, as socks with arch support can make your feet feel much more secure in your shoes, it just isn't the most important feature and shouldn't be a dealbreaker. Several of these socks that have striped or multi-colored arch support are also pretty high-dollar as far as socks go, so save yourself the hassle and don't let arch support weigh so heavily on your deadlift socks decision.
Socks Being Advertised As "Made For Deadlifting"
Due to the fact there is no regulation for product naming outside of trademarks or copyrights, any sock can be called a deadlift sock. Hell, you could call a bowling shoe a basketball shoe if you think it will help sell it. Would it sell? Probably not; but, subtler versions of this concept are everywhere and drive sales to several industries.
Most "deadlift socks" on the market are just crew-length socks with different colored stitching on the shin area (gimmick #1), that offer no more protection than an old tube sock. Watch out for this common pitfall and the rest of the gimmicks on the list to make sure that you're not only getting effective deadlifting socks, but you're getting a good value for your money.
Different Types of Socks & Which Are Best For Deadlifting
For deadlifting, you really only need to worry about knee-high socks. However, there are a few different varieties of tall socks that can be useful and worth a try if you're frequently deadlifting and it's starting to show on your shins.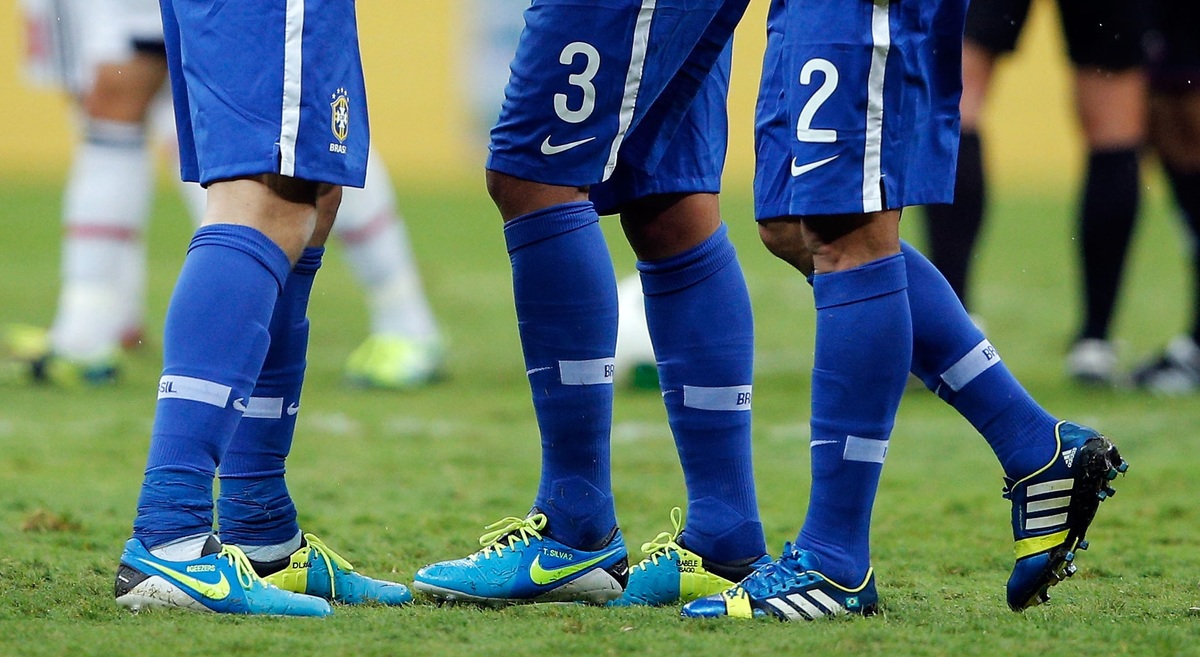 Soccer/Baseball/Football Socks
Socks for these sports are going to be very thin. Although soccer and baseball socks have been a staple in the deadlifting arena for some time, the lifters who use them almost always put a strip of duct tape on the shins since the socks don't provide adequate protection due to their thinness. Soccer socks generally have pads underneath, and there isn't an extreme amount of potential for contact to the shins in baseball or football, giving these sport-specific socks no real reason to offer shin protection. These socks are good for a little bit of protection from the bar, but mostly staying cool, because of the fact that they are so thin means that they are extremely breathable.
Running/General Athletic Socks
These socks are extremely versatile. Running and general athletic socks can range from super thin to moderately thick. Despite their differences, however, these socks are generally very good at wicking sweat. This eliminates the fear of damp socks, which are excruciatingly uncomfortable, especially when lifting heavy. Running and athletic socks also generally have good arch support. Since you're shopping for socks for deadlifting this isn't a huge factor, as you're driving from your heels and not your arch, but it is nice to have that extra stability. Getting a pair of running socks can also be great to get more use out of your purchase if they're good for deadlifts, and they're ideal for cardio as well.
Boot Socks
Boot socks are great for deadlifting because they are thick and they were designed with leg protection in mind. People who work in boots all day will know, they can take their toll on your shins and calves; but, with a high-quality pair of these socks, the pain disappears completely or is at least limited. Many of these socks are designed to wick sweat under the moniker of "all-season", instead of "moisture wicking" to appeal to hunters and people who work outdoors. This type of sock generally isn't as breathable as soccer or running socks, so be aware that they can hold sweat if you're working out for a long time. Most hunting and outdoor brands offer great boot sock options that will be more than enough to protect shins from a barbell.
What's The Benefit of Wearing A Good Pair of Deadlifting Socks?
Lifting is tough on your skin, there's no getting around it. However, aside from your hands, which are more capable of taking abuse, not much of your skin is subjected to contact with plates or the bar. The deadlift is one of the very, very few lifts that have direct contact between your skin (excluding the hands) and the bar. The skin on your shins is also probably sensitive, and if you have hairy legs, there's another layer of pain added on.
When pulling conventional (hands outside of your legs), the bar will scrape up your shins on the way up, which leads to cuts, scrapes and bruises. Using deadlifting socks is a great way around this problem, as your shins will have an extra layer of protection to keep the blood off of the bar and gym floor, and keep your shins healthy and ready to pull. For some additional tips on proper deadlift form and how to avoid constantly slamming your shins, check out the video below from fitness professional Layne Norton:
Final Thoughts
A lot to consider for a simple pair of socks, huh? The deadlift – the king of all exercises – should be included in every weight training outside of restrictions due to injury. Deadlifts sculpt the hamstrings, strengthen the core and lower back, pack size onto your upper back and give you grip strength like you've never had before. Deadlifts turn boys to men, girls into women and we're pretty sure that even Batman does them. Unfortunately, their tendency to beat the crap out of your shins with proper form is hard to overlook, and even harder to be on the business end of.
If you're not a fan of wearing sweatpants to the gym, as many of us aren't, deadlift socks are going to be your only ally in the fight against bloody shins, a bloody barbell and a bloody gym floor – all three of which are a hassle to deal with in the middle of a workout. Especially a deadlift workout, since those are particularly brutal, especially at higher poundages.
Consider all of the criteria we've outlined when looking for a solid pair of deadlifting socks, and don't forget to watch out for the common pitfalls and gimmicks employed by athletic companies to sully you into an expensive sock purchase. Any of the deadlift socks in our top 5 list are great options, or should at least give you a good starting point on what to look for as you set upon your quest to find the perfect pair.