In a sea of protein powder containers emblazoned with muscle bound hunks, Ghost Whey Protein powder stands out.
You won't see any steroid enhanced bodybuilders on the packaging of this product. Instead, Ghost stands out with bright graffiti and monkeys giving it that much sought after point of difference.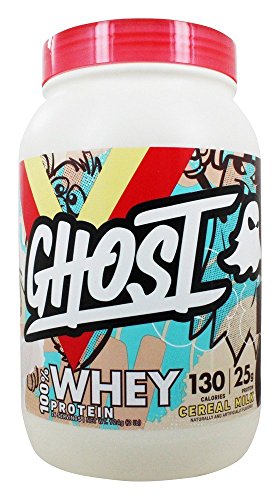 Being noticed, however, is only half the battle. A product also has to be effective. So, how does Ghost Whey Protein powder stack up?
Let's find out!
Pros
Cons
Only comes in a 2-pound tub
Ingredients
The Ghost Whey Protein website states that the manufacturers of this product have made a point of keeping their ingredient profile simple, unlike the majority of the competition.
Whey Protein
The whey protein complex in Ghost Whey Powder is made up of the following three protein types:
Whey protein isolate has gone through a process by which all of the fat and carbohydrate has been taken out. You are left with a lean protein which is 85-90% pure protein.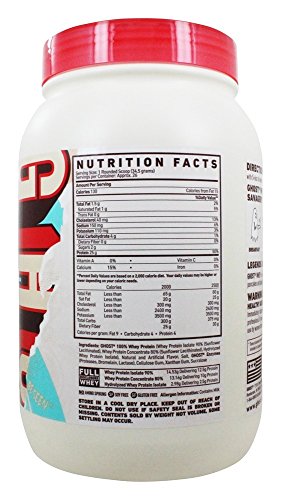 Whey concentrate has retained some of the fat and carbohydrates. The protein ratio is significantly lower than you get with whey isolate.
Whey protein hydrolysate is already partially processed. This helps to make the product more digestible.
We were pleasantly surprised to discover that Ghost have not hidden the precise amounts of each of these protein types behind a proprietary blend, which is so often the case with protein powder manufacturers. But Ghost are different. In fact, they tell us exactly how much of each protein type you get per scoop:
Concentrate = 13.16 grams
Hydrolyzed isolate = 2.98 grams
An extra bonus of the protein make-up is that both the isolate and the concentrate have been sunflower lecithinated. This makes them far more mixable.
Other Ingredients and Sweeteners
The other ingredients in Ghost Whey Protein are:
Sucralose, also known as Splenda, is an artificial sweetener which has been found to cause some potential heath problems. It should be noted, however, that this product does not contain acesulfame potassium, which is common to many protein powders. 
Ghost Enzymes
Ghost have also included 'Ghost enzymes'. These are:
These enzymes will help all people, but especially those with a lactose intolerance, to digest this protein mix without the side effects of bloating and gas. Bromelain is especially beneficial as it has been shown to reduce post exercise soreness.
Macro Nutrient Profile
Ghost Whey Protein is very low on carbohydrates, with 4 grams of carbs in each serving (however, one of the flavors – Blueberry Toaster Pastry – adds an extra 2 grams of carbs per serve). That means that it will not spike your insulin levels. It's a great choice for people who are on a low carb diet like the Keto Diet. If you wish to take it as a pre-workout and want it to spike your glycogen levels you can take it with milk and a banana.
Using Ghost Protein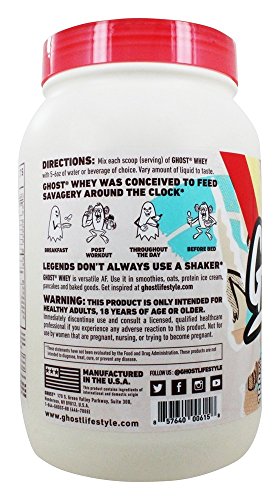 Mixability
Ghost Whey Protein does a good job of mixing, whether it's in a blender bottle, a blender or nothing more than a fork in a glass. This is particularly impressive as there is no soy in the product. The addition of the protein lecithination process is what makes the difference, ensuring that you will not have to put up with any clumpiness or residue at the bottom of your shake.
Taste
Taste, of course, is a subjective thing; however, the vast majority of online reviewers have the same view here, and that is that the taste of Ghost Whey Protein is top notch. The chocolate flavor is especially popular.
Most protein powders taste terrible with water, which is why they resort to pouring artificial sweeteners into them. This is another point of difference with Ghost. It actually tastes great in water, which is really saying something!
Ghost have provided some pretty unique flavors, among which is Blueberry Toaster Pastry. This very tasty shake actually includes little pieces of pastry, which makes it pretty darn delicious. Amazingly, it still manages to keep the carb count way down. It only has an extra one gram of carbs compared to the chocolate flavor.
Recommended Dose
Ghost suggest that you take 1.5 scoops of Ghost Whey Protein with every serving.
Price
Ghost have positioned themselves in the upper half of the market when it comes to price. Whey Protein will come in at around $1.50 per serving. Each two-pound tub will give you 26 servings, which will last for about a month. It comes to about one third more than you would expect to pay from the average protein powder on the market.
The Bottom Line on Ghost Whey Protein
Ghost Whey Protein is a unique protein powder that impresses with its simple make up, its full disclosure of protein make-up, its digestive enzymes, its easy mixability and its great taste. However, this is a relatively expensive protein powder. If your budget stretches, we definitely recommend giving it a try. If not, here are a couple of very viable alternatives.
Ghost Protein Alternatives
BioTrust Low Carb Protein Powder
Pros
Contains a blend of 4 different types of protein
4 grams of fiber per serving
24 grams of protein per serving
Low Carb – Just 1 gram of sugar per serving
 Cons
 

Not available outside the USA
The BioTrust Low Carb Protein Powder is an all natural protein supplement that mark the entry of established supplement marketer, BioTrust, into the light protein market. Each serving of this product provides you with 24 grams of protein, made up of four different protein types to fuel your muscle in different ways – and at different times.
 The protein types that combine to make up BioTrust Low Carb are:
 All of the ingredients that make up this protein blend are farmer certified hormone free, and artificial sweetener free. Along with each 24 grams of protein you get 4 grams of fiber.
Ingredients

 The main ingredients in this product are, of course, the four types of protein. Micellar casein is a very expensive protein that most manufacturers simply can't afford to include in their products. This protein source has a very slow release, meaning that your body will absorb it over time. This allows for a constantly feed of amino acids to your muscles says throughout both the day and night.
 Whey Isolate protein is another expensive type of protein. It goes through a process to remove the lactose and fat from the protein. Conventional whey protein is also included. Whey is the fastest acting protein, designed to have an immediate impact on the body. It will get amino acids to your muscle cells faster than anything else. Milk protein concentrates add branch chain amino acids to assist in the recovery and rebuilding process.
 An important point is that the protein blend is processed at low temperatures. This prevents the proteins from becoming de-natured. In addition, the unique blend of four different types of protein combine to give your body a steady supply of amino acids throughout the day and night.
 The sweetener used in this protein powder is stevia. Stevia is a natural herb that is really sweet, but contains zero carbs.
Our Verdict on Bio Trust
BioTrust Low Carb Protein Powder is an excellent protein supplement. It offers a unique blend of four types of protein to provide a continuous supply of amino acids to the blood stream. We also love that this product is completely hormone and artificial flavor free.
 The product mixes well and the three flavors offered – Milk Chocolate, Vanilla Crème and Café Mocha – and delicious. In fact, BioTrust ticks all of the boxes for a superior product except one – the price.
EAS 100% Whey
Pros
30 grams of protein per serve
Cons
A little too much fat and carbs
Only uses whey concentrate
Ingredients
The EAS 100% Whey Protein powder delivers 30 grams of whey protein in every 39 gram scoop. The protein source is 100% whey concentrate, which leaves the fat and lactose in the product. This makes the product problematic for people who are lactose intolerant. It also does not digest as quickly as the whey blend that you get with Ghost Protein.
EAS includes branch chain amino acids in the form of leucine, iso-leucine and valine. These short chain amino acids can be digested very quickly.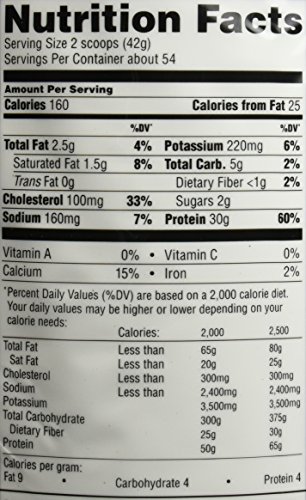 Effectiveness
Because this product is 100% whey concentrate, it may cause stomach upset for people who have difficulty processing lactose (and that is a lot of people). Beyond that issue, it does deliver quality protein to your muscles for post workout rebuilding and recovery.
The product does include the artificial sweetener sucralose, which can also cause stomach issues.
For people who are looking to increase lean body mass, EAS 100% whey provides you with just 170 calories. However, the amount of carbs and fats in this product are a little higher than many competitors, including Ghost Protein. The addition of BCAA's also enhance the post workout rebuilding effect.
Dosage
EAS 100% Whey protein should be taken post workout to provide an amino acid infusion to rebuild muscle cells that have been broken down by your training.
Taste / Mixability
The taste of EAS 100% Whey is what you expect from the classic old school type of protein powder. It does not deliver any of the originality of the new style of flavors that you get from such competitors as Ghost Protein. The taste is not awful, but neither is it exciting.
EAS 100% Whey does not mix very well. If you are trying to do it with a spoon or fork, you will not have much success. Unless you want a chunky chug down, you will need a shaker bottle and a good deal of shaking.
Our Verdict on EAS
EAS 100% Whey is a 100% whey concentrate product, so the quality of protein is not as high as you get with Ghost. You get a higher overall protein content per serve, but it does not mix as well and may cause stomach problems. We not do recommend EAS 100% Whey in favor of Ghost Whey Protein.