For those who find themselves shaking the tingles out of their hands at the end of a long work day, you may be in store for a wrist brace. Wrist braces were designed by medical specialists to ease the symptoms of repetitive motion injuries like carpal tunnel syndrome, which affects roughly 5% of men and women in the workforce today. As a personal trainer by day and writer by night, I can quite literally feel your pain when it comes to wrist issues.
Fortunately, the age we live in appreciates physical improvements, so we've got tons of support options from slim wrist bands to tight copper compression sleeves. Over the years, I've done countless hours of research on these products and tried just about every different style in existence in an attempt to find the best carpal tunnel wrist brace. I've had both good and bad experiences, so I wanted to put together a guide to help those who want to alleviate the symptoms of carpal tunnel and get on with your day without the pins and needles! If that sounds like you, then I've provided a comparison chart and detailed reviews below of the best carpal tunnel braces on the market:
Mueller Fitted Wrist Brace
M-Brace RCA Heavy Duty
ACE Deluxe Wrist Brace
Copper Recovery Wrist Sleeve
VIVE Wrist Brace
Purpose
Designed specifically for carpal tunnel relief
Designed specifically for carpal tunnel relief
Designed for general wrist support
Designed for general wrist support
Designed for general wrist support
Wrist-Specific Design [extra href="#example" title="Is the brace designed specifically for the left wrist or right wrist? Or is it a universal fit that can be used on either wrist? Braces with wrist-specific designs are typically more efficient." info="tooltip" info_place="top" info_trigger="hover"](?) [/extra]
Adjustable Straps
Other
Unique ecomaterial protects against odors, stains, & even bacteria
Unique design provides best range-of-motion
Most adjustability, also odor resistant
Uses copper to assist with pain relief
Removable splint if you prefer more flexibility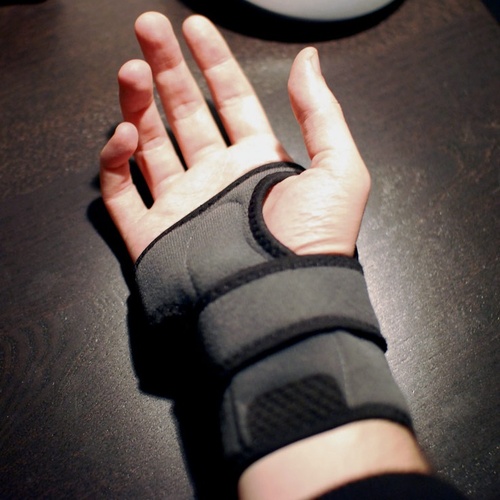 Comparison Guide: Top 5 Best Carpal Tunnel Wrist Braces
Top Pick: Mueller Fitted Wrist Brace
As writers, we are constantly slamming away at the keyboard, unconsciously abusing our little wrists that allow us to do so many things! With that said, I can't tell you what a relief it was to find the Mueller Fitted Wrist Brace after trying literally dozens of different wrist braces trying to assist with my carpal tunnel.
I've scoured the internet looking for a wrist brace that was comfortable and sleek-looking so I no longer had to be walking around with what felt like an obtrusive cast! Not only that, but the Mueller Fitted Wrist Brace performs AMAZINGLY and even protects you from potentially harmful bacteria with its product's innovative eco­technology.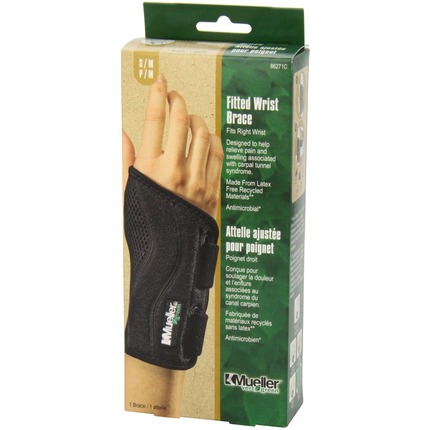 Mueller Sports Medicine has been around since the 60's taking advice from athletes, trainers and coaches for applicable innovation to their products. There is no surprise they would create an eco-­friendly and easy-­to-­wear carpal tunnel wrist brace.
They started out in the basement of a drug store and have grown to an international sports medicine brand specializing in braces for almost every part of your body (besides your head). They know and respect the human body and continue to create innovative products to help athletes of all skills levels, this being one of the big reasons I wanted to try this brace out in the first place.
This versatile brace can be worn day or night, resembling nothing more than a black glove with some exposed fingers. It fits very comfortable and can even fit underneath sweaters and jackets without getting in the way, a big plus for wrist braces considering most are too bulky!
Something that also gave the Mueller Fitted Brace big points is that it's wrist-specific, meaning they make a brace for both the left wrist and the right wrist. Wrist-specific braces work MUCH better than those universal designs that are supposed to fit on either wrist.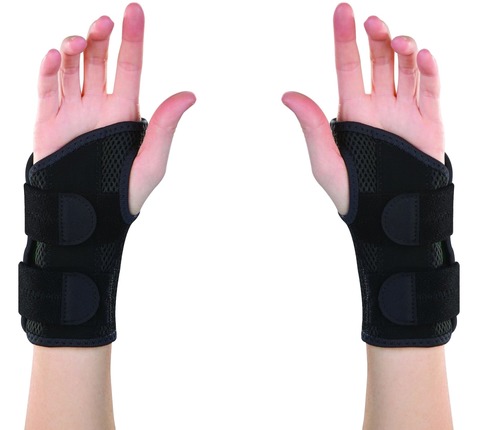 Depending on your wrist size, this brace can be purchased in small/medium or large for the around the same price. The small/medium brace is adjustable for wrist sizes between 5-­8 inches and the large option for those with wrists between 8­-10 inches.
Setting up into the brace consists of sliding your thumb and leftover fingers into their respective positions, making sure the Mueller brand can be read by bystanders. This will ensure your brace is on correctly and ready to ease the tension!
This carpal tunnel wrist brace is noticeably shorter than others, but don't let that discourage you. The constructive design allows excellent range of motion while maintaining the support needed for your optimal healing. The dual strap system makes it easy for you to adjust the brace if you are feeling discomfort. Remember to make sure your brace is snug otherwise we are defeating the purpose of wearing it!
Another fun fact to mention, Mueller was given the green label by using a high percentage of green and recycled materials. The spandex binding is made from 73% recycled products complete with a lining produced from 67% PET bottles. The core of this brace is made from non­-petroleum based products with a microbe shield that controls odor and staining. I found these specs extremely innovative for the medical and rehabilitation fields as we progressively move towards green products as a whole. Definitely something to note while searching for a brace.
The recycled materials used for the Mueller Fitted Wrist Brace are breathable and lightweight with an added AEGIS Microbe Shield. The AEGIS Microbe Shield technology basically kills a plethora of diseases by electrically charging a treated surface (you will not be shocked, physically) and kills microbes as they find their way to your wrist brace. AEGIS claims their antimicrobial technology protects against: mildew, yeast, fungus, E­coli, MRSA and more!
All-in-all, the Mueller Fitted Wrist Brace was by far the most comfortable and best-working brace out of all the carpal tunnel braces I've tried over the last couple years. Great design, comfort, material, and a really reasonable price tag. Best of all, there's a 20%-off coupon offer on Amazon which will bring this down to about 10 bucks! One word of advice before buying, just make sure you remember to choose right wrist or left wrist, depending on which one you're experiencing pain in.
Runner Up: M-Brace RCA (Heavy Duty)
Roughly 20 years ago, the M-Brace RCA was released into the brace market as a featherweight, full range-of-motion wristwatch (essentially) that promotes healing/prevention of carpal tunnel syndrome. No, you cannot tell time on this device but if you go check it out online you will see what I mean by "wristwatch". This patented and innovative design is unlike competitors even more so with their updated Heavy Duty version that we will talk about here today.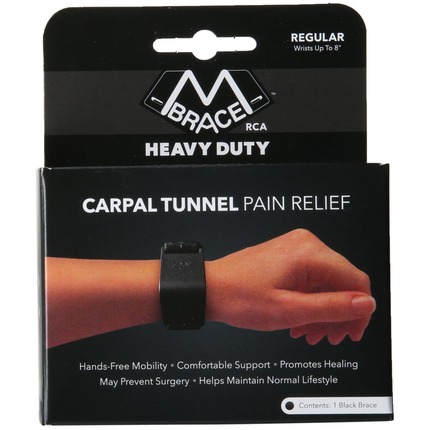 Fortunately for me, I was introduced to the Heavy Duty version and the comparison to the original is strikingly different. For starters, the older design was downright ugly, whereas the new Heavy Duty version is a brace you will not mind wearing around getting errands done or to go out to dinner with your friends one night.
From beige to black, the updated design resembles more of a FitBit than an old school hospital bandage. With that comes improved performance, allowing those with carpal tunnel to do more with their hands without a bulky brace getting in the way.
You can wear this style brace day and night but is recommended to take off throughout the night for longevity. A little different from our number 1 pick which can be worn 24 hours a day without the worry of faster deterioration.
The approach to healing the creators of M-Brace RCA took was minimalist and for that, I admire their product. The idea behind this style of brace is to just support normal joint structures and let the body do the healing all on its own. That was the mindset when developing this slim, no frills, modern day brace that deters from immobilization and the conventional method of viewing carpal tunnel syndrome.
To put on this bad boy, simply slide the plastic angle of the brace over the thumb side of wrist and make a fist. While you are making a fist, secure the strap on your wrist, inserting the tips through the empty slot of the plastic angle. Keeping that fist of yours strong, pull and press the tip back against the Velcro strap and your brace is secured. Once secured, you may feel instant relief from the brace's ability to maintain the normal structure of the carpal tunnel in your wrists.
This sounds confusing compared to the ease of other braces but you will be blown away by how much freedom you have with this one. Many customers were able to go back to their computer jobs or play their video games in peace instantly. People who invest in this product seem to stick with it for quite some time. The attraction to this style of brace is definitely being able to have unrestricted natural movement while healing. Other braces can constrict, need constant readjustment of their straps and don't look as appealing to wear out in public.
Although cool and advanced, this didn't take the number one spot as best carpal tunnel wrist brace overall because of the price. For the price of one of these braces, you can have two of the Mueller Fitted Wrist Brace. With that said, we're only talking about $25 here, so if you'd still like to give the M-Brace a try, you can pick one up on Amazon (that's where the cheapest price is).
#3: ACE Deluxe Wrist Brace
ACE (All Cotton Elastic) has been around since before you and I were born, pioneering elastic bandages and building a customer base for nearly 100 years. Needless to say, they have loads of experience in keeping up with the times for bandages, braces and products that provide support to body areas in need.
The ACE Deluxe Wrist Brace is a little more traditional than our previously rated braces and you may have even seen your dad wearing one like this over the years… or your grandpa, if he can still do handy work. ACE offers their old school braces all the way up to the 2012 updated versions, which is what I'll be reviewing here as this is what I used several years ago.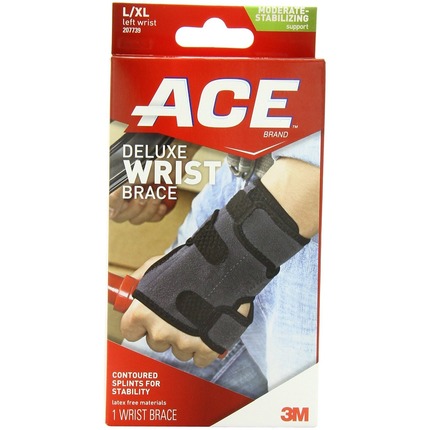 As you slide on the ACE Deluxe Wrist Brace you'll immediately notice the gel cushion that conforms to the hand providing nice comfort in your healing process. Your thumb will be secured through the respective opening of the brace and three straps will be hanging waiting to be fastened. First, secure the middle strap around the wrist nice and snug followed by securing the other two straps to their respective opposite sides and play around with the tension to get your brace just right.
The three strap system developed for this brace allows you to tighten all areas individually instead of the traditional system of just one or two straps controlling the feeling of the whole brace. A cool feature in regards to the design of the brace is that the velcro straps can be secured anywhere you like on the brace. The material used kind of feels like a fuzzy blanket and accepts the strap wherever you secure them.
Although this style of brace is a bit bulkier than our previously rated braces, the design still permits full range of movement. If the brace feels too stiff and you would prefer a little less support, there are two splints that can be easily removed. The splints are located at the top and the bottom of the wrist brace and will slide out via two black flaps that do not get in the way of normal functioning.
The neoprene ­blend material used for this brace is beneficial for acting as an insulator allowing increased blood flow circulation to the affected areas in your carpal tunnel. When your wrist is in this brace, you feel extremely secure. That is one of the reasons this brace made it into our top 5, this product significantly alleviates symptoms of carpal tunnel and other repetitive motion injuries.
Overall, I like this brace for carpal tunnel syndrome. Obviously, I wouldn't say this is the best carpal tunnel wrist brace due to lack of more advanced functionality, but I still like it nonetheless. The style is not for everyone but we are here to find a solution to alleviate pain and heal, not conduct a fashion show.
If you don't feel like waiting for your wrist brace to come online you can always head into one of the many retailers that offer these products. ACE braces can be found at most corporate drug stores and plenty of grocery retail outlets.
#4: Copper Compression Recovery Wrist Sleeve
Are you looking for an adaptable wrist brace that can join you on your day without getting in the way? The Copper Compression Recovery Wrist Sleeve could be just what you are looking for, bringing together a stylish black design with light grey branding that ultimately works on combating carpal tunnel.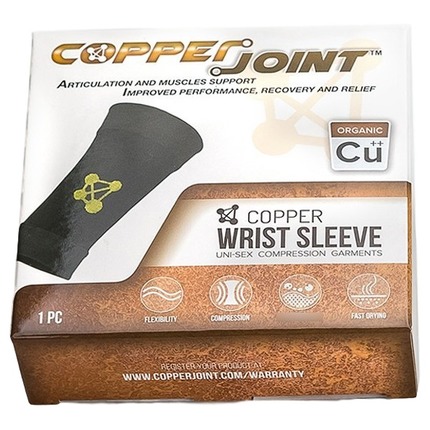 Traditionally, we would call this a brace, but given their respected transformation of the healing system, we will stick to calling this one a sleeve. These compression sleeves are known to relieve the symptoms of carpal tunnel by increasing blood flow to the area.
Compression plus copper for healing has become a new health trend and this company got it right. Brett Favre wears a similar product for back support and you can too, all for under $20. Unfortunately, you still won't be as good as Brett Favre was but hey we're not here for the draft so don't worry.
The claims behind copper for repetitive motion illnesses have increased over the years. Copper, which is found in trace amounts in our bodies, has been known to assist in the making of red blood cells as well as collagen. Copper bracelets are sold for various types of repetitive motion injuries for relieving the pain associated with these physical ailments. Merging the healing benefits of copper and compression therapy could only formulate an effective device for carpal tunnel.
When dressing up your arm with your new sleeve, you'll notice a smooth and tight feeling throughout the sleeve with a more thick feel in the hand. The area around your wrist should feel the most compressed for optimal blood flow. The fabric between the thumb and hand can be a little tight but the stitching should hold everything together in the long term. If not, there is a 100% money back guarantee that will be refunded with no questions asked. That is always a nice backing to have when exploring a new product, especially a product that will help you in your everyday life. No one wants to feel like they've wasted money.
Similar to our second rated pick, the compression sleeve will stay out of the way and allow you to perform your daily duties. You may get so used to the sleeve you can forget it is there! What I like about this product most is that you can wear it anywhere, even to the gym.
There are specific wrist wraps for lifting and designated exercises but this can be worn by anyone doing anything. The sleeve is easy, new and best of all… you don't have to buy two (unless you want)! There is no specific left or right for the sleeves, they can transfer from arm to arm if needed.
This product did land number 4 because I appreciate the idea behind the product and the obvious success it is having through customer reviews. In relation to our higher up rated picks, Mueller and ACE are top­-notch, respectable brands in the industry, known for cranking out great aids. The company structure of M Brace and Copper Compression seem pretty similar in that they are newer and still have some authentic growing to do that can easily be done by consistent advancements among the brace market.
#5: Wrist Brace by VIVE
The VIVE Wrist Brace incorporates a lot of the basic features we've mentioned so far in terms of support, stability and ability to perform your everyday normal functions. This brace offers a more attractive design than your traditional braces for carpal tunnel without sacrificing quality.
Similar to the ACE Deluxe Wrist Brace, the Velcro­brand straps and neoprene material make for an easy­to­fasten and secure design with minimal readjustment. The wrist brace by VIVE ranked 5 in our list because there are no special specs that would rank it higher. The VIVE brace is here to do the job of alleviating pain and healing for a price cheaper than what you'll get at the doctors.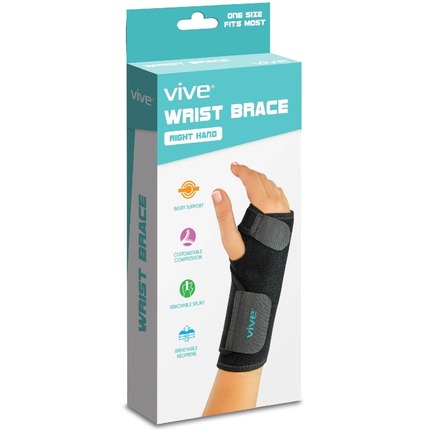 A little larger than our top pick, the Wrist Brace by VIVE offers a compact design with a high quality two­strap latching function that minimizes time spent fixing your brace as you go throughout the day. Like many wrist braces in the market, the splint that comes with the unit is removeable so you are in control of how much support you need.
Whether you are suffering from carpal tunnel or recovering from injury, the VIVE brace will be sure to get the job done. Plenty of users who experienced this product have walked away leaving really good reviews in terms of comfort and function.
All in all, the VIVE is good, but with the multitude of braces out there, you can certainly benefit from one of our higher rated products. This brace will be a straight run­-of­-the-­mill experience, but if that's what you are looking for then this is the brace for you!
The Mueller Fitted Wrist Brace may benefit you as well for they are leaders in sports medicine and injury, being able to accurately research and develop products that are cutting edge. The base price is cheaper and there is still that 20% coupon of off Amazon you can find out more about if you head over there now!
Things To Consider When Choosing The Best Carpal Tunnel Wrist Brace For You
Wrist braces come in all shapes and sizes (literally) from compressed sleeves to traditional large beige material. They all have their pros and cons in the medical community so keep an eye out for the qualities that you feel suit you best. You could always get recommendations from your doctor as well! Depending on how often you will be wearing your wrist brace, you may want certain attributes that some don't have. Does it clean easily? Do I have to hang dry or can I throw it in my dryer with clothes?
Material
When seeking out a quality wrist brace for carpal tunnel you depending want to take note of what types of materials the producer is using. What comes first and foremost for me is does the material breathe well? I am going to be typing away working up palm sweat in this thing and I don't want to be smelling something funky throughout the day.
A good material will last longer and make strapping your brace a lot easier and more secure so you are not sitting around re­adjusting your brace all day. Mueller Fitted Wrist Brace broke new ground with their recycled materials that are breathable with an added antimicrobial shield that kills bacteria on spot. Neoprene, a durable material that is seen amongst this guide, is a quality material you will want to see in your wrist brace.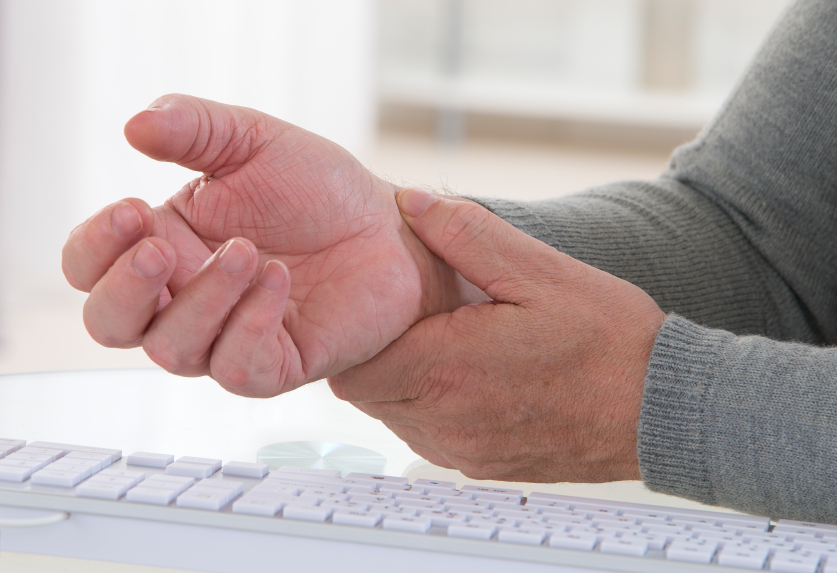 Comfort
Ensuring your brace is comfortable should go without saying! I want to be typing up an article and be as comfortable as cuddling with my dogs watching Netflix. No pain, no gain does not apply for this category in life.
If you are purchasing an in-­store wrist brace, poke your finger in the box and feel the brace. Is this brace something you can see yourself wearing for 8+ hours a day? Is it itchy or comfy? I choose comfy.
If you are buying off the internet, take advantage of that money back guarantee if a brace is not comfortable for you. The newer style brands, like Copper Compression, offer you that guarantee if you don't like your product.
Style
Of course, style comes into play! Everyone has their own style and here is your chance to alleviate your carpal tunnel and bring your own style into it. The MBrace RCA Heavy Duty was designed to allow unrestricted performance and little did they know their brace would also look like a slim black watch.
The Carpal Tunnel and Wrist Brace Relationship
If you are experiencing pain and soreness in your wrist, you may be suffering from Carpal Tunnel Syndrome. Besides all the lovely knowledge we can bring to you in this article, CTS is a medical condition and should not be self­diagnosed. Do yourself the favor and see your medical professional… then come back and buy one of these less expensive yet more effective wrist braces to ease the pain!
Most commonly shortened to carpal tunnel, this repetitive motion injury happens because of the compression of the median nerve in your carpal tunnel. The main symptoms you may be experiencing are pain, numbness and tingling throughout certain areas of your fingers. These symptoms usually occur in the middle of the night or after a long day at a job where you are not flexing your hands all too much.
Many people who work long hours at a computer, clutching a mouse and typing on a non­ergonomic keyboard are prone to carpal tunnel. The tingling sensation can be "shaken out" temporarily as a way of restoring feeling back into the hands, however, that is only a temporary means to an insatiable end. If you are going back to work to sitting on the computer the feelings with only come back until you take action on them.
Fortunately, wrist braces were created to create heat and blood flow to the carpal tunnel to relieve the area of the compressed nerve. What was once a bulky, mummified looking cast has been shrunk down to a variety of innovative braces that you can wear day­-in and day­-out, allowing you a new lease on those beautiful hands you have!
If you do not want to wear a wrist brace, your options are limited and may lead to surgery which doesn't have a high rate of success. Plenty of people who opt for surgery end up going back to work and ending up with the same conditions. Back to the doctors they go!
Pick one up, check it out. You do not have to wear it all day, maybe just at work or when you are home around the house. The Mueller Fitted Wrist Brace is slim, short and doesn't take up much room on your wrist! If you're sitting at a computer or counting money all day these wrist braces may be beneficial for your health.
For other ideas on how to treat your carpal tunnel, check out the below video: