Several days of research and reading have led me to conclude that the Brunswick Powrkoil Wrist Support is the best investment you can make if you're in search of the best bowling wrist support. The design promises premium performance, banking on optimizing your wrist position to achieve professional results with each throw.
At a glance, it's easy to see that the Powrkoil is a unique bowling wrist support that brings something new to the table. But there's really so much more to this wrist support design than meets the eye.
If you're interested in learning more about this impressive bowling essential, then I've got you covered. Keep on reading to find out just what it is about this particular wrist support that puts it at the top spot on my list.
Feather-Light Construction for That Feeling of Freedom
A wrist support that's bulky, clumsy, and heavy can make you feel like you've got a giant limitation attached to your skin. Hefty designs like the Storm Universal Wrist Brace cause a feeling of unease, making them counterintuitive if you want a fine-tuned throw that gets as many pins as possible.
That said, the Powrkoil makes a much better choice if you're in the market for something that doesn't bog down on your wrists. The structured aluminum construction is exceptionally lightweight, giving you the freedom to move without the extra weight of a hot or heavy strap.
Around the front, two supporting straps keep your arm and hand in place for a stable attachment. These materials all come together to create an ultra-light bowling solution that reduces fatigue and minimizes the chances of injury.
Design That Lets You Fine-Tune – Literally.
Some wrist supports are advertised as saying the design increases your control, enabling you to fine-tune your throw for improved performance. But these products often offer very little to actually let you do so.
With the Powrkoil, fine-tuning is taken a step further by giving you a design that you can actually physically control and adjust. The strap features a set of adjustable screws that you can experiment with to achieve the ideal wrist cup position. By changing the angle, you can get more or less revs on your throw, depending on what you prefer.
Along the side of the strap, there are also lateral adjustment provisions that help you control side roll and rotation. So experimenting with the design and the different combinations of anterior and lateral positioning the strap will allow you to use, you can find the optimal hand position to get a strike with each throw.
Breathable Design Reduces Slip for a Better Grip
Wearing one of those tight, thick, Velcro-riddled wrist supports for bowling can create some serious sweat. With too much moisture all over your palms and fingers, it would be all too easy to lose control of a shiny, polished, heavy bowling ball.
What's nice about the Powrkoil is that it does away with all that unnecessary coverage on the palms and fingers. Instead, it focuses on positioning the wrist by creating restriction of movement directed towards the dorsum of the hand. So the palm side of the entire support is relatively free.
Securing the Brunswick Powrkoil against the front of your hand are two straps that leave a lot of skin uncovered. This doesn't only work well to provide you with substantial support and stability, but also makes it easier for the skin to breathe. This reduces sweat which in turn gives you a better grip for a precise shot.
Perfect for Preventing Injury
In bowling, the wrist is considered the body part most susceptible to injury. Improper hand and wrist movements in combination with a heavy bowling ball can spell disaster – especially if you're not wearing appropriate bowling gear.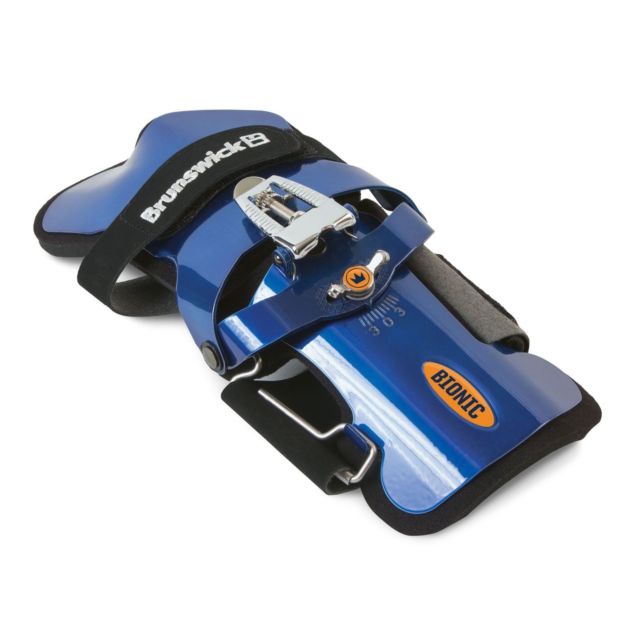 I found the Powrkoil from Brunswick to be the top performing wrist support when it comes to preventing injury. That's simply because it completely eliminates unnecessary and injurious lateral motions as well as over extension and flexion of the wrist.
Although lightweight and breathable, the aluminum material really does provide impressive resistance. So once you set the screws to your chosen angle, you can expect your wrist to move within only the allowed range of motion.
Durable Build for Support That Lasts
Bowling wrist supports that are made mostly of fabric, mesh, and Velcro can wear out pretty quickly. But because the Brunswick Powrkoil uses aluminum material, it's much more resistant against the damage caused by frequent use. What's more, maintaining and cleaning the strap requires much less effort. Wiping it down with a clean, damp cloth, and airing it out can be more than enough to get it back to its fresh-out-of-the-box condition.
A note on its maintenance, though – as the design incorporates a hinge that connects the arm guard to the wrist cup, you can expect the connection to become a little stubborn with frequent exposure to moisture. To prevent this, make sure to dry out the support and keep it free from sweat. Oiling up the small hinge section can also be a suitable solution to make it easier to adjust and move.
Things I Like About the Brunswick Powrkoil Wrist Support
Lightweight construction doesn't weigh down on your wrist for a better sense of freedom and movement.
Durable design lasts longer than most supports especially with frequent cleaning and regular maintenance.
Reliable at preventing accidents by completely eliminating motions that could result in injury.
Breathable design reduces sweat production for a stable grip.
Some Points to Consider:
The hinge section on the aluminum is prone to breakage especially when not properly maintained.
Screws can be tedious to work with.
A Few Other Sound Choices
If the Brunswick Powrkoil just isn't doing it for you, these two other premium bowling wrist supports I've found might just fit your standards for the ideal gear.
Storm Xtra-Hook Wrist Support
Made predominantly from synthetic and Velcro, the Storm Xtra-Hook Wrist Support boasts an extended index finger for a higher rev rate. This small yet intuitive feature enables you to increase the axis rotation to achieve different results and ball paths with nothing more than a wrist support.
Durable and efficient, the only problem I have with the Xtra-Hook wrist support is that it tends to reduce ball feel significantly, which can have a substantial effect on the way you cast your throw. Plus, this also affects breathability, with sweat spreading from your palms to your fingers, compromising your grip.
Things I Like About the Storm Xtra-Hook Wrist Support
Extended index finger lets you take greater control of revs and axis for an accurate throw.
Smart design enables users to experiment with their hook for longer, improved results.
Provides substantial restriction to maintain proper hand and wrist alignment.
Easy to on and off, with Velcro straps that make it a lot easier to adjust for a custom fit.
Great for beginners who are just starting to learn the basics of bowling and the importance of using gear.
Some Points to Consider:
Not exactly the most breathable choice out there.
Stitching on the Velcro straps isn't as good as it could have been.
Kool Kontrol Wrist Positioner
The Kool Kontrol Bowling Wrist Positioner is engineered out of a unique fabric that helps keep your hands dry, no matter how tough of a round you're in.
The bowling brace featured on the Kool Kontrol Wrist Positioner enables the bowler's wrist and hand to easily stay in position, making for more consistent throws frame to frame. The metal bowling support on the Kool Kontrol wrist support is designed with comfort in mind and remains a pleasure to wear throughout even the longest tournaments.
What makes the Kool Kontrol Wrist Positioner one of the best wrist supports on the market is its adjustability. With 3 Velcro straps, minor adjustments are a breeze.
Things I Like About the Kool Kontrol Bowling Wrist Positioner
Unique construction and fabric help to keep your hands dry.
Three adjustable Velcro straps make for a comfortable, custom fit.
The metal bowling brace keeps your hand positioned locked in
Some Points to Consider:
The metal supports could be bent if you're not careful storing this wrist support
Robby's Leather Plus Bowling Wrist Support
The last recommendation I want to make for this list of the best wrist supports for bowling is the Robby's Leather Plus. The design uses premium leather material combined with a rigid metal insert that keeps the forearm straight for a more forceful release. This increases ball speed and improves the chances of breaking through all 10 pins with sheer force. So if you're into banking on power, then this wrist support might just help you beat personal goals.
Some flaws I found with the design though include comfort, breathability, and fit. The leather material – although a significant improvement in terms of durability and grip – makes the wrist support extra warm. In terms of fit, lots of users just didn't find the alternating Velcro straps to create a snug, supportive feel.
Things I Like About the Robby's Leather Plus Bowling Wrist Support
Made from premium leather that lasts longer than other types of fabric materials.
Metal insert maintains the forearm straight for more power during release.
Precise design means you get the same results with each shot, so you don't have to keep fine-tuning your wrist position to achieve the perfect throw.
Simple and straightforward, designed for players who want to do without all the fancy bells and whistles.
Some Things to Consider
Leather material can be particularly warm on the skin.
Velcro straps aren't as reliable when it comes to giving that comfortable, optimal fit.
The Bottom Line
When it comes to bowling gear, Brunswick knows what's best. After everything I've seen and read about the Powrkoil Wrist Support, it's hard to say that any other choice could come close. The unique, intelligent, and well thought-out design and construction really works to improve your performance all together while giving you the best comfort and support all throughout your throw.
Choices like the Storm Xtra-Hook, Kool Kontrol Bowling Wrist Positioner, and the Robby's Leather Plus make decent investments, too. So if you want to really explore your choices to find what that truly suits your preferences, be sure to check out all three of these designs to get a clearer picture of what the best wrist supports look like.