You'd be surprised how many people overlook the importance of a good gym towel.
A study that examined fitness equipment found that a simple dumbbell contains 362 times more bacteria than the top of a toilet seat. That's over 1.1 million germ cells per square inch. Don't let that discourage you from going to the gym, but if that isn't enough to get you to at least bring your own towel, I don't know what is.
After reading that study, I felt compelled to write a guide on gym towels in hopes that people would start bringing one with them when they go workout. To find the best gym towel, I researched around online for the past week and a half comparing dozens of different brands, materials, reviews, and prices, and finally came up with a pretty solid list of top-quality options.
Bottom Line Up Front: My top two choices are the Youphoria Sport Towel (microfiber) and the Grounded Sport Towel (bamboo fiber).
If you're unfamiliar with the different types of towel materials or want to know more about the specific towels I chose, don't worry – I'm going to go over each of the options in detail below.
Here are the best available gym towels on the market
Best Gym Towels
Youphoria Microfiber Sport Towel
The Youphoria Sport Towel is currently the #1 best gym towel for athletes and gym enthusiasts, holding an impressive 4.6/5-star rating based on a collective 2,000+ positive customer reviews. Youphoria towels are made from microfiber material. The small fibers allow for a tight weave. More fibers means greater absorption because the total surface area of the fibers is greater.
The tightly-knit fabric also resists staining and absorbs sweat.  While other materials like terry cloth and cotton can feel quite soft, microfiber easily out-performs them by a factor of 9x in the area of absorption.  A microfiber towel is also very friendly on the skin, with a smooth and comfortable touch.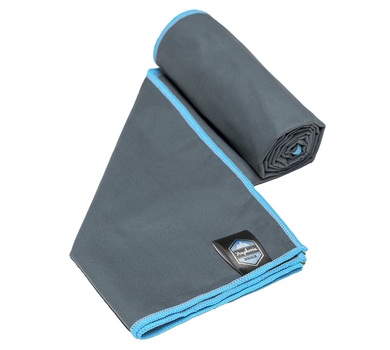 The Youphoria Sport Towel comes conveniently designed with a hanging loop, so you can hang it anywhere for a quick dry. In addition, each towel comes with a free mesh carry bag, making it super easy to carry around with you in the gym. It also comes in 3 different sizes; the large being 32″ x 72″, the medium being 28″ x 56″, and the small being 20″ x 40". You even get your choice between 7 different color combinations, which is a nice touch of personalization since gym towels typically only come one-size and one-color. Check out more details on the Youphoria Sport Towel here.
Grounded Sport Bamboo Microfiber Towel
While this towel might be #2 in terms of popularity, the Grounded Sport Bamboo Microfiber Towel is actually the #1 highest-rated gym towel when it comes to customer reviews. The Grounded Sport Microfiber Towel really stuck out to me due to the fact that it's made with bamboo fiber. Bamboo fiber is an exotic material that's notorious for its soft, elegant feel and unique anti-bacterial properties, making this microfiber towel extremely ideal for gym use as it actively protects you from the variety of different germs and infections that you're exposed to in the gym. Remember earlier what I said above dumbbells have 362 times more bacteria than a toilet seat? Personal hygiene protection is where this microfiber towel really excels.
The Grounded Sport Microfiber Towel also has a great anti-static property in addition to its anti-bacterial properties. This is perfect for the gym because it helps resist lint or any other type of unwanted cling, keeping your towel clean and fresh no matter where you have it. You won't have to worry about any bad smells developing either, because the third big benefit of bamboo fiber is its anti-odor property. So even if you accidentally left it bundled up in your gym locker or maybe in the corner of your room overnight, the Grounded Sport Microfiber towel wouldn't have that unpleasant mildew-ish odor in the morning when you woke up!
The Grounded Sport Towel's absorbency is great as well, drying 3.5 times better than even cotton (meaning it sucks up all the sweat in a jiffy and is fast drying). This towel comes in only one size, 12″ x 39″; however, that's perfect sizing for the gym, especially for a quick wipe of sweat off your face and hands. Overall, the Grounded Sport Bamboo Fiber Towel is ideal for high intensity workouts and the more serious fitness goers. If you know you'll go hard at the gym, then this is definitely the best gym towel for you. Read other customer reviews of the bamboo fiber here.
Utopia Cotton Towel 24-Pack
The Utopia Cotton Towel Pack contains 24 towels and is quite economical with an affordable price. The towels are made from 100% cotton and they come at a standard size of 12″ x 12″ each. Despite their nominal size, the towels are highly efficient, with super absorbent and moisture retaining properties. In addition, the towels have a lint-free property, and they also come with a light ribbed design to make them fast drying. Another input to its design is that it has double stitched edges to make it durable and long lasting.
Since the towels are made from ring spun cotton, they are super soft and very ergonomic. In fact, they are one of the few cotton based towels are fast drying despite cotton's great water retaining ability. The towels are easy to wash; however, it is advisable that you do not bleach them. All in all, the Utopia cotton towels are friendly to your pocket because they come in a pack. The only small setback is this whole issue of cotton retaining a little more dirt as compared to other towels, but other than that, they're pretty solid for gym use. Get the discounted pack here.
FIT SPIRIT Microfiber Bath Sport Towel
The FIT SPIRIT Microfiber Bath Sport Towel is another popular microfiber option well known for its elastic capabilities, which enables it to be rolled up and packed conveniently during transport. Despite being a little longer than a normal hand towel, it is ultra-lightweight and you probably won't realize it's there until you open your gym bag. In terms of softness, the towel does not disappoint, living up to its microfiber characteristic. In addition, it is super absorbent and sucks well on water and sweat.
The towel is also pretty durable, being resistant to wear and tear and repeated machine wash. In terms of size, this microfiber towels measures in at 28″ x 56″. In summary, the FIT SPIRIT Microfiber is an A+ towel for you gym workout. Lightweight, portable, quick drying, super absorbent; you truly have everything you need in it.
Peace Yoga Towel
Unlike its counterparts, the Peace Yoga Towel is specifically designed for the hot yoga enthusiast. It has a special non grip feature that only functions when it is wet. In fact, it even comes with a 'how to' instruction manual for those new to hot yoga. Here's a brief look at how you use it:
• Place the towel on top of your yoga mat
• Lightly sprayed it with water to get wet
• Perform your hot yoga workout as usual
Basically, this towel works with the principle of tightening the grip between your back and the mat as you continuously sweat during your workout. The towel also acts as a sanitary barrier between the yoga mat and your sweat; subsequently keeping your yoga mat in prime condition for continuous use. Pretty awesome, huh? The suede finish helps to maintain a great balance between grip control and moisture absorption.
When it comes to size, you have the option to choose from small (15" x 24"), and large (24" x 72"). For optimal performance, make sure to wash the towel a couple of times before use to avoid getting microfiber lint on your body. All in all, if you love hot yoga, then you will adore this towel.
Chill Pal Cooling Towel
Chill Pal Cooling Towels are manufactured from thick, high quality PVA that comes with unique anti-evaporative properties. In simple terms, the more water the towel retains, the longer it takes for the water to evaporate, hence the cooler the towel remains! Unlike standard cotton towels which are usually cold when wet, the Chill Pal towel is cool. What's the difference? Well, cold is bad for you because it drastically changes your skin temperature. Cool, on the other hand, lowers your skin temperature slowly, which has no adverse effect on your body. The Chill Pal is also able to stay cool longer than most microfiber towels, so this is definitely the towel for you if you're into HIIT workouts, or hot yoga.
When it comes to comfort, the towel rates a mere 6/10 because they focus more on their cooling property more than luxurious attributes. The texture is soft and the material is super absorbent, but the towel is not ideal for wiping sweat off. Rather, it's used to keep you cool during your workout. So if that's what you're looking for, then this is nice and easy to use. All you need to do is simply soak it in water, wring it, and then gently drape it around your neck. The Chill Pal towel comes in a single 24″ x 16" size, comparatively larger than other PVA towels in the market.
In summary, these towels are great for cooling, but it's advisable to have another towel around for when you hit the shower and need to dry off. The Chill Pal cooling towel is designed to retain water, so having it as a shower towel will probably make it dampen if left too long in the gym bag.
AmazonBasics Cotton Towels
We're deviating a bit here from towels made specifically for gym use to add a very high value product that is appropriate for gym use as well.  The AmazonBasics Cotton Towels are not explicitly made for the gym, but they are absorbent and durable enough to be used anyway.  These are your typical cotton towels and do not have any special properties with cooling, but the value is pretty unbeatable for some.  You get a pack of 12 total, so you can definitely go through these and not worry about the price.
Realistically, these towels are nothing to write home about.  However, you can get packs of 12 or 24 for very cheap.  Have a home gym you use with your family or friends?  Stock up on some of these and solve your gym towel issue on the cheap.  Another choice on the list might be appropriate if you're looking for something a bit more comfortable and tailored exactly for gym use.
These are hand towels and are definitely not right for shower use, so strictly take these for your workout.  They come in a single size of 26 x 16 inches and are large enough to have a bunch of usable surface area for sweat.  AmazonBasics towels are safe for use in the washer and dryer as well.  There's a ton of them too, so even if they do unravel it's no big deal.
S&T INC. Microfiber Gym Towel
The S&T INC. Microfiber Gym Towel is made with a blend of polyester and polyamide that dries quickly and makes a great workout towel.  They come in packs of 3 and 6 to give you some extra value.  Washing your gym towels as frequently as necessary can be a chore, so having a bunch is definitely a huge plus.  These are microfiber towels and are not meant to retain water like some of these other towels are.  Moisture dries very quickly on this blend of materials.
This could be really great for you if you find yourself soaking gym towels and benches and need some extra towels.  Some will not like the lack of absorbancy as these towels are not ideal for wearing on your forehead to keep you cool or anything of that nature.  These towels are machine washable, which is important for any microfiber towel.  They are 27 x 16 inches and are a great hand towel size, but aren't big enough for a shower towel.
Which Material Is The Best Gym Towel For You?
If you're still having trouble making a decision on the 6 towels reviewed above, here's a brief comparison of the 3 most popular materials to help you figure out the best gym towel for your needs!
Microfiber
One of the most innovative materials in the market, microfiber is a testament to the power of science in improving the cleaning and sanitation industry. Sometimes referred to as "microfiber-suede," this material is a combination of polyamide and polyester that produces an extremely small synthetic fiber; 100 times smaller than the size of a human hair! This is the most popular material when it comes to gym towels and its numerous benefits make it one of the best gym towel materials you can get.
Pros:
For starters, their unique design enables them to fold up really small when being packed and expand massively when ready for use. Another amazing thing about microfiber towels is their super absorbent property. Did you know that they can absorb up to 8 times their own weight? Microfiber towels literally suck up every droplet of sweat from your body; plus they're gentle on the skin. Microfiber towels are also bacteria-resistant and to cap it off, fast drying. Once you wipe yourself after hitting the shower, just hang up your microfiber towel for a couple minutes and you're good to go.
Cons:
The only real downside to microfiber towels is that washing them can be challenging. They require special care and you need to put in the extra effort to clean them. So if you know you're a little bit lazy with your dry cleaning, maintaining this towel can be quite a hassle.
Click here to see the best microfiber gym towel!
Cotton
Cotton is the most commonly used towel material on the market. Reason being? Cotton towels are readily available and come with a high level of luxury and comfort that other towels strive to achieve. In fact, I'm almost willing to bet that the towel stacked up in your bathroom cabinet bears a nice little label saying 'MADE OF COTTON.'
Pros:
As you probably know, the comfort of cotton is extremely nice. It is gentle on the skin, plus does a pretty solid job in making sure you're warm and well dried up.
Cons:
Sadly, when it comes to the gym, the standard cotton towel has more negatives than positives. This is because it is generally designed for the home and not really modified for portability. For starters, it's very resistant to folding, and will probably take up all of the space in your gym bag! Cotton towels also become heavier after use because they retain more water than most other materials. So you can go to the gym with a towel, and end up coming home with a wet bundle the weight of a bowling bowl! Another major drawback to the cotton towel is that it picks up quite a bit of dirt. So when you're at the gym, you'll need to do all you can to prevent it from falling on the floor. However, despite all the negative feedback, it's important to note that there are some cotton towels out there that have really up'd their game for the gym environment.
If you still prefer cotton, click here to see the best cotton gym towel!
Exotic (Bamboo Fiber)
When you mention the word 'exotic' in the towel industry, one can only imagine that you're talking about bamboo fiber. These particular fibers are usually made from 100% bamboo, but can sometimes be a blend of bamboo and cotton. If you're looking for the best gym towel in terms of luxury, this is certainly it.
Pros:
Bamboo towels have got the whole package going for them. For starters, the use of bamboo fiber is eco-friendly. Trivia moment; did you know that the bamboo plant can grow up to 4 feet every day? Making the use of bamboo is an ecologically smart choice. Scientists also state that the bamboo tree releases 30% more oxygen to the atmosphere than other plants.
So now we know that by going bamboo, we are literally going green (no pun intended). But what are the advantages of using a bamboo fibered towel at the gym? Well, they're really soft, so you'll feel good using them. Bamboo towels are also super absorbents and are quick drying. In fact, a study carried out between cotton and bamboo towels showed that bamboo has 4 times the absorbing power than the latter; and we're talking cotton here! Naturally, bamboo is highly known for its anti-bacterial, anti-fungal, and anti-microbial properties. This means that even if you left your damp bamboo towel locked up in the gym for 2 days, it won't get that damp odor.
Cons:
Bamboo towels are typically pretty dang expensive. Because of their near-perfection, you'll have to dig deeper into your pocket compared to other towels. On the plus side, they are definitely worth that extra buck.
Click here to see the best bamboo fiber gym towel!
Frequently Asked Questions
Is a microfiber towel right for a gym?
A microfiber towel can be appropriate for you if you need something that removes moisture and doesn't really retain it.  They feel great on your skin and are super comfortable as well.  Overall a microfiber towel can be an excellent choice for a gym towel, but don't expect them to hold water and cool you off.
What is the right size for a gym towel?
Ideally, the right towel size for you is just big enough to have the proper surface area for how much sweat you produce.  Bring a bigger towel if you're especially sweaty and need to wipe yourself and equipment off frequently.  A smaller towel is appropriate if it can actually soak up all the moisture it needs to.  Of course, you need a pretty big towel by default if you plan on hitting the showers after your workout.  These are the things to consider when deciding how big your gym towel should be.
Are hand towels okay to use at the gym?
Basic cotton hand towels like the AmazonBasics Cotton Towels can be great for the gym if you're alright with the size.  It really depends on how much you sweat like we referenced above.  Ideally just a hand towel would be best since they're so easy to carry around.
Do I even need my own gym towel?
We will address this issue in detail below by showing you a few powerful reasons why you really need your own gym towel.  Take our precautions and read below to find out why public gyms aren't as cleanly as you might believe.
Why You Should Bring Your Own Gym Towel
There are a number of different reasons to bring your own towel to the gym. The most obvious is that you've got something handy to keep your body dry as your workout brings the sweat on, but the benefits go far deeper than that. We're going to talk about how your own clean gym towel will actually protect you from the numerous kinds of bacteria, germs, and viruses you may encounter while working out at your local fitness center.
The Bacteria On Public Towels
So you've just finished taking a shower after an intense workout, and you're feeling pumped. You search through your gym bag and find your towel is missing. You swore you packed it in the morning. Oh well, you can just use the public gym towel, right? Sure, but whether you can and whether you should are two entirely different things.
Ever heard of MRSA? This is a highly resistant bacterium that is also known as Staphylococcus aureus. In fact, this bacterium is so resistant to detergent, soaps, and antibiotics, that the Center for Disease Control and Prevention declared it as the most infectious pathogen present in locker rooms and gyms today. I bet you had no clue about this, huh? That's because no gym in the US will publicly admit that it struggles with sanitation behind closed doors. It's bad for business.
Then you should also ask yourself, how clean are those towels? I mean, it's okay to clean a batch of 5 towels if you're the cleaner, but 200? Don't you think you'll get tired putting them in the dry cleaner, ironing them, and folding? The cleaners are human, and I'm sure they turn a blind eye once in a while to a towel that 'looks' clean. You might just end up picking the towel used by someone with athlete's foot or some other common infection.
For obvious reasons, I'd highly recommend trying to avoid public gym towels at all cost. Why take the risk of contracting an unwanted infection? It's honestly better to just stick around the gym locker room for a while and dry up the old fashion way.
The Germs On Exercise Equipment
In the introduction to this guide, I mentioned that I had recently read a study about the number of germs on fitness equipment. Let's talk a little bit more about that.
Gyms and other fitness facilities have always been known to be a sort of hotspot for bacteria. Now, don't let that scare you from going to the gym, but think about it: hundreds of people go in and out of the gym every day putting their hands on each piece of equipment. Germs and other bacteria are bound to be transferred and left behind just like any public place, this is nothing new.
What is new, however, is that we now know just how many germs there really are lurking on every dumbbell and exercise bike in your local gym. A study was conducted by the fitness brand FitRated, who gathered bacteria samples from 27 different pieces of fitness equipment at three different gyms. Their samples were sent to a lab and examined, and the results found were astonishing. See the results below for yourself: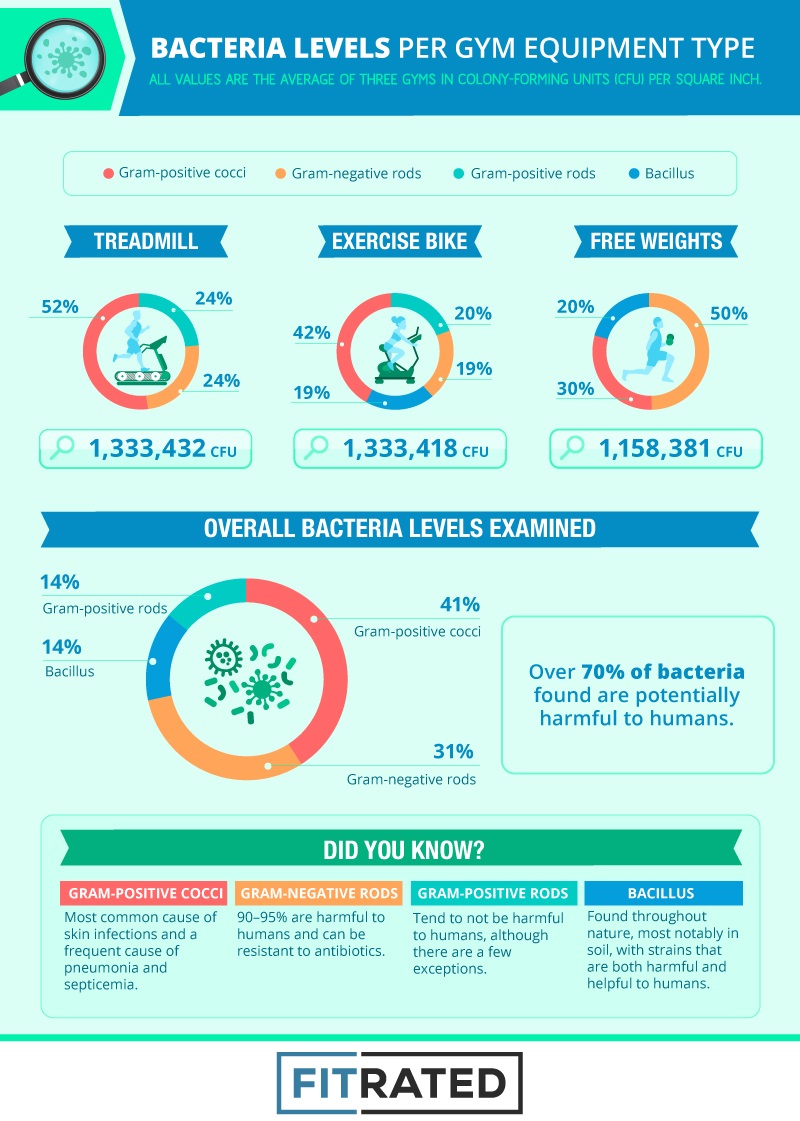 Like I said in the introduction, if these results don't make you want to keep a gym towel at your side at all times, I don't know what will. The results shown above are exactly why I always stress the importance of personal hygiene in public places. In this case, do yourself a favor: pick the best gym towel for you based on the choices and materials I listed in the guide above, and then never forget that towel when you go workout. You and your doctor alike will be thanking me.
If you can manage it, it's always nice to have multiple gym towels ready to go as well. For example, I've got about 5 Youphoria towels and 5 Grounded Sport towels in the closet in my hallway. I like the Youphoria towels because they're bigger and I can use them to shower with, but the Grounded Sport towels are the perfect size to carry along at your side when you're lifting weights or pedaling away on the bike. Anyways, back to the talk about gym cleanliness.
As you can see from the results above, a treadmill was found to contain the highest number of germs, harboring a massive 1.3 million cells of bacteria per square inch. Exercise bikes nearly tied the treadmill, and free weights (such as dumbbells and barbells) came in slightly lower at a still-massive 1.1 million cells per square inch.
Now, the numbers alone sound huge. It's clear that this is a ton of germs we're talking about here. But how do these compare to other items that we come into contact with daily? Check out the image below where each piece of equipment is compared to common public items like a sink and even a toilet seat: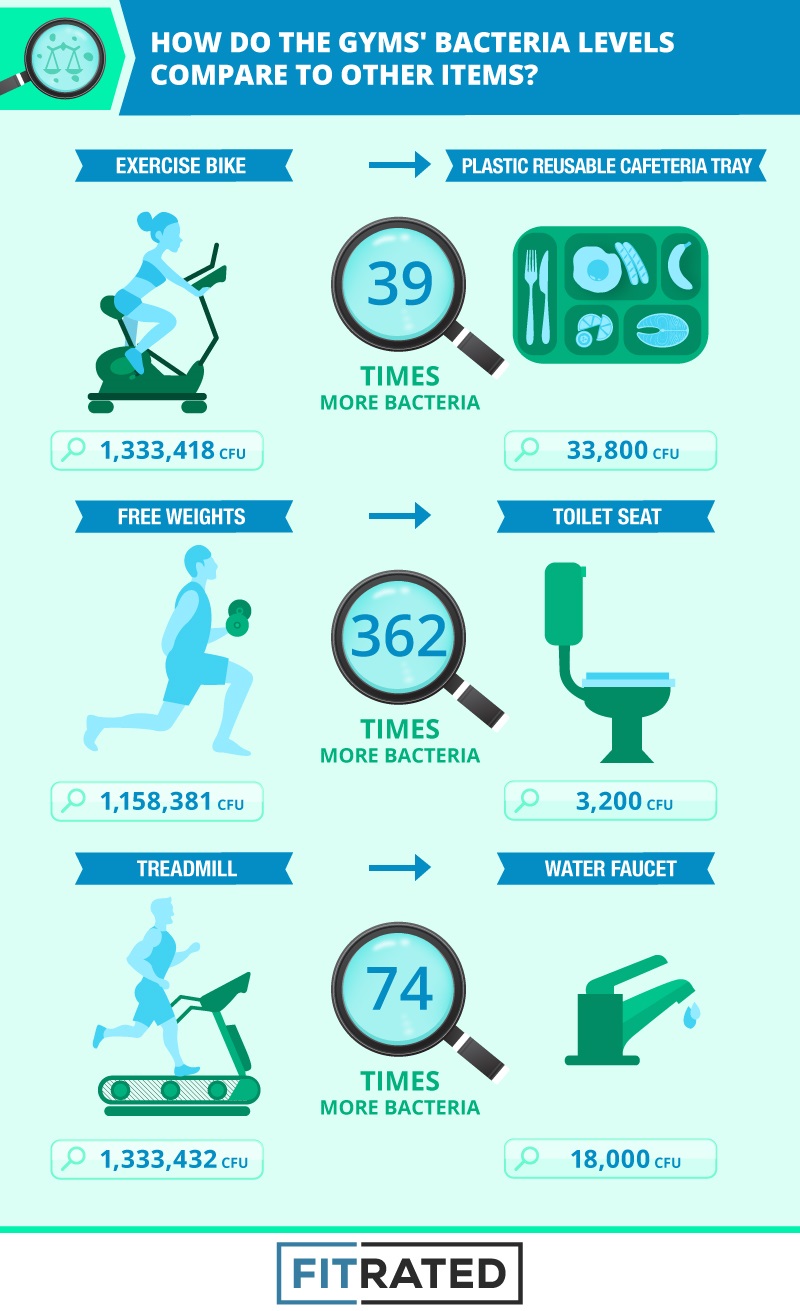 Yet again, showing the importance of finding the best gym towel and never letting it leave your side. Gym towels will help keep your body clean and protected from the vast number of viruses you could potentially come into contact with.
This is where bamboo fiber specifically excels. Not only is it luxurious and comfortable, but because bamboo fiber is an all-natural material, it contains anti-bacterial properties that actively protects against viruses and other forms of germs. This is why I said I prefer the Grounded Sport Fitness towel for carrying around during my workouts, because I know I can use it to keep my hands fresh and clean after each set.
Final Words
Hopefully by now, you have figured out the best gym towel for your workout. Truth be told, any of the first 4 options on our list are sure to meet your needs, regardless of whether you're laid back at the gym, or a die-hard go-getter. The other two options are more specialty towels for specific purposes. All-in-all, the most important thing to remember is this: no matter which towel you go with, just don't use the one at the gym.