by
Long hours of extensive research and reading have led me to conclude that Optimum Nutrition's Gold Standard Whey Protein Powder truly is the gold standard when it comes to whey protein supplements. This world-class formulation is packed with BCAAs, micronutrients, and potent proteins that make it an effective aid for those who want to make the most of every minute spent in the gym.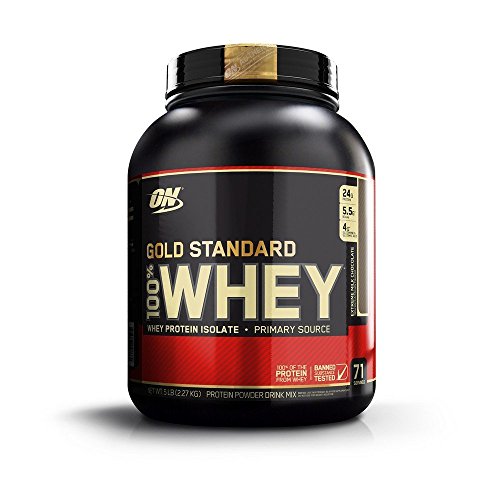 In a previous post, I put ON's Gold Standard against Wheybolic Extreme 60 from GNC. Although the competition was tight, Gold Standard won that comparison with flying colors. In this review, I take the same Gold Standard and compare it to three other widely known protein powders. These wereIsopure and Ultimate Nutrition.
To come up with the results, whey proteins from the three brands were compared based on five factors. These were:
Nutritional profile
Protein formulation and content
Micronutrient content
Taste and texture
Value for money
I also took some information from over a hundred different verified user reviews to get a more accurate understanding of each product's efficacy.
Now, if you're on the hunt for the best protein powder to help you maximize your gains and you're stuck on making a choice, then you're in luck. Keep on reading to learn more about these three protein powders so you can settle on an option that's just right for you.
Nutritional Profile – Meeting Your Body's Daily Needs
For the purpose of this review and comparison, I took the time to look into each whey proteins' nutritional profile. This was to determine which one worked best to meet your body's daily recommended intake. I was particularly interested in learning about the macros they offered. Of course, each product had some pretty substantial nutritional benefits. But ultimately, Optimum Nutrition's Gold Standard really just stood out among the others.
A Few Words on Macros
When we hear fat and carbs, we're often hardwired to believe that we should avoid them at all costs because they cause weight gain. But unless you're consuming them in copious amounts, these two macros can actually do a lot for your gains.
The purpose of fat and carbs is to provide your body energy that's easily and readily available. During the start of your workout, your body will use calories taken from these two energy giving nutrients to generate heat, thus allowing you to reserve protein for actual muscle building and recovery.
So even if some choices contain less protein per serving, you end up with greater muscle gains. This is especially true if they have more macronutrients in other forms. By giving you a different source of ready energy, you don't spend the protein content for functions like heat production.
Optimum Nutrition
I looked into two of the varieties of protein powder that Optimum Nutrition offered. They did have some similarities, but nutritional profiles were ultimately different. Based on what I've found out and on what users have to say, the organic formulation from Optimum Nutrition is hands down the best protein powder on the market.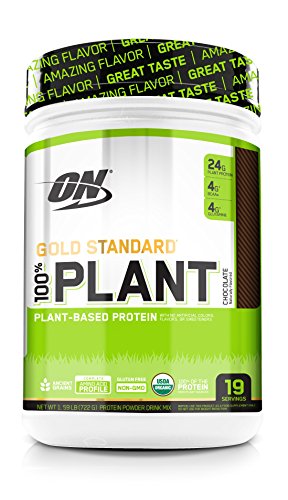 If you have dietary limitations such as vegetarianism or veganism, the organic variety still provides pretty substantial protein. So despite using only plant-based protein sources, the product works as a practical workout solution. It's just as effective at muscle gain, repair, and energy provision. So you're really not losing anything in terms of efficacy.
Each serving of the Gold Standard 100% Organic Plant-Based Vegan Protein Powder contains 150 calories. This is slightly more than the number of calories found in the original formulation which contains 120 per serving.
Total fat, sodium, and carbs for the organic variety also display slightly higher amounts compared to the standard formulation. In terms of protein content however, both varieties offer essentially the same value. Each serving of either provides 24 grams of protein. This accounts for 48% of the recommended daily value.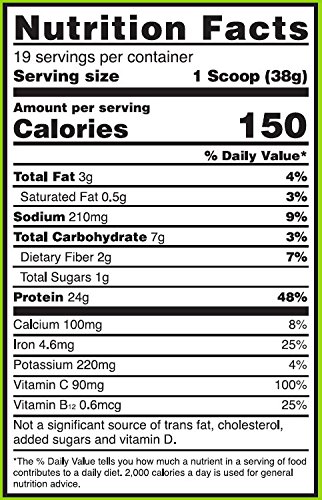 Another thing I want to mention about the Organic formulation is that it doesn't contain any artificial sweeteners. This improves the taste of the formulation and improves its nutritional value all together.
The original formulation, on the other hand, contains sucralose and acesulfame, which are both artificial sweeteners. Originally, the brand didn't include these ingredients in the original formulation. But after releasing its latest version of the Standard Whey Protein Powder which contained both of these artificial sweeteners, lots of devout users claimed that the latest formula wasn't as effective as the first.
Ultimate Nutrition
The first runner up when it comes to nutritional value has to be Ultimate Nutrition's ISO Sensation 93 Whey Protein Powder. This fat free alternative comes pretty close to Optimum Nutrition's formulation, albeit with slight differences in its overall profile.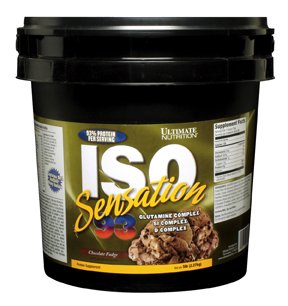 All in all, the ISO Sensation 93 Whey Protein Powder offers much less cholesterol, sodium, and carbohydrates compared to both of the other choices on this review. But what it lacks in these numbers, it makes up for with protein.
At 30 grams of protein per serving, the amount of proteins in the ISO Sensation 93 is virtually unmatched. Of course, it's worth taking into consideration that because it has very few sugars and no fat, much of that protein will end up being used for other functions before it makes its way to the muscles for building and repair. Each serving of this protein powder will provide you 110 calories.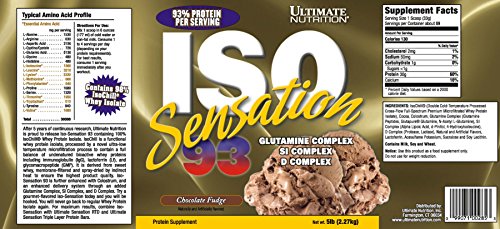 I also want to talk about the formulation's BCAAs. Packed with massive amounts of branched chain amino acids, the formulation is highly efficient when it comes to breaking down proteins and turning them into usable molecular units for muscle gain.
This simply means that this whey protein powder works faster to break down precursor proteins so they can be bioavailable to your muscles when they're needed. So despite containing just whey isolate, the blend is much easier for the body to metabolize.
Isopure
While it has worked out pretty well for a lot of dedicated patrons, I had to rank the Isopure Whey Protein Powder as the third of these choices. Completely free of carbohydrates, the formulation leverages its pure whey protein isolate formulation to entice avid gym goers.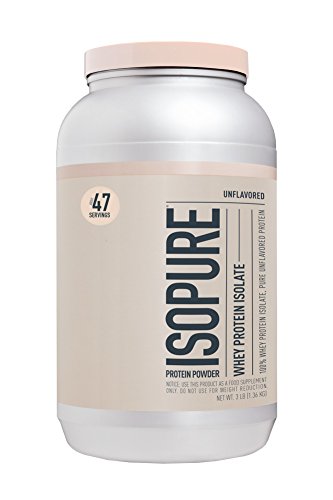 At just 100 calories per serving, the Isopure Whey Protein Powder makes the ideal choice for those with very strict dietary limitations. Because it uses only whey protein isolate, it naturally has fewer carbs, sugars, and fat. It's also because of this that it's able to provide more protein relative to its calorie count, with 50 grams of protein per serving.
Again, I have to mention how the lack of any sort of carbs and the reduced levels of fat can affect the amount of protein you actually use for muscle building. So while it does have more proteins compared to Optimum Nutrition's powders, the amount that will be available to your body for muscle growth and repair will be relatively the same.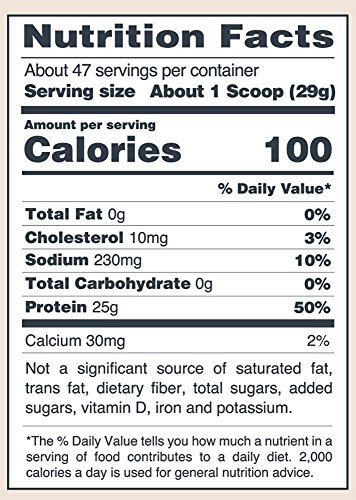 Although it might not be the ideal formulation for casual gym goers, the Isopure Whey Protein Powder can be the right pick for those who want to maintain very low body fat percentages. They're also more practical for people with lactose intolerance, as the additional process required to form whey protein isolate significantly reduces the amount of lactose.
Protein Composition and Content
Protein can come from a variety of sources, and different protein powders leverage a plethora of combinations to offer users varied results. Depending on your own fitness goals and dietary limitations, some protein combinations might work better for you than others.
The Optimum Nutrition Whey Protein Powder in its original formulation is composed of whey protein concentrate, whey protein isolate, and whey peptides, which are commonly seen in most whey protein powders in the market. The vegan alternative, on the other hand, gets its protein from non-animal sources. These include pea protein, organic brown rice protein, and organic sacha inchi protein.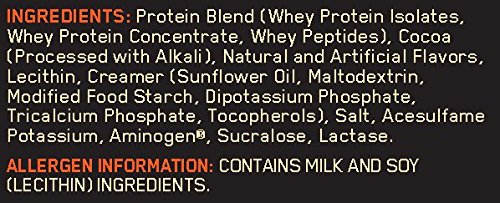 In contrast to Optimum Nutrition's combination blend, Ultimate Nutrition's ISO Sensation 93 and Isopure's Whey Protein Powder uses only whey protein isolate. This is how both formulations achieve much lower values in terms of fat and carbohydrates.
Assuming that you get enough of both macros from your daily diet, either Ultimate Nutrition or Isopure can be an ideal choice. This is because both formulations limit the number of carbs and fats you consume, thus eliminating the chances of your body storing any as fat. So if you want lean muscle and very little fat, either product might work in your favor.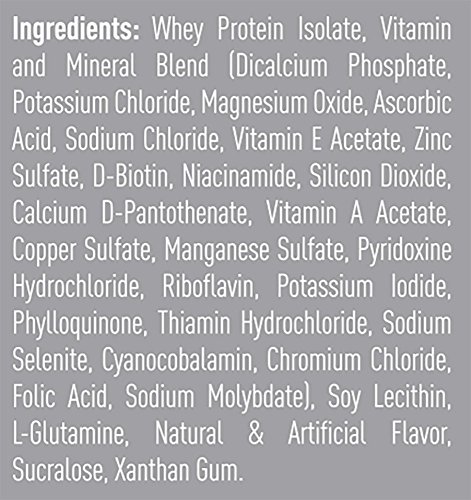 However, because maintaining a very low body fat percentage can take a lot of work, most individuals opt for more relaxed choices like Optimum Nutrition's combination protein composition. Not only does the formulation provide more energy giving macros, it also lets you maximize what you get out of your proteins. So if you really want to bulk up, Optimum Nutrition would be the best choice.
Micronutrient Content
Macronutrients are larger molecules that provide energy and fuel. This is opposed to micronutrients which guarantee healthy functioning at the cellular level. As a general rule, protein powders should work as a multivitamin on top of providing you energy for your workout so as to help improve the overall status of your muscles and the rest of your body.
With that, I do want to mention how ISO Sensation 93 contains colostrum. Many of us know colostrum as the first few outputs of breastmilk. This initial milk that a mother produces reinforces an infant's immunity. Rich with antibodies, colostrum can be taken in supplemental form by human adults. The purpose is to optimize the health and resistance of our bodies on a cellular level. This is what gives Ultimate Nutrition an edge compared to the other two brands we've talked about in this review.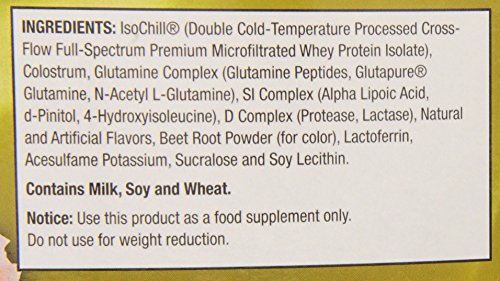 Because our muscles micro-tear during a workout, it's imperative that we have the right proteins to help them heal afterwards. An increase in supplemental colostrum also helps speed up this process. So by replenishing your reserves, you don't only improve your immunity against disease, but also optimize the process by which your body repairs your muscle tissue after you visit the gym.
This is why many individuals who take ISO Sensation 93 claim to feel more vibrant and energized over a much shorter period of time after a workout. And because the product helps muscle heal faster, it also improves the rate of muscle building. So you can see the results of your hard work much sooner compared to other choices.
Runners Up for Micronutrient Profile
Taking the second place spot is Optimum Nutrition. The blend offers quite a substantial amount of micronutrients. It also promises to meet 100% of your daily requirements for vitamin C. This is mostly thanks to its combination of various ingredients which gives it a little more beef when it comes to supporting other functions of your body.
According to research, Vitamin C is one of the most essential micronutrients when it comes to healing damaged tissue. So by meeting 100% of your need for Vitamin C, this blend also offers a much shorter recovery period, albeit slightly slower than Ultimate Nutrition.
Unfortunately, there's very little I can say about Isopure in this arena. Containing only two ingredients – whey isolate and soy lecithin – this blend doesn't really have much to offer for cellular health. Basically, it's really just a muscle building supplement. The blend was designed to help you increase your mass and decrease fat as you go along. But that might be the brand's angle altogether. Some believe this is how they're able to secure sales for their extensive line-up of multivitamins.
Taste and Texture
Taste and texture will make or break the success of a protein powder on the market. These products tend to taste unpalatable, and often have a chunky, grainy, unpleasant feeling in the mouth that makes them difficult to down. Sure, most companies try to mask these qualities with different flavors, but it's rare that you'll find a protein powder that doesn't at least make you wince with every sip.
An Extensive Selection with Optimum Nutrition
Optimum Nutrition's original formulation is probably one of the better performing choices on the market in terms of texture and taste. For the most part, it tastes almost like any other whey protein you might have tried. It gets its leverage though from the fact that the formulation comes in over 20 flavors, which isn't really something you'll commonly see. The different flavors of Optimum Nutrition include:
Banana
Cake Batter
Chocolate Coconut
Chocolate Peanut
Coffee
Cookies and Cream
Chocolate Malt
Chocolate Mint
Delicious Stawberry
Double Rich Chocolate
Extreme Milk Chocolate
French Vanilla
Mocha Capuccino
Rocky Road
Strawberry Banana
Vanilla Ice Cream
Watermelon
White Chocolate
On top of that, Optimum Nutrition also offers its original whey protein powder in three natural flavor blends. These include natural chocolate, natural strawberry, and natural vanilla.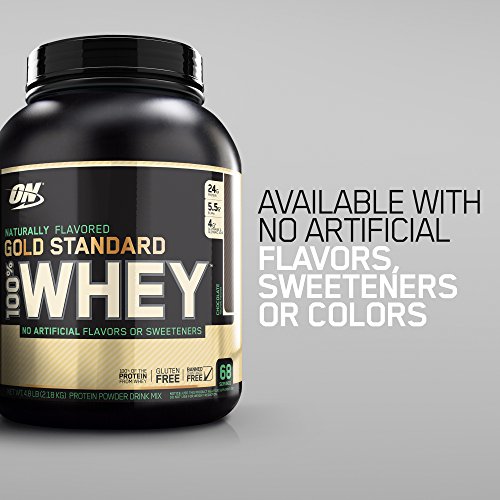 For the most part, many of the flavors offered by the brand aren't too hard on the palate. According to surveys though, the crowd favorite has to be Double Rich Chocolate followed closely by Extreme Milk Chocolate. The only real issue is that the newer blend released by the company contains sucralose. This is one of the reasons why the blend might leave a bit of an aftertaste. Texture wise however, there's hardly any grain. Plus, the powder mixes more readily with water or milk compared to other protein powders available.
If you want to do without the aftertaste however, the organic variety doesn't contain any artificial sweeteners. So you can expect them to taste much more pleasant. In terms of texture, they're pretty much the same. The only real trade-off when choosing between the two is their protein composition.
Slimmer Choices, Thicker Textures
Both Isopure and Ultimate Nutrition got similar remarks from users when it came to their flavor. That is, they're not so bad either. Isopure comes in 14 different flavors (Alpine Punch, Apple Melon, Banana Cream, Columbian Coffee, Cookies and Cream, Creamy Vanilla, Dutch Chocolate, Mango Peach, Mint Chocolate, Natural Vanilla, Pineapple Orange, Strawberries and Cream, Toasted Coconut, and Unflavored), while Ultimate Nutrition is available in 8 flavors (Banana, Banana Ice Cream, Cafe Brazil, Chocolate Fudge, Cookies and Cream, Natural, Strawberry, and Vanilla Bean.)
The only reason why both protein powders fall a little short is because they do have a bit of a thickness to them. Getting them to mix well with your milk or water might turn into an exercise routine on its own. I do appreciate how Isopure offers a flavorless option for those who want to use the protein powder for savory recipes without disrupting the taste.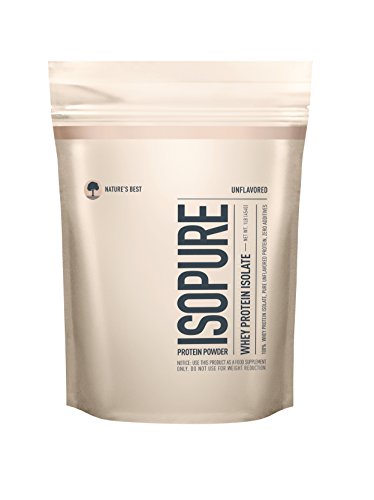 Value for Money
The last factor I took into consideration to rank these three protein powder brands was their value for money. Because a protein powder should be taken regularly over a period of time, choices that cost less per serving are often preferred. Choices that also offer greater discounts or price reductions for bulk purchases are more economical.
They all fall within pretty much the same price range. But Optimum Nutrition does cost a little more per pound. So it ends up taking the spot as the most expensive protein powder in this review.
If you're really trying to work within a budget, you should definitely go try Ultimate Nutrition's ISO Sensation 93 which costs the least per pound.
It's worth remembering though that with protein powders, you get what you pay for. So when you shell out those few extra dollars to buy Optimum Nutrition's formulation, you get a whey protein powder that's easier to work with. Especially if your goals don't focus on fat reduction, it can be worth the cost.
What's more, with the extra cost, it's almost like you're paying for a much more pleasant texture that allows you to really enjoy your whey protein powder instead of just forcing yourself to drink it out of necessity.
So despite coming at a slightly more expensive price, I still recommend the Optimum Nutrition formulation as the best when it comes to providing you the best value for your money.
Which One is Right for You?
Generally speaking, I think Optimum Nutrition's protein powder in both the animal and plant-based variations are some of the best you'll find. But that's only assuming that you have the same fitness goals as most of those who use protein powders. Because objectives can change from user to user. So there are still some people who would find the Isopure or the Ultimate Nutrition variations to be much better.
So which one should you choose? It all boils down to your goals.
The increased amount of carbs and fats in Optimum Nutrition's blend makes it a better choice if you want to build muscle with that natural layer of fat. I just think it's easier to maintain, and it creates a more natural, healthy appearance.
If you're lactose intolerant, either Isopure or Ultimate Nutrition can suit your needs. This is because both products use only whey protein isolate, which has far less lactose.
The lack of carbs, fat, and sugar also makes Isopure and Ultimate Nutrition's whey protein powders more effective at helping you achieve that ultra-lean muscle mass. Albeit harder to reach and maintain, there are a number of bodybuilders have this goal in mind. This is especially because it's the preferred aesthetic when it comes to competitive bodybuilding.
Of course, unless you're strictly watching your diet as well, taking something with limited macros can be counterintuitive. The only way such a restrictive supplement would work is if you make sure you're not overdoing carbohydrates, fats, and sugars in your daily diet.
The Bottom Line
When it all comes right down to it, all three of these protein powders bring something unique to the table. Because we all have different fitness goals, the "best" protein powder isn't really set in stone.
But if you want something that's manageable, reliable, and that will provide you realistic results, then I highly recommend Optimum Nutrition's Gold Standard 100% Whey Protein Powder. The formulation's combination of different protein sources, its nutritional profile, its extensive flavor roster, and its availability in a vegan blend make it a very flexible choice for many gym buffs.
If you're more interested in a protein supplement that adheres to stricter dietary limitations that are geared towards losing fat and gaining lean muscle mass, then both Ultimate Nutrition and Isopure are pretty solid performers. Remember though that to make the most of these blends, you need to keep a close eye on your diet. Overdoing carbs and fats through the food you eat can counteract the product's complete lack thereof.