The Soared Impact Wrist Guards are a snowboarding essential for anyone who frequently hits the slopes. How did I come to say that? Well, I did quite a lot of research on them. I chose close to a hundred of the top performing wrist guard designs available and compared them all to find the one that came out on top as the best choice. And after all that I've learned, I can confidently recommend this model from Soared to anyone in search of a reliable wrist guard design.
With a list of features that maximize protection without sacrificing your flexibility, the Soared Skating Impact Wrist Guards are an affordable yet high-quality choice that offers the greatest value for your money's worth. Of course, there are a few honorable mentions I want to talk about, too. But first let me serve you the nitty gritty on this premium design.
The Perfect Marriage of Flexibility and Durability
Snowboarding will put most of your gear through a lot of wear and tear. The same goes for your body as you zip and zoom through dangerous, icy terrain. So it's essential that your chosen gear is robust enough to survive that kind of use.
However, because it's equally important for you to be able to move freely for safe and efficient navigation, it's vital that your chosen gear doesn't restrict your movements. This is where most brands have difficulty – merging pliability with sturdiness.
The Soared Skating Impact Wrist Guards are the perfect marriage of durability and flexibility. The design uses a combination of ABS plastic and lycra mesh to give you outstanding performance on the slopes.
The semi-stiff ABS plastic provides protection and support to keep your wrist safe from injury. It also extends the life of the wrist guards themselves by mitigating damage from impact, friction, and flexion.
The lycra mesh, on the other hand, hugs tightly against the skin without sacrificing comfort and breathability. Moving and bending along with your wrist, this material gives you the freedom to move, eliminating both psychological and physical restraints so you can maneuver without limits.
Easy On and Off with Adjustable Straps
The silhouette of the Soared Wrist Guards features a slip-on design. The lycra mesh is designed to fit closely to your skin, providing a snug grip that prevents over extension and flexion of the wrist joint, so larger wrists get greater support. Even then, the design was developed not to impede blood flow and air flow regardless of the user's wrist size. Of course, you do have the option to select larger sizes. But I've found that it's preferred to choose at least one size smaller to help maintain the ideal fit.
For smaller wrists, the design offers two Velcro straps that can be easily adjusted to achieve a snug fit. These are attached to the ABS plastic and run across the wrist and across the base of the fingers. Personally, I found these to be very effective at customizing the tightness of the gear. They also help keep the wrist guards in place, which is vital for extreme sports like snowboarding.
Comfort That's Through the Roof
What I particularly appreciated about the Soared is the fact that they're very pliable and stretchy. With that, different users can get the same support and comfort regardless of the size of their wrists and arms. The borders of the lycra material have also been taken into consideration. Reinforced stitching rounds off the edges, preventing the material from digging into your skin and causing irritation or pain.
It's also worth mentioning that the guards give you the option to wear gloves underneath. This gives people with smaller wrists the opportunity to achieve an even more comfortable fit, aside from using the Velcro straps exclusively.
On the inner surface of the guards are cushion pads that help absorb sweat and impact. These keep your palms and wrists safe from injury, especially during a fall. Aside from the cushions, the lycra itself is exceptionally impressive at wicking away moisture. So if you've got a nasty case of sweaty palms, these guards will help keep perspiration at bay.
Pros of the Soared Impact Wrist Guards
Pliable yet durable construction keeps your wrists safe from injury at all times.
Flexible design lets you move freely so you can manuever the slopes without restrictions.
Breathable lycra mesh allows air to freely pass through for better moisture management.
Material naturally absorbs and wicks away sweat to maintain comfort.
Padded palms reduce impact and shock, and protect your wrists during falls and other forms of trauma.
Affordable price point makes them a cheap yet worthy investment.
Some Downsides
Design might feel a little too bulky for some users' preference.
3 Other Wrist Guards That Almost Made the Top Spot
There was a lot of competition out there, and it took me a while to choose the wrist guards from Soared as the ultimate design. When it all came right down to it though, these 3 other designs could have made the top spot, if not for a few design flaws.
Burton Impact Wrist Guard
The Burton Impact Wrist Guards boast a sleeker yet equally robust design when compared to the guards from Soared. The bulky, padded guards use a combination of NBR, polyester, nylon, and polyethelyne. Basically, this combination makes it flexible and lightweight for maximum mobility and comfort.
With soft palm pads, a low profile design, tapered splints, and flexible Velcro adjustment straps, the Burton provides impressive comfort and stellar pliability. The only downside with the design is that its edges aren't as refined. The stiff leatherette material has a tendency to dig into the skin and cause pain over time. The only workaround I can suggest is to wear thick gloves underneath. Otherwise, they do get painful.
Pros of the Burton Impact Wrist Guard
Ample padding offers impressive comfort and shock absorption.
Low profile design lets you slip the guards over the thickest of gloves without impeding blood flow.
Built-in splints provide reliable support that doesn't restrict freedom of movement.
Lightweight construction doesn't feel cumbersome on the hands.
Some Downsides
Edges of the guards tend to dig into the skin and cause friction and pain over extended periods of use.
Flexmeter Wrist Guard
If you're looking for something that offers a little more support down the length of your forearm, then the Flexmeter Wrist Guard could be a perfect choice. The one-sided support gives you a combination of flexibility and support, so the palms of your hands are free from stiff material for better feel and grip.
The sleek silhouette was designed to be worn under gloves, so they're particularly lightweight and slim. To hold the entire construction securely in place, Flexmeter provides three stretchable Velcro straps that attach to the dorsal guard along the base of the fingers, the wrist, and the forearm.
While the Flexmeter Wrist Guard's design is pretty solid, the price point just really put me off. At four times the price of the Soared wrist guards, it seems like a really impractical choice for buyers on a budget. Plus, it doesn't really outperform Soared's Wrist Guards, so the price seems unreasonable based on my standards.
Pros of the Flexmeter Wrist Guards
Single sided guard keeps your palms free from stiff material for better flexibility and feel.
Breathable design reduces sweat production for better comfort and odor control.
Several Velcro straps enable users to adjust fit for better support.
Sleek silhouette fits perfectly underneath gloves without bulking up your hands.
Some Downsides
Falls within the expensive side of the price spectrum, making it impractical especially because there are other wrist guards that offer the same performance at more affordable prices.
Triple 8 Saver Series Wrist Guards
Made from stretchable nylon, these wrist guards from Triple 8 feature built-in splints to provide support and stability. Inside, the guards contain shock-absorbing EVA foam that cushions your hands and wrist against impact. Personally, I found these to be the most supportive design, efficiently limiting certain movements to prevent injury.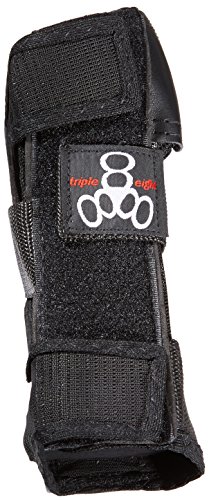 On the overall, the Saver Series Wrist Guards feel really safe, secure, and durable. But because the construction is highly reinforced, it might feel a little too restrictive for those who want something pliable and comfortable. It's also important to note that because of the materials used for the model, the guards tend to feel really warm, causing a lot of sweating.
Pros of the Triple 8 Saver Series Wrist Guards
Highly durable and robust, giving you superb support and safety.
High quality materials can sustain frequent use without showing the slightest signs of wear and tear.
One of the most secure designs available. These wrists guards were made to give you maximum protection.
Some Downsides
Lack of breathability promotes lots of sweating.
Flexibility isn't as great as what others had to offer.
The Bottom Line
The Soared Impact Wrist Guards are a premium snowboarding companion that you shouldn't be without. The design is just really well thought-out, providing you the highest levels of comfort, flexibility, durability, and support for excellent performance out on the slopes.
If the Soared just didn't really seem like the best snowboard wrist guards for you, then I can recommend a few others. These from Burton, Flexmeter, and Triple 8 all have their fair share of good points, making them suitable choices for certain users. So be sure to check them out during your search to help you narrow down your choices and select a design that truly meets your snowboarding standards.