When you're hitting it hard in the gym, your wrists can take quite a beating. It's no surprise, then, that wrist pain seems to be a common denominator among regular exercisers. But that doesn't mean that you have to curtail your exercise routine when you're experiencing wrist problems. There are some great wrist braces on the market that will allow you to continue your routine while taking the pressure off your wrists.
In this article, we'll identify the 7 best wrist braces that are on the market right now. We'll also provide you with a buying guide so that you know exactly what to look for when selecting your next wrist strap.
Top Wrist Braces
Why It Is Best

Our Rating

Mueller Fitted Wrist Brace
Lightweight, Flexible, Moisture Wicking, Metal Stays

★★★★★

Don Joy Orthotics Pro Care Comfort FORM
Removable stays, air vent, moisture wicking
★★★★

★

Houseables Wrist Brace
Sold as a pair, moisture wicking, lightweight
★★★

★

★
Brace Up Adjustable Wrist Brace
Bilateral, moisture wicking, flexible
★★★

★★

VIVE Wrist Brace
Double straps, lightweight, flexible
★★★

★★

Copper Joint Copper Infused Wrist Brace
Copper infused, pull on design, no straps
★★

★

★★
Comfy Brace Adjustable Sleep Support Wrist Brace
For night-time use, bilateral
★★

★

★★
Mueller Fitted Wrist Brace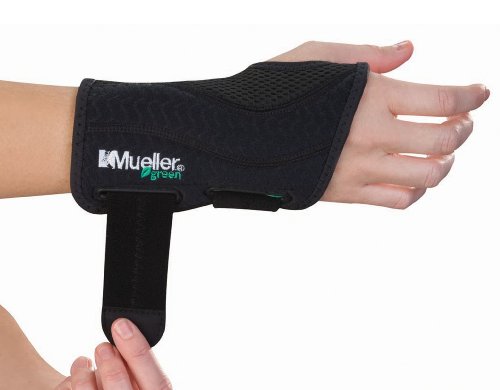 Features
Lightweight
Flexible
Moisture wicking
Metal stays
The Mueller Fitted Wrist Brace is made from a breathable, moisture wicking fabric that makes for a  comfortable, sweat reducing fit. It features adjustable straps to allow you to customize your fit. Metal stays keep your wrist securely protected as you go about your activity. This brace is lightweight and flexible so that you will hardly notice that you have got it on. Extra padding on the inner wrist provides the extra protection you need.
The Mueller wrist brace is a not a bio-lateral brace, so you have to select either left or right when you purchase it. This brace can be used to great effect by people who are suffering from Carpal Tunnel Syndrome, as well as people with minor wrist aches and those who are coming back from injury. This brace also provides you with a good level of compression. We've rated it as our top wrist brace because it combines everything you're looking for – strength, flexibility, comfort and comes in at an affordable price point.
What we love most . . . Lightweight your stable with metal stays for extra support!
Don Joy Orthotics Pro Care
Features
Removable metal stays
Lightweight
Moisture wicking
Air vent
The Don Joy Orthotics Pro Care Comfort FORM is an extremely flexible brace that features removable metal stays that provides you the extra stability that you need. When your wrist concern isn't that serious, you can simply remove the stays. The extra bracing you get from the removable stays is ideal for people who are suffering from Carpal Tunnel Syndrome. This brace also supplies a series of smaller horizontal stays across the top of the brace to enhance the stability even further. Surprisingly, you still get a lightweight brace that will not weigh you down.
This Don Joy brace has very good moisture wicking and sweat removal qualities. It features a top vent to allow for air circulation around the wrist while you have the brace on. The reason we haven't rated the Don Joy as our favorite wrist brace is that it doesn't give you the same level of compression as you get with the Mueller fitted wrist brace.
Best Feature . . . metal stays can be removed!
Houseables Wrist Brace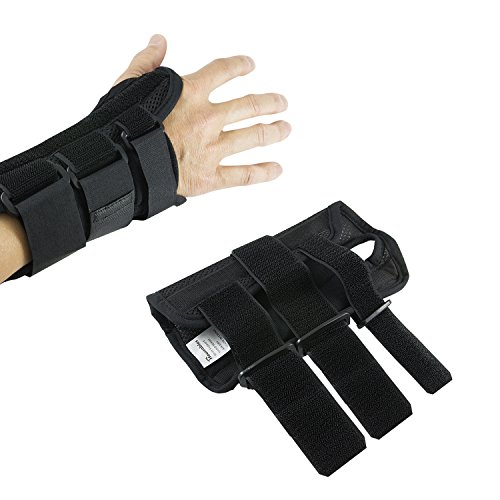 Features
Great value
Sold as a pair
Moisture wicking
Lightweight
The Houseables Wrist Brace is the best value brace on our best of 2020 list. In fact, you get two braces for around the same price as a single brace offered by many competing brands. The brace has two splints embedded in it. One of them is removable while the other is permanent. You can remove the splint located on the outside of the wrist when you require more flexibility of movement.
The high-performance sports mesh design of the Houseables wrist brace makes for a lightweight brace that is booth breathable and moisture wicking. It is well ventilated, allowing for a good level of air flow around the wrist. The straps on this brace are a bit too long and the brace does not give you as much compression as our top rated Mueller wrist brace.
We love . . . great value (two for one)!
Brace Up Adjustable Wrist Brace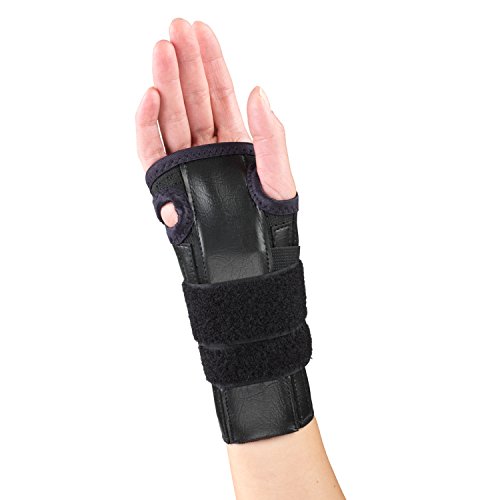 Features
Bilateral
Neoprene blend material
Breathable
Flexible
The Brace Up Adjustable Wrist Brace is a bilateral wrist so it can be used on either wrist. It is constructed from a neoprene blend material, making it extremely lightweight, breathable and flexible. This is a medium strength brace, so may not be what you're looking for if you suffer from Carpal Tunnel Syndrome or have a serious wrist impediment. It does not include any inserted stays. However, if you are looking for a light to medium level of support that will enable you to continue working our or carrying out your daily activities, then this brace could be the ideal match for you.
The Brace Up adjustable wrist brace comes in at an attractive price point and gives you an unobtrusive level of support.
Our Favorite Feature . . . Extremely lightweight and breathable!
VIVE Wrist Brace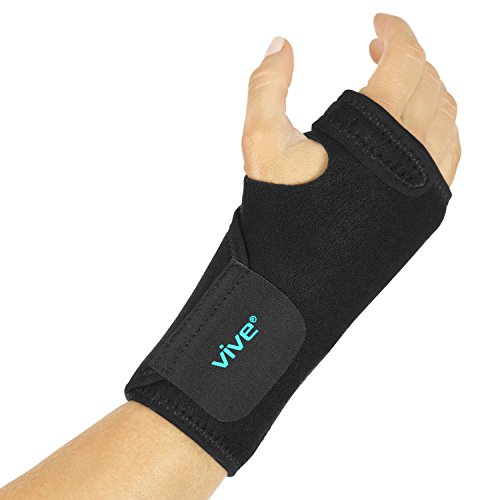 Features
Lightweight and flexible
Breathable
Removable splint
Double straps
The VIVE Wrist Brace is another brace that is made from neoprene, making for a very flexible and lightweight support. It is also very breathable, so you will not have to contend with overheating during inclement weather. This brace includes a removable splint that provides the extra stability and protection when you need it, while being quickly removable for when you don't. The strap placement on the VIVE wrist brace is a little different – there are actually two straps; one wraps around the wrist while the other wraps around the base of the fingers and secures behind the thumb. This provides you with a superior level of stability and support while also ensuring that you get maximum finger mobility.
What we like best . . . Removable splint makes it multi purpose!
Copper Joint Copper Infused Wrist Brace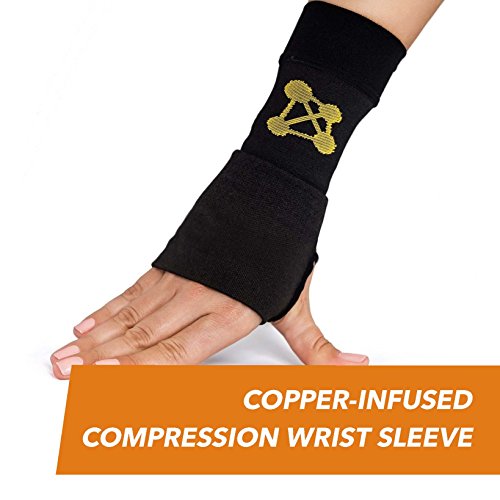 Features
Copper infused
Soft and flexible
Pull on design
No straps
The Copper Joint Copper Infused Wrist Brace is an extremely soft, flexible brace that has copper infused into the fabric. This helps to reduce wrist pain while also enhancing circulation to bring more nourishing nutrients to the affected area. This brace is longer than most, with it's flexible nature meaning that, if need, be, it can be folded over itself to give you more support over the wrist. This is a very flexible brace that you simply pull over your hand to get in place. As a result, it does not have any straps. It does a good job of wicking away moisture and allows for a good level of breathability around the wrist.
What we like best . . . Copper infusion for enhanced healing!
Comfy Brace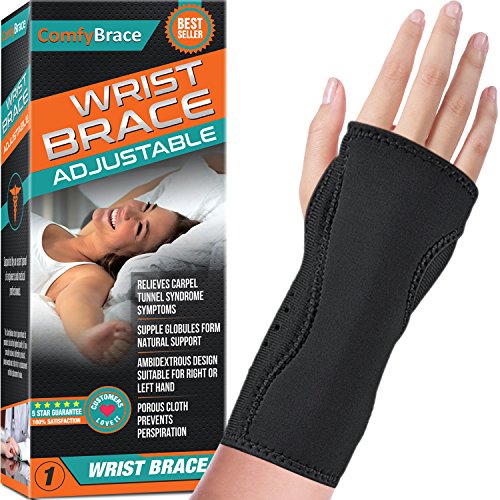 Features
Designed for use when sleeping
Supportive metal splint
Bilateral design
Breathable
The Comfy Brace adjustable sleep support wrist brace is the brace of choice for people who need wrist support during the night. It features a supportive metal splint that is cushioned among soft beads. The result is a truly impressive level of support that is ultra comfortable. The length of the Comfy Brace is more than you find on competing braces, allowing you to limit wrist movement while you are sleeping. This brace has a bilateral design so that it can be used on both arms. It is very breathable, with moisture wicking ability.
The Comfy Brace is primarily designed for night-time use. It may prove to be a bit too restrictive for daytime use. It is also a comparatively expensive wrist brace.
Our best feature . . . longer than most braces for enhanced support!
Wrist Brace Buyer's Guide
When comes to protecting your wrists, you need to take the process of selecting a brace very seriously. Your wrists, after all, are the link between your hands and the rest of your body – you have got to look after them. Knowing what to look for in a wrist brace will help you to do just that. Read on to discover the criteria you need to consider . . .
Usability
The first priority is to find a brace that is easy to put on and take off. If you have already got limited wrist movement, you do not want to aggravate them even more when you are putting on your wrist brace. The easiest braces to put are those than come in a tubular design and can be simply slipped over the hand. The Copper Joint Cooper Infused wrist brace is one such brace. You also want a brace that can be easily adjusted to fit your requirements. Those that have Velcro or elastic straps allow you to do this very easily.
Level of Padding
When it come to the padding in your wrist brace you need to find the sweet spot between too little and too much. You want enough padding that it provides comfort and support but not too much that it impedes your natural wrist motion. Obviously, the worse your wrist pain or injury is, the greater the padding that you will require. Conversely, the more active you plan to be while wearing the brace, such as working out in the gym, the less padding you will need.
Breathability
There's nothing worse than feeling as if your arm is in a cast when you've got your wrist brace on. You want a brace that allows your wrist to breathe and that doesn't feel as if it's being fried inside an oven. The fabric type will have a lot to do with the breathability of the brace. Neoprene is the most breathable and lightweight. You'll also want to find a brace that wicks away moisture so that you don't end up with a pool of sweat under the brace. A brace that is fitted with ventilation will go a long to helping your brace to breathe, making it infinitely more comfortable to wear.
Sizing
You don't want a brace that is either to restricting or to loose. a lot of the packaging on braces says 'one size fits all', but that doesn't  refer to people whoa re outliers when it comes to hand, wrist or forearm size. If you are unusually small or large wristed, you'd be better off going with a brace that is specifically sized.
Compression
A good amount of compression built into your brace will help to relieve the strain and pain of your wrist. However, too much compression will affect user comfort. Again, then, this is an area where you have to find a happy medium. As a general rule of thumb, the more compression a wrist brace has, the less comfortable it is.
Wrist Brace FAQ
What are the different types of wrist braces?
Cock up wrist braces – this brace is intended to completely immobilize the wrist. This type of brace is best for people who are suffering from carpal tunnel syndrome, tendonitis and ligament injuries. These braces will obviously restrict your everyday movement, so should be only used when necessary.
Sports wrist braces – These braces are designed to be worn by people when they are playing sports. They will provide protection for the wrist while also allowing the flexibility to perform.
RSI Wrist Brace – This brace is specifically designed to help alleviate the effects of RSI. They keep the wrist in a neutral position. They are often used by people who are on a computer all day in order to prevent RSI from occurring.
Overnight Wrist Brace – this wrist brace is specifically designed to keep your wrist immobile while you are sleeping. These braces are less flexible than those designed for daytime wear, but still retain a measure of comfort.
Wrist Orthoses – Wrist orthoses are very thick, heavy duty wrist braces that are designed as an alternative to a cast. This type of cast is used by hospitals and not generally available to the public.
Can wrist braces be washed?
Many braces can be machine washed. Others require hand washing. Check the label to see whether your preferred brand can be put through the machine. Either way, you should wash your brace regularly and may decide  to have two braces so that one can be worn while the other is in the wash.
What are the main uses for wrist braces?
The most common uses for wrist braces are as a preventative or support for people who suffer from RSI, to allow people to continue playing sport with a wrist injury, to help relieve the pain of sprains and strains and to immobilize the area after a fracture.
Our Final Verdict
The best wrist brace on the current market is the Mueller adjustable wrist brace. We  loved the lightweight feel, form support and flexibility, along with its moisture wicking properties and breathability. To keep your wrist immobile while you're sleeping, we recommend the Comfy Brace.