by
If you are after a compact home exercise machine that can give you a pro-level cardio workout, while also strengthening the muscles of your shoulders, back, arms, and quads, then you need a rowing machine. Magnetic resistance rowers are the most popular home use rowers on the market, being less expensive than air rowers. They are also much quieter, making them ideal for apartment use.
In this article, we review the 7 best magnetic rowers on the current market. We'll also provide you with a buyer's guide and FAQ so you can be fully equipped to enter the home gym rower market.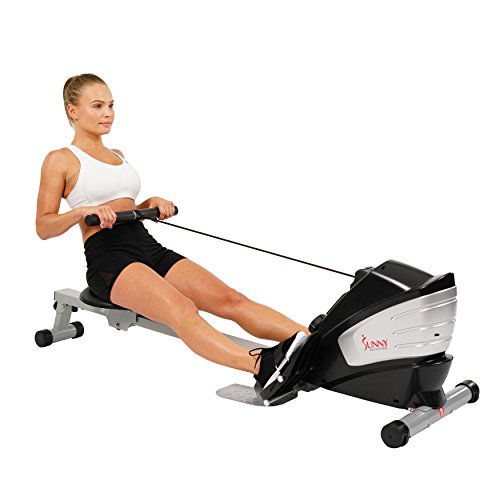 The 7 Best Magnetic Rowers Up Close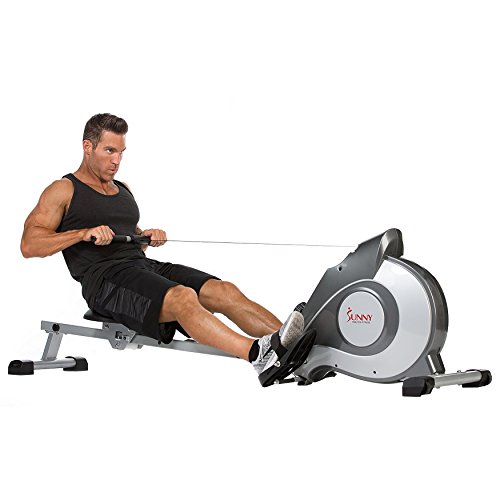 1. Sunny Health & Fitness SF-RW5515
Here' why we love it . . .
Multi Level Magnetic Resistance
The Sunny SF-RW5515 provides you with eight levels of smooth magnetic resistance to deliver a natural, jerk free rowing action. There are also guide rails below the seat to deliver a very smooth ride.
Handles
The handles of this rower are very comfortable with quality padding. They have also been coated with an anti-grip material to ensure that you get a strong grip without the interference of sweat or moisture.
LCD Monitor
You get a high spec LCD display on the SF-RW5515 that provides you with overall time, time of 500 meters, distance, number of strokes, and strokes per minute.
Assembly
This is one rower that is super easy to put together. It comes with all of the assembly tools that you will need and the actual assembly process involves just five basic steps. You should be able to assemble it solo in less than twenty minutes.
2. Velocity Exercise Magnetic Rower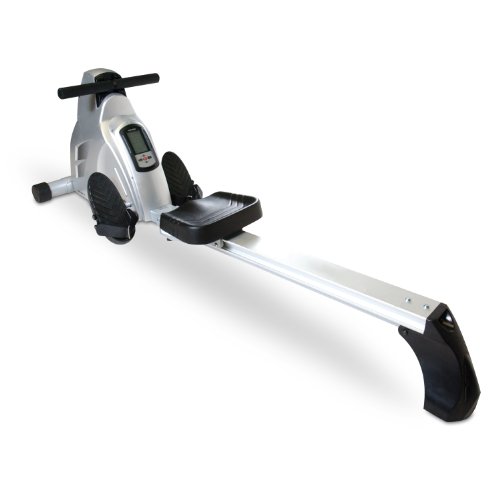 Drum Magnet Control System
The Velocity Exercise Magnetic Rower makes use of a drum magnet control system and electronic tension control. This provides for precision tension adjustment so that you can get the exact level of resistance that you require. This system also provides you with an impressively smooth, comfortable rowing experience.
Heart Rate Monitor Chest Strap
This rower is enabled for a heart rate monitor chest strap to provide you with the most accurate pulse monitoring possible. The easy to read LCD screen also gives you an ongoing readout of all of your other essential training information.
Pre-Set Programs
There are 12 workout programs built into the console of this rowing machine. Each has been designed by a top personal trainer and designed to work towards a specific weight loss or fitness outcome.
Warranty
The Velocity Magnetic rower comes with an impressive 5-year frame warranty. In addition, you get a 90-day warranty on the monitor and 30 days on all other parts.
3. Marcy 8 Level Foldable Magnetic Rower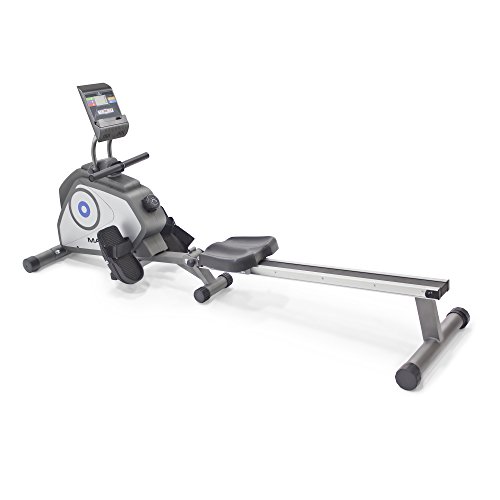 Foldable
The Marcy 8 Level magnetic rower is a foldable machine which allows for a very compact unit that cane be very easily stored away when not in use. This machine also comes with transport wheels so you can move it around with no hassle whatsoever.
Multi Resistance Levels
You get eight levels of magnetic tension resistance with this machine. That gives you plenty of scope to increase the intensity as you get fitter as well as making this rower suitable for all family members. Adjustment between resistance levels is very smooth and the rowing action is quite natural.
Durability
The Marcy magnetic rower is a solidly built unit with a sturdy aluminum frame, durable footplates and straps and a maximum user weight of 240 pounds.
4. Stamina 1110 Magnetic Rower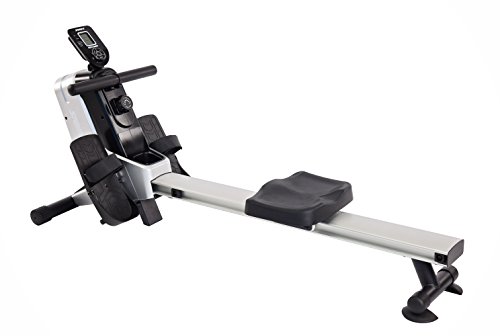 The Stamina 1110 is one of the best value rowers on the market. Its monitor is pretty small and basic, but it does feature . . .
Large Footplates
The Stamina 1110 Magnetic rower provides you with large, strong footplates that features metal braces and brackets.
Quality Rail
This rowing machine comes with a high quality slide rail that ensures a smooth, jerk free rowing motion. It is constructed from sturdy aluminum steel. However, the rail does not allow for the attachment of full leg extensions. In addition, the rail is a little short for people who are over six feet tall.
This machine is so much better than their orbital rower that I went over in the Stamina Orbital Rower Review! I even like it as much as I like the air rower that I reviewed: the Stamina X Air Rower.
Eight Levels of Magnetic Resistance
As with most of our top seven, the Stamina 1110 provides you with eight levels of magnetic resistance, enabling a smooth transition between intensity levels.
5. Soozier Magnetic Rowing Machine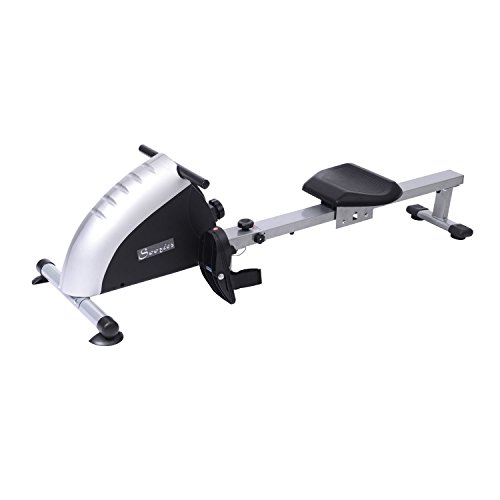 Angled Slide Rail
The Soozier Magnetic rowercomes with an angled slide rail. This ensures a smoother return on each row. The rail, and the entire frame, is made from hardy aluminum.
Smooth Motion
You get a smooth rowing action on this machine thanks to the tough rubber rowing strap, padded handlebars and magnetic resistance. You won't have to worry about any jerkiness when you use this rower.
Compact
The Soozier Magnetic rowing machine is a foldable unit that breaks down into a very compact footprint for storage. Despite this, the Soozier is an impressively sturdy unit that will handle any of the training demands you place on it. It has a max user weight of 220 pounds.
6. Titan Fitness Adjustable Magnetic Rower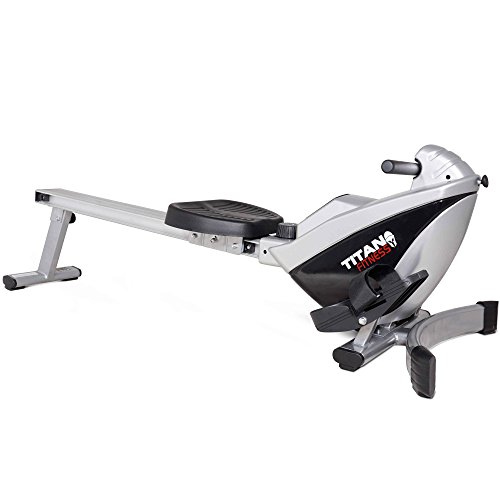 Smooth Pull Action
The Titan Fitness Adjustable Magnetic rowing machine provides you with an excellent rowing experience thanks to the durable reinforced nylon pulling cable. The slide rail is high quality and smooth. It is also long enough to allow even taller rowers to get a full leg stretch.
Large LCD Screen
This rower provides you with a large, easy to read LCD display that provides you with information on your important training data including, time, calories and number of pulls.
Solid Build
The Titan Adjustable Magnetic Rower is a foldable machine. Many foldable magnetic rowers are quite weak when it comes to rigidity of the framing but that is certainly not the case here. The frame is hardy and stable, with the ability to handle a maximum user weight of 250 pounds.
7. Sunny Health & Fitness SF-RW5622 Dual Function Magnetic Rower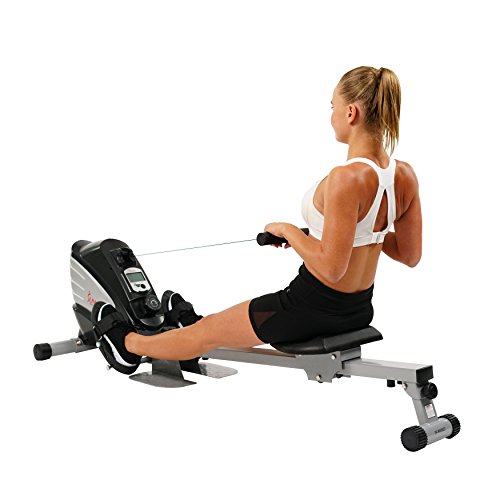 Our second Sunny magnetic rower, the SF-RW5622 provides you with much the same features as the Sunny SF-RW5515, but lacks the power capacity of that model. That's because this one is designed as a beginner rower for lighter use. Here's what we especially liked about this one . . .
Foot Plates
You get heavy duty foot plates to keep you securely in place, along with durable straps. This provides you with the strong base from which to power through your workout.
Foldable
The Sunny SF-RW5622 is a foldable rowing machine, enabling you to easily store it in a cupboard or under a bed when you've finished your workout.
If you are interested in an air rower that's geared towards beginners, similar to this model, then you should definitely read my Proform 550 Rower Review.
Magnetic Rower Buyer's Guide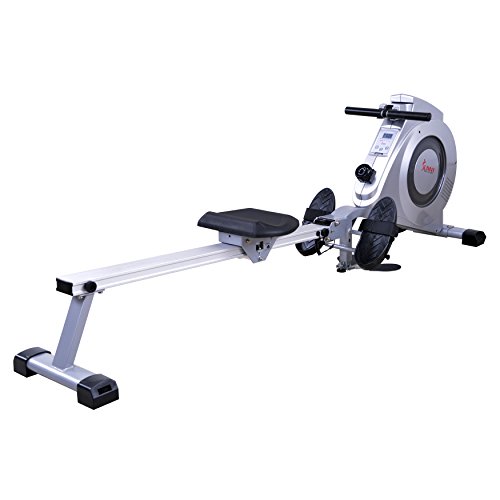 When it comes to buying a magnetic rowing machine, there are five key things to consider. Let's take them one at a time:
Frame Construction
You rowing machine is going to get some pretty hard treatment, so you need it to be able to stand up to the intensity. The strongest construction material for a magnetic rower is stainless steel. Next up is aluminum.
Monitor
You want a console that provides you with a large, clear LCD readout. It should provide you with an ongoing display of your overall time, time of 500 meters, distance, number of strokes, and strokes per minute. You should, however, be wary of extra features in the console that look nice but really aren't necessary and only serve to bump up the cost of the machine. For example, the sort-of expensive Proform 440r has an amazing LCD screen that is justifiably more expensive. Check it out in our Proform 440r Rower Review.
Weight Limit
You should always go with a machine that has a weight limit that is at least 50 pounds more than what you actually weigh.
Size
You should measure up your available area to make sure that it will fit, allowing for plenty of space around it as well. Some magnetic rowing machines are foldable for easy storage. Others can be stored upright, giving you a very small storage footprint.
Foot Plates
As you go through each rowing stroke, you place a lot of pressure on the foot plates. That's why they need to be strong and sturdy. The bracing and brackets of the foot plates should be made of metal rather than plastic.
Magnetic Rowing Machine FAQ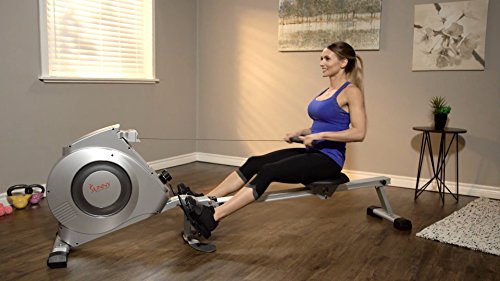 Why should I use a rowing machine?
A rowing machine will provide you with probably the most intense workout of any cardio training machine you get for your home gym. They will work many of the major muscles of your body, including the lats, deltoids, biceps and the muscles of your core.
At the same time, your rower workout will provide you with a great cardio workout. It simulates outdoor rowing, which is a tremendous exercise. With your rowing machine you can still row when it's pouring with rain outside.
The repetitive pulling action of a rowing machine will help you to build muscle, especially if you increase the intensity over time.
How do you properly use a rowing machine?
The rowing machine action can be broken down into four steps as follows:
Catch – This is the starting position where your knees are bent, your arms and shoulders are relaxed and your hands are gripping the rower machine handles. The back should be in a neutral position with the scapula pulled wide.
Drive – This is the pulling motion where you push through the bottom of your feet, to extend the knees. You engage from the core as pull the handles back into your chest.
Finish – At the end of the drive, your hands should be at the chest level. With your torso leaning slightly back. Your legs will also be at full extension.
Recovery – This is the movement that returns you to the starting catch position.