The Stamina X Air Rower is a basic, no-frills home rower that will provide you with a consistently effective workout at a good price. The smooth air resistance of the machine delivers a natural fluid rowing motion and the unit is suitable for people of all heights and weights. While not offering the advanced features that some users may prefer, this is a dependable workhorse that is built for the long haul.
Customer Reviews
Customers gave the Stamina X Air Rower an average of 3.5 out of 5 stars based on 138 reviews. The general consensus was that this is a good rower for the price, but it was not as sturdy as some users would have liked. Many users also found the machine hard to assemble.
Pros:
Well-priced
Solid rowing chain
Fluid air resistance
Pivoting Foot Plates
Built-in wheels
Foldable
Cons:
Lacks stability
Difficult to assemble
Benefits
Wind Resistance
The natural air resistance of the Stamina X Air rower puts you completely in charge of the intensity of your workout. The faster you row, the more wind resistance is generated and the harder it will be to pull the handles back. This provides you with the most fluid, natural action that you can get short of actually being out on the water.
Angled Seat Rail
The angled seat rail on the Stamina X provides you with a very smooth seat return to enhance the fluid nature of your action from stroke to stroke.
Pivoting Footplates
The footplates on the Stamina X pivot rather than being locked in place. This effectively enhances your range of motion as you are rowing as well as making the unit easier to get in and out of.
Molded Seat
The comfort of your seat is a key factor, especially when you are going to be spending quite some time on it. The seat on the Stamina X Rower has been molded for greater ergonomic comfort and to contour to the curve of your body.
Durable Rowing Chain
The rowing chain on the Stamina X is extremely durable. It will provide you with the confidence that you can row your heart out, workout after workout, without any fear of the chain being compromised.
Steel Frame Construction
The Stamina X Air rower is made from durable square steel framing. It is strong enough to support a user-weight of up to 250 pounds.
Foldable Frame
The Stamina X Air Rower is completely foldable, making it a great unit to have in your home if your space is limited. It also features built-in wheels which will allow for ease of transportation.
Multi-function Monitor
The monitor of the Stamina-X Air Rower is basic yet functional. With it you are able to monitor your distance, calories burned, speed, time, number of strokes and strokes per minute. However, there is no hear rate function on this monitor.
Disadvantages
The Stamina X Air Rower is a budget rower. As such it will not provide you with speakers. Neither will you find any built-in exercise programs on the monitor. There is also no provision to download your workout statistics to your computer for further analysis and download. You will also find that the handle on the rower has a small diameter. Some users find the handle rather uncomfortable to grip as a result.
Another issue with the Stamina X is that it provides you with a very limited warranty. You get a 3-year warranty on the steel frame. However, the protection on the parts is for just 90 days. This is one of the lowest levels of protection in the industry.
Summary
The Stamina X Air Rowing machine provides you with the quality of a commercial gym rower, along with the portability, compactness and price of a budget home model. It provides you with a full range of rowing motion, along with a smooth action that feels very smooth and natural. The machine folds up quickly and easily and has wheels for ease of movement.
The air resistance system of the Stamina X Air Rowing machine provides you with the most natural motion you can get without actually rowing on the water. A comfortable padded seat is upholstered for comfort and features a high-quality ball bearing system for a smooth glide. The footplates are large and fitted with straps to keep your feet firmly in position.
Despite its negatives – limited warranty, no bells and whistles, and uncomfortable handle – this is still one of the best value quality rowing experiences that you are likely to find.
Stamina X Air Rower Competitors
Conquer Indoor Magnetic Air Rowing Machine
The Conquer Indoor Magnetic Air Rowing Machine is a combination magnetic resistance / air rower that delivers a smooth, natural rowing motion. The smooth track also ensures a very natural seat movement. You get eight levels of magnetic resistance and the fan cools you down as you work out. You also get three workout modes on the computer monitor based around time, distance and calories. The monitor gives you ongoing feedback on your calories, time, meters, strokes, strokes per minutes, watts and time/500m.
This is an inexpensive, functional rower that also looks great. It will consistently provide you with a smooth, comfortable rowing workout.
NordicTrack RW200 Indoor Rower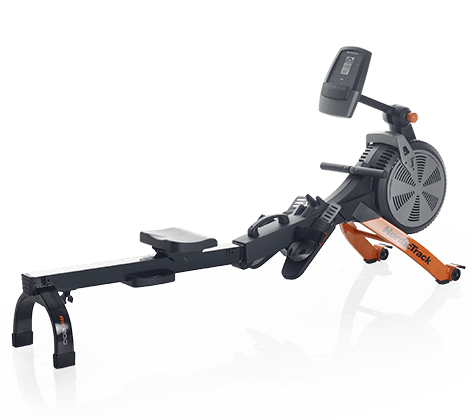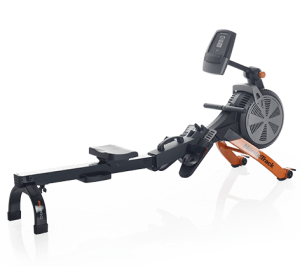 The NordicTrack RW200 is an affordable air resistance rower that actually provides you with built-in exercise programs on the monitor. This is a rarity for a budget air rower. You get 20 pre-set programs on this machine. This air rower also features onboard entertainment. You can plug in your MP3 player or use the rower's sound system.
The NordicTrack RW200 folds for ease of storage. You can also select from 10 levels of pre-set resistance levels to instantly adjust your intensity level as you are training. This rower also provides you with pivoting pedals. The textured nylon straps ensure that you will also be firmly locked into your training.
On the downside, you don't get any way to monitor your heart rate on this machine. And, even though this machine provides you with 10 levels of resistance, the intensity of that resistance is quite limiting. So, this air rower may not be challenging enough for advanced level trainers. Also, the maximum user weight on the NordicTrack air rower is 200 pounds, which is one of the lowest we have come across.
LifeSpan Fitness RW1000
The LifeSpan Fitness RW 1000 is a compact rowing machine that is powered by five levels of magnetic resistance and a 16.5 pound flywheel. Though not as fluid as you would get with air resistance, this unit still delivers a smooth rowing motion. Large rotatable foot plates allow you to get the ideal positioning and feature sturdy straps to secure yourself in.
The multi-function LCD display on the LifeSpan Fitness RW 1000 allows you to keep track of the number of strokes, strokes per minute, calories burned and time spent exercising. The workout display is shown by way of 3 mini screens. A contoured comfort seat is ergonomically designed to keep you in the best position while training. This unit folds up for ease of storage.
With the RW1000, you can increase or decrease the resistance with a flick of the centrally located dial. The transition between resistances on this rower is relatively smooth, unlike other lower priced models which are jerky and unnatural.
One big advantage of the LifeSpan Fitness RW1000 over the Stamina Air X Rower is that it provides you with a far quieter exercise experience. Any type of fan resistance machine will produce a 'whoosh' noise on each row. While some people find this invigorating, others find it annoying, especially if training while others are trying to watch TV. In contrast, the LifeSpan RW1000 features an exceptionally quiet drive train.
The placement of the monitor is a bit of an issue with this machine. When you are rowing, the handle strap tends to block the display panels so that you are unable to see your training diagnostics while exercising. In addition, the calorie counter on this machine is not very accurate.
Kettler R220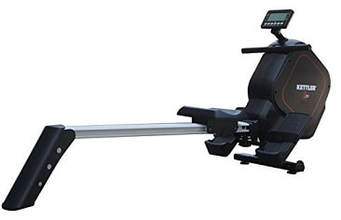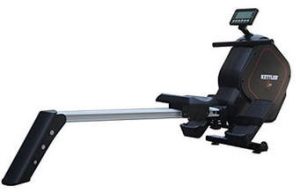 The Kettler R220 is a German manufactured magnetic resistance rowing machine that offers some unique features for a machine that sells for less than $500. Foremost is the programmable monitor that allows you to plug in your own program in addition to providing you with a range of built-in workouts designed by personal trainers.
The magnetic resistance on this machine is smooth and quiet but does not equal the fluid, natural feel of an air resistance rower. Of course, it is lot quieter. With this rower you get sixteen levels of resistance, providing a good range of variation. The seat provides an adequate, though by no means exceptional, level of comfort. However, the seat sits on high-quality rollers and bearings so you get a very smooth movement up and down the beam.
The performance monitor on the Kettler R220 is a standout feature. You get a large LCD screen that provides you with all of your vital training diagnostics, including your oar strokes, time of session, strokes per minute, distance, the 500-meter pace, heart rate and calories burned. This is only one a few machines that we have seen under $500 that provides a heart rate readout.
There are also 12 pre-set workout programs built into the R220's monitor. Included are four heart rate control programs which allow you to work in your ideal fat burning zone. You are also able to program in your own workout.
In summary, the Kettler R220 is a solid performer that offers some extras that are rare in a rower priced at under $500. If you are not wedded to the idea of an air rower, this is the machine we would recommend as our number one alternative to the Stamina X Air Rower.