by
When it comes to buying an elliptical for your home gym, you definitely get what you pay for. If you've got a budget between five hundred and a thousand dollars, then you're going to be able to get a machine with a longer stride length, incline capability, built-in workout programs, better biomechanics, and better construction than budget models.
In this article we identify the 6 best ellipticals on the market under $1000. We'll also provide you with a comprehensive elliptical buyer's guide and F.A.Q so you can be confident in making your buying decision.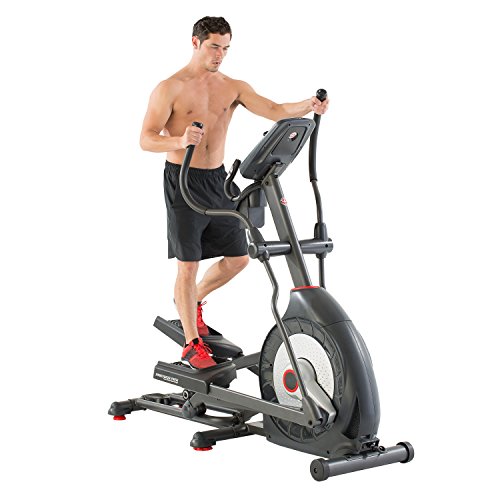 Top 6 Ellipticals Under $1000
1. Schwinn 430 Elliptical Trainer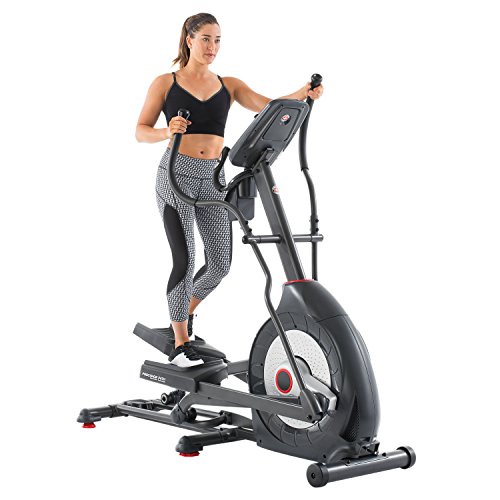 The Schwinn 430 claims our top spot for the best elliptical under a thousand dollars due to its dual tracking monitoring, 22 workout programs and 20 levels of resistance. This combination provides you with a commercial gym quality trainer at a home gym price.
Here's what we love about the Schwinn 430 . . .
Training Programs
The Schwinn 430 Elliptical Trainer gives you 22 training programs so that you can train across a full range of intensity levels. You also get 20 levels of eddy current resistance. This ensures that you get a very natural, jerk free elliptical motion.
Incline Capability
The 20-inch precision pass drive provides you with 6 ramp positions. The oversized, padded foot plates allow for customized body positioning.
Dual Track Monitoring
The dual track monitoring system on the Schwinn 430 allows you to see 13 different data points at one time on the large LCD monitor.
Cool Extras
A 3-speed fan provides cooling comfort while you're working out and sealed acoustic chamber speakers provide excellent sound quality. With built-in Schwinn Connect technology you can sync your training data to your device.
2. ProForm Cardio HIIT Elliptical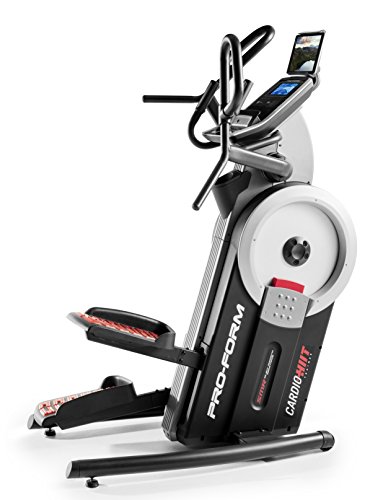 What we love about this elliptical . . .
Dual Function
The ProForm Cardio HIITelliptical allows you to perform two workouts in one with its innovative vertical and horizontal step action. You also get to work your upper body with movements that simulate boxing.
Exercise Programs
The ProForm elliptical provides you with a huge 32 workout programs, along with 26 resistance levels to give you the greatest level of exercise variety of any of the ellipticals that we reviewed.
SMR Silent Magnetic Resistance
You don't have to worry about noise issues on this elliptical. The ProForm Cardio HIIT brings you SMR technology to deliver a whisper quiet, smooth and durable ride.
3. Nautilus E616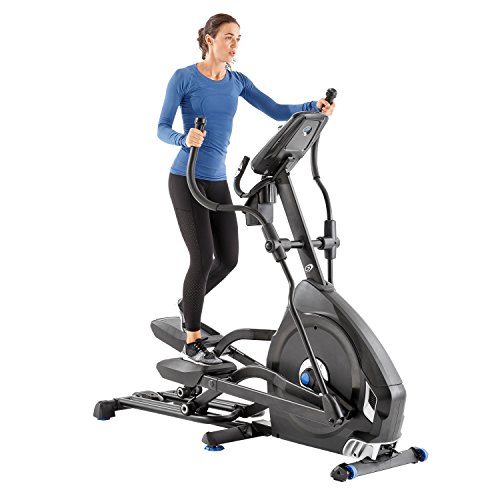 What we love about this elliptical . . .
Programs / Resistance
The Nautilus E616 provides you with 20 levels of Eddy current resistance, a motorized incline ramp and 22 workout programs. That's plenty of functionality to keep you motivated and challenged.
Dual Display
The blue backlit dual-track LCD display allows you to watch your favorite TV shows while keeping track of time, distance and calories burned.
Smooth Functionality
The high speed drive system and perimeter weighted flywheel deliver ultra smooth workouts. The 20-inch stride length allows you to get full engagement of the glutes with every stride. The frame features two integrated levelers as well as a pair of center frame supports for maximum rigidity.
4. GOElliptical V-200
What we think about this elliptical . . .
Stride Length
The GOElliptical V-200 motorized VST provides you with a stride length of17 inches, making it a bit less ideal for taller individuals.
Foot Print
Maybe in part due to the shorter stride length, this machine offers a very compact footprint, making it ideal for those who have limited space to operate within.
Resistance Settings
The V-200 delivers a smooth, natural elliptical action that allows you to choose from 24 different resistance settings. You also get plenty of inbuilt programs, including quick start, fitness test, manual, custom, random and hear rate control.
Silent Operation
The V-200 boasts a silent belt drive that lets you work out in peace without any noise disturbing you.  This could be the choice for you if you don't like the sound of a noisy elliptical!  The V-200 is convenient and doesn't make its presence known with a bunch of mechanical noise.
5. Teeter Freestep Recumbent Cross Trainer Elliptical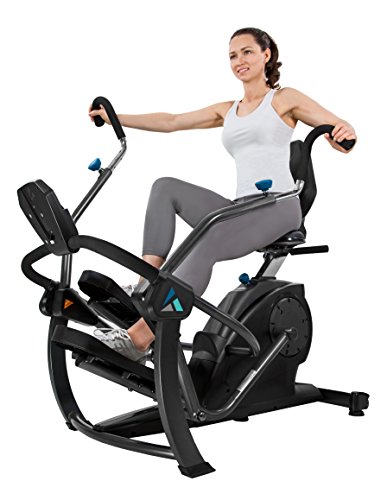 What we love about this elliptical . . .
Recumbent
The Teeter recumbent ellipticalis unique in the market in that it provides you with the ability to exercise in a seated reclined position. This allows for zero impact exercise, making it ideal for those with back problems.
Dual Function
The Teeter recumbent allows you to work both your lower and upper body for a truly complete full body workout. As a result, you will bun more calories and get a far more intense workout in less time.
Quiet, Fluid Stride
The whisper quiet fluid stride that you get on this machine provides you with an extremely smooth, natural exercise motion. There is no stuttering or jerkiness when you train on this recumbent machine.
6. AFG Sport 5.5AE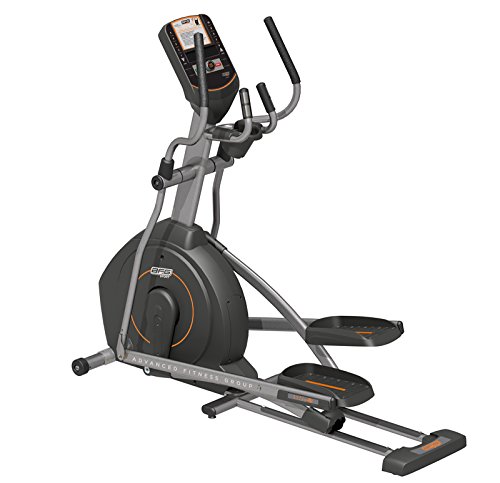 What we love about this elliptical . . .
Stress Free Stride
The AFG Sport 5.5AE provides you with an 18-inch glide path and flat ellipse motion to provide a natural stride that is noticeably stress free on the hips, knees and other joints.
43 Workout Programs
With 43 inbuilt workout programs and 10 levels of resistance, the AFG Sports elliptical provides you with a huge array of training options to keep you motivated and stimulated for years.
Extras
The AFG elliptical includes such handy features as oversized foot pedals, an integrated cool breeze fan and an integrated audio system.
Elliptical Machine Buyer's Guide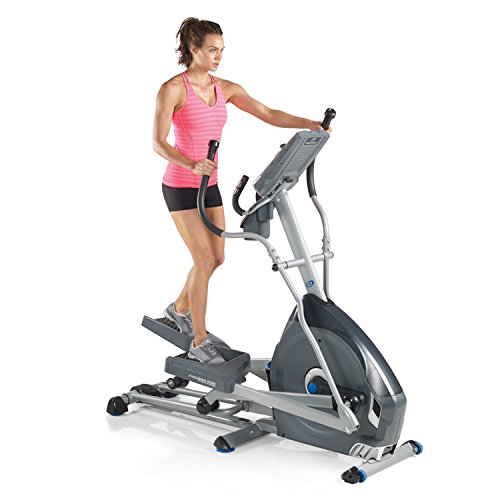 Flywheel
The flywheel is a solid metal wheel which sits either at the front or the back of the machine. It is connected to the stride pedals and provides the elliptical motion of your exercise movement. The weight of the flywheel of your elliptical will determine the smoothness of your stride action. It will also control the amount of resistance that you are able to generate through your stride.
The flywheel weight will also help to determine the overall price of the elliptical; the heavier it is the more you will pay. The minimum flywheel weight you should consider is 17 pounds.
Brake System
A high-quality brake and resistance mechanism will ensure that the machine operates smoothly, is quiet and will last the distance. An eddy current brake system makes use of magnets against the flywheel to create resistance and braking. It is connected to the computer console so that you can control resistance and braking at the touch of a button. The brake system provides a smoother movement than a friction based pad system where a couple of abrasive pads tighten on the flywheel and is the system we recommend.
Forward – Backward Motion
Not all ellipticals allow you to reverse your motion so that you are walking in reverse. You should look for one that does. The reverse motion really targets the glutes, which are the largest muscle group in your body – and chronically weak in most people.
Arm Movement
You will want to get an elliptical that allows you to exercise the upper body by way of movable handles. It should allow for a full arm movement so that you can fully extend and contract your biceps and triceps.
Adjustable Incline
An adjustable incline will have the effect of changing the stride length while, at the same time, putting more emphasis on the glutes, calves and front thighs. It will also make your workout more intense, so you burn more calories.
Stride Length
The length of your stride is a critical factor in determining the effectiveness (and natural comfort) of your workout. Obviously, your required stride length will be determined by your height. We suggest investing in an elliptical with an adjustable stride length to a minimum of 16 inches and a max of around 22 inches.
Ideally, your elliptical should also have an adjustable stride length. This will allow it to be used by a variety of users.
Pedal Width/Grip
The pedals should have a non-slip surface while also providing you with sufficient width for a comfortable fit.
Monitor
The monitor in your elliptical needs to deliver an accurate readout of the following training data:
RPM
Calories burned
Time
Speed
Heart Rate
Look for a backlit LCD screen for easy console viewing. If you are interested in being entertained while you work out, go for a machine that has web connectivity. Most of the big-name brands also pair with the company's fitness app so you can transfer and analyze your training information.
FAQ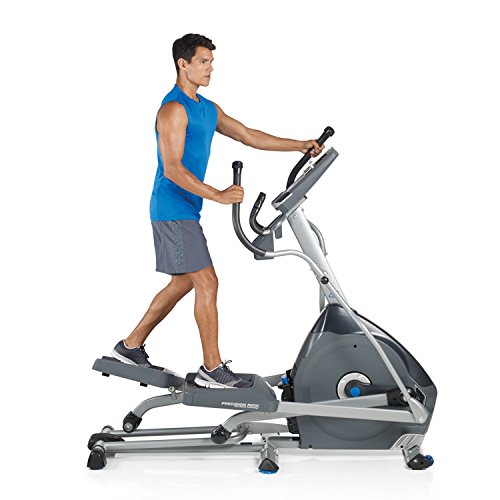 What are the benefits of using an elliptical machine?
Firstly, they are very low impact (especially in comparison to a treadmill or an exercise bike). So, if you are a person who has ankle, knee or lower back concerns, an elliptical will allow you to get the cardio workout that you otherwise might not be able to achieve.
The other benefit of elliptical training is that it allows you to target the muscles at the back of your legs (glutes, hamstrings, calves) more than most other forms of cardio. This is especially the case when you put the elliptical into reverse stride action.
Elliptical machines also provide you with movable arms so that you can move your arms back and forth as you are striding. This gets the upper body involved in the workout, providing a greater overall calorie burn.
What's the difference between a front drive and a rear drive elliptical?
The difference between the two relates to the placement of the flywheel. Most commercial ellipticals have the flywheel at the rear, whereas the majority of home gym models have them at the front. Front drive ellipticals are usually more compact but rear drive models allow for a greater stride length.
Rear wheel drives are also more likely to include an incline function. In addition, rear wheel drive ellipticals also have better overall balance.