When it comes to getting in shape at home, the exercise bike remains one of the most popular pieces of equipment for fat loss and cardio fitness. The exercise bike market runs the gamut from simple foldables to high powered super bikes.
In this article, we focus in on the lower end of the market with the best foldable exercise bikes for home use. We'll also provide you with a folding exercise bike buyer's guide and F.A.Q.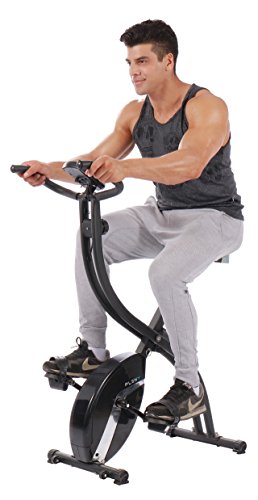 The Best Folding Exercise Bikes
Exerpeutic Folding Magnetic Upright Bike
As a brand name, Exerpeutic came out squarely on top with three bikes in their foldable range ending up in our top 6. Here's what we love about their flagship bike, the Exerpeutic Folding Magneticupright bike . . .
Smooth Ride
The Folding Magnetic Upright provides you with a high torque three-piece crank system in conjunction with a double drive transmission system. This combination provides you with the smoothest ride we have yet to find in a foldable exercise bike.
Comfort
The Exerpeutic Folding Magnetic provides you with an oversized, generously padded seat that allows you to ride for an extended period without the usual butt pain that comes with the experience.
Stability
This is the most stable foldable upright bike that we have come across. That is thanks in large part to the extra wide leg stabilizers that ensure that the bike remains solid even when you are pedaling at full capacity.
Footprint
The Exerpeutic folding magnetic upright bike has a very compact footprint when assembled ready to use. However, when you fold it up it takes up hardly any room at all. In fact, the folded dimensions are just 22 inches in length by 20 inches in width and 55.5 inches in height. This makes it a brilliant choice for people who don't have much space available.
Marcy NS-652 Foldable Exercise Bike
What We Love about This Bike . . .
Magnetic Resistance
The Marcy NS-652provides you with 8 levels of smooth magnetic controlled resistance. This gives you plenty of options in terms of increasing the intensity of your workout. Unlike many of its competitors, the resistance change is fluid and jerk free.
Strong
This is an impressively strong bike, being made from high grade 14 grade steel. It sits very solidly and will ensure that you have a wobble free riding experience. This bike has a max user weight allowance of 250 pounds.
Compact
The Marcy NS-652 is one of the most compact and lightweight foldables on the market. It weighs in at just 37 pounds and folds up to almost nothing.
Counter Weighted Pedals
This bike provides you with counter weighted pedals to deliver a great riding experience. We also like the 2-inch LCD display which gives you a read out of your calories burned, speed, distance and time.
Exerpeutic 400XL Folding Exercise Bike
The Exerpeutic 400XL foldable exercise bike is our favorite recumbent foldable. Here's what makes it so good . . .
Resistance
Just as with their upright version, the Exerpeutic 400XL provides you with eight levels of magnetic resistance. You also get the same three-piece high torque crank system, along with an impressively whisper quiet V-belt dual drive transmission system.
Comfortable Seat
The extra large seat and back pad of the 400 XL provides you with a luxurious level of comfort and support for your butt and lower back.
Display
The LCD on the monitor of the 400 XL provides you with a large readout of your time, speed, distance, calories burned and heart rate.
Innova XBR450 Folding Upright Bike
What We Really Like About This Bike . . .
Comfort
The Innova XBR450is another folding bike that delivers maximum rider comfort. The oversized, padded seat provides you with a very pleasant riding experience, free of the butt discomfort that most people experience.
Monitor
The monitor on the Innova XBR450 provides you with all the training diagnostics you need, including time, distance, speed, calories and heart rate. A unique feature (for a foldable bike) is that this monitor also provides you with a very secure tablet holder.
Smooth Ride
The Innova XBR450 uses magnetic resistance to provide you with a very fluid, smooth riding experience. Precision dual flywheels with multi crank and a multi-level magnetic resistance delivers a jerk free experience that provides you with an easy 360-degree pedal motion.
Marcy ME-709 Recumbent Bike
Ease of Entry
The Marcy ME-709 is a great choice for people who have mobility issues. This is due to its lowness to the ground, which makes it easier than most recumbent foldables for the user to get in and off of.
Resistance
As with most of the other bikes on our list, the ME-709 gives you eight levels of magnetic resistance. The pedals are also counter weighted.
Rigidity
The ME-709 is a solid unit, especially for a foldable recumbent bike. It is made from 14-gauge powder coated steel. The maximum user weight on this bike is 300 pounds. You also get a two-year warranty, which is double what you get for most foldable bikes.
Pro Gear 190 Recumbent Bike
Large Pedals
The ProGear 190 recumbent has larger pedals than you find on most competitors. This provides you with a very secure foot hold that allows you to generate greater leg drive.
Compact
At 38 pounds, the Pro Gear 190 is one of the lightest bikes on our list. It is also one of the most compact, with assembled dimensions of 38 inches in length by 21 inches in width and 44 inches in height. When folded it is just over half that size, making it easy to store in a cupboard or under a bed.
Folding Exercise Bike Buyer's Guide
Type of Bike
The first decision you need to make when looking for a folding exercise bike is whether you want a conventional or a recumbent folding bike. A recumbent bike allows you to sit lower on the bike and to have a lot more padding and protection for the back. Because your center of gravity is lower to the ground, it is also easier to get on and off of a recumbent bike. In addition, your legs are on more of a horizontal position when pedaling which places more emphasis on the hamstrings and glutes.
The recumbent bike is better for people who are prone to having a sore back and for the elderly. All others will probably be better off with a standard exercise bike. The standard bike gives you a lot better feel than the recumbent bike and allows for a more intense riding experience.
Type of Resistance
Whether your bike is a folding one or not, the most important consideration is the type of resistance the bike has. The majority of folding bikes either have a manual resistance or the use magnets to provide the resistance. Magnetic resistance gives you more control over the workout.
Stability
Because it folds for storage there is a general perception that foldable exercise bikes are of low quality and that they lack stability. This is certainly true of many of the models on the market, but not all of them. You should expect a bike that has a sturdy frame that feels solid when you hop on it and when you are pedaling at full capacity. If you can't get a good idea from online reviews, go down to your local bricks and mortar store and give it a test run. If you're happy, come back and buy online (assuming that the price is better!).
Display
The computer monitors on most foldable exercise bikes feature pretty simple features on the screen. That's fine but you want to make sure that it is bright, large and clear. It should also be easy to operate. You should expect the bike to provide you with ongoing readouts of your heart rate, calories burned, revs per minute (rpm) and resistance levels.
FAQ
What are the different types of tension on folding exercise bikes?
There are three types of tension, or resistance, that you may come across. The first one is an open air flywheel. In this case the resistance will only increase when you pedal faster. There is no adjustable resistance on this type of bike.
The second type of tension sees a tension strap wrapped around a flywheel. You turn a tension knob on the base of the unit to change the resistance. This adjusts the brake pads, which apply pressure to the flywheel.
The third and most common form of resistance on folding bikes is the magnetic resistance tension system. This applies magnets to the cycle wheel an is adjusted by a centrally located tension knob.
Will a heavier flywheel give me a better ride?
Because the purpose of the flywheel is to provide momentum for pedaling, you really don't need a heavy flywheel on your exercise cycle. For the average user, a flywheel weight of between 8 and 10 pounds will be sufficient. The heaviest flywheel weights are used on spin bikes because they are mechanically linked to the pedals.
What sort of maintenance does a foldable exercise bike require?
The majority of foldable bikes require very little in the way of regular maintenance. If your bike has a chain drive mechanism you will occasionally have to put some oil on the chain. However magnetic resistance bikes require virtually no maintenance at all. The only thing that you'll have to do is to keep it clean and sweat-free.
How high should the seat be adjusted?
If you don't get the right seat height you can do damage to your lower back as well as your knees. It will also be rather uncomfortable. You will know if the seat is the right height if you have a slight bend in your knee when your leg is on the bottom pedal.