I'm sure you are anxious to read the book I've written about socks and sweaty feet below… but here is the final word:  Darn Tough Merino Athletic Socks are easily the all around best choice.
How many times have you come home after a long day to find your feet looking like two prunes after you took your socks off? If your answer is plenty, now may be the time to ditch the traditional cotton whites and buy a pair of socks that can accommodate your sweaty feet. Whether your job requires a lot of physical activity or you just enjoy exercising frequently, we've all been there. No one likes having sweaty feet. Fortunately, there are socks specifically designed for wicking sweat and moisture away in order to keep your feet cool and dry throughout the day.
I decided to do a little research (and by 'a little' I really mean about 12 hours in total) in order to find the hands-down best socks for sweaty feet. I compared over 70 different types of sweat wicking socks, looking at things like material, breathability, and comfort, as well as reading through hundreds of customer reviews in order to get the best possible feedback on every type. I'm a bit of a sock fanatic as I'm a huge outdoorsman and avid gym-goer, so trust me when I say I know what to look for in a solid pair of sweat wicking socks. After careful consideration, I've narrowed the choices down to a top five below.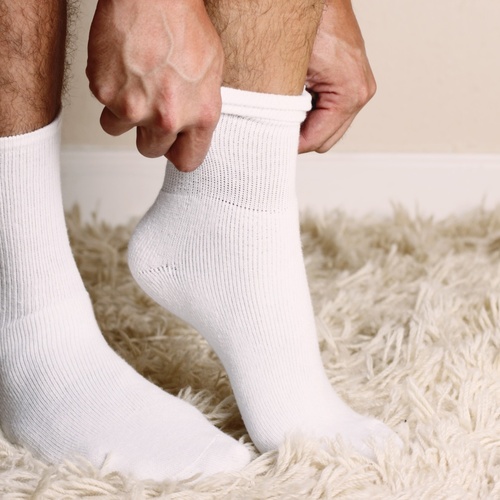 Comparison Guide: Top 5 Best Socks For Sweaty Feet
Darn Tough Merino Wool Athletic Sock
Drymax Run Hyper Thin Sock
Thirty48 CoolMax Running Sock
Nike Elite DRI-FIT Running Sock
Saucony Performance Sock
Material
51% Merino Wool, 45% Nylon, 4% Lycra Spandex
73% Olefin, 11% Polyester, 5% Elastane, 11% Nylon
33% CoolMax, 27% Cotton, 30% Nylon, 8% Polyester, 2% Lycra
100% Polyester DRI-FIT
95% Polyester, 3% Rubber, 2% Spandex
Sweat-Wicking Fabric
Top Pick: Darn Tough Merino Wool Athletic Socks
After all that research and reading through customer feedback, the Darn Tough Merino Wool Athletic Socks are without a doubt the best socks for sweaty feet and foot odor. Made right here in the USA in Vermont, these socks have been put through the ringer in one of the most dramatic climates in the entire country. Vermont experiences large swings in weather from frigid winters to hot and humid summers, allowing these sweat wicking socks to be tested in a variety of environments. This type of environment gives the team at Darn Tough the perfect amount of exposure to the elements to produce the perfect, moisture-wicking sock for sweaty feet and foot odor.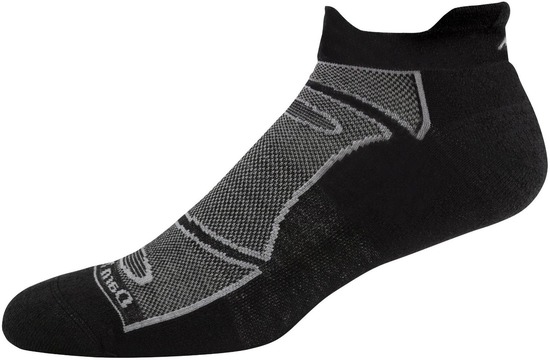 The magic behind this sock? Merino wool. The Darn Tough socks are made of 53% Merino Wool, 42% Nylon and 4% Lycra Spandex. Merino wool has become a staple in the outerwear community for the fabric's unique ability to keep your body cool when hot as well as hot when cool. In the case of sweaty feet and foot odor, this natural material provides maximum breathability for the foot by absorbing any developing moisture from the foot and releasing it to the outside of the sock where it won't bother your feet. Best of all, it can absorb a ton of moisture without the sock physically becoming wet.
How, you ask? Merino wool wicks moisture in its vapor state, meaning the sweat never has the chance to actually become liquid. This is one of the only fabrics on the planet that can do this, which is why it trumps both traditional wool and synthetic fibers in terms of keeping sweaty feet cool and dry, and with keeping foot odor at bay. Merino wool, sometimes referred to as sport wool, also naturally wards off foot odors, so not only will you have dry feet, but they will smell nice as well!
In addition to being a breathable sock, the superior knitting used by Darn Tough provides support in the toes, arch and heel for optimal performance. While the merino wool focuses on wicking sweat and moisture and minimizing foot odor, the nylon/lycra spandex blend gives shape to the sock and a easy snug fit to your foot. This trifecta of fabrics gives this sock elite status for performance and is available for men, women and children in all shapes and sizes. The chosen knit provides durability and comfort without adding any bulk to the sock.
Darn Tough socks can be found at varied lengths and can be used for running, hiking, construction or just regular use if you live in a hot climate! So if you are living somewhere like Southern Florida, these are definitely a pair of socks you want to try out. They are light enough for breathability but don't feel as if your foot is unprotected. If you don't believe me, believe the hundreds of customers who have used these socks and continue to speak highly of their ability to keep their feet dry in the most extreme conditions. Check out the impressive reviews for yourself here.
One last thing I really appreciate about the Darn Tough company, all of their socks come with an unconditional lifetime warranty. I often find that when a company stands by their product wholeheartedly, there is something to say about it. If you are unsatisfied with this sock (and you probably won't be) they will replace it or refund you. There aren't many companies out there that will go that extra step to ensure satisfaction.
Runner Up: Drymax Run Hyper Thin Sock
The Drymax Run Hyper Thin Sock is known as one of the lightest socks you can buy. Drymax has taken a scientific approach to protect your sweaty feet with a patented Blister Guard system and carefully placed mesh strips. Designed with breathability, foot odor minimization, and comfort in mind, this sock will keep your feet from getting the dreaded clammy feel as you rock out in them all day long.
The main component of this featherweight sock is olefin (fancy name being polypropylene). Olefin is a synthetic fiber originally designed in Italy by Nobel Prize winner Giulio Natta. This fiber has found way into the textile industry for its ability to wick moisture. Although olefin has a low moisture absorption rate, the synthetic can wick moisture faster than the rest and dry in a heartbeat. Combined with elastane (aka lycra), the Drymax Socks makes moisture a thing of the past.
When sliding your foot into this sock, you'll notice the breathable mesh strips and anti-slip wedge. The breathable mesh strips are responsible for keeping feet dry and preventing blisters. The DryMax dual-layer system relies on a patented primary layer that wicks moisture out to a secondary absorbent layer. They are designed to vent the arch of the foot, letting the feet remain cool and dry during activity. There is minimal friction between the sock and skin, so you will not have to worry about developing hot spots as you put these socks to use. The anti-slip wedge around your ankle ensures the sock will not slip down and bunch up.
This placed second in our search for the best socks for sweaty feet and foot odor because of how efficiently the sock performs its duty. As you can see, the material and design is ideal for being on your feet all day and coming home with dry feet. The Drymax socks are even a little less expensive than our top pick and definitely would not fall short if you are using this for your everyday sock.
However, with that said, these socks are not as versatile in terms of what activities you can use them for when compared to the Darn Tough Merino's. If you are walking or running, the DryMax material will keep your feet dry without an issue. If you are hiking or climbing, I would prefer the Darn Tough socks because of their materials and durability in more extreme conditions. Merino wool has better temperature regulation properties and can dry almost as fast as olefin if needed. When I am backpacking in the mountains, I exclusively wear Darn Tough and other merino wool type socks. You can sweat in them all day, hang dry overnight and they are ready for you in the morning.
#3: Thirty48 CoolMax Running Socks
Thirty48 is a highly rated company known for producing socks that wick sweat away. They have a specially crafted structure for many types of activities including running, hiking, cycling and more. Utilizing CoolMax fabric, this sock was created to move moisture away from the foot, keeping it cool and dry while you're on the go. Better yet, the Thirty48 CoolMax Running Socks come in a ton of different packs and colors.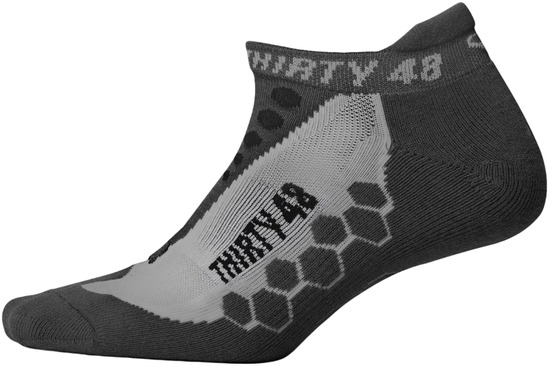 A trademark of the world's largest integrated fabrics company, Invista, CoolMax is a technical fabric created solely for moisture wicking. These technical materials are essentially a specially crafted combination of polyester, a material known for water-repelling. Thirty48 combines the CoolMax with their patent-pending CatalystAF design allowing ample airflow throughout the fabric to give your little sweaty feet the necessary breathability. This can be found in the gray stitching (if you get the black and grey color) on the outside of the sock where their label rests.
The material is a little thicker than other moisture removing socks but reviewers claim that they are extremely comfortable and do not mind the fit at all. If you prefer less bulk in your sock, you can opt for their light running sock. Their light running sock has less padding and thinner materials yet all the amazing specs of the original. The Thirty48 Running Sock caters to athletes and outdoor enthusiasts who want to keep feet dry during strenuous activity.
Similar to our previously rated products, these socks have all the structural support needed for comfort. You can assure your foot will not slide around in your shoe and will not develop blisters after long term use. They have a good lip at the top of the sock to prevent chafing during activity. If color coordinating is a preference for you, you can choose from a variety of colors including: fluorescent pink/gray and orange/gray. If you can't decide, pick up a multi-pack with different colors! Just know you are getting gray one way or the other.
The Thirty48 Running Sock is slightly more expensive than the Drymax's, and unfortunately not as versatile as the Darn Tough Merino's. They have specific socks for different sports, whereas the Darn Tough socks can be used for all three activities and you only pay a few bucks more. What I found interesting about this product the use of cotton which you don't find in performance socks. Why? Cotton is terrible at releasing moisture, regulating temperature, and in fact, they make my feet sweat more. But hey, plenty of verified purchasers stand by these socks and their price for durability and moisture wicking, so something must be working for them! This is just something to keep in mind if you know you have an issue with cotton.
#4: Nike Elite DRI-FIT Running Socks
For sleek look and well-constructed sock for sweaty feet, the Nike Elite DRI-FIT Running Socks will have your foot dry as the desert with Nike's popular DRI-FIT technology. Internationally known for their developments in the sportswear industry, Nike has excelled in creating products that fit the bill for amateur and professional athletes alike. Let's check out some of the features of this Nike sock and why it's become #4 on our list of best socks for sweaty feet.
The Nike DRI-FIT technology is a technical microfabric made of polyester and is used widely amongst their athletic lines. This running sock transports moisture from sweaty feet to the surface where it continues to evaporate, leaving your foot high and dry (in a good way!). A ventilated mesh design allows for maximum breathability. The contoured fit is specific to the left and right foot. Don't worry, designers incorporated and little L and R on each sock for you to get the right fit. I always found this quirky. The first time I put these socks on I couldn't help but laugh.
The plush cushioning and arch support is good for being on your feet whether you are walking in the city or hiking in the mountains… on a dry day. I have used these socks while hiking in dry weather. If you hit rain, the socks do not hold as well compared to Darn Tough socks. Although the material wicks moisture, the nylon/polyester blend doesn't absorb volume in comparison to merino wool. That is why merino wool has become so popular for sporting companies in developing socks that manage moisture. I've found that these socks were more difficult to dry than our higher rated socks.
If you want a well-known brand name sock for your sweaty feet, the Nike DRI-FIT's will get the job done. You won't find as much reviews on them throughout the internet and I have found that different sites have different percentages of fabrics they are using. For cheaper, you may find more benefit in the Drymax socks with their rapid drying fabrics and featherweight design.
#5: Saucony Performance Socks
For those seeking a more budget friendly moisture wicking sock, the Saucony Performance Socks may be for you. These socks typically go for just under $20 for a 6 pack, bringing your total down to about $3 per pair of sock. They have over 2,100 reviews on Amazon and maintain a 4.5 out of 5 start rating, so you know they are doing something right! Compared to our top rated socks, you are drastically cutting the total cost in half while only sacrificing added features, which is why this has earned the final spot as fifth best socks for sweaty feet.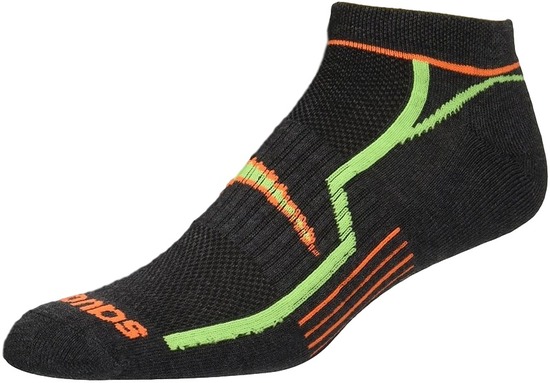 The Saucony Performance Socks meet the industry minimum for a good sock that will keep your feet dry during activity. Saucony brand focuses mainly on running products so you know these socks will definitely keep your feet dry. They are made primarily of polyester materials for optimal ventilation and breathability. Compared to our top rated socks, they have no special specs really. They will be a pretty standard sock, one you can wear around all day without much of a sweat issue but may not last as long as a pair of Darn Tough's.
The Best Sock Materials For Sweaty Feet
Socks come in all shapes, sizes, colors and fabrics in today's market. Which should you choose? Socks are a crucial part of keeping your feet comfortable throughout the day and should be equally as efficient for removing moisture. Coming home with sweaty, smelly feet isn't enjoyable for anyone! Let's talk about which fabrics to take note on as you search for these specialized socks.
Merino Wool
I've found merino wool to be one of the most effective fabrics in combating sweaty feet, which is why our Darn Tough athletic socks topped the charts. The source of wool is the merino sheep from the Southern Alps of New Zealand. Rapid swings of temperature take place in this area of the world where the sheep live, causing them to develop a coat that is insulating in the winter and breathable in the summer. Merino wool is ideal for those with sweaty feet because of its foot temperature regulation property. The material is comfortable, lightweight and can dry as quick as synthetics.
For moisture management, this wool absorbs up to 35% of its weight before giving you the dreaded waterlogging feel. 35% doesn't sound like a lot however it is the highest percentage in the market. As your foot begins to produce moisture, that sweat is sucked up into the fabric and locked there while evaporation takes place. With natural antibacterial properties, merino wool puts a stop to microbes that feet on sweat and eliminates foot odor. This makes socks of this material ideal for hiking, getting caught in the rain or if you are just someone who has sweaty feet!
CoolMax
CoolMax socks are a lightweight, synthetic fiber designed to keep consumers dry and comfortable while they are out in the elements. The core of the material involves specialized polyester fiber cross-sections that are made to move moisture away from the body. The moisture moves up into the fabric and poof, evaporates! You can find this material in our third pick, the Thirty48 socks.
DryMax
DryMax technology takes an innovative and scientific approach to wicking moisture from the feet. Skipping the chemistry talk, DryMax moves sweat through the sock and leaves the foot dry. You may be thinking, that's great but so do the others. Big whoop. The difference with DryMax technology is that they are not charged to breakdown water molecules and wait for evaporation. DryMax socks literally push water right through the fabric with no time to waste on drying. Right after the sock is hit with water, you can turn it inside out and the inner part will be dry. That is why you will find the Drymax Socks as the second best socks for sweaty feet.
Polyester
You will find polyester in many performance socks as you embark on your journey for a reliable product (hopefully it's not too hot out there, you don't have those socks yet!). Polyester offers breathability and moisture wicking properties but does not hold moisture. A common defense against sweaty feet is a polyester lining sock underneath a wool sock. The combination removes moisture from the foot and locks into the wool, ensuring a healthy foot environment during activity.
Bamboo Fiber
For vegan and eco-friendly consumers, bamboo fiber socks may be your best fit. Not reviewed on our top five but worthy of mentioning, bamboo fiber is a growing fabric used for performance socks. In between the weaves are micro-gaps that allow ventilation and water absorption. This same microstructure is the reason bamboo fiber has excellent temperature regulation, something those with sweaty feet want. Bamboo is naturally antibacterial so your feet will smell as good as they feel after activity!
Why Cotton Socks Are Bad For People With Sweaty Feet
Contrary to everything we've spoke about so far in this guide, cotton has no admirable properties for your sweaty feet. You probably know this by now if you've been experiencing excessive sweating and wearing cotton socks your whole life.
Cotton cannot hold moisture well without becoming saturated. The saturation and heated environment that cotton socks bring to the table are a breeding ground for fungus and bacteria. You know that terrible smell coming from your feet? That's brevibacterium… and they love to make your feet smell like those stinky French cheeses. When sweating out in cotton socks, you are throwing a party for these guys to come in and ruin your day. Cotton doesn't dry very fast either so if you are hiking, learn to make a good fire to dry those socks at the end of the day because they will be damp if not.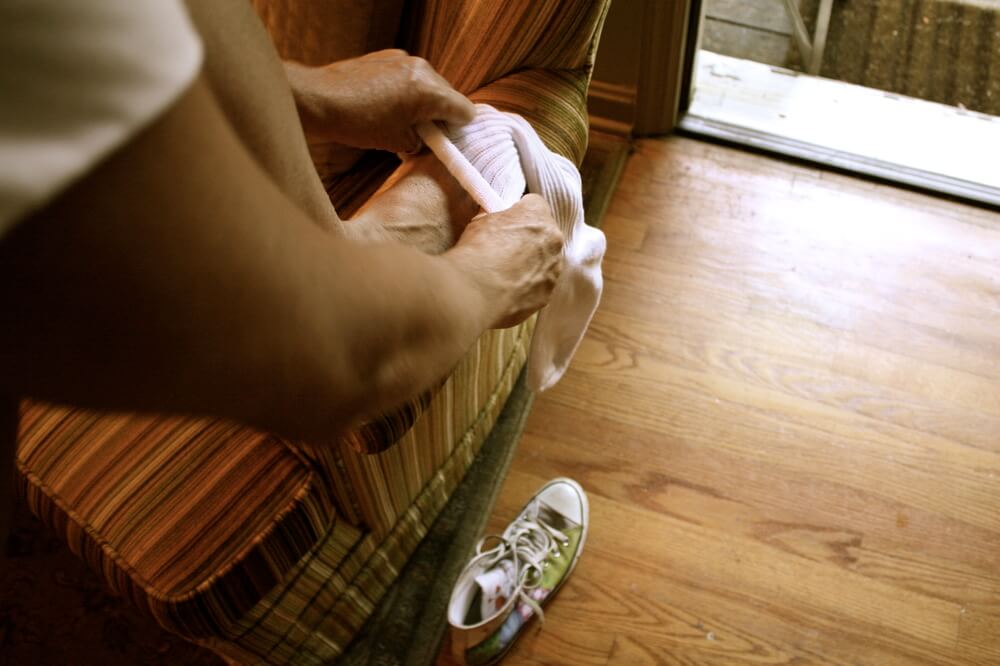 Things To Consider Before Buying New Socks
In considering which of these amazing 5 socks you are going to by, figure out what you will be using them for most. I keep fresh pairs of merino wool socks (like the DT's) ready to go for overnight backpacking trips but will wear a DryMax sock if I am running. Fortunately I spend most of my days on the beach so I don't wear socks at all! Just kidding, I sweat in my socks everyday walking to the office just like all y'all.
For People Who Just Don't Want Sweaty Feet Anymore
We understand, totally. That is why you are here anyway. If you want to rid sweaty feet from your life, changing your socks are crucial. Alright, for everyday moisture wicking socks, realistically, any of our rated pairs will work. However, I don't think you will be wanting to sport hiking socks everyday… unless you work for the Fish and Wildlife Service. I'm actually quite jealous if you do. Changing over to a lighter sock, like DryMax, may be beneficial for your feet. I understand that the price of buying a week's worth of these socks are expensive, which is why the Saucony socks earned a spot in this guide. At $3 a pair, you will get your everyday usage out of them.
Personally, I gauge my socks to which shoes I'm wearing as well. If I'm wearing a pair of NIKE soc-type shoes, I'll be wearing a no-show light DryMax sock. If I go for Doc Martens, I'm wearing crew merino wools because I live in Los Angeles and my feet will get sweaty for sure. Be intuitive. If you can resist wearing boots when the weather calls for 90 degrees, your feet will thank you when you get home. If you have excessive sweaty feet, change your socks every day. Even if they are dry, they are still dirty. Toss some foot powder in their to help if you'd like, corn starch is a good alternative to traditional foot powder.
For Outdoors People
For the weekend sweaters, those who are engaging in recreational activities on the weekends and don't want sweaty feet, you are in a different ballgame. Since you are not wearing these socks day in and day out, these are more of an investment for your backpacking trips, so don't sacrifice quality. Merino or traditional wool are going to be the most ideal option for you. I love Darn Tough athletic socks but there are tons of brands out there that offer quality products. The best outdoors sock will be the one you can dry easily near a fire and be ready for the morning. Cold, wet socks and a 10 mile pack out are… the worst? Yes, the worst conditions in my opinion and you are guaranteed a blister or two! Since merino wool became popular I see no reason to buy other materials of socks, they are the best.
For Runners
As the sweaty runner, you have a home to go back to after exercise and most likely will not be eating freeze-dry food this evening. Although merino wool would work for you, olefin-type materials are lightweight, durable and keep your feet dry during the toughest workouts. Both the Drymax runners and Thirty48 runners are great for this situation, and they use two different wicking/drying methods for your convenience.
Final Thoughts
Now that we have wrapped up this article, it's time to wrap your feet in one of these socks so you can move forward in life with beautiful, dry feet. I know they are hiding in those shoes right now, it's time to treat them right. Ditch the cottons and pick up the Darn Tough Merino Wool socks for your next backpacking trip, run or that walk around the lake with grandma you take every week. Either way, you will be sure to come home and not be ashamed to put your now-clean feet on the table and watch Netflix until you pass out.