Pure Protein has earned quite a lot of attention in the market because of its effective formulation. With a strong patronage, it's not hard to say that Pure Protein is possibly one of the most popular powders available to date. Recently however, the company decided to change the formulation for its signature protein powder. So I thought I would do some research to find out whether the latest version was an upgrade of the original.
Unfortunately, much of the information I was able to collect pointed in the opposite direction. According to hundreds of reviews, the latest Pure Protein formulation doesn't work as well. This became even more apparent when I compared the old formula with the new one. In fact, it's been such a flop that lots of the brand's hardcore users found it to be good enough reason to look for a different alternative all together.
Personally, I can recommend Optimum Nutrition's Gold Standard 100% Whey Protein in place of Pure Protein. I've reviewed ON a bunch of times, and it always comes out on top. So if you want something that will truly give you the best bang for your buck, I suggest you check ON. But if you're keen on finding out more about Pure Protein despite the bad reviews, then keep on reading. Here are the reasons why this formerly formidable formulation has been bumped down several notches.
A Few Minor Changes That Make a Major Difference
First thing I want to discuss is how Pure Protein changed up its formulation. This is the main reason why the brand has created such a big problem in its pool of patrons. Based on what I discovered, the changes were made mostly to the macronutrient content. This was done in an effort to beef up the formula for bigger gains and better hunger satiation.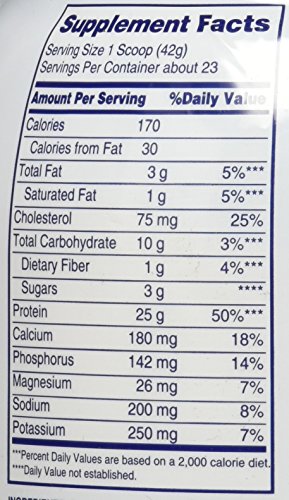 Compared to the older version, this new formula contains more protein, fat, carbohydrates, and cholesterol. The respective values for each are at 25 grams, 3 grams, 10 grams, and 75 mg. Each serving also contains 40 calories more than the original, measuring 170 calories. These larger values help keep you feeling fuller after a serving and give you more energy to work through during a work out.
In theory, these changes were developed to help maximize your gains in the gym. So why has there been so much negative feedback on something that was supposed to be beneficial? The answer lies in the fact that these changes drastically change the way the formula tastes. So what was once one of the better tasting protein powders has now become one of the hardest to down. Of course, I'll discuss more of that a little later.
High-Quality Protein from Two Potent Sources
One of the biggest misconceptions people have about protein powders is that the more protein sources it has listed on the labels, the more effective it will be in the gym. As with most other nutritional sources, it's better to look for quality rather than quantity when considering proteins.
With that in mind, I have to admit that Pure Protein does have a bit of an advantage. This becomes more obvious when compared to other formulations. The protein sources for this specific powder are ultrafiltered protein concentrate and microfiltered protein isolate. These proteins were put through specific processes that refine their protein content and remove a larger chunk of unnecessary components. Ultimately, this gives you a more potent protein source.
To put all the scientific mumbo jumbo in layman's terms, Pure Protein put their concentrate and isolate through filtration processes that emphasize their bioactive peptides. By doing this, it offers proteins in their rawest, most potent form. In your body, this translates to more efficient metabolism and better results in the gym.
Now, while this powder has turned into something of a flop for most of those who have used it in the past, it can be a decent choice for someone who wants the benefits of an efficient formula and doesn't mind the unpalatable taste and texture.
Drastic Flavor and Feel Downgrade
Protein powders that contain more carbohydrates and cholesterols usually taste a lot better than their leaner counterparts. So it came as a surprise to find the new version of Pure Protein to taste so strange. The flavor is bitter and tastes almost artificial. Then, once you manage to glug it down, an unpalatable aftertaste hits the back of your throat. Unfortunately, it tends to stick around even after washing it away with water.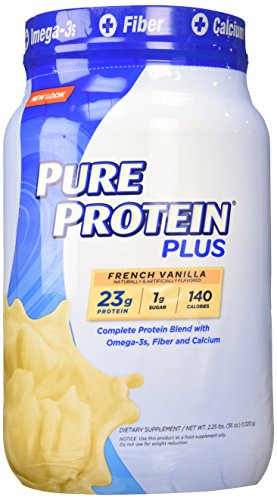 I also want to mention that there are only two flavors to choose from. These are – predictably – chocolate and vanilla. Personally, I felt that the selection was really uninspired. Plus, there are brands out there like Optimum Nutrition that are serving out-of-this-world flavors in up to 24 varieties.
Texture-wise, the powder isn't so great either. The graininess of the shake after preparing a serving in a shaker leaves a lot to be desired. Most buyers felt that it was a lot easier to consume when prepared in a blender to effectively get rid of any clumps.
The sudden change in taste and texture can be attributed to the fact that the formulation was redesigned to contain more artificial sweeteners. These sugars don't only bump up carbohydrates but also react with other ingredients in the mix to create unpalatable aftertastes. So what you end up with is a beefier, denser nutritional profile but a grittier, thicker sludge-like texture.
Falling Short with BCAAs
Branched chain amino acids are molecular structures that help metabolize proteins. Essentially, without your BCAAs, none of the proteins you consume will be processed by your body. Unfortunately, while Pure Protein offers proteins in ultrafiltered and microfiltered form (which basically makes them easier to metabolize), it doesn't have the BCAA content to help make the most of its potent proteins.
With formulations like these, I find it best to use a BCAA supplement to bridge the gap. So if you're considering using Pure Protein for its potent protein formula, you might want to supplement it. Products like Evlution Nutrition BCAA Energy can be a suitable choice, especially because it's a highly sought after in the BCAA supplement market.
Otherwise, I would recommend you check out protein powders that come with their own BCAAs to curb the need for an extra supplement. For instance, Syntha-6 contains 22 grams of protein in each serving along with 10 grams of BCAAs.
Better for Your Budget
Probably the only other thing Pure Protein has going for it aside from its potent protein content is the fact that it comes at a very reasonable price point. Compared to other brands in the market, Pure Protein can cost just half the price of other well-known choices. This is why lots of buyers still choose to patronize Pure Protein despite its unpalatable taste.
I do want you to consider though that each scoop is marginally bigger than other suggested scoop sizes for known protein powder brands. For the purpose of comparison, I've put together this short table on scoop size across the board:
| | |
| --- | --- |
| Brand Name | Scoop Size |
| Pure Protein | 39 grams |
| Rule 1 | 30.1 grams |
| Optimum Nutrition | 30.4 grams |
| Isopure | 31 grams |
| MusclePharm | 35 grams |
With that, it's much easier to finish up a tub of Pure Protein compared to its competitors because of the larger scoop size. So when you crunch all the numbers, you are buying something that seems much cheaper up front. But because you need to use more with each serving, you might end up having to repurchase sooner than you would with other brands.
Regardless of all these details though, Pure Protein still is the most affordable if we're talking about the actual cost. So for those working within a tight budget, the easier price tag might make this particular protein blend seem like a better choice.
Keep in mind though that to make the most of the proteins in the formula, you might need to purchase a separate BCAA supplement. When you do the math, you might as well purchase a more expensive powder with the BCAAs already in it.
Pros of Pure Protein Powder
Potent protein sources give you raw proteins that are easier to metabolize.
Beefy protein content at 25 grams provides excellent results after work outs.
Wallet-friendly price point makes it a suitable option for buyers on a budget.
Some Glaring Downsides
Unimpressive BCAA content might require the use of an extra supplement.
Taste and texture leave a lot to be desired.
Not enough flavour choices, giving buyers only two options.
Each scoop is significantly larger than conventional scoop sizes used by competitors.
Doesn't mix too easily when manually prepared, calling for the use of a blender for a more pleasant mouth feel.
The Verdict
Can I recommend the latest version of Pure Protein? Unfortunately not. The changes made by the company, although potentially promising on paper, didn't translate so well for the actual product. With a nutritional profile that's not anything to be surprised about, Pure Protein just sort of falls short of all aspects. When you consider the fact that there are better alternatives with denser nutritional profiles and better taste, it's hard to see Pure Protein as something that's worth buying.
Of course, there is still a market for Pure Protein. Personally, I think the powder would make a suitable choice for those who are in search of something with high-quality proteins. Sure, you might need to invest in a BCAA supplement. But if you have extra to spare and you don't mind the taste, then Pure Protein just might work out for you.