by
Muscle Tech's Phase 8 Protein Powder is a high quality powder that packs in some unique ingredients, tastes great and mixes well. In this review, we'll go in detail on the ingredients, effectiveness and usability of this popular product. We'll also compare 2 market competitors.
Muscletech Phase 8 Protein Powder is a good protein powder. It tastes great, mixes well and includes added BCAAs and glutamine. The reason that it is not a great protein powder is that it includes too many types of protein powder. When it comes to protein powder variations in a blend, more is not necessarily better. What you really want is a product that contains two types – whey protein isolate and whey protein hydrolysate. Phase 8 includes 7 types of protein, which is far too many. However, the 8 hour times release feature is a real bonus.
Our preferred product is Hydro Whey 100 by TDK Nutrition. This newcomer is 100% whey protein hydrolysate and contains no fillers, additives or preservatives.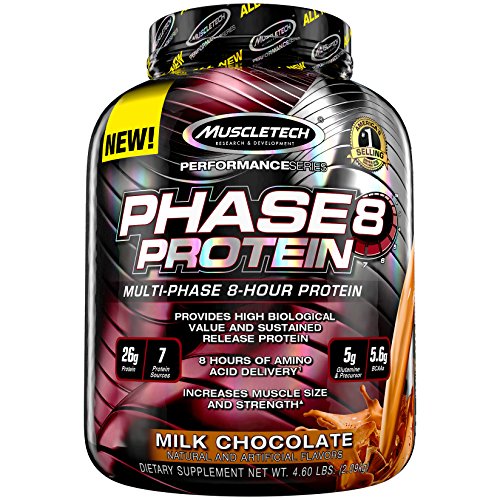 Pros
4.6 grams BCAAS
Extended release formula
Glutamine
Great tasting
Cons
High sodium
7 grams carbs
Features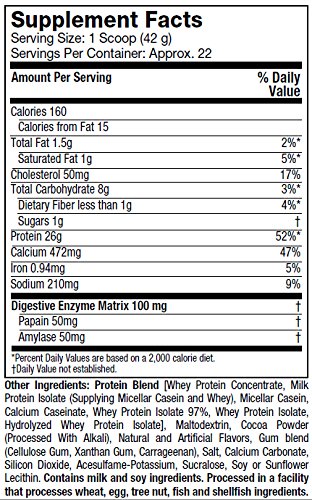 8 Hour Sustained Release
Long lasting: Phase 8 Protein will feed your muscles for a total of eight hours after you consume the product. This is thanks to the blend of seven different types of protein that go to make up the powder, which provides different rates of amino acid release into the bloodstream. This provides you with a sustained release of amino acids to feed and rebuild your muscle tissue all day long. You can also use Phase 8 as a great nightcap protein shake. Doing so, will provide a sustained release of amino acids throughout the night.
7 Protein  Sources
Phase 8 contains seven different types of protein that are combined to make up the powder. These are:
97% whey protein isolate
Hydrolized whey protein isolate
Whey protein isolate
Whey protein concentrate
Milk protein concentrate
Calcium caseinate
Micellar caseinate
It is this blend of seven types of protein powder that are the biggest selling point of this product – it's what gives it its name. However, the reality is that whey protein isolate is  the best form of protein. It is free of lactose and fat and breaks down in the body into amino acids faster than any other type. However, it is also the most expensive type. Therefore, it is no surprise that Muscletech would dilute it with these other brands. The addition of the other variations means that there will be some lactose in this product, so people who are lactose intolerant may have some problems with digestion.
MuscleTech does not disclose the percentage breakdown of the different types of protein, which would be very nice to know!
BCAAs
Each serving of MuscleTech Phase 8 Protein powder gives you 4.6 grams of branch chain amino acids. BCAAs are the key amino acids for muscle growth. They consist of valine, iso-leucine and leucine. The most important of the three is leucine, which is dosed in twice the amount that valine and iso-leucine come in. This is the ideal ratio for muscle growth.
Glutamine
Glutamine is the most abundant amino acid in the body and the one that gets most used up when you work out with weights. You get 2.2 grams of glutamine with each serving of Phase 8 Protein powder. This is a little on the low side (4 grams would have been much better). However, it will help you to recover and repair muscle tissue after your workout.
Fats, Sugars & Carbs
MuscleTech Phase 8 contains just 2 calories of fat per serving. It also contains absolutely no sugar. However, at 7 carbs per serving, the level is quite high. If you're on a keto diet then you may want to avoid this. At 5 mg per serving, cholesterol is very low. However, the sodium content, at 120 grams, is very high.
Effectiveness
MuscleTech Phase 8 protein powder will do the job that you need it to do, which is to infuse your body with quality amino acids so that it can rebuild your muscle cells. You get 26 grams of protein per serve, which puts it about the mid-range level in terms of protein powders on the market. The addition of almost five grams of BCAAs and 2.2 grams of glutamine make this a potent post-workout replenisher for your muscle cells.
Taste
MuscleTech Phase 8 has a great taste. It comes in the following four flavors:
Cookies 'n Cream
Milk Chocolate
Strawberry
Vanilla
You will enjoy each of these flavors. However, one of the reasons that they taste so good is because of the high level of sodium in the product. There is 120 mg of sodium per serving. This is a relatively high level. In the end, it comes down to whether you are happy to ingest a higher level of sodium in order to enjoy the great taste or want to look for an alternative product that is not so tantalizing for the taste buds but has a lower sodium count.
Mixability
MuscleTech Phase 8 Protein powder has very good mixability. You will be able to blend it effectively in everything from a blender, to a shaker bottle and even if you have to, a fork in a glass. There is no issue with residue at the bottom of your shaker bottle or the powder clumping together.
You may find the fineness of the powder, which is one reason why it mixes so well, is a bit of a hassle. Some reviewers have mentioned that it is so fine that it tends to get quite messy and stick to everything.
The Bottom Line
MuscleTech Phase 8 Protein powder's biggest selling point is its ability to provide a slow release of amino acids over an extended period of 8 hours. This makes it a good choice as a nighttime protein power. However, the reliance on 7 different types of protein, along with the fact that the breakdown of those types is not provided, can also be problematic. It would be better in terms of pure effectiveness to stick with whey protein isolate. The taste and mixability are great but are countered by a high sodium level and a fineness to the powder which can make it difficult to deal with.
MuscleTech Phase 8 Competitors
BSN Syntha 6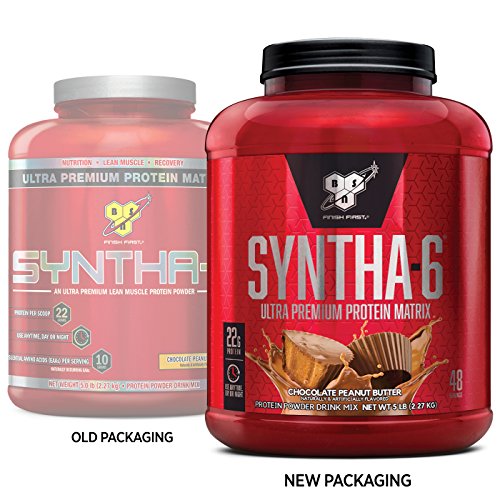 BSN Syntha 6 provides you with 22 grams of protein per serve, which is a little less than you get with Phase 8 from MuscleTech. Just like Phase 8, this is a sustained release protein product, to give you an ongoing supply of amino acids throughout your day. It combines six different types of protein, including whey isolate, calcium caseinate, micellar caseinate, egg albumin and milk protein isolate. As with Phase 8, there is no breakdown of the ratios of each of these protein types.
Syntha has a great taste and mixes just as well as Phase 8. It is available in at least ten great flavors. Unlike manner other proteins on the market, the flavors actually taste like the name that has been given to them.
On the downside, BSNA Syntha 6 contains a high carb count at 15 grams. This is more than twice the amount of carbs that you get in a serving of MuscleTech Phase 8. That essentially rules this product out if you are going the low carb route. It also does not include glutamine. However, there are 5 grams of fiber in every serving.
Weighing everything up, we would go for MuscleTech Phase 8 over BSN Syntha 6.
Hydro Whey 100
TDK Nutrition's Hydro Whey 100 is a newcomer to the market, so you may not have come across it before. However, don't let that stop you from checking out what it has got to offer, for this is a quality protein powder.
Unlike the previous two products we've reviewed on this page, Hydro Whey 100 uses one protein type exclusively. That protein type is whey hydrolysate. That immediately puts it at an advantage. It makes this product the first one on the entire market to exclusively use whey hydrolsyate, with no amino acid spiking, artificial preservatives, creamers or fillers. This is a big deal because hydrolysate just happens to be the purest form of whey protein that there is.
Whey protein isolate is around 90% pure protein. When isolate undergoes the process of enzymatic hydrolisis it becomes whey protein hydrolysate. As a result, the protein particles become much smaller, finer and easier to absorb. Included in the Hydro Whey 100 protein blend is a hugely impressive 12.4 grams of essential amino acids. To put that in perspective it is about double the amount that you would find in most other protein powders that are on the market.
But it gets even better – Hydro Whey 100 also contains 6 grams of branch chain amino acids – which is also about double the number you'll find on most products. It is also more than a gram more than you get with Phase 8 from MuscleTech.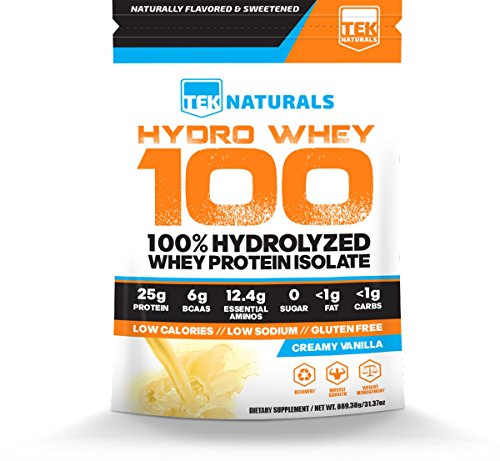 Just as impressive as what is in Hydro Whey 100 is what is not included. There are absolutely no flavor enhancers, fillers or additives. That means that you get zero fats, zero sugars and less than one gram of carbs. That also makes this newcomer stand out from the crowd!
Because it doesn't contain the added sodium or fillers that others do, the taste of HydroWhey is never going to be able to compete with the likes of BSN Syntha 6 or MuscleTech Phase 8. That being said, it still gives a decent taste and mixes quite well. At the end of the day, you are taking your protein powder for its muscle-enhancing ability and not its taste. That being the case, Hydro Whey certainly makes a lot of sense.
This is a great protein powder that is set to a make a lot of waves on the protein powder market. Discover it before everybody else does.