by
The BeachBody Performance Energize is a pre-workout formula produced by the BeachBody Corporation. They're the people behind the insanely popular P-90X and Insanity workout programs. Now, there are a lot of programs out there that sell their own line of supplements at ridiculously inflated prices and with inferior ingredients.
BeachBody Performance Energize definitely comes into the category of an overpriced underperforming branded product. It is very expensive, yet contains a very basic ingredient profile with nothing that will give you that training kick that you're after. As a result, the energy result is minimal. The only thing that it has going for it is a great taste, but that's not why you're buying it.
We suggest that you consider:  Cellucor C4 Ripped as an alternative to BeachBody Performance Energize. Cellucor C4 Ripped contains 50% more caffeine, 100% more beta alanine and it also includes AKG Arginine to allow you to train harder for longer.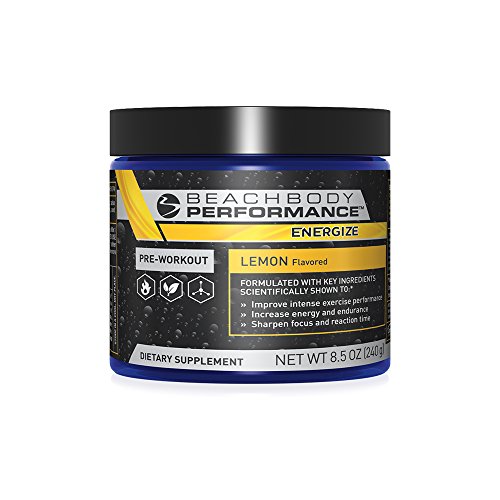 Beach Body Performance Energize
Pros:
Contains beta alanine
Contains caffeine
No artificial flavors
Contains electrolytes
Cons:
Expensive
Underdosed on all ingredients
Features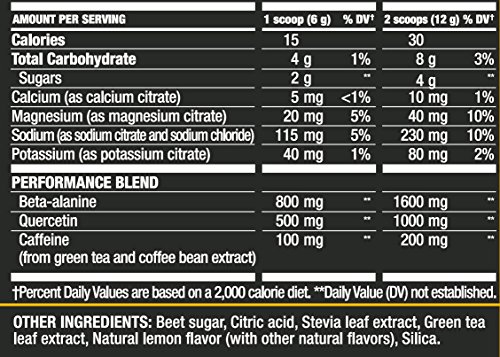 Beach Body Performance Energize is a pre-workout formula specifically geared toward women. It contains no artificial flavors or colorings and each scoop delivers 15 calories and 4 grams of carbohydrate (2 of which are sugar).
There are only three main ingredients in this product:
Caffeine (100 mg)
Beta Alanine (800 mg)
Quercetin (500 mg)
Other ingredients are natural flavorings such as beet sugar, citric acid and stevia. Also included is the anti-caking agent silica.
It is clear from the start that the three key ingredients in this product are all severely under-dosed. When you consider that your average cup of coffee contains 150 mg of caffeine, it becomes obvious that a dose of just 100 mg is hardly enough to give you any appreciable training effect. The dosage that is generally recommended for a solid workout effect is between 250 and 350 mg, so we can see that the caffeine level in this product simply doesn't cut it.
The same thing goes with beta alanine. Energize provides 800 mg per dose. Yet, the accepted level in effective pre-workout is 1.6 to 2.5 grams . The small amount provided will not create the vaso-dilation of the blood vessels that is intended to induce a pump and fast track nutrients and oxygen to the working muscle group.
The final ingredient in Energize many not be familiar to the majority of readers. It is quercetin. This is a bioflavonoid which is commonly found in onions and apples. Quercetin is regarded as a powerful antioxidant, so we can only guess that it has been added to offset oxidative stress from exercise. Studies have also demonstrated that when combined with caffeine, quercetin can also increase time to exhaustion during exercise. The problem with this, however, is that the amount of caffeine needed for this effect was considerably higher than that found in Energize.
Overall the ingredient profile in this product was underwhelming. It also contains the minerals calcium, magnesium, sodium and potassium. The combination of magnesium and sodium may combine to improve your training focus slightly.
The BeachBody people recommend that if you weigh more than 160 pounds, then you take two scoops each time. This would double your dosages to 200 grams of caffeine, which is still not enough for a decent training boost and 1600 mg of beta-alanine, which is on the borderline of the accepted lower limit.
If you were to take the doubled up amount, you would find that your 40 dose carton of Energize would be gone in just twenty days and would make the per dosage cost of the product very high.
The taste of Energize is pretty good. It comes in a lemon flavor, which is neither too sour nor too sweet.
The Bottom Line
Beach Body Performance Energize is not a very good pre-workout formula. It contains only three ingredients, each of which is not sufficiently dosed to provide any substantial training effect. On top of that, the product is very expensive. We do NOT recommend purchasing this pre-workout formula.
Beach Body Performance Energize Alternatives
Cellucor C4 Ripped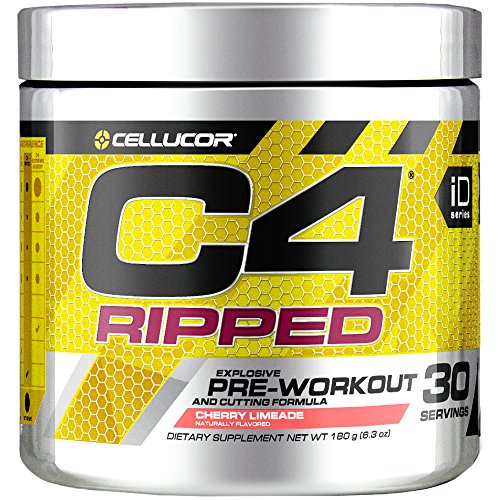 Pros:
Energy enhancer
Thermogenic effect
Enhanced training pump
Cons:
May produce a slight tingly sensation
Quite expensive
Cellucor's Cellucor C4 Ripped is a pre-workout and fat loss powder combined that has been on the market for sometime and developed a reputation for being an effective workout booster.  Unlike many successful pre-workouts on the market, there is no creatine in this product.
Cellucor C4 Ripped is made up of a proprietary blend of the following ingredients . . .
L-Carnitine
 Green Coffee Bean Extract
 Cayenne Fruit Extract
 Coleus Forksohlii Root Extract
These ingredients provide you with the following compounds in every serving:
Beta-alanine – 1.6 grams
Caffeine – 150 mg
Arginine AKG – 1 gram
The caffeine in this product is dosed at a 50% higher rate than that in BeachBody's Energize, providing a greater energy kick. Still, this is only about the same amount as you would get in a cup of coffee. You also get twice the amount of beta-alanine as in Energize. With this amount you should feel a slight tingly sensation on your lips when you take the product. This is a sign that the beta alanine is kicking in.
Arginine AKG is an energy enhancer. It is not in Energize and its addition here will allow you to train harder for longer.
The manufacturer of Cellucor recommends that it be taken about 30 minutes prior to your workout for the best training effect. Beginners should start by taking one scoop and then advance to the recommended dosage of two scoops once they have gotten used to it. At two scoops, a person would be getting 300 mg of caffeine and 3.2 g of beta-alanine, which is an ideal amount to bring on an enhanced training effect without incurring a post workout training crash.
However, some online reviewers have mentioned that the doubled up dosage makes them a little too unnaturally wired. If this is the case for you, cut it back to 1.5 scoops.
We recommend Cellucor C4 Ripped as a more potent alternative to BeachBody Performance Energize. Cellucor C4 is more dosed in its key ingredients, is more cost-effective and contain added AKG for extra training endurance.
Define8 from Muscle Werks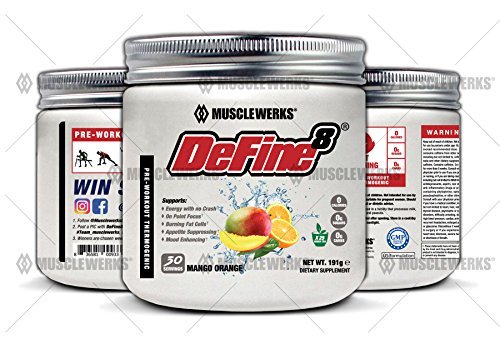 Pros:
Crash free energy boost
More sustained energy
Improves focus
Appetite suppressant
Cons:
Contains dandelion extract which may act as a diuretic
The thermogenicDeFine8 is a pre-workout designed to increase core body temperature while providing a training energy boost with the addition of mild stimulants to the system. This product delivers a noticeable boost by way of a smooth flow of energy. Unlike many other stimulant based pre-workouts, Define8 will not leave you with an energy crash half way through your workout.
There are no calories, carbohydrates or sugars in this product. This compares to BeachBody performance Energize which contains 4 grams of carbs and two of sugar in each dose (8 and 4 respectively if you follow the BeachBody recommendation to take two scoops of the product).
In each scoop of Define8 you get the equivalent nutrient profile as you would be drinking 25 cups of green tea. This makes the product a potent fat burner as well as an energy enhancer
Each scoop of Define8 contains 80 mg of Vitamin B6, 500 mg of B12 and a 1545 mg of a proprietary blend made up of the following:
Green Tea Extract
Coriander extract
Bittermelon extract
Caffeine anhydrous
Cocoa extract
We are not very happy about the proprietary blend as there is no way of knowing how much of each component ingredient it contains, which is less than ideal. We do know that the caffeine that is used in Define8 is sourced from the guarana plant. This is a type of caffeine that has a lower than normal release into the bloodstream. Guarana is also widely recognized as an appetite suppressant.
DeFine8 is available in 10 tasty flavors. It mixes well and absorbs quickly.
ThermoPre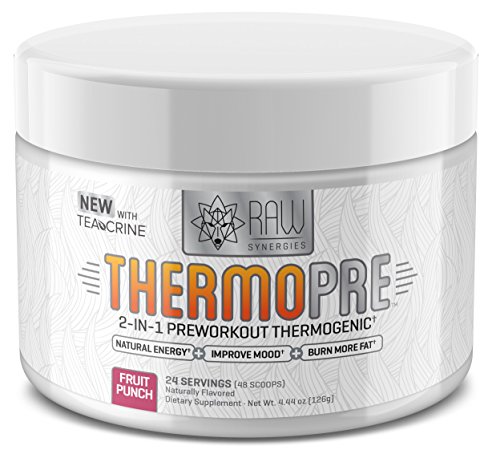 2-in-1 pre-workoutThermoPre is a thermogenic fat loss combined with a strong pre-workout component built into it. It is, therefore, classified as a 2-in-1 pre-workout. There are absolutely no artificial sweeteners, dyes or hyper stimulants in this product.
Here is what you will find in ThermoPre:
Organic Stevia Leaf Extract
Citric Acid
Sicila
Beet Root
Ashwagandha
Coffee arabica bean
Yerba Mate
Beta Alanine
 Acetyl-L-Carnitine
This is a powerful blend which combines synergistically to boost the metabolism and safely and naturally provide an energy boost without the dangers of that post-workout crash that comes with heavy stimulants.
There is also a nootropic aspect to some of the ingredients in ThermoPre. They effectively help to focus your attention so that you can zoom in on your workout.
The only identified side effect of ThermoPre comes to some people as a result of the beta-alanine content. It is evidenced by itching of the extremities.
The caffeine in this product is derived from the Coffee Arabica bean, providing a slow natural release of clean energy to the body. Because it uses all natural flavorings, the taste of this pre-workout is not going to be as good as other products that make use of artificial flavorings and sugars.
ThermoPre is an effective dual-purpose product that will deliver a clean, natural energy boost while also boosting the metabolism to speed up your fat burn.
Conclusion
Beach Body Performance Energize is one more example of a product that is branded to a popular workout program that fails to deliver. It is underdosed and overpriced and, as a result, not a product that we can recommend.
Our preferred alternative to Energize is Cellucor C4 Ripped, which provides you with double the amount of beta-alanine and 50% more caffeine to deliver the enhanced training effect that you are looking for in a pre-workout.