Despite having been in the market for two and a half decades, it seems Designer Whey needs to go back to the drawing board. Long hours of research have led me to conclude that although it does offer a pretty solid kick in terms of protein, Designer Whey's taste may very well be bad enough to make buyers think twice about a repeat order.
Personally, I think if you're looking for all natural whey without the flavor issues, Bodylogix is a better choice. Their Natural Grass-Fed Whey Protein Powder in Decadent Chocolate is a major crowd pleaser. Plus, nutritional profile wise, it's really not too shabby.
In terms of nutritional value and amino acid profile, there's really no complaining. The product offers a similar formulation when compared to its competitors in the market. But with a taste that's often considered too foul to push down, I find it difficult to recommend the product. This is especially true because there are many other formulations available that provide just about the same benefits without causing users to flinch when downing a serving.
If you were thinking about buying a tub of Designer Whey Protein Powder, take some time to read my take on why it may or may not be the best pick for you.
A Standard Nutritional Profile
One thing I can say about Designer Whey is that its overall nutritional profile isn't anything surprising. Despite this though, it does get the job done.
Each serving of the protein powder contains 110 calories, which falls right smack in the middle of industry standard. For the purpose of reference, popular choices like Gold Standard contain between 120 and 140 calories. Then there are powders from Isopure that contain just 100 calories per serving.
Designer Whey also contains slightly more sodium and significantly more cholesterol. Each serving accounts for 18% of your recommended daily intake (RDI) of cholesterol. Another point I want to bring to light is the fact that this particular protein powder contains a substantial amount of saturated fat. At 5% of your RDI per serving, the saturated fat in the blend proves to be far more than other animal-based whey protein powders.
The inclusion of saturated fat seems to be common with natural whey protein powders. Choices like Natural Force, Bodylogix, and the ever famous Naked Why which all contain natural whey proteins supply anywhere between 3 and 5% of the RDI for saturated fat.
If you're keen on trimming down your fat consumption, choosing alternatives like Isopure or Ultimate Nutrition's ISO Sensation 93 might be a better purchase.
When it comes to the amino acid profile offered by Designer Whey, there's not much to pick at. The formulation offers a complete list of essential amino acids needed to break down proteins and turn them into usable energy.
Probably the most notable aspect in my book is the presence of 3 grams of dietary fiber. With each serving accounting for 12% of your RDI for dietary fiber, the blend is least likely to cause any sort of stomach upset.
A Blend of Natural Whey-Based Proteins
Designer Whey gets its edge from the fact that it only uses natural, whey-based protein in its formulation. Basically, this means that the whey used in the blend is organic and free from artificial growth hormones, GMOs, and additives that could dampen the benefits of the protein.
Each serving of Designer Whey Protein Powder contains a substantial 20 grams of protein. Sure, it's still not quite as impressive as ISO Sensation 93's 30 grams of protein per.
But if we're talking about the biological value that Designer offers, a smaller amount of the 20 grams relative to its total will be lost through heat production. So you still get a pretty solid kick despite it offering comparatively smaller protein content. This is mostly thanks to the quality of the protein all together.
I also want to mention how the blend is packed with a substantial amount of BCAAs and all 8 essential amino acids. This means the formulation provides you with the enzymes your body needs to properly convert protein supplies to usable energy reserves. So you can be sure that when you take a serving, you give your body what it requires in order to process as much protein as possible.
Taste and Texture That's Less Than Ideal
To say that Designer Protein's taste and texture is a little hard on the palate might be an understatement. Reading through user reviews, the blend's flavor is the most common complaint that people have with the product. In fact, most comments on the taste and texture are pretty livid. So I dug a little deeper to find out just how bad it might be.
According to a large percentage of users, the protein powder tends to have a non-edible taste to it. Some describe it as having an aftertaste similar to metal, dirt, or even medicine. This sort of renders the low calorie count pointless as you'd have to add quite a number of other ingredients to mask the unpleasant flavor.
In terms of the powder's texture, the comments don't seem to improve. A large number of those who have tried the product claim that the powder tends to clump too much. Even with vigorous shaking and mixing, the powder clings to the walls of your glass, tumbler, and even your blender.
The mouth feel of the blend is grainy and chalky, leaving a slight film over the teeth. The feeling stays for quite a while and can be uncomfortable even long after you consume the drink. For the most part, the powder seems better suited for baking. But if you were planning to enjoy a quick punch of protein before or after a workout, going through the tedious process of baking might seem counterintuitive.
Designer Protein comes in Chocolate Mocha, Double Chocolate, French Vanilla, Gourmet Chocolate, Purely Unflavored, Summer Strawberry, Vanilla Almond, and Vanilla Coconut. For the most part, buyers claim that the Double Chocolate and Gourmet Chocolate are the most workable flavors despite having some aftertaste.
A Protein Blend for Everyone
Designer Potein comes in a variety of other blends. The company developed these to meet the needs and standards of any type of gym buff. So aside from thee Designer Whey 100% Natural Protein Powder, you can find options like Lite Protein, Sustained Energy, Aria Women's Wellness Protein, Advanced, and Essential 10 Protein.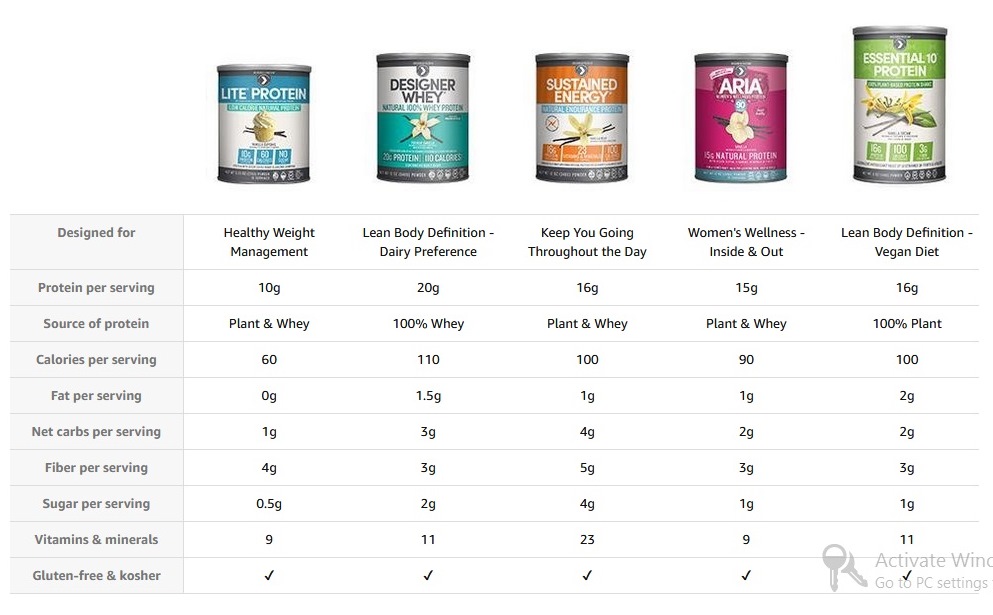 The main differences between the blends include their protein combinations and the mechanism by which they work. Choices like the Lite Protein are geared towards weight loss. Designer Whey Advanced on the other hand is more suitable for building bulk. They also offer slightly varied nutritional profiles, so some choices might suit your fitness goals better than others.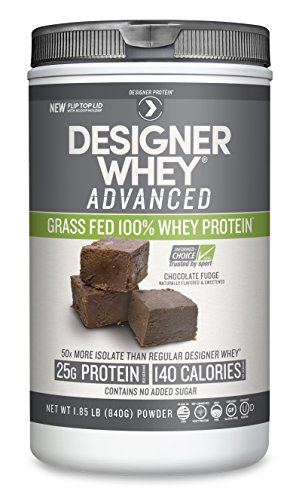 Across the board though, taste and texture still seem to be an issue. In fact, many users agree that variations that contain plant-based proteins taste even more unpalatable than the original blend. Despite that, they still all work pretty well given the fact that they contain less protein compared to other powders available.
Pros of Designer Whey Protein Powder
Substantial amount of dietary fiber not commonly seen in protein powders.
Comes in a variety of protein blends, including purely whey, purely plant-based, and combination formulations to meet every user's needs.
Complete amino acid profile and copious amounts of BCAAs guarantee proper metabolism of consumed proteins.
Industry standard nutritional profile competes with other protein powders on the market.
Low calorie count, making it ideal for those who want to lose weight on top of building muscle.
A variety of flavors to choose from, including purely unflavored which enables users to experiment with savory recipes as well.
Free from GMOs, artificial ingredients, and additives which could dampen the efficacy of the product.
Cons of Designer Whey Protein
Taste and texture are substantially subpar. The difficulty of downing a serving could push you to seek other options that are easier on the palate.
Slightly more expensive than other protein powders that offer pretty much the same nutritional benefits.
The Verdict
There really isn't such a thing as a protein powder that doesn't have some sort of taste or texture issue. But I do have to point out that there are lots of other choices. And aside from offering the same nutritional benefits, these choices won't push your taste buds to the limit.
The fact is, it's hard enough to stay faithful to a strict workout and diet routine. And with a protein powder that makes it even more of a challenge, you might find the entire experience more of a chore rather than an enjoyable journey. That said, I would recommend that you check out other choices if you want a protein powder that won't make you wince more than once.
Now, if you're not too touchy about taste, then maybe the Designer Whey blend could be worth a shot. All in all, it does have a pretty impressive composition. So if you can get past the unpleasant flavor and mouth feel, then you could make some substantial gains in the gym with this long-standing protein powder.