by
Coming at a surprisingly low cost, EAS Protein Powder has won quite a strong following in the industry. Their beefy formulation coupled with a price that's way cheaper than most other choices makes EAS Protein extremely attractive to buyers who want to spend as little as possible without having to sacrifice the quality of their powder.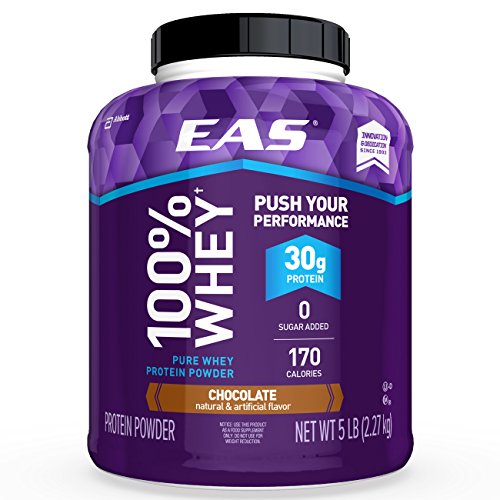 The only question is – is the price tag on EAS Protein Powder too good to be true? I did some digging to find out. And based on what I learned about the EAS formulation, it's definitely worth its suggested retail price. What do I mean by that? While it's not what I would call a steal, it sure isn't a rip off either. So with the price you pay, you get a reasonable formulation that's neither impressive nor disappointing.
Would I recommend EAS Protein Powder? For certain buyers, sure! It would probably make a great pick for those who really don't want to spend too much on a high-end powder. But then again, it also doesn't make such a suitable choice if you're particularly sensitive to formulations that don't provide optimal digestive support.
Want to learn what I found out about EAS Protein Powder? This thorough discussion, review, and guide should get you up to speed.
A Standard Nutritional Profile That Explains the Cost
The first thing I want to make clear if you're thinking about buying EAS Protein Powder is that it doesn't have that stellar nutritional profile that you might see with other choices. Comparing the formulation to those offered by brands like Optimum Nutrition, it's easy to see that EAS Protein Powder kind of lags behind. Nonetheless, its main selling point is its affordable price. So once you let that sink in, it'll be a lot easier to see why it had to cut so many corners in terms of its formulation.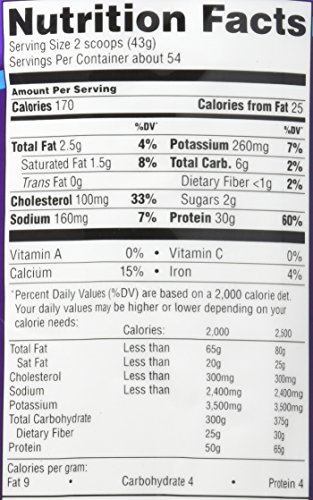 Even then, I wouldn't say that the EAS formula is the worst there is. Offering 30 grams of protein, 7.3 grams of BCAAs, and just 2.5 grams of fat, the formulation doesn't really fall too far behind some of its pricier competitors.
It's important to take note however that a single serving of EAS requires two full scoops of the powder, which is a whopping 43 grams – almost double the value that other brands require. Because of this, EAS also has slightly more calories per serving at 170. Given all these numbers, it's not hard to see that EAS could potentially be effective for certain users. But there are a few flaws that could make or break your decision to purchase.
What Micronutrients?
When people buy a protein powder, they expect that it will provide more than just protein. That is, it's given that these products help improve overall health by providing you a large percentage of the micronutrients that you'll need every day. Micronutrients in protein powders are mainly responsible for optimizing muscle performance and gains, letting you grow mass even while you're out of the gym.
With EAS Protein Powder, it seems that wasn't the goal. In fact, on top of the beefy protein and BCAA content, it's hard to say that the formulation really offers anything else. Taking a closer look at the nutritional label, you'll find that there are very little micronutrients, if any at all.
With just iron and calcium, it's hard to say that EAS Protein Powder is a holistic solution for fitness. So if you were looking for a product that could supplement your diet, you'd be better off looking elsewhere.
Based on all the information I've collected on different protein powders, Optimum Nutrition's Gold Standard Whey Protein Powder offers the most complete profile for better health and wellness all around. Then again, if you don't mind purchasing a separate micronutrient supplement to go with your use of EAS, then it might not be such a big downside.
Not for the Weak of Gut
What EAS provides is pure whey concentrate which isn't really known for its ease of absorption. That said, it would have been ideal to have some sort of digestive enzyme in order to help your system digest and metabolize the formulation. These can come in the form of proteases, pepsin, and bromelain, which are explicitly listed in a product's list of ingredients.

This – for me – is actually EAS Protein Powder's biggest downside. Without any sort of digestive enzymes mixed into the powder, it can be difficult for a large number of users to properly digest a serving. So you can expect some churning tummy problems and even untimely bowel movements just shortly after you down a serving.
If your gut is relatively strong though, the lack of digestive enzymes might not be such a big problem. But I do want to point out that the product also contains quite a lot of lactose as a result of its pure whey concentrate formulation. So individuals who are lactose-intolerant might experience significant discomfort when taking this product.
Smooth and Creamy, But Not with Water
Lastly, I want to talk about the mouth feel and flavor of the EAS Protein Powder. I was able to give the chocolate variation a try, and I honestly think it tastes and feels so much better than many other protein powders on the market. Mixing the powder with milk and shaking vigorously can easily get rid of any clumps and lumps, allowing you to enjoy a smooth and creamy drink that, dare I say, might even be a pleasant experience.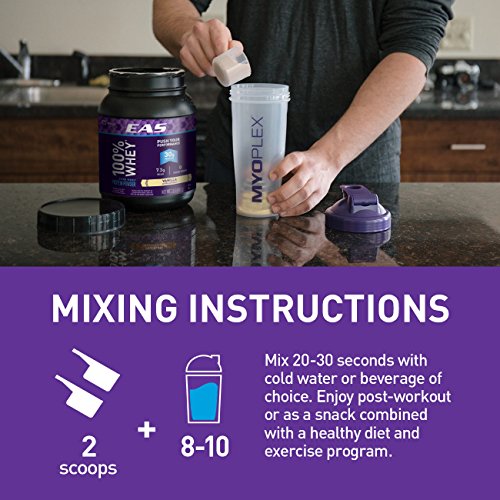 The only problem is that the powder doesn't mix so well with water. Without the thick, creamy density that milk or dairy products offer, water causes a graininess that can feel very strange when it's slithering down your throat. So if I were you, I'd stay away from water and stick with dairy instead.
Of course, I do want to remind you that when you mix any sort of protein powder with milk, you bump up the caloric value of your drink. So what could have originally been 170 calories when mixed with water could easily become 350 calories, especially if you prefer whole milk.
In terms of variety, EAS Protein Powder is available in chocolate, vanilla, and strawberry. Personally, I found the chocolate flavor to be particularly palatable. Strawberry could have also made a good pick if not for its excessive sweetness. Vanilla on the other hand just kind of fell short of expectations. Many complain that it's bland, flat, and grainy which can easily discourage any user from taking another serving.
Pros of the EAS Protein Powder
Affordable cost makes it the best pick for buyers who want a protein-packed fitness supplement that doesn't put too much of a dent on the wallet.
Robust formula contains a substantial amount of protein and BCAAs to support and assist your fitness efforts.
Creamy and easy on the palate, which means it's a lot easier to consume compared to many other protein powders available.
Some Downsides
Doesn't contain any digestive enzymes which means you could suffer from digestive problems like frequent bowel movements or constipation, depending on how your body responds to the formulation.
Lacks any sort of micronutrient content to provide holistic nutrition for users.
Contains quite a lot of calories per serving.
Doesn't mix well with water.
Despite being cheap, may require users to purchase a separate multivitamin supplement to make up for the lack of micronutrients.
The Bottom Line
Is the EAS Protein Powder worth the purchase? If you're really just after the protein, then I can say yes. When it all comes right down to it, EAS does provide quite a substantial amount of protein per serving. So it can help bump up your gains and improve the results you get out of the time you spend in the gym.
Other than that, the formulation is relatively cheap, so you can repurchase the product on a monthly basis without putting too much strain on your wallet in the long run. Plus, taste and texture wise, it really is a good choice.
If you were looking for something a little more complete however, I can't say that EAS will meet your standards. That said, you might be better off checking out Optimum Nutrition's Gold Standard which has come out on top time and time again throughout my reviews. This particular product has seen quite a lot of positive feedback from buyers in the market, and enjoys a lofty seat above its competition for lots of reasons.