I did quite a lot of research to find out more about the Total Gym XLS and whether it truly deserves the hype that it has gotten. After all the digging I've done, it's easy to say that the Total Gym XLS is a home fitness system that I can easily and proudly recommend.
With a guy like Chuck Norris modelling your brand for you, how can you not become one of the most popular home gym equipment manufacturers the world over? But there's a lot more to Total Gym's success than their chosen spokesperson.
As the leading home gym equipment brand, Total Gym offers some of the most advanced and effective home gyms money can buy. And as their current best seller, the Total Gym XLS offers unmatched versatility that very few other home gym systems are capable of providing. Able to accommodate a wide spectrum of ages, weights, and physical capabilities, the XLS is a home fitness system that can be used by anyone and everyone in your family.
Can the Total Gym XLS really make your fitness journey fun and easy? Find out with my thorough review.
Excellent Versatility to Accommodate All Kinds of Users
They say fitness is for everyone, and with the Total Gym XLS, that's not hard to believe. The machine boasts a variety of adjustable settings and features that can make it possible for all types of users to leverage the system.
According to manufactures, users as young as 8 years old can easily start using the XLS. As for weight restrictions, the machine can accommodate users up to 400 pounds which is 50-100 pounds more than what other home gym systems can sustain.
In terms of exercise difficulty, the machine allows even the most inexperienced of beginners to ease their way into a workout that won't make them feel uncomfortable or confused. For instance, you can customize resistance and match it to your own body weight to make the exercises a better fit for your physical capacity.
With 80 exercises that work out all of your muscle groups, the XLS can be used for cardio, strength training, circuit training and stretching. Really, with such a wealth of features, the Total Gym XLS aims to be the only fitness equipment you'll ever need.
Personally, I think the entire machine was well thought out in terms of its capability to adapt to different needs. This is also why I believe it won't end up collecting dust in a storage room or garage because it meets the needs of users, instead of demanding users to step up the pace.
A Few Words on Assembly, Parts, and Warranty
When it comes to assembly, the Total Gym XLS has another advantage over its competitors. Requiring zero assembly, this fitness system comes straight out of the box all put together and ready to go. All you need to do is fold it down and set it up where you want to place it. With so many consumers complaining about the tedious and time consuming process of trying to figure out how other home gym systems come together, this is a definite benefit that improves user friendliness even more.
Because the XLS is so versatile, it does come with a few removable parts. These include a ribbed squat stand, a wing attachment, and leg pull accessories. By attaching or removing these extra parts, you can gain access to a variety of new exercises, further enhancing the versatility of the machine all together.
I do want to mention though that in terms of warranty, the manufacturer only provides 6 months on parts. Personally, I found this to be quite short especially when you consider the fact that many other home gym machines offer anywhere from 2 years to a lifetime of warranty coverage on their parts. The frame on the XLS has a lifetime warranty, though.
A Wealth of Exercises to Suit Anyone's Fitness Goals
From cardio, to strength training, circuit training, and stretching, the Total Gym XLS promises to provide you all you need in order to achieve any and every kind of exercise routine you might have in mind. The machine offers over 80 different exercises that can target various parts of the body. So you can work out all of your muscle groups (or just the ones important to you) with the system's superb versatility.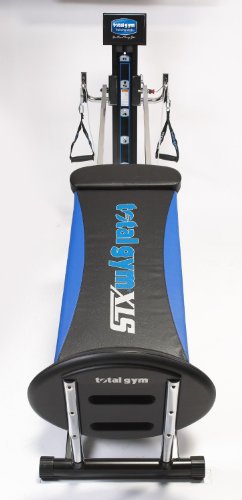 One of the best features on the machine in my opinion is its intuitive resistance adjustment settings. Because not everyone knows their capacity when it comes to resistance intensity, the machine provides users the option to set resistance to meet a specific percentage of their body weight. This way, you won't end up doing more than your body can manage. Plus, this prevents a lot of potential injury from occurring.
If you're not quite sure how to get started on an exercise routine, Total Gym has you covered as well. The machine comes bundled with a variety of supplementary work out material that guides you through the process of establishing a routine that works well for your needs and preferences.
With each purchase of the Total Gym XLS, you get 5 work out DVDs, an exercise chart, a training deck, and a meal planning guide. All of the materials are fairly easy to understand and simple to follow, so you can be sure that you will actually use them for the duration of your fitness journey.
Some Points for Improvement
All in all, it's easy to see that the Total Gym XLS is a machine that's really well put together. But of course, there is no such thing as a flawless home fitness system. So with that, I do want to point out a few areas of possible improvement for this particular design.
Firstly, the machine is heavy. While it doesn't require any assembly, moving it around can be taxing and extremely dangerous if there aren't at least two other people helping you out. Unfortunately, this is the trade-off buyers make if they want something that's assembled straight out of the box.
Unlike other machines that you can put together in the space where you want the machine to stand, the XLS requires moving and carrying the contraption to your desired location. Personally, I think something as simple as the addition of two heavy duty wheels could have easily rectified the issue.
That said, I also don't think the XLS is very compact. The machine requires quite a large footprint at 19 x 90 inches when set up. When folded, the machine takes up 19 x 50 inches, which I think is still pretty big. So unless you plan to put it in a relatively large room, you might not have a lot of space to move around. And if you have that much space, you might want one of the best home gyms like Bowflex.
The Total Gym XLS' Value for Money
Finally, I do want to mention the system's full price. At nearly $ 2,000 USD, the list price for this thing is pretty insane. Fortunately, the brand frequently offers the XLS at a discounted price at more than 50%, so it becomes a whole lot easier on the wallet. They also offer really easy, zero interest instalment plans for people who buy straight from the manufacturer.
If you're thinking of buying the machine at full price, I want to point out that there are a lot of decent home gym machines out there that won't cost as much but will still provide you the work out you want or need. With that, I really don't think buying the XLS at full price will maximize your money's worth – especially when the manufacturer regularly offers price slashes every so often.
Pros of the Total Gym XLS
Extremely versatile, allowing anyone and everyone in your family to start their own fitness journey.
Allows up to 80 different exercises that target different muscle groups.
Capable of cardio, weight training, circuit training, and stretching.
No-assembly design lets you get started on your workout as soon as you unpack.
Comes with a variety of supplementary work out material that can help you discover the right routine for your needs.
Has a weight capacity of up to 400 pounds, which is significantly greater than other similar machines on the market.
Cons of the Total Gym XLS
Warranty on parts is pretty short at just 6 months.
List price for the machine is pretty steep, so best be sure to purchase during sale season.
The Bottom Line
There is no such thing as the perfect home gym system because everyone has their own preferences and needs. But with everything the Total Gym XLS has to offer, I'd have to say it comes pretty close.
Versatile, effective, and simple, the XLS makes those demanding workouts seem easy and doable. The machine focuses more on users by providing a wealth of work out and exercise options that cater to anyone and everyone who might want to start a fitness journey. With that, the system effectively encourages users to hop on, instead of scaring them away with complicated and demanding exercises that don't meet their level of capability.
So – is the XLS the ultimate universal home gym? I say absolutely. Is it worth the purchase? Definitely – as long as it's on sale.