If you suffer from low back pain, or have tight shoulders and want stretch the front of your body, consider using a yoga wheel.
Looking for the best yoga wheels?  I have constructed a list of the eight best yoga wheels on the market. They have been ranked according to quality, price, and durability.
The 8 Best Yoga Wheels
Yoga Wheel by Rise Fit
The Dharma Yoga Prop Wheel makes the top of the list because it is affordable and made to support up to 1000 pounds, so it is very durable.
It is considered the strongest yoga wheel on the market. It has been constructed with a strong inner tube that ensures you roll over it easily, but it will not break down after repeated uses.
It does provide some cushioning for your joints, but also has gripping to help the wheel maintain its shape.
The gripping does make it a little less soft for support, but as you continue to use it, your body adjusts.  It comes with a complementary pose guide for beginners, which includes contact support information. Also included is a 3 year guarantee!
Plus, this wheel won't break the bank, it's incredibly well priced. It comes in a variety of different colors, so you have options.
PROS
Supports up to 1000 lbs.
Affordable
3 year money back guarantee
CONS
Gripping on the wheel may take a little getting used to
Nature's Integrity Yoga Wheel
Here is another yoga wheel that is on the more affordable side.  The Nature's Integrity Yoga Wheel is a non-slip and eco-friendly designed yoga wheel. It features 6MM of thick padding that will support your spine, but also rolls easily for you.
This yoga wheel will support up to 650 lbs, so it's durable and well made.  It is constructed with eco-friendly materials such as TPE foam.
It has a lifetime warranty guarantee,and a no questions asked return policy. You'll have your choice between two colors, so it may be less stylish than other brands.  It also comes with a free PDF E-guide that features 18 different ways to use your yoga wheel.
PROS
Non slip and eco-friendly
Free PDF E-guide with instructions on how to use your wheel
affordable
CONS
UpCircleSeven Yoga Wheel Set
I had to include this one because it comes with three different sizes. There are different benefits to each size of the UpCircleSeven Yoga Wheel.  The biggest size is 12" and it is perfect for beginners to start with to relieve kinks and strains in your muscles. The second biggest size is 10", and it can used under the your low back and hips to provide a sweet massage.
The smallest size is 6" and you can best use it to get into tight spots in your neck, or between your shoulder blades. Also, if you are on the shorter side, the second smallest or smallest size might just be the best option for you to use.
These wheels are more pricey, but then again you get three wheels. They were designed with a dense padding that provides your spine with soft support, but durable enough not to break down after repeated use. You will receive a PDF yoga wheel pose guide with purchase.  It offers four color options.
PROS
3 wheels in different sizes
Dense padding provides support
Durable
CONS
Solofit Double Radian Yoga Wheel
This yoga wheel is unique because it is smaller than the usual circular style making our list of best yoga wheels.  The Solofit Double Radian Yoga Wheel is a doubled radian design, hence its name, and comes in two sizes medium, which is 15×8" or small, which is 10×6", so you can customize your experience.
It is non-slip and has extra padding for more cushioning. As a yoga teacher, I can see how the smaller size could be helpful in postures other than backbends.  Think of it as an assistive yoga prop.
You could stand on it to work on balance, use it under your hands like a yoga block for support, and practice your inversions with it.  Even though it is smaller in size, it still supports up to 550 lbs.
This one is very reasonably priced, so if you are a yogi on a budget, you should check it out. It only comes in one color and design, so it may be less stylish than other yoga wheels.  However, you do get a downloadable PDF user guide.
PROS
Smaller, unique shape
2 sizes available
Multi-purpose uses
CONS
7 Chakras 5 Piece Cork Yoga Wheel Set
The 7 Chakra Yoga Wheel comes with 5 pieces; your yoga wheel, a yoga strap, 2 travel bags all contained in a pretty gift box.
The yoga wheel is made from cork, which is awesome because it is self cleaning, and it is also 6MM thick so it will give you extra support. And this wheel is only 8" high, which can be a bit more gentle on your spine than the full size yoga wheels.
Use this wheel in addition to the included yoga strap to improve flexibility, and help reduce injuries from more intense workouts. The company that makes this yoga wheel offers a full refund if you are not fully satisfied with your purchase.
You will also receive an emailed Exercise Guide Book that has 50 pages of tips and suggestions on how to use your yoga wheel.  You can use this wheel in other formats of exercise too, like pilates or ballet, which is also explained in your eBook.
You have one design to choose from, but it is quite stylish with a cork outer layer and a pretty wood pattern for the inner layer. Plus, you get a lot for your money with this mid priced yoga wheel.
PROS
Made with self cleaning cork
5 piece set includes a yoga strap and two travel bags
Extra cushioning to provide a soft support
CONS
Only one design to choose from
URBNFit Yoga Wheel
Here is a great option to consider because it has been designed to increase your flexibility and range of motion. I love that the URBNFit Yoga Wheel has two sizes to choose from, a full circle wheel or a half circle wheel. You will get a free yoga strap with purchase, which can help you stretch, in addition to the yoga wheel.
I would say the full circle option will help loosen up the front side of your body; shoulders, chest, hip flexors, and quadriceps. The half circle yoga wheel can assist you when working on inversions, or you could use it as a balance challenge under your feet.
You could also use the half circle to target smaller areas on your body, like you neck, shoulder blades or the hamstrings.  It's made of durable and professional grade materials so it will last a long time. As a matter of fact, it comes with a money back guarantee. Both sizes are appropriate to use with other exercise formats too.
The prices on these yoga wheels are affordable (the full circle size is a bit more). It comes with a paper and digital user guide.
PROS
2 sizes available
Multi purpose yoga wheel
Money back guarantee
CONS
Not as stylish as other yoga wheels
Body Wheel Yoga Wheel
The Body Wheel Yoga Wheel is a unique because it is more a combination between a yoga wheel and a physical therapy ball. It is still a wheel in its' shape, but it is softer because it is made entirely of high quality, eco-friendly foam.  This makes it ideal for stretching, and releasing muscle tension.
There are grooves on the side of the wheel that provide grips for your fingers, which will allow you to come into deeper backbends while using this yoga wheel.
This yoga wheel was designed with athletes in mind, so that yogis, gymnasts, crossfitters and the like can use it with recovery in mind. There are two different sizes, the 12" and the 15" wheel.  The 12" wheel is more appropriate for smaller or shorter bodies. The 15" wheel is for taller and bigger bodies.
This one is a bit more expensive, but remember it is made with quality materials to be durable and not break down.
PROS
Two different sizes
Made of high quality, eco-friendly foam to be softer
Finger grips on the sides
CONS
MyYogaWheels Trigger Point Yoga Wheel Reformer
This Trigger Point Yoga Wheel includes 360 trigger points on the wheel, to target muscle tension.
Lay across this yoga wheel to aid in muscles recovery after an intense workout. Consider this one a combination between a foam roller and a yoga wheel.  Use this one to help you stretch before or after an intense workout.
This yoga wheel was designed specifically to fit between your shoulder blades. There is only one design, but it is quite stylish, with black foam on the outside of the wheel and a wood pattern on the inside.
This is not a budget friendly yoga wheel, but it has been made to last, and is quite durable.
PROS
360 trigger points target muscle tension
A combination of a yoga wheel and foam roller
Designed to fit your body
CONS
Why Use A Yoga Wheel?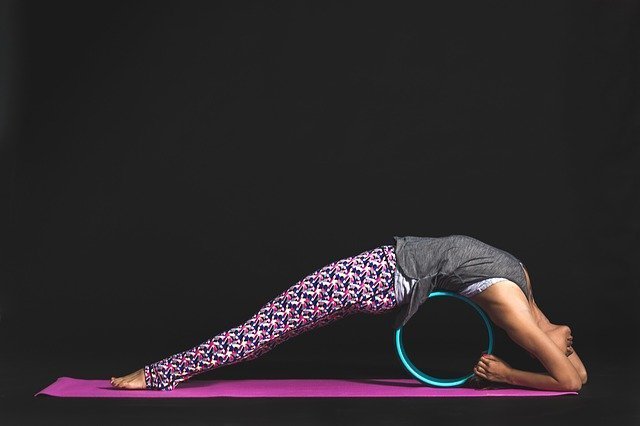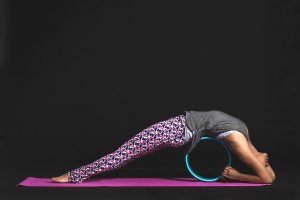 A yoga wheel is a circular shaped prop that can be placed to the entire length of your spine, and as you lay across it you get an immediate stretch to the front side of your body.
At first glance, you may wonder why this fantastic prop is necessary, as it sure does not look comfortable. But if you consider how our modern life is designed to have our shoulders and chest hunched over devices all day long (computer, phone, iPad, etc.) the best yoga wheels works as the ultimate heart opener!
You can use it to deepen advanced yoga postures, but you don't even have to practice yoga to use one! While using a yoga wheel, you will get an opening to your hip flexors, chest, shoulders, and abdomen. It massages your spine deeply, but keeps you in safe alignment. It really works fantastically to relive any back pain you may have.
Make sure you have a supportive yoga mat to use with your wheel.
3 Fun Ways to Use a Yoga Wheel
1. Supported Fish Pose
Lay the entire length of your spine across the yoga wheel.  Make sure to rest your neck on the wheel so it doesn't strain.  Extend your legs long and drape your arms open to the side, with the palms of your hands facing the ceiling.  Enjoy a nice opening to the chest, front of shoulders and collarbones. Hold for at least 30 sec or up to 3 minutes.
2. Supported Child's Pose
Start in a table top position (hands and knees) and bring your big toes together while you separate your knees to hip width apart.  Place your hands on the yoga wheel and sit your hips towards your heels. Now, lengthen your torso over the floor and push the wheel away with your hands to create length in your spine and side body.  Finally, bring your forehead down to the ground. Hold at least 30 seconds or up to 3 minutes.
3. Crow Pose with your Yoga Wheel
Place your yoga wheel on it's side so it is flat.  Squat in front of the wheel. Bring your toes together and separate your knees wide.  Bring your hands to the sides of the wheel and lean your torso forward, bring your elbows to your triceps or armpits and lift your feet off the floor.   Try to hold for 5 long, deep breaths.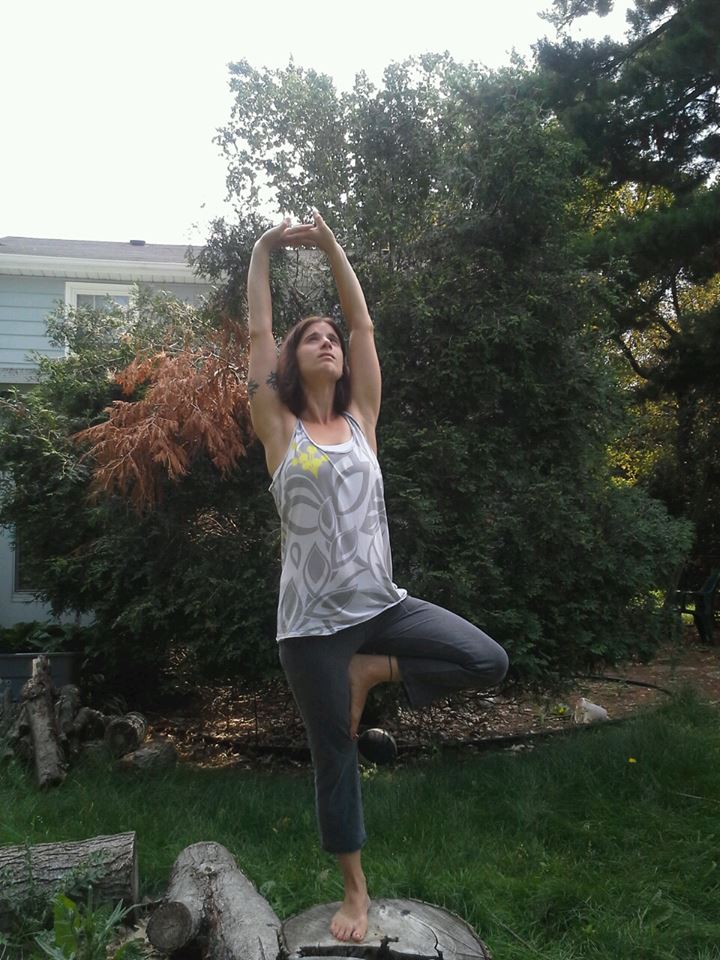 I am a devoted mother, wife and yogi with a passion for fitness and writing. I am a certified and registered 500 hour yoga teacher and have been teaching since 2013. When I am not teaching yoga or spending time with my family, you can find me somewhere on a hiking trail in the mountains of Southern Colorado or walking my dog Queenie.