Any dedicated yoga practitioner will tell you that finding the right mat will make all the difference in your personal practice. A good yoga mat will provide stability during standing postures, and also protect your joints during seated and supine (on your back) poses.
The search for the ideal yoga mat gets more complicated if you add a specific injury or sensitivity to your list of needs. Knee pain is one such sensitivity you should consider when looking for a yoga mat.
Whether you have a desire to protect against injury before it happens, or are nursing a knee injury or sensitivity, you should pay special attention to the features of the mat that you practice on.
Below is a list of the 7 best yoga mats for bad knees, starting from number one, and based on many factors and features.
The 7 Best Yoga Mats for Bad Knees
Thrive on Wellness Thick Exercise Mat
You can't beat the features this mat has to offer! The Thrive on Wellness mat is an extra thick mat that provides cushioning against hardwood floors. It comes in an extra large size, which is a bonus if you're above average height.
This particular mat comes with a carry strap, which makes it easy to travel with, and it is surprisingly lightweight.
Another great feature that this mat has to offer, is that when you unroll it, it lays down flat, and doesn't curl up like some thick yoga mats do. It is also appropriate for mat Pilates, another exercise that has a lot of kneeling postures. It is affordable, and you get so many good features for the price.
Warning: It only comes in two colors, black and blue, but those are pretty standard colors for mats.
Pros
Extra thick
Extra large size
lightweight
Cons
Not as stylish as some mats
Hugger Mugger Ultimate Comfort Mat
As a yoga teacher, I highly recommend the Hugger Mugger brand. In fact, I have one of the Hugger Mugger Ultimate Comfort mats, and it has lasted me a long time. It is made with memory foam, and I promise, you won't even feel the ground. It is a non-slip mat, but you have to set it with the smooth side down, and the textured side up.
The textured side gives you more stability in your standing postures. It is eco-friendly, so if that is a priority to you, know that it is made phthalate free. This mat is easy to clean and it is antimicrobial, which provides you with a germ free practice.
However, there is a reason why I didn't list it as number one, and that reason is the price. It is the most expensive mat on this list, but keep in mind that the Hugger Mugger is a brand very popular in the yoga world, because they are quality products. Bonus: it comes with a warranty from the manufacturer!
Pros
Made with memory foam
Eco-friendly
antimicrobial
Cons
Gaiam Yoga Mat Premium Print Reversible
Here is another extra thick yoga mat that will give your tender knees the support they need. There is a reversible design to this mat, so you have to options to choose from depending on your mood. The Gaiam Yoga Mat Premium Print Reversable Mat is durable and rolls up nicely for storage.
It comes with a non-slip sticky texture, which ensures it will stay put during your practice. This mat is chemical free and non-toxic, making it a better choice for the environment. There are so many different design choices to choose from, so know that your mat will stand out.
Here is the best feature though: It comes with one free downloadable yoga class on Gaiam.com, which has a huge selection of yoga classes you can stream at home. ( P.S. I use Gaiam to stream classes at home and highly recommend it, they employ some of my favorite teachers!!)
I have been told that upon opening a new one, it may have a slightly off putting, but harmless odor. So, my advice would be to unroll it and let it air out for a few hours before using.
Pros
Free downloadable yoga class
Reversible
Chemical free
Cons
Needs to air out a few hours before using
Yoga Cloud Ultra Thick 1" Yoga and Exercise Mat
Definitely the thickest mat on the list! Typically, an extra thick yoga mat is a ½ inch, the Yoga Cloud Ultra is one is a full inch. It has the word cloud is right there in the title, it really is incredibly soft.
Place it smooth side down, ribbed side up, to give you traction during standing poses. It is reasonably priced considering the extra thickness it has, and it is also comes in an extra large size. The mat itself is moisture absorbent, so if you enjoy hot yoga, this may be the mat for you.
It comes with a shoulder strap carrier, and it rolls up neatly for storage. You'll have four different color choices, blue, black, red, and pink, but no other stylish designs. I think the best feature to this mat is how comfortable it makes all poses with your knee lowered to the ground.
The downside, it does make balancing poses harder because of the thickness. Pro Tip: Come off the mat during balance poses if you can't find a good grip to the floor, and then move back to the mat when you are done.
Pros
Extra, extra thick
Shoulder strap carrier
Awesome support in knee down poses
Cons
Not ideal for balance postures
Amazon Basics ½ Inch Thick Exercise Mat
I thought I would include this yoga mat because of the price, it's the most affordable mat on this list, perfect for yogis on a budget. The thickness of this Amazon Basics 1/2″ mat comes from durable foam, designed to give you support as you practice.
It should be noted that is not made of memory foam, which can conform to your body, this foam has a little give, so it is soft, yet strong. It gives plenty of traction too, because it features a textured surface on one side to hold the mat down during practice.
It is a multi-purpose mat, suitable for other formats, such as mat pilates, or meditation. You can choose from many different color options, including a bright green color if you really want to stand out.
The biggest downside to this mat is that it can get slippery if you sweat a lot, so while the bottom of the mat has good traction, the top is not non-slip. If you do hot yoga, you can put a hot yoga towel (towels that have grips) on the top of the mat to help with stability.
Pros
Price
Durable foam
Multi-purpose mat
Cons
Top side of mat gets slippery
Luxury Cork Yoga Mat by Body By Yoga
What I love about the Luxury Cork Yoga Mat is that was created by yoga teachers, and yoga teachers have done their due diligence as far as mat features. I have a yoga teacher friend who uses this mat and she swears by it, in fact she let me use it once to practice, and I agree it's good quality.
First, it is the only mat on this list made of cork. Utilizing cork instead of foam has many benefits. The surface is non slip, and the extra cork gives you joint support. Cork is self-sanitizing, so this wonderful mat requires minimal cleaning. It rolls up neatly, and unrolls flat.
Also, this mat is longer and wider than most, perfect for taller people. It comes with a warranty from the manufacturer, so if you are not 100% satisfied, you can get a refund. However, it should be noted that it is a little bit more pricey than most mats.
Pros
Cork material is non slip
Minimal cleaning
Unrolls flat
Cons
ProsourceFit Extra Thick Yoga Mat
Here is another ½-inch thick mat, the ProsourceFit Extra Thick Yoga Mat provides extra cushion for joints while still allowing for balance. It has a ribbed surface which provides grip for hands and feet, and traction when used on slippery surfaces.
This mat creates a soft and supportive surface, and really does work during bent knee postures, when the knee is down on the floor. It is a high performance mat, so go ahead and sweat up a storm.
It's made from moisture absorbent rubber, so it prevents sweat from soaking into the mat and causing odor. The surface is also easy to clean, simply wipe down with a damp towel and let it air dry.
It comes with a sling, so it is portable and easy to travel with. The design is no muss, no fuss, but it won't break the bank, the price is extremely affordable.
Pros
Rubber surface for easy cleaning
Affordable
Moisture wicking
Cons
Airex Coronella Exercise Mat
So I had noticed a few of my students with the Airex Coronella Exercise Mat, and because it didn't look like a typical yoga mat, I asked one woman where she got it. Turns out, the woman has just completed physical therapy and this was the mat her therapist suggested.
Technically, it is an exercise mat, but it is appropriate for a yoga practice. And, since she wasn't the only one with this particular mat, I just felt the need to include it in my list as an honorable mention. Anything that is approved by a physical therapist is worth mentioning.
It's more on the expensive side, and only comes in a few colors, but my student swears it really provides support. Consider it a dual purpose mat, safe to use in many other exercise formats.
Pros
Recommended by a physical therapist
Soft and supportive
Dual purpose mat
Cons
See all our best exercise mat reviews.
Should I Do Yoga if My Knees are Sensitive?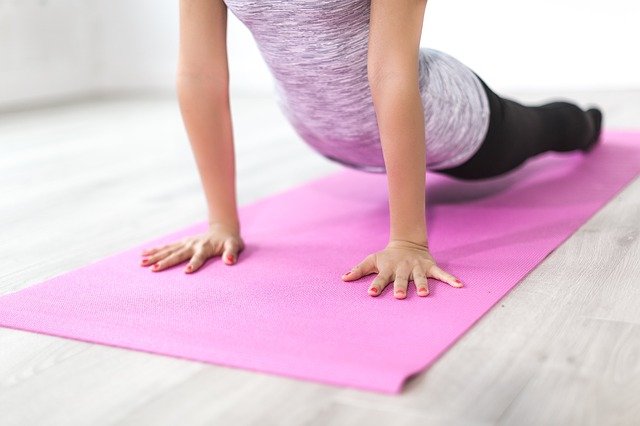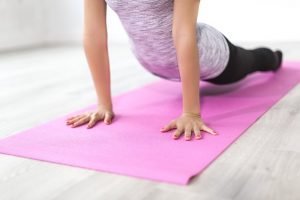 Before you go out and buy a special mat for yoga, you should first decide if yoga is the appropriate exercise for you. Knee injury or sensitivity is the most common complaint I hear as a yoga teacher.
And, here's the truth, yoga can either be a blessing or a curse when it comes to your knees. Mainly, because some of the poses require you to kneel, or place your bent knee down on a hard surface floor. How can this benefit a knee injury?
Well, the blessing is that yoga can be excellent for your knees, because it works on strengthening the big muscles of your legs, which has a stabilizing effect on your kneecaps and helps keep them in good alignment.
The curse is protecting your already sensitive knees from the hard surface floor, and gaining enough flexibility to tolerate (and thrive in) bent knee postures.
Conclusion: Practice Safely
Remember to always listen to your body while practicing yoga! Yoga is at times uncomfortable, but should never be painful.
If you are in a pose and feel a sharp, stabbing or burning pain, please exit the posture! If you are in a pose and are extremely uncomfortable, (but not in pain) see if you can sit with it. Stay with your breath and see what you can soften.
And, be mindful of your poor, tender knees! You want strengthen the area without straining.
When you find that balance, you will be well on your way to healthy knees.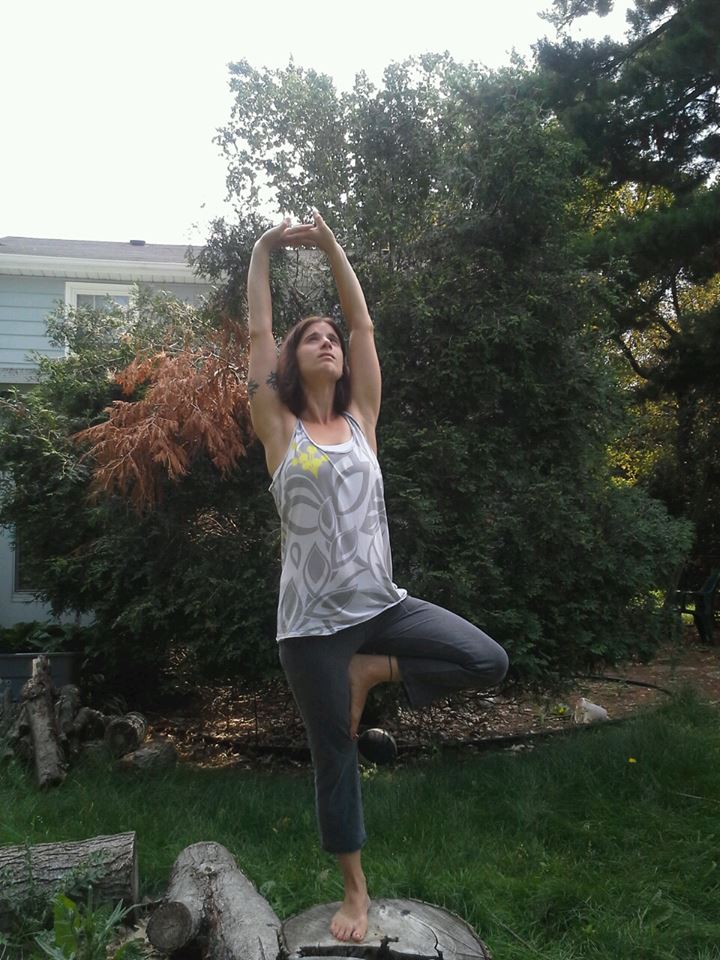 I am a devoted mother, wife and yogi with a passion for fitness and writing. I am a certified and registered 500 hour yoga teacher and have been teaching since 2013. When I am not teaching yoga or spending time with my family, you can find me somewhere on a hiking trail in the mountains of Southern Colorado or walking my dog Queenie.