Have you ever taken a hot yoga class and spent most of the time slipping and sliding over your mat?   Many practitioners find that having a sticky mat is not enough to prevent slippage while doing yoga.
The good news is that yoga towels act as an absorbent cover for your sticky mat that helps you keep your hands and feet from slipping while practicing.  A yoga towel can also serve as a hand and face towel, which is convenient during a hot yoga session.
Below is a list of the best yoga towels on the market.
Best Yoga Towels
Shandali Hot Yoga Towel:
This towels makes the top of the list because it is affordable and effective.  The Shandali Hot Yoga Towel features a suede like texture that feels nice underneath your hands and feet, which provides a nice layer of protection between you and your mat.  Think of it as an absorbent cover that helps keep your mat less sweaty, and therefore, less stinky.
It should be noted that this towel doesn't have grips on one side, so you will need to spray it down with water before you practice hot yoga.
Once sprayed down, it sure stays in place. If you are practicing unheated yoga, the towel will provide softness and cushioning for your joints. It is roughly the same size as your mat, so just unroll it to set it up and you are good to go.
Bonus Tip: Wash this towel with like colors and tumble dry on low or hang to dry to prevent shrinkage.  It is available in 6 different colors,and the colors are not just the standard yoga studio colors so your towel will stand out!
Plus, they don't use any chemical dyes!
PROS
Price
Suede like texture
No chemical dye
CONS
Must tumble dry low or hang to dry to avoid shrinkage
YogiToes Yoga Mat Towel: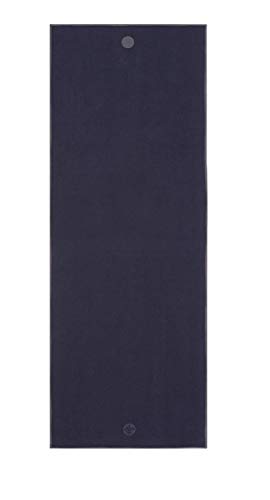 These YogiToes towels are the most popular yoga towels on the market.  Chances are if you used a yoga towel at a studio it was a YogiToes towel.
The only reason it is not listed at number one is because they are on the more expensive side.  However, they are made with a "patented skidless technology" and really are quality yoga towels.
Like most yoga towels, these have a side with grips on it.  Place the towel grip side down on your mat, smooth side up, and because of the grips, you don't have to spritz it with water to keep it in place.  I personally think these are best for hot yoga because they designed with a heated practice in mind.
The YogiToes towels are moisture wicking, and dry quickly.  They are made without the use of chemical dyes, and offer a vast range of different colors and designs.
As a yoga teacher, I find that the solid colored towels work the best and are easier to wash.  That being said the prints are attractive and stylish.
PROS
Skidless technology
Moisture wicking
Choose from solid colors or stylish prints
CONS
Hugger Mugger Bamboo Yoga Towel:
The Hugger Mugger towel is made from bamboo, so it needed to be included on the list because it is so unique.  The bamboo fabric of this towel is incredibly absorbent, and really helps you find balance in standing postures.
It features a no-slip backing which makes it perfect for hot yoga.  The back has grips, but the front feels more like a towel, so it feels great under your hands, feet, and knees, it is also comfortable in your supine postures like savasana.
Bamboo dries quick and is very hygienic, it will give you a layer of protection between you and your sticky mat. As a yoga teacher, I favor the Hugger Mugger brand.  They produce high quality products, and I feel good recommending them to people.
This yoga towel is a little on the pricey side, but if you don't mind spending a little extra, this may be the one for you. It comes in all the standard yoga studio colors (blue, black, purple, green) so you do have style options.
PROS
Hygienic bamboo material
No slip backing
Trusted and Quality Brand
CONS
Manduka eQua Yoga Mat Towel

The Manduka eQua Yoga Mat Towel is a nice, lightweight option to consider.  A lot of the yoga towels are little on the heavy side, but what I enjoy the best about this one is how light it is, which means it spreads easily over your yoga mat.
Because the towel is so lightweight it can easily work as a gym or shower towel as well, and this yoga towel dries quicker than a normal gym towel.
It doesn't have grips, but after a spray down of water, it melds to your mat, and feels great under your joints. What is nice about a yoga towel with no grips is that you can use it for unheated yoga, and for padding under your knees, hands, feet or seat.
The tightly woven fabric of this yoga towel is super soft and is surprisingly absorbent. You get your choice of eight different solid colors or prints.  .
PROS
Lightweight and portable
Super soft texture
Stylish color and print options
CONS
No grips means you have to spray it with water to keep it in place
Gaiam Stay Put Yoga Towel:
Gaiam has a couple different versions of yoga towels to choose from, so to be clear, this is a review on the Stay Put Yoga Towel.  It is designed to fit over any standard size yoga mat, and it features corner pockets that fold over the corners of your mat. The corner pockets really do keep the towel in place, and the towel fits securely, so it doesn't bunch up when practicing yoga.
The fabric of this towel is a microfiber blend that absorbs sweat faster and dries quicker than cotton blend towels.
As usual, Gaiam offers this towel at an affordable price. I decided to include this towel because of the corners, which is an unique feature that really works.
If you decide to go with the Stay Put Yoga Towel, you only have 2 color choices. But, Gaiam offers other styles of yoga towels with pretty prints too.
PROS
Corner pockets
Microfiber blend
affordable
CONS
Not as stylish as other hot yoga towels
Yoga Mate Perfect Yoga Towel:
You can't beat this one for the price, so if you are a yogi on a budget, check out Yoga Mate Perfect Yoga Towel!  This towel is also made from a microfiber blend that is more absorbent than cotton blend hot yoga towels, so it dries fast!   It does not have grips, so you need to water it down to make it stick.
As a yoga teacher, I have found that the yoga towels without grips can be softer and more comfortable on your joints.  The grips are great for traction, but can feel hard or uncomfortable while trying to sustain certain poses.
I would say it comes down to preference and also what format of yoga you practice. Also, a towel with no grips can be used easily during other formats of exercise, like Zumba or Pilates. These towels are easy to wash (just follow the care directions) and they don't start to smell as fast because they are very moisture wicking.
I absolutely love the color and prints option, they even have a super cute tie dye towel.
PROS
Absorbent microfiber
Price
Super cute tie dye print
CONS
No grips if that is a preference of yours
Healthyoga Yoga Towel:
This is another microfiber blend, with corner pockets and no grips.  The Healthyoga Yoga Towel has some beautiful prints to choose from, and they only use eco friendly water based inks.  You really can consider this one a multi-purpose towel. It is appropriate for hot or unheated yoga.
Plus, because of the beautiful designs it could double as a beach towel or gym towel.  It is long enough to cover a standard sized yoga mat, and it stays in place due to the corner pockets.
It is incredibly portable, so you could use it as a travel yoga mat in a pinch! It is also budget friendly.
PROS
Affordable
Multi-purpose towel
Stylish prints
CONS
How to Use a Yoga Towel
You can use them underneath your knees for extra padding while in kneeling postures.
Yoga towels can double as gym towels to use during other formats of exercise.
You can use them as beach or shower towels in a pinch.
Yoga towels are made to dry quickly, so you can tuck them into your gym bag, or roll it up with your mat with little mess or fuss. There are so many different ways you can use a yoga towel and they are a must-have addition to any yoga gear collection.
And don't forget a yoga mat!
The Yoga Towel: A Multi-Purpose Accessory!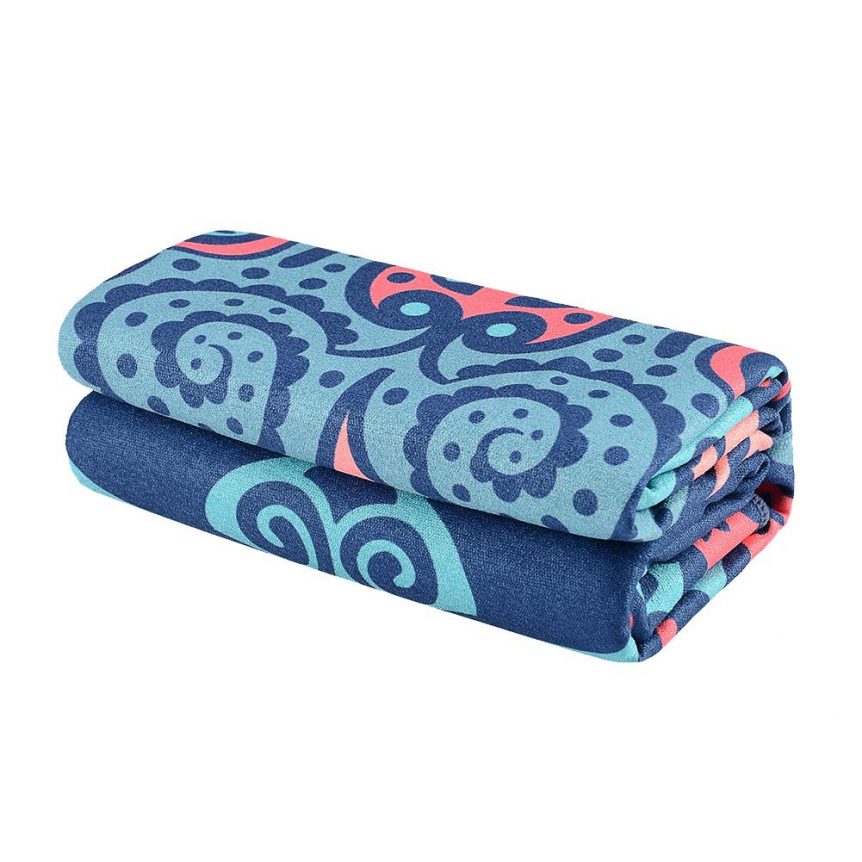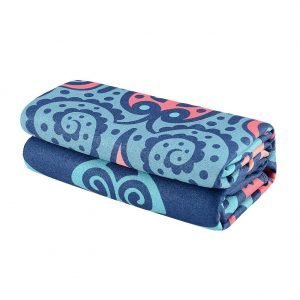 As mentioned above, a yoga towel is a must have accessory to add to your yoga gear!  But a yoga towel can be used in so many other ways! Below is a list of the yoga towels' many uses:
Hot yoga – use it so you don't slide around on your mat, also use it as a hand and face towel
Unheated yoga – use for padding under your hands, feet, knees and seat
Gym towel – a yoga towel can double as a gym towel and they dry faster than normal towels
Beach Towel – get one with a vibrant design and take it with you to the beach!)
Shower Towel – a yoga towel without grips can be used as a shower towel at home or at the gym
Hot Yoga Tips
Don't eat at least two hours before your class.  As you move through your yoga postures, in a heated room with humidity, the last thing you need is a full stomach.  Drink plenty of water beforehand, but avoid solid food, or else you may feel nauseous during class.
Wear moisture wicking clothes that you can move around in comfortably.  Also, consider a top and leggings that are more form fitting so it doesn't ride up during Downward Facing Dog and inversions.  (these are poses performed upside down).
If you have long hair, you will want it out of your face, because you will sweat a lot.  Bring a hair tie or headband with you to class.
As mentioned above, you will sweat a lot.  Consider bringing a change of clothes if you are not going straight home after.
Bring water with you, you will need it!
Remember that yoga is not competitive.  You just need to show up, and do your best.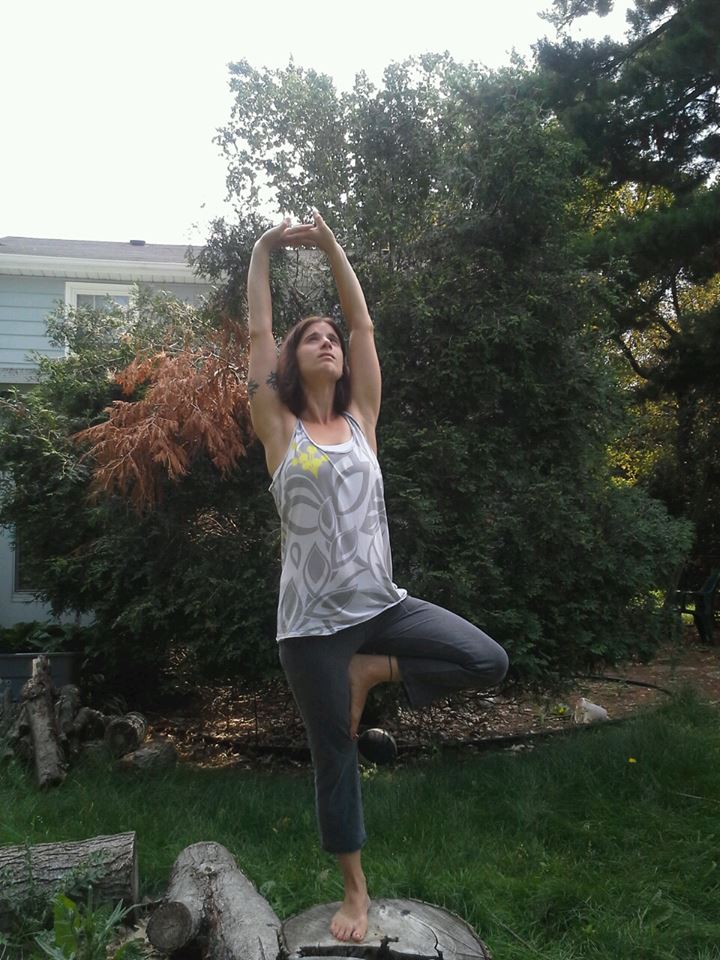 I am a devoted mother, wife and yogi with a passion for fitness and writing. I am a certified and registered 500 hour yoga teacher and have been teaching since 2013. When I am not teaching yoga or spending time with my family, you can find me somewhere on a hiking trail in the mountains of Southern Colorado or walking my dog Queenie.