by
We've heard our entire lives that exercise is the key to good health, and that rule is all the more important as we venture into our golden years.
One activity that I always recommend to my fellow seniors is cycling on a stationary bike. In my opinion, this is one of the best exercises to do once you hit your 60's because it offers amazing physical benefits with minimal risk of injury (which, sadly, is something we have to worry about at this age).
Of course, after I suggest cycling, the follow-up question I always get asked is: what's the best exercise bike for seniors?
Bottom Line Up Front: To cut right to the chase, my overall top recommendation is the Schwinn 270 Recumbent bike available here.
After getting that question countless times over the years, I figured it was finally time that I sat down and narrowed down a few good choices for my fellow seniors who wanted to start stationary cycling at home. I spent the last few weeks observing and comparing a ton of different models, and I'm proud to say I finally have some excellent exercise bike recommendations. I'll give you all the reasons why below, but here are the:
Best exercise bikes for seniors
Schwinn 270 Recumbent Bike
Exerpeutic 900XL Recumbent Bike
Marcy ME-709 Recumbent Bike
Don't have much space? Consider this foldable bike.
Who am I and why should you trust anything I have to say?
My name is Kurt Wolfe; I'm a 68-year-old certified personal trainer specializing in senior exercise, and I was a competitive cyclist for years. Sadly I don't compete anymore, but cycling is still an extremely big part of my life for both health and pleasure. In other words, I know a thing or two about cycling and fitness.
Now that we've squared that away, let's start by looking at the different types of exercise bikes.
Recumbent vs Upright: Which Type Is The Best Exercise Bike For Seniors?
There are really only two main types of exercise bikes, upright bikes and recumbent bikes. The main difference between the two is the position of the rider. They each have their pro's and con's, but which type is the best exercise bike for seniors? The answer is recumbent bikes, and I'll tell you why.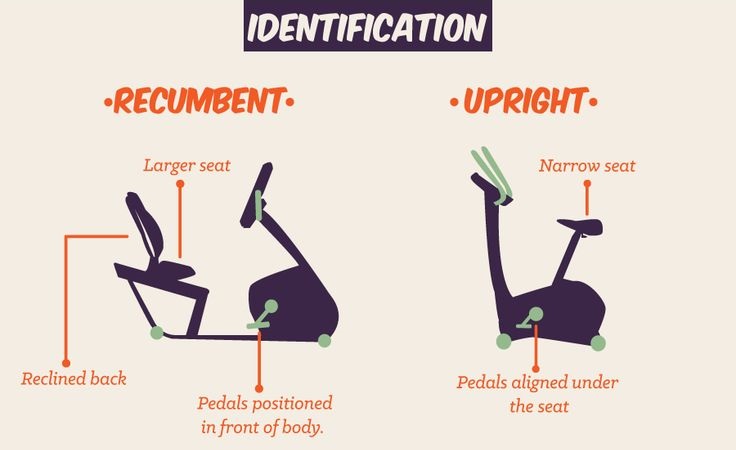 Upright exercise bikes have been around forever, and the concept is quite simple: they keep the rider sitting in an upright position, much like riding a traditional road bike. While these can be very useful for training purposes, these aren't recommended for seniors because the risk of injury is much higher on an upright bike. Let me give you a couple of examples.
Because of how you're seated atop the bike, you have a high center of gravity, which makes the base of the bike less stable and therefore increases the risk of falling over. In addition, an upright bike requires you to lean your body forward in order to reach the handlebars, often resulting in irritation in the back and neck (because of how the body is bent over during exercise) as well as stress on the arms and wrists (because of how you're leaning your weight on the handlebars). I could continue with other risks but you get the idea.
The recumbent bike, on the other hand, does not have any of these same issues thanks to its more rider-friendly design. Rather than being propped up high above the pedals, recumbent bikes have riders seated in a lower, reclined position with small handlebars at their sides and your legs stretched out in front of you. This not only gives you more support, but it also removes all stress on the back and neck because it's a much more natural position for the body and doesn't require you to be hunched over just to reach the handlebars.
Overall, recumbent bikes provide far more comfort with little-to-no risk of injury, making them the obvious choice when it comes finding the best exercise bike for seniors.
Best Exercise Bike For Seniors: The Top 3 Choices
There are hundreds of different exercise bikes available online, so finding the best exercise bike for seniors took careful consideration and a detailed look at things like design, comfort, quality, and features. After weeks of comparing models, below are the top 3 options for the elderly. Let's start by comparing the options side-by-side, and then you can read a detailed review of each model below.
---
Schwinn 270
Exerpeutic 900XL
Marcy ME-709
LCD Display
Heart Monitor
Workout Tracking
Distance, calories, time, speed, plus 9 others
Distance, calories, time, speed, plus 2 others
Distance, calories, time, speed
Resistance
29 levels
8 levels of magnetic resistance
8 levels
Warranty
10 years
3 years
2 years

View on Amazon

View on Amazon

View on Amazon
---
#1 – Schwinn 270 Recumbent Bike
Schwinn has come a long way from simply making the sweet bikes we used to ride as kids. They're now a world leader in both the cycling and fitness industries, producing hundreds of top-quality products that are used in homes and commercial gyms across the globe. The Schwinn 270 Recumbent Bike is the perfect example; this is one of the best-selling exercise bikes on the market, rated extremely highly by customers who rave over its quality, comfort, and features. After carefully studying over 25 recumbent bikes, I chose the Schwinn 270 as the #1 best exercise bike for seniors for a multitude of reasons.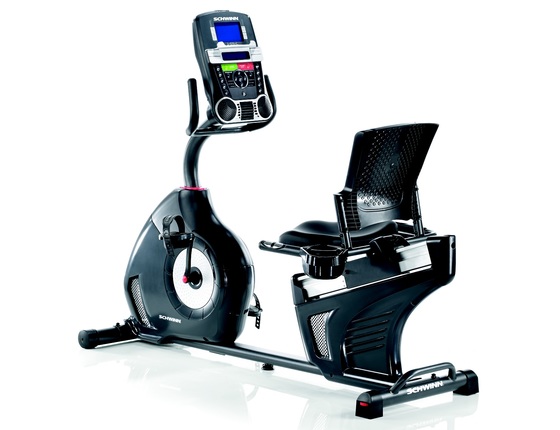 For starters, it has the most comfortable adjustable seat design by far. Comfort is one of the biggest issues that most seniors have with riding an exercise bike, so this is something I looked at heavily when comparing different models. On the Schwinn 270, the bottom part of the adjustable seat (where your butt sits) is not only large and plush, but the seat is also contoured (shaped to fit the natural curves of the body), making it extremely nice to sit on. In addition, the back part of the seat is big and provides great back support, which is crucial for those with back issues. One extra detail that I thought was cool about the back part of the adjustable seat was that it's vented to reduce heat and keep you cool during your cycling workouts.
Along with the superior seat comfort and support, the Schwinn 270 bike offers rock-solid stability so there's not a single worry of the bike moving as you workout. You don't typically have to worry about recumbent bikes falling because of the way that they're designed, but some do still have the tendency to rock around a bit while you're cycling, which could be a potential risk for seniors. Thankfully, that is not the case with the Schwinn. One user reports, "My weight is 350 lbs and I am 6 feet tall and the bike handles me with no problems, doesn't even move side to side."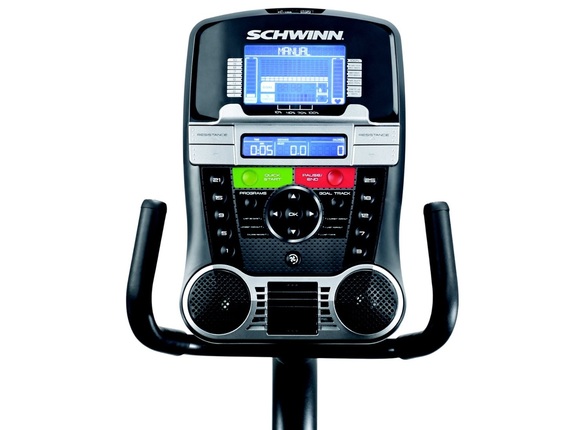 Another area where the Schwinn 270 excelled was ease-of-use. I don't know about you, but technology often confuses the heck out of me. Yet despite having a lot of advanced features and technology built-in such as BlueTooth, workout programs, and apps, the Schwinn's simple design makes it easy to understand without any sort of confusion. And let me tell you, the features are awesome.
For visuals, you've got a beautiful dual-screen LCD system that lets you monitor 13 different fitness feedbacks so that you can easily track your workouts and calories burned and see your progress as you go. In addition, there are 29 total workout programs designed to provide a quality experience, and 25 different resistance levels to choose from so that you can constantly mix it up and keep your workouts new, challenging, and fun, which was not available on older belt drive models. There's a built-in USB plugin and a tablet stand for those that want to watch an iPad while they cycle, or you can even use that USB plugin to play music through a pair of integrated acoustic speakers. If you're feeling hot, there's a 3-speed fun towards the bottom that you can turn on to keep the fresh air flowing so that you don't overheat.
Check out more in this video overview below:
All-in-all, the Schwinn 270 recumbent bike offered more benefits for seniors than any other exercise bike on the market. It's the most comfortable bike by far, it's very easy to use, and it's an incredible value for your dollar. In addition, it comes with a massive 10-year warranty to ensure you're covered if you ever experience an issue with your bike (most other models only offer 2 or 3 years, so this was a big deal to me as well). That's why this Best Exercise Bike for Seniors also tops the Best Recumbent Bike list (be sure to click to read more!). The Schwinn 270 retails at $499, but I did some digging around online and found that the cheapest place to buy it is on Amazon. They also give you free shipping and the option to include assembly so you don't have to set it up yourself. One last thing to take into consideration is its weight capacity; It'll easily handle up to 325 pounds!
#2 – Exerpeutic 900XL Recumbent Bike
Although I felt the Schwinn 270 offered the most benefits for seniors, the Exerpeutic 900XL Recumbent Bike was certainly a close runner-up for two main reasons: high quality and low price. While it's more on the basic side and doesn't offer a fancy display or any advanced features like BlueTooth connectivity, workout programs, or apps, this is without a doubt the best exercise bike for seniors who just want something nice and affordable that's going to get the job done. If that sounds like exactly what you're looking for, keep reading and I'll tell you exactly what you need to know about the Exerpeutic 900XL.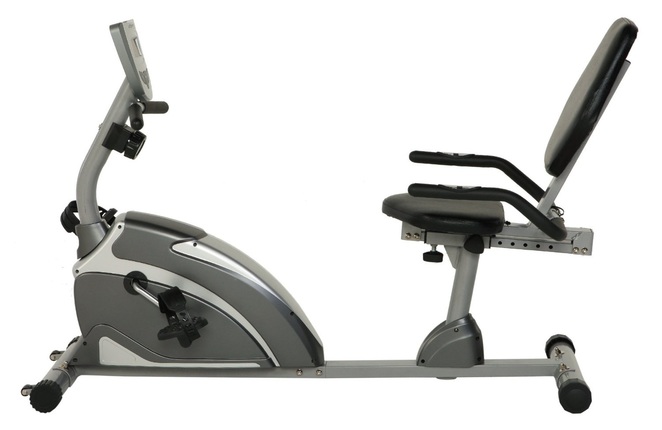 As we know, one of the most important considerations on an recumbent exercise bike is seating comfort. Both the bottom and back parts of the bike seat on the Exerpeutic 900XL are comfortably padded and offer a good amount of back support, which is key for people our age. However, there are some customer reviews warning that long cycling sessions of an hour or more can become a little uncomfortable because the seats are flat and not shaped to fit the body (like the bike seat on the Schwinn 270 is). If you're not interested in longer riding times then you need not worry, but I figured this was something to mention just so that you're aware.
Like I said above, the Exerpeutic 900XL is a little more on the basic side as far as features go. There's a black-and-white LCD screen up front that monitors all the usual variables like distance, time, speed, heart rate or pulse, and amount of calories burned. No BlueTooth connectivity, workout programs, or apps here! It also offers 8 different levels of magnetic resistance so you can change things up and customize the resistance to your workout, unlike older belt drive models. It has a weight capacity of 300 pounds, which is decent, to say the least. Other than that, there's not much more than needs to be said. The pedals are nice and grippy and the bike rides ultra-smooth due to the magnetic resistance, which is a welcome upgrade over older belt drive models.
The thing that really made the Exerpeutic 900XL stand out was its price. At a retail price of only $169, this model is extremely affordable and one of the cheapest recumbent exercise bikes out there. Usually you have to worry about quality when you get into this price range, but thankfully that is not the case with the Exerpeutic 900XL. This thing is all about quality and longevity. In fact, the 900XL happens to be the #1 best-selling recumbent bike on Amazon with over 1,500 positive reviews from customers who call it, "the best value for your dollar when it comes to recumbent bikes."
Check out this video overview:
Overall, the Exerpeutic 900XL is an excellent alternative to the Schwinn 270 if you want something more budget-friendly. It's well-made, functions perfectly, sits comfortably, and is available at a fantastic price. I looked around online to see if I could find it even cheaper, but unfortunately nobody is discounting the $169 price, which is understandable considering how low the price already is. However, I do have one trick to save you a couple of bucks. If you buy the 900XL on Amazon, you can get free shipping and save yourself the typical handling cost of $50 or so.
#3 – Marcy ME-709 Recumbent Bike
When I recommend products to people, I always like to include 3 options. If you're looking for the best exercise bike for seniors and for some reason both the Schwinn 270 and the Exerpeutic 900XL did not work for you, the third best option would be the Marcy ME-709 Recumbent Bike. This is another highly popular model in the recumbent bike category, and it's actually extremely similar to the Exerpeutic recumbent bike. For that reason, I'm not going to go into too much detail here, but I will a brief recap below highlighting the differences on the ME-709.
Like the Exerpeutic bike, the Marcy ME-709 features an oversized padded seat that provides a lot of comfort and support while cycling. Unfortunately, there is the same issue with long cycling sessions becoming a little uncomfortable because of the flat bike seat design (this is where the Schwinn really excels because of its naturally shaped bike  seat) of the Marcy recumbent exercise bike. Like the Exerpeutic exercise bike, the Marcy's weight capacity is 300 pounds. The Marcy ME-709 uses a twist knob for 8 different magnetic tension adjustments so that you can change resistance as you go, and the LCD screen up front tracks speed, distance, time, and calories burned. The only thing it does not come with is a pulse or heart rate monitor, which is why I chose the Exerpeutic over the Marcy recumbent exercise bike because I believe it's important for seniors to be able to track their pulse or heart rate  and calories burned while they ride.
The Marcy ME-709 also offers a very competitive price point, coming in just slightly above Exerpeutic. The retail cost on the ME-709 is $199, although you can usually pick up a discount if you look around online. The best discount I've found is on Amazon, where you can buy the ME-709 for around 30% off.
All-in-all, I think Schwinn and Exerpeutic offer better choices when it comes to finding the best exercise bike for seniors, but the Marcy ME-709 is an excellent alternative if there was something about the other two models that you didn't like.
Things That Seniors Should Consider Before Buying
Don't get me wrong, I'm the first person to want to open my wallet when I see a shiny new fitness toy, but there are a couple things you should consider before buying. Everyone has different preferences, and I want to make sure you find the perfect exercise bike for your needs.
Comfort
In most cases, comfort should be your top priority. We've already discussed how recumbent bikes are far more comfortable than upright bikes, so that's good, but now it's time to go a little deeper than that. The main feature that's going to affect the comfort on a recumbent bike is the seat. Because of how many different recumbent bike models are on the market today, there are quite a few different shapes and styles when it comes to the seat design.
Part of the reason I chose the Schwinn 270 Recumbent Bike as the #1 best exercise bike for seniors was because it has the highest-rated comfort level out of any other bike. If you read through the customer reviews on Amazon, you'll see users raving about how the comfort of the Schwinn's seat is leagues ahead of other recumbent bike models. With that being said, everyone is different, and you may consider another model more comfortable for your specific body type. Keep comfort in mind when comparing recumbent exercise bikes to ensure that you make the right choice.
Features
Another important factor to consider is the features that are included, and by features I mean things like heart monitors, pulse monitors, calories burned calculators, weight capacity, BlueTooth connectivity, adjustable pedals, workout programs designed to provide a good work out, apps, LCD screens, or some other sort of technology that you might be interested in. With this category, I wouldn't necessarily say that the best exercise bike for seniors is the one with the most features, because everyone has a different personal preference. Some of us hate technology, and others love it. What's important to you might not be important to the next guy or gal, so jot down a list of features you want before you start shopping. That way, when you're comparing models, you can make sure whichever bike you choose has all of the features you're looking for.
Cost
Because of how popular the exercise bike category is, there are literally hundreds of products to choose from with a very wide price range. Bikes typically start around $100 for a more basic setup and can get over $1,000 with all the bells and whistles. As you've probably learned with all the stuff you've bought over the years, you typically get what you pay for. However, there are always hidden gems to be found that offer a ton of value for your dollar, and that's exactly what I looked for when I was choosing the Top 3 Best Exercise Bikes for Seniors.
Comparing the prices of each bike I chose: the Schwinn 270 comes in at $450, the Exerpeutic 900XL is $165, and the Marcy ME709 is $200. The Schwinn is obviously the most expensive, but I chose this as the #1 best exercise bike for seniors over the rest because it offered far more value for your dollar than the other 2 models. Not only was it the most comfortable bike, but it also offered an incredible amount of features for a sub-$500 model (other models that have similar features are all in the $800+ price range), a fairly easy assembly, and a nice long warranty. The Marcy recumbent exercise bike just didn't hold up as well.
When it comes to purchasing an exercise bike, value for your dollar should be one of your top considerations. In other categories I would typically say buying cheaper is better, but this is something you're going to have for years, and if you do it right and go with a quality bike, this could easily last the rest of your life.
Assembly
One thing that may sway you one way or another is the level of difficulty when it comes to assembly. Some exercise bikes can be easily pieced together like IKEA furniture, but others are a little more complex and require more intricate work. In general, I'd say the best exercise bike for seniors would be one with easier assembly, but do whatever you're comfortable with! I only say that because I know how annoying it can be to fumble around with something for hours and then have to worry about whether or not you did it right. If you're savvy with do-it-yourself installation projects, then you should be totally fine with most models. If not, consider a model with easier assembly – or better yet – you can always add installation with your purchase for another $50 or so.
Size
The last consideration is really more of a planning reminder, but it's always smart to make sure that whichever bike you choose is actually going to fit where you want it to go in the house. Before you click that buy button online, double check the dimensions of the exercise bike and make sure you've got enough room for it. 99% of the time sizing won't really be an issue because these recumbent bikes are generally pretty compact, but it's that 1% of the time that always gets you.
Why Should Seniors Use An Exercise Bike? What Are The Benefits?
In the introduction to this article, I told you how I believe cycling on a stationary bike is one of the best exercises for seniors to do to stay in shape. I wanted to go a little deeper and show you a couple of the great benefits I was referring to.
Low Impact
We all know that getting older weakens the skeleton and joints, making us more prone to injury than we were when we were younger. I don't need to remind you of that. When it comes to cardio aerobic activities, most exercises are typically a little rough on the joints because of the impact involved. Take running, for example. As you run, every time your foot hits the ground it's sending a shock through your leg that travels throughout your entire skeletal structure and rocks your bones and joints (alright, when you put it like that, it sounds a lot more brutal than it really is, but that really is what happens inside your body).
On an exercise bike, however, the movements are completely fluid and smooth, allowing you to get your pulse or heart rate pumping without putting any extra stress on the joints. In fact, riding an exercise bike is probably the least-stressful cardio exercise available, which is why it's such a great choice for people our age (the 60-year-old-and-up crowd). It gives you the ability to exercise daily with an overall lower risk of injury because it reduces mechanical stress on the back, hips, knees, and ankles – even when compared to walking! Say goodbye to painful exercise!
Improved Mobility
We also know that getting older makes our bodies more stiff and harder to move around in. The reason mobility most often becomes tough when we're older is because we're generally less active after years of working and dedicating less time to physical activities. This is why exercise in general is crucial, it keeps our muscles and ligaments fresh so that our bodies are just as mobile as they were when we were 25. An exercise bike helps to achieve better mobility by focusing on movement in the legs, which are quite literally the foundation of the body.
Trusted medical source Spine-Health.com notes, "Using exercise bikes improves muscular flexibility and range of motion." Because of how your legs are constantly rotating to move the pedals, an exercise bike encourages stretching and strength in all of the muscles, ligaments, and tendons in the lower body area. This results is increased mobility because the body is getting used to movement again, and the more you use the bike, the stronger and more flexible your body becomes. In addition, although most of the movement on an exercise bike is in your legs, this also plays a role in strengthening the lower back because of how your muscles work together. Guess what that does for you? Reduces back pain! That alone is enough reason for me to hop on one of these stationary bikes every day.
Cardiovascular Health & Circulation
Cardiovascular stamina, health and fitness is important no matter what age you are, but as we all know, it often becomes more of an issue once we get into our elder years. The doctors tell us more and more to focus on keeping our cardiovascular system in top-notch shape, and that's exactly what an exercise bike does. Riding an exercise bike for even as little as 5 minutes a day can help improve blood circulation, lower high blood pressure, increase stamina, and regulate blood sugar. Harvard research associate Anna Lusk, PhD, conducted a study of 18,000 women over the course of 6 years and found that, "On average, cyclists live 2 years longer than nonbikers and take 15% fewer sick days."
Let me explain how cycling works so wonderfully. Cardio exercise, regardless of the type, stimulates the capillaries in the muscles. For those who don't know what capillaries are, think of them like highway interchanges for your blood flow. They work to distribute blood efficiently, so when they're stimulated, it opens up the blood flow highways and helps to deliver oxygen and nutrients to the rest of your body more easily. You can probably see why this is extremely important for your body, health and fitness. The improved blood circulation and reduced blood pressure can help prevent potential future issues such as clogged arteries and even heart attacks.
Conclusion
After careful consideration of around 25 different stationary bike models, the Schwinn 270 recumbent bike proved itself to be the #1 best exercise bike for seniors. Its contoured adjustable seat offers unmatched comfort and it has countless features that are extremely useful to elders monitoring their health and fitness. However, if you don't want to spend upwards of $500 on an exercise bike, then the Exerpeutic 900XL is the best value for your dollar at only $169. Whichever model you decide to go with, make sure your happiness is top priority. Get the bike that suits your needs best.