Protein supplements are far and wide the most popular and best-selling supplements on the market. After all, if you're not getting enough protein, your muscles won't be growing anytime soon. However, when dealing with diabetes, you need to be attentive to what you eat.
Carbohydrates, including sugars, are the largest factor in your diet. The best way to control your diabetes, but still make some great progress in terms of body composition, weight loss, and muscle gain, is to supplement with a protein powder with as few carbohydrates as possible. With low-carb protein supplements, you can double scoop without worrying too much about insulin levels.
For those who don't know me, I am an absolute nut when it comes to strict nutrition, and I recently studied the relationship between protein supplements and diabetes in order to find the best protein powder for diabetics. After researching and comparing over 100 different protein powders, I found the following five supplements to be the all-around best options for diabetic-friendly proteins.
Nature's Best Isopure Whey Isolate
NOW Whey Protein Isolate
MRM
All Natural Whey
Magnum Nutraceuticals Quattro
NOW
Pea Protein
Protein
26g
25g
18g
30g
24g
Carbs
0g
2.5g
1.5g
2g
1g
Fat
0g
0.5g
1g
1g
2g
Sugar
0g
2g
1g
0.5g
0g
Taste Rating
9.4/10
9.0/10
8.9/10
9.4/10
8.1/10
Other
Unflavored so can be mixed with anything
Several flavors available
Contains good amount of L-glutamine
Contains 4 good sources of protein
Non-GMO peas used to create this protein
Cost Per Serving
$0.86
$0.76
$0.72
$1.55
$0.62
Top Pick: Isopure by Nature's Best
Not only is Isopure the top pick for the best protein powder for diabetics, it's one of the best protein supplements on the market PERIOD. With 0g fat, 0g carbohydrates and 26g of protein per serving, Nature's Best Isopure Whey Protein Isolate is definitely the cleanest protein out there.
In addition to being squeaky clean, the protein content of this supplement is insane. 26g of protein per 29g serving makes this supplement very nearly 100% whey protein – something very, very hard to find in other protein powders. There are no carbohydrates, so there's nothing to regulate or keep track of, aside from all of that sweet protein you'll be taking in.
Since there is also no fat in this supplement, along with being carb-free, it is an extremely effective protein not only for diabetics, but for those who are looking to lean out or have a goal of weight loss. Isopure also contains great amounts of BCAAs, so the proteins in the supplement are absorbed as effectively as they can be and provide the most benefit.
Unlike many other protein supplements, Isopure is instantized and unflavored, so it can be taken with anything. Mix some into water, into your creatine supplement or add it to your mashed potatoes, it makes no difference. You have the power of versatility. On the other hand, the fact that it is unflavored could also be seen as a drawback. I know I just praised that quality a second ago, but it can be both a pro and a con since it might get boring if you're drinking it by itself mixed with water.
The final quality that really secures Isopure as the top pick is the price. At only $0.86 per serving, this is an incredible value for your dollar. If you're diabetic and looking for a protein to boost your muscle gain and recovery, look no further than Nature's Best Isopure to get you where you're going.
Runner Up: Whey Protein Isolate by NOW
In the 2nd place position we have the Whey Protein Isolate by NOW Sports. This supplement, like Isopure above, is incredibly clean and all natural – two qualities which are crucial in finding the best protein powder for diabetics.
With a very similar protein content to Isopure at 25g in a 28g serving, this clean protein doesn't sacrifice protein quality over trimming the fat. Speaking of trimming the fat, this supplement only contains half a gram of it. Pair that with 1g of carbohydrates and you can really see this shaping up to be a clean and effective protein powder.
Although it's not as clean as Isopure or contain the amount of BCAAs it does, it does have something that Isopure doesn't: lots of flavors. Unflavored protein is popular because you can mix it with anything, but if you're on the go and you plan on just mixing it with water or milk, they can fall kind of flat in terms of excitement. The Whey Protein Isolate by NOW comes in cookies 'n' crème, Dutch chocolate, vanilla, strawberry and toffee caramel fudge flavors.
A clean, great tasting protein without a lot of filler? Sounds like a pretty good deal to me, especially for diabetics looking to increase their protein intake with a quality supplement. This powder is also slightly cheaper than the price of Isopure, so you're definitely getting a great bang for buck in terms of price per serving and nutrient content. Check out the 2,000+ reviews on NOW's Whey Protein.
#3: All Natural Whey by MRM
With a name like that, how could you go wrong? MRM isn't quite a household name in the supplement industry, but the 'All Natural Whey' moniker certainly isn't too far off. MRM has several products backed by an incredibly loyal following, including their All Natural Whey protein powder.
At 1.5g of carbohydrates, this protein isn't as clean as our top 2, but definitely still one of the cleanest proteins on the market which is why it earned its spot as third best protein powder for diabetics. Since the carbohydrates are so low, the worry of regulating blood sugar levels doesn't have to translate to your protein consumption.
All Natural Whey is also fortified with a good amount of L-glutamine, which gets depleted in your body with exercise and must be replaced to ensure optimum muscle growth. Glutamine is actually the first amino acid to recruited to correct protein deficiency, which happens under time of metabolic stress (and causes muscles to grow).
The main drawback to this protein supplement is that it only contains 18g of protein, which is quite a bit less than our top 2. It makes sense that a super clean protein would have less protein, the top 2 are just exceptional in the field. This protein supplement comes in vanilla and chocolate; so, while it is flavored, there isn't a lot of variety.
If for some reason you didn't find any interest in Isopure or NOW Whey, then MRM's All Natural Whey would be a solid third choice with an equally affordable price per serving.
#4: Quattro by Magnum Nutraceuticals
Nut-free, lactose-free, gluten-free and kosher – this protein is certainly free of a lot of things – but does Magnum Nutraceuticals Quattro, our fourth place contender, hold its own against the other diabetic-friendly protein powders in our list?
Well, for starters, this protein powder contains 30g of protein per serving, which is on par with the industry standard for high-quality protein powders, let alone clean and trim protein powders like the ones featured on our list. In addition to its high protein content, this protein features a very low carb-count. It isn't as clean as Isopure or the others in the top 3; but, at 2g per serving, Quattro is still very streamlined with its carbohydrate content compared to most of the other protein supplements on the market.
One great (and unique) thing about this protein is that it contains several different sources of protein. Quattro contains egg protein, whey isolate, milk protein and casein. The diversity in protein sources allows for a multi-stage release, as your body will process the proteins from these different sources at different speeds.
Casein is particularly useful as an added protein source because it is famous for being a slow-release protein – which make it a perfect supplement to take before bed or to help boost your protein intake while keeping you full at work. Since this supplement contains whey, egg, milk and casein protein, it makes it perfect for consumption at any time of day.
In addition to being a diverse and high-quality source of protein, Quattro comes in some pretty tempting flavors, including such titles as "chocolate love" and "chocolate peanut butter addiction". Magnum Pharmaceuticals Quattro protein also comes in an unflavored variety so you can mix it with anything you're predisposed to, which is great for stacking with creatine or a pre-workout without the flavors clashing.
#5: Pea Protein by NOW
NOW is killing it with the all-natural/low carb supplements, and their Pea Protein supplement is no exception. You wouldn't likely think of peas as a viable source of protein; but vegetarians will know that it is a highly bioavailable source of high-quality protein.
The only downside to Pea Protein is that it doesn't contain as much leucine as dairy-based whey proteins due to the plant-based source. Leucine is a branched chain amino acid that is important in the role of muscle growth. However, studies have shown that vegetable protein is comparable to whey protein in terms of muscle growth and recovery, so that's good.
Pea Protein is unflavored, so you can mix it with whatever you like. At 1g of carbohydrates and 24g of protein per 33g serving, it isn't as densely packed with protein as our top 2, but it still gives you a great value. For vegetarians or people who are lactose intolerant that have had troubles with whey isolates, this is a great option. This is also a great option for diabetics due to the low content of carbohydrates.
The fact that NOW Pea Protein is all-natural and contains pure, non-GMO yellow peas is great for those who are reluctant to have chemicals and compounds in their supplements, and those with other dietary restrictions. All-in-all, I'd say this is the best protein powder for diabetics and weight loss that also have troubles with lactose or just want to go non-GMO/vegetarian.
#6: Quest Nutrition Protein Powder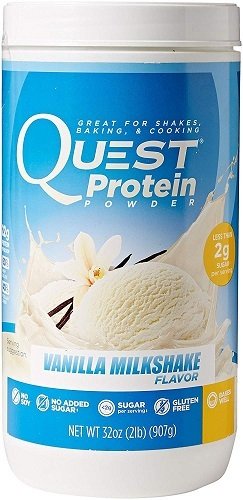 The last entry on the list of best protein powders for diabetics is Quest Nutrition's Protein Powder. With less than 1 gram of sugar and as little as 3 grams of carbs, Quest Nutrition Protein Powder is great not only for diabetics but also for those looking for a protein powder for weight loss.
With less than 1 gram of sugar, it is sweetened with stevia and sucralose, both of which are excellent at sweetening without causing blood sugar levels to rise. People with diabetes will also be pleased to hear that casein protein is an ingredient, which is slower digesting, which doesn't cause blood sugar levels to rise as quickly as a faster digesting protein like whey isolate.
I already mentioned that stevia and sucralose are included in the ingredients, which can either be a pro or a con depending on your tastes. I personally don't mind the taste of stevia, but it can have a bitter aftertaste for some.
Besides the sweetener choice, the only other con that I can think of with this protein powder is that it doesn't mix as well as some others. Overall, though, I think this is a solid protein powder for anyone, but especially diabetics.
Protein Supplementation and Blood Sugar
For diabetics, diet monitoring is paramount to staying healthy, especially when adding the stressors of a fitness regimen. Adding supplements is something that can be scary when you already have a pretty good handle on your diet and you want to avoid throwing a wrench in the works, but supplementation with protein powder is actually pretty risk-free. In fact, protein supplementation can lower blood sugar levels a bit in the short-term, so it can actually be implemented as a slight regulation tool, along with a means for packing on lean muscle mass.
There was also a Diabetologia study done in 2014 which found that whey could actually help improve blood glucose control in people with diabetes, check out the video recap of the study below:
For regulating blood sugar, it is best to implement whey into your diet in the earlier parts of the day or before meals as noted in the study and video above. Breakfasts containing whey have proven to be effective at helping to control blood sugar levels throughout the day.
Whey protein also has the added benefits of reducing appetite, which can promote weight loss. The peptides and amino acids released into the gastrointestinal tract upon consumption have a direct effect of reducing your body's hunger mechanism, which keeps you fuller and more satisfied for longer.
Benefits of Supplementing With Protein Powders If You Have Diabetes
Protein powders are the best-selling supplements on the market for good reason. For diabetics and non-diabetics alike, muscle growth and recovery is directly affected by your protein intake, more so than other macronutrients. The amino acid building blocks necessary to rebuild your muscles after you've been working out or have had a long day of physical labor come directly from protein, and if you're not getting enough of them, your muscles won't recover properly and they certainly won't grow.
When you engage in physical activity, your muscles are damaged. Not a serious strain or rupture (trust us, you would notice that), but small microtears in your muscle fibers. These small microtears activate your body's response to repair the muscle, and rebuild it to make it stronger.
That's why it takes persistent exercise to grow, you have to keep producing those microtears for your body to rebuild upon. Muscle gain, along with fat loss or cardiovascular health is achieved by slowly "proving" to your body to provide itself with the appropriate response. If your body sees that your muscles are constantly under strain and it can't easily handle the loads, it will respond with muscle growth; but, for this, it needs protein.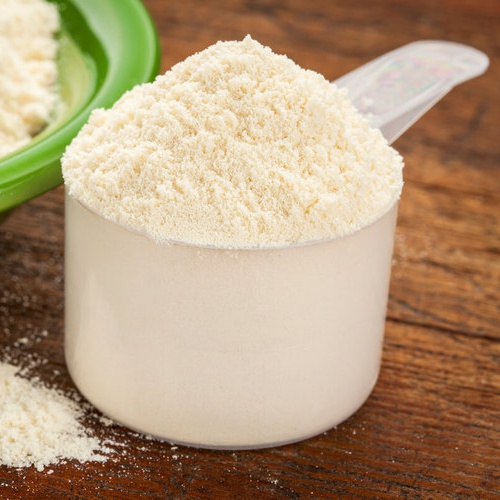 Another huge advantage of supplementing with protein powder is that it allows you to get your macros in more easily, and to control your nutrient intake more easily. It's easier to drink your calories than eat them, and if you know exactly how many grams of protein (or in the case of diabetics, how many grams of sugar) you're taking in with a shake, that can be kind of a plug-and-play meal with no counting required.
Trying to get all of your protein in with the intake of solid food can be inconvenient, and for those with lacking appetites or restricted diets due to diabetes and weight loss goals, it can actually be quite difficult. In addition, keeping your blood sugar levels in check is equally as difficult, which is why knowing the sugar/carb content up front is extremely helpful.
The rule of thumb for gaining muscle is to ingest 1g of protein per pound of bodyweight. If you're a 175lb guy, that means 175g of protein, which is a large amount to spread out through solid meals without a helping hand. Using protein powder allows you to sneak in 25g-60g meals throughout your day. Most people looking to gain muscle take 2 protein shakes per day, but if you're looking for general fitness or you don't work out that often, it's fine to cut your intake to your specifications. After all, protein powder is a supplement – not a requirement.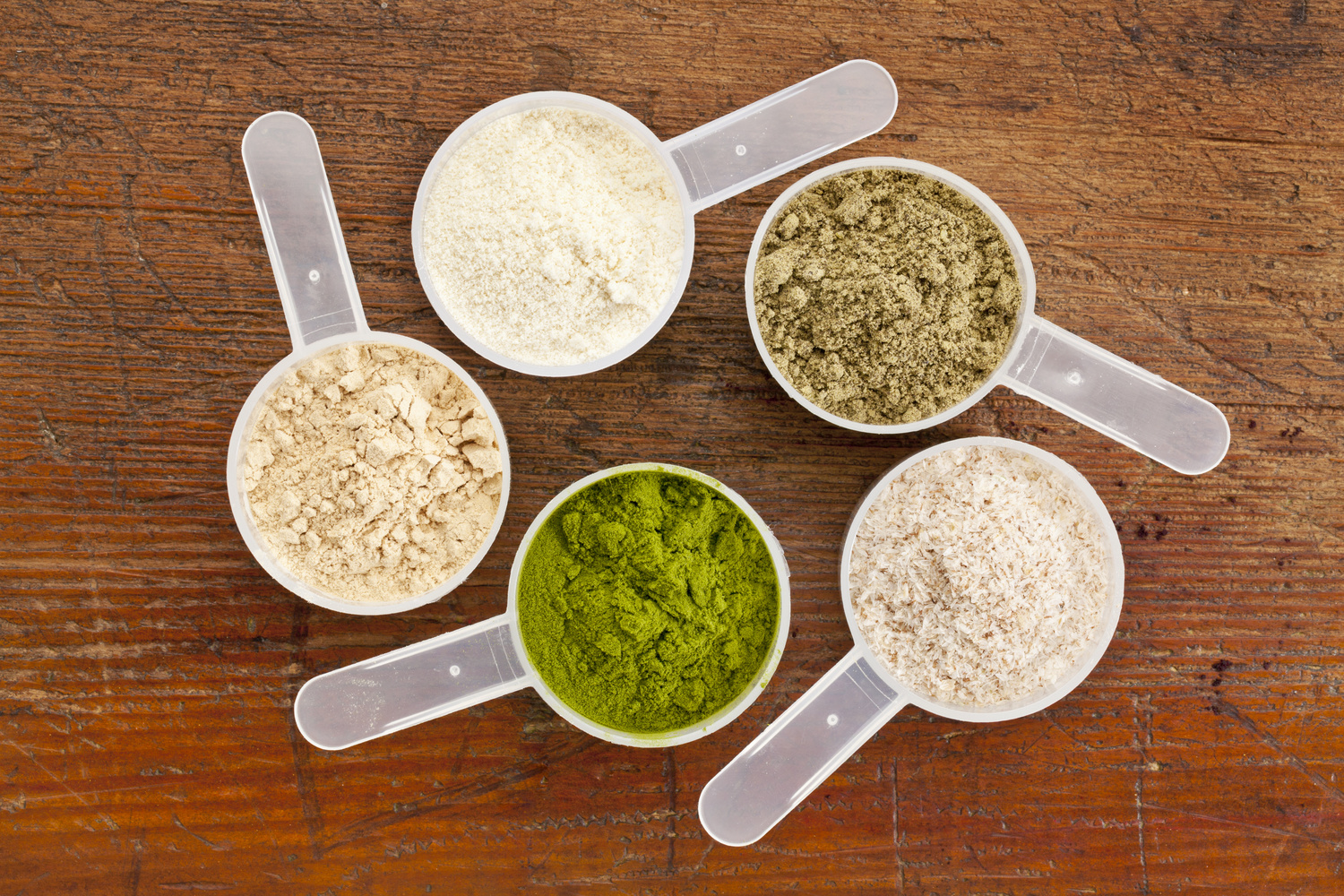 Choosing The Best Protein Powder For Diabetics
Protein supplements are often lumped together under one umbrella, while the reality of it is that there are several different types of protein that vary in quality and source. The various sources of protein produce a nutrient that acts slightly differently within the body. Here are the main sources of protein and their pros and cons for diabetics:
Whey Isolate
Whey Isolate is the highest quality protein supplement you can find. Basically, the protein contained in isolates has been filtered down to the highest quality, purified state it can be. This filtering process cuts out any additives (sugars, etc.) or extra lactose, which is why isolates are typically the best protein powder for diabetics.
For a compound to be considered a protein isolate, it must contain at least 90% protein – a standard other types of protein aren't held to. Luckily, there are a good number of high-quality isolate supplements available, and you can usually catch a deal or two with some diligent shopping. Isolates are also often jazzed up with extra ingredients by the elite supplement companies. Common additions to protein isolates include branched chain amino acids (promotes healthy muscle growth), creatine (increases energy supply to muscle contractions) and others.
Whey Concentrate
Unlike whey isolates, protein supplements must be between 80%-90% protein to qualify as "concentrates". These supplements are obviously not as pure, and often contain more lactose than isolates. If you have a sensitivity to lactose, it might be best to stay away from concentrates. However, for diabetics, as long as a whey concentrate powder is low in sugar and carbs, it will be sufficient.
While not as pure as an isolate, 80% protein is still great protein content, and your muscles will still be getting the boost they need to promote growth. Concentrates are also plentiful in the market and are generally less expensive than isolates, making these great value protein supplements.
Casein Protein
The majority of protein supplements in the industry are rapidly absorbed by the body, which is generally one of the main selling points. A protein that is rapidly absorbed is perfect for post-workout application, as it feeds your muscles immediately so that they can begin to facilitate the rebuilding process when they are the hungriest. However, it is also useful to have a slow-digesting protein – this is where casein comes in.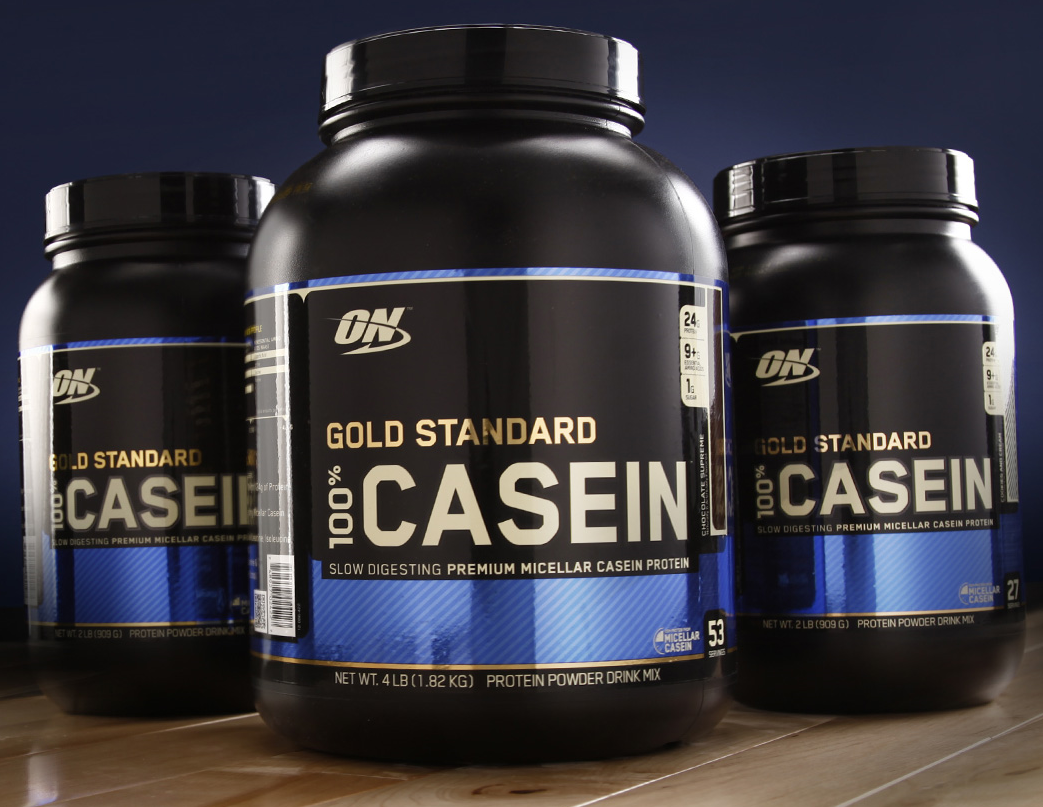 Casein is a protein, still derived from dairy like whey, that is digested slowly by your body. While that characteristic lessens its effectiveness as a post-workout recovery supplement, it is much more effective as a small meal boost throughout the day. The fact that casein is worked through slowly by your body means that it suppresses your appetite longer and keeps a low volume, but constant feed of protein to your body over a longer period of time than rapidly absorbed proteins.
These properties make casein a popular option for busy professionals, and also for a before-bed supplement for those trying to pack on muscle mass. A few scoops of casein before bed ensures your muscles are fed throughout the night. With that said, I wouldn't say stick with casein and ignore whey altogether. If you want the best protein powder for diabetics, a whey isolate will likely still be the type of choice. Casein is a good addition to whey, but not a replacement.
Soy Protein
Soy protein, as you might have guessed, is protein derived from the soybean plant. It comes in powders as whey does, but it isn't quite as rapidly by the body. Soy has long been shrouded in mystery and claims of unhealthiness. Soy contains phytoestrogens, which can increase estrogen levels in men and women, which increase the risk of certain cancers in both. However, in a recent study by the American College of Sports Medicine, these effects have shown to be extremely minimal.
The study also showed that soy is a viable alternative to protein, with the athletes in the study averaging the same amount of mass gain as the athletes supplementing with whey. As with whey, soy comes in isolates and concentrates, with the former being the purest and highest quality and the latter having some additives.
Egg Protein
While not as prevalent as whey, or even soy, there are a few egg protein powders on the market to offer yet another protein source. As with soy, egg protein is lactose free. If you prefer to get your protein from whole foods and the soy powders aren't cutting it for you, an egg protein powder might be worth a shot.
Egg protein supplements are also extremely low in fat, and contain a high amount of protein for the small serving sizes. The only drawback is the taste – on average egg protein powders taste worse than whey powders. If taste is a big issue for you, that might be enough of a deterrent to turn you into a whey concentrate or isolate.
Beef Protein
One of the least populous types of protein supplements are beef protein supplements. In terms of quality, beef protein is on par with egg protein; and, like egg protein, absorption takes place inside the stomach, not the intestine as it does with whey protein. Having absorption take place in the stomach and not the intestine gets rid of most, if not all of the bloating feeling you sometimes get after a double scoop of whey.
Another great thing about beef protein is that it is generally pretty low carb, a highly regarded quality in a good protein powder for diabetics. Now, most whey isolates are also extremely low carb, but some concentrates can tend to get higher up in carbohydrates due to sugar content.
Best Time For Diabetics To Take Protein Shakes
Supplement timing is one of the most hotly debated topics in fitness. Pre-workout or post-workout, for breakfast or before bed, intra-workout or not at all? With some supplements, timing variance is important, and with others, not so much. Protein, however, is a macronutrient that does and doesn't have strict timing variables – for both non-diabetics and diabetics alike. Let me explain.
You may have heard the term "anabolic window" thrown around some fitness circles. The anabolic window is basically the time frame after you work out in which to ingest an adequate amount of protein and carbohydrates to refuel your body before it starts turning to other nutrients and existing muscle for sustenance.
Now, this isn't as dramatic as most people make it out to be, all of your gains won't be lost if you go past your anabolic window (60-90 minutes post-workout, depending on your body), but making sure you hit that protein spike post-workout within the window is a great way to make sure you're getting the best gains from your time in the gym. A great way to hit this spike is with a protein supplement.
With that said, outside of the post-workout window, there isn't a whole lot of worrying you need to do about protein timing. If you're trying to gain muscle, try to spread your protein out throughout the course of the day – this is pretty easy by remembering to eat every 3-4 hours. Make sure to get your protein after your workouts, then outside of that just make sure you're hitting your macros and you'll be just fine.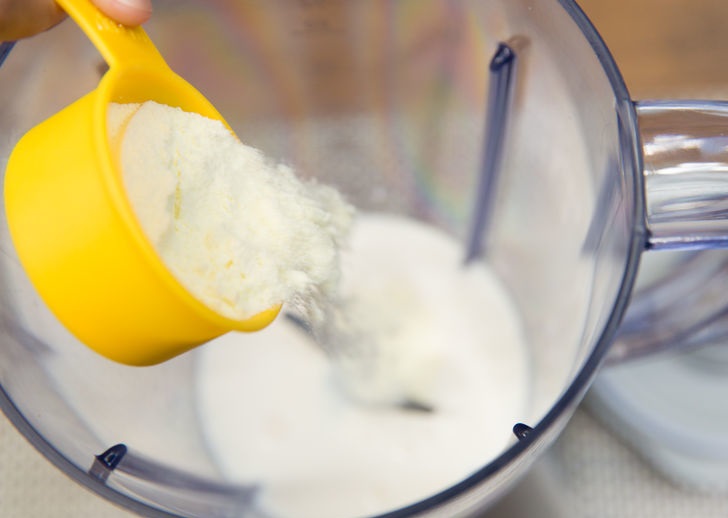 Final Thoughts
Nutrition for diabetics can be tricky – a lot of emphasis is put onto carbohydrate regulation. For lifters, this can be an issue, as many supplements and foods with protein contain a large amount of carbohydrates. So how do you get your protein without endangering your blood sugar? Our top 5 protein powders for diabetics are certainly a great place to start.
Remember, everyone's body is different, so if you aren't responding to any of our top 5 the way you think you ought to, just use the main points of this guide as a blueprint to find a great protein supplement on your own. Make sure to keep an eye on those carbs and added sugars, hit all of your macros and put in plenty of sweat under the bar – the muscle growth will come on like gangbusters and continue with dedication.