As a swimmer, you have probably felt the effects of chlorine build-up in your hair at one point or another. Luckily for you, the development of chlorine-stripping shampoos with added botanicals has made an appearance, giving swimmers back what they have lost over time.
Being a frequent swimmer myself, I've tried dozens of different products in an attempt to find the best shampoo for swimmers hair. After months of lathering my hair in different types of formulated shampoos, I can honestly say I've figured out what actually works and what doesn't. Below are the top products I'd recommend if you're looking for the best shampoo to remove chlorine from hair.
UltraSwim Chlorine Removal Shampoo
Malibu C Swimmers Wellness Shampoo
TRISWIM SBR Aqua Therapy
Babo Botanicals Swim & Sport
Reflect Sports H2O Swim Shampoo
Kid-Friendly & Adult-Friendly
Conditioner Available
Price
$1.21/fl oz
$1.28/fl oz
$1.40/fl oz
$1.49/fl oz
$1.46/fl oz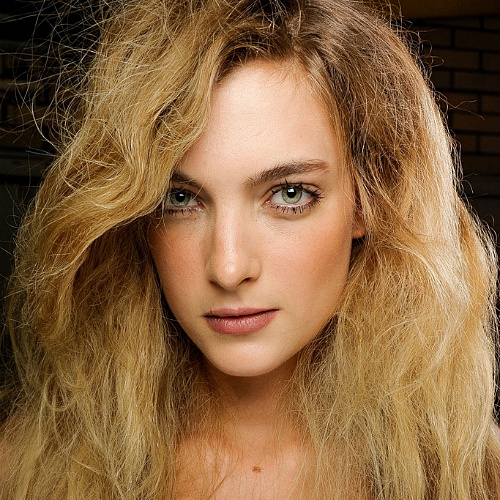 Top Pick: UltraSwim Chlorine Removal Shampoo
The UltraSwim Chlorine Removal Shampoo has been used since the mid 1980's to combat the dreaded swimmers hair. Being ranked as a best seller on SwimOutlet.com and maintaining a 4.5/5 rating with over 700 reviews on Amazon, this shampoo has proven to be the best in its class and the overall best shampoo for swimmers hair. Chlorine removal never felt so easy until you've tried this product by UltraSwim.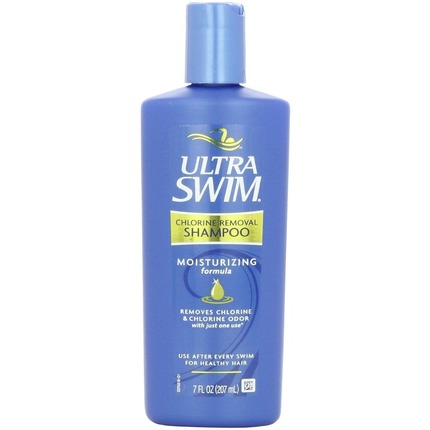 This shampoo tops the charts for its ability to remove chlorine, copper deposits and a variety of metals that contribute to swimmers hair. An active ingredient called sodium thiosulfate helps with this process. Sodium thiosulfate chemically interacts with chlorine and bromine, neutralizing them from any solution presented. Fear not for the confusing ingredient name! Sodium thiosulfate is completely safe as it is used in our everyday lives for tap water, spa and swimming pool treatment to neutralize chlorine levels.
After a chlorine removal process, the removal shampoo infuses your hair with aloe and vitamin E. The compounds in aloe are beneficial for hair because they help repair damaged cells and promote growth. The vitamin E acts as an anti-inflammatory and repairs tarnished hair follicles that result from chlorine build up. The combined effects of these widely available and tested ingredients are sure to leave your hair soft and manageable after a day in the pool.
This product works for all types of hair from straight to curly and natural to color-treated, it knows no boundaries! For optimal results, you will want to use this shampoo within 15 minutes of getting out of the pool. Be sure to use enough to get you lathered up and really get in there with those little fingers of yours! When done right, you will come out of the shower smelling fresh and clean with the hair to match. What I like about this shampoo is the compact size. You can simply toss the bottle in your gym bag without it taking up room or weighing much. Quality over quantity here people!
The bottles contain 7oz will run you about $8.50 (usually even cheaper if you shop on Amazon). That's around $1.21 per ounce for those who don't feel like busting out the calculator like I just did. You can even get that cost down as low as $0.81 per ounce if you buy a combo pack.
One last note, UltraSwim also produces a conditioner to go along with this shampoo. I've never personally tried it as I have a conditioner from a local beauty shop that I ADORE, but according to reviews it's pretty dang popular. You can check out the conditioner here if you're interested.
All in all, this is the most well-rounded product if you're looking for a shampoo to remove chlorine that's highly efficient and very affordable. Integrating a safe, common chlorine neutralizing ingredient with natural moisturizers will be sure to rehydrate those locks and have you feeling revived. Ranked highly across multiple sites on the internet and a solid history of treating damaged swimmer's hair, the UltraSwim Chlorine Removal Shampoo will be therapeutic for that tangled mess of hair you have after a long session in the pool.
Runner Up: Malibu C Swimmer's Wellness Shampoo
The Malibu C Swimmer's Wellness Shampoo takes a more natural approach in their formula, and for that reason, there is plenty of argument to say that this is the best shampoo for swimmers. With a 100% vegan, patented formula, this chlorine removal shampoo combines sulfate-free ingredients with antioxidant-rich botanicals to remove chlorine from hair. The combination of moisturizing properties allows the Malibu C shampoo to act as a body wash as well, giving you the two-for-one special! Let's dive into this product and discover why it made the top five but didn't hit the top spot.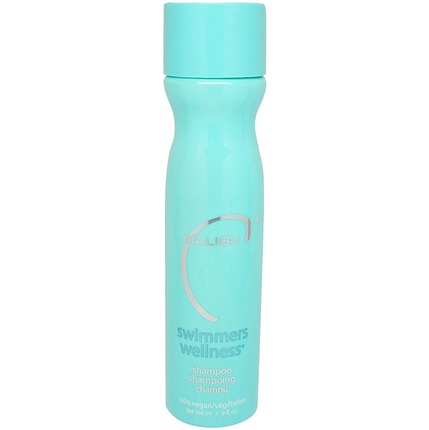 Different from the majority of shampoos for swimmers on the market, the Malibu C Swimmer's Shampoo is derived from coconut and free from gluten, paraben and sulfates. Sulfates have a nasty habit of giving you a frothy, foam rinse while drying your hair out at the same time. This compound, found in many beauty products you'll pick up at the store, is responsible for stinging your eyes when you unexpectedly get shampoo in them. To bring incorporate all swimmers, Malibu C's formula is gluten-free and paraben-free as well. Removing these irritating ingredients leaves room for the innovation needed to create a product like this.
As a cruelty-free shampoo, this product contains a variety of natural ingredients made to remove the dreaded chlorine build-up and leave behind moisture for manageable hair. A key component to the formula is Allantoin. Allantoin is a chemical compound found in animals, plants and now swimmer's shampoo! Perfect for a dried out scalp, Allantoin aids in shedding dead skin cells, allowing new healthy ones to grow in it's place. This is beneficial for those with an irritated and inflamed scalp from harsh pool chemicals and metals.
When the protective oils in your hair are removed by harsh chemicals like chlorine and bromine, they leave the cuticle exposed and at the mercy of the elements! Infusing Vitamin B5 into Malibu C's patented formula helps prevent the exposure and protect the hair from the damaging effects of UV rays. This was one of the the reasons we ranked this shampoo as #2. You are getting an active chlorine removal process as well as a preventative product for the next time you jump in the pool. Flax and rice proteins help condition hair with their moisture binding properties, leaving hair with a smooth and silky feel.
So given all these great benefits of their formula, why has this product not topped our charts as the number one best shampoo for swimmers? Well, a handful of customer reviews recommend purchasing the conditioner with the shampoo to get full benefits from the Malibu C Swimmers Wellness line. This isn't necessarily a bad thing, but the UltraSwim shampoo edges out ahead because of the fact that you can use it by itself (or with any other conditioner) and still get the complete chlorine removal treatment. If you'd still rather go with the Malibu C combo because of everything we've talked about, you can check out the combo pack here.
#3: TRISWIM SBR Aqua Therapy Shampoo
The TRISWIM SBR Aqua Therapy Chlorine-Out Shampoo is a solid, yet pricer, choice for a shampoo for swimmers. With the botanical infusion we saw in our second rated shampoo, the TRISWIM targets harsh pool chemicals as well as salt water to regain a luscious head of hair. Rated #1 Swim Shampoo by the United States Masters Swimming, let's explore the benefits of picking up this product for combating the dreaded swimmers hair we all know and love.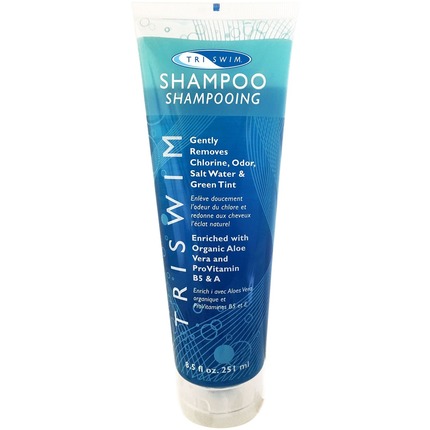 We know by now that these types of shampoos remove harsh chemicals from the hair and does this and that. No need to repeat ourselves. With that said, right out of the gate you will realize this product is a little different from the rest. The TRISWIM Chlorine Removal Shampoo uses the botanicals chamomile and watercress in their formula. An interesting, yet effective, combination for rebuilding damaged hair. As a big chamomile advocate, I immediately began my search on why this is beneficial. Chamomile has a soothing effect on hair, similar to the soothing effect on your body when you drink it. The nourishing effects of chamomile condition the scalp and strengthens hair follicles, assisting in the growth of a thick head of hair.
Watercress is jam packed with vitamins A and C as well as zinc and sulfur. All excellent elements for creating healthy hair. The nutrients in watercress, infused with a heavier dosage of vitamin A, helps produce healthy hair oils that protect the hair from drying out and breaking. What we have seen in the Malibu C product, this product also used vitamin B5 to remove the greenish tint associated with copper in the hair. This product does not use sodium laurel sulfate however does use artificial colorings that may turn potential customers away. Hey, that's why we have 5 products under review for you! Not every product will hit the nail on the head.
For a pretty straight forward chlorine removal shampoo with added botanicals, the TRISWIM may be your best bet. We ranked this shampoo for swimmers in third place because of the price and quality versus our top rated and highly recognized UltraSwim product. You can pick this shampoo up at the average cost of $1.49 per fluid ounce (which happens to be the most expensive on this last, just a heads up).
#4: Babo Botanicals Swim & Sport Shampoo
For the organic and herbal infused buyers out there, you have met your partner in the search for an effective shampoo to combat swimmer's hair. Babo Botanicals harnesses the power of plants to remove chlorine from hair with their patented Nutri-Soothe blend to creating a product that is free from all chemicals. Perfect for the swimmer with an irritated scalp, the gluten-free diver and the environmentalist goal-keeper, this small batch shampoo was created on a farm in Upstate NY by leading botanists and plant-powered enthusiasts to create a product worth mentioning on our list for the best shampoo for swimmers.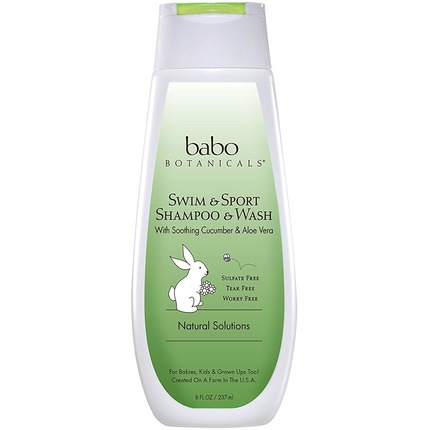 When pop the cap to your bottle of Babo Botanicals Swim & Sport Shampoo, you'll get the light aroma of apples. Ah, what a nice smell compared to the citrus scented chlorine removal shampoos you've tried in the past. A revolution to the way we see shampoo for swimmers, this Babo Botanical product has removed a long list of potentially irritating and damaging ingredients that are present in conventional shampoos. Free from synthetic dyes, sulfates, nut oils and more, be assured that no allergic reactions will result from lathering up with this shampoo.
The traditional chelation method (process of removing heavy metals) for hair involved long, confusing names that were shortened to EDTA. Contrary to these methods, this sport shampoo uses a chelation method derived from corn to remove chlorine, salt and other metals that build up in your hair while you are in the pool. Utilizing the therapeutic effects of organic aloe vera and cucumber allows this product the ability to moisturize and stimulate the scalp for repairing damaged hair.
With the addition of the previously mentioned botanicals, Babo Botanicals uses their exclusive Nutri-Soothe Blend packed with vitamins and antioxidants. The blend consists primarily of chamomile, watercress, kudzu and calendula. Since we have discussed the effects of chamomile and watercress already, let's look into Kudzu. Kudzu is a native plant of China which is still relatively new to the health and beauty scene. Only found in a handful of shampoos, this vine has been shown to promote good hair growth. Calendula oil repairs the damaged scalp and dandruff that can be associated with swimmers hair.
Using organic and wholesome treatments for issues like swimmers hair are increasing in popularity. However, there are many less tests done on their effectiveness in treating conditions, which landed this shampoo for swimmers in the #4 spot. You can find the necessary botanicals for moisturizing and replenishing hair in our higher ranked products like the UltraSwim formula. UltraSwim contains aloe vera and vitamin E as well as test proven compounds that fully remove chemical and heavy metal build-up in the hair. Products like UltraSwim may not be as gentle as an organic, plant-based shampoo but they have the reviews to back it certifying how effective it is at fixing swimmers hair.
#5: Reflect H20 Swim Shampoo
The Reflect H20 Swim Shampoo uses superior ingredients to counteract the effects of swimmers hair. Blending a formulated, sulfate free formula with unique ingredients like hops and keratin, this shampoo for swimmers will dechlorinate your hair and leave you feeling refreshed after a shower. For $1.46 per fluid ounce, you can pick this up on Amazon to moisturize and regrow your distressed hair.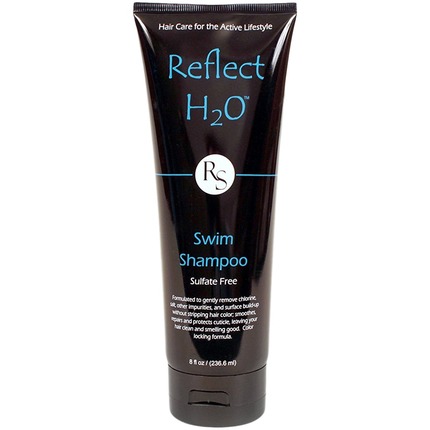 Similar to many swim shampoos on the market, this product has a traditional cleansing system to remove chlorine and heavy metals with the natural ingredients of hops and amino acids. Which is the best natural approach to take? That's up to you to decide. What I couldn't find in this product was aloe vera. We can find aloe vera in our higher rated products because of the ingredients effects on repairing damaged hair. There's a possibility Reflect Sports used hops instead of aloe vera to separate from the market, however I can't find their full ingredient list on their website. They ranked 5th on our best shampoo for swimmers for this reason.
This shampoo has the capability to remove chlorine and copper deposits. When chemicals and heavy metals are removed from the hair, you have a window of opportunity to repair follicles before jumping in the pool again! Using keratin, wheat and silk amino acids, this window can be utilized to rebuild damaged cells and promote hair growth by the Reflect H20 Swim Shampoo. Their website states that they use a UV absorber but no further information on it. That was a negative in my book, I would like to know what is absorbing the UV rays.
Overall, you will get what you are looking for in a shampoo by going with this reflect products. It's not the best in town but it is certainly not the worst. There seems to be a little more hype on SwimOutlet about this product, but nothing significant. They sell a three pack of pre-swim gel, shampoo and conditioner for around $45 but the volume of reviews are not there to compel one to do so. For a cheaper price and a product proven by customer reviews, I'd still say the UltraSwim is the best choice. They have aloe vera in their product too!
What Is Swimmer's Hair?
Swimmer's hair is the result of… you've guessed it! Swimming. The moment you dive into the pool, chemicals used to treat the water begin to interact with the beautiful, developed locks on your head. Most commonly, chlorine and bromine are the culprits for drying out and damaging your hair as you swim.
Chlorine can not only be an annoyance in terms of drying out your hair, but it can actually have extremely damaging long-term effects such as changed hair color or even hair loss altogether.
Chlorine and bromine strips the healthy oils in your hair, leaving the exposed follicles to the mercy of UV rays, copper and other heavy metals. For those who have experienced the infamous green tint, you've seen the effects of copper interacting with the exposed follicles. UV rays are notorious for breaking down the keratin in hair, causing hair to split and break. Those with color-treated hair are at higher risk of falling prey to swimmers hair.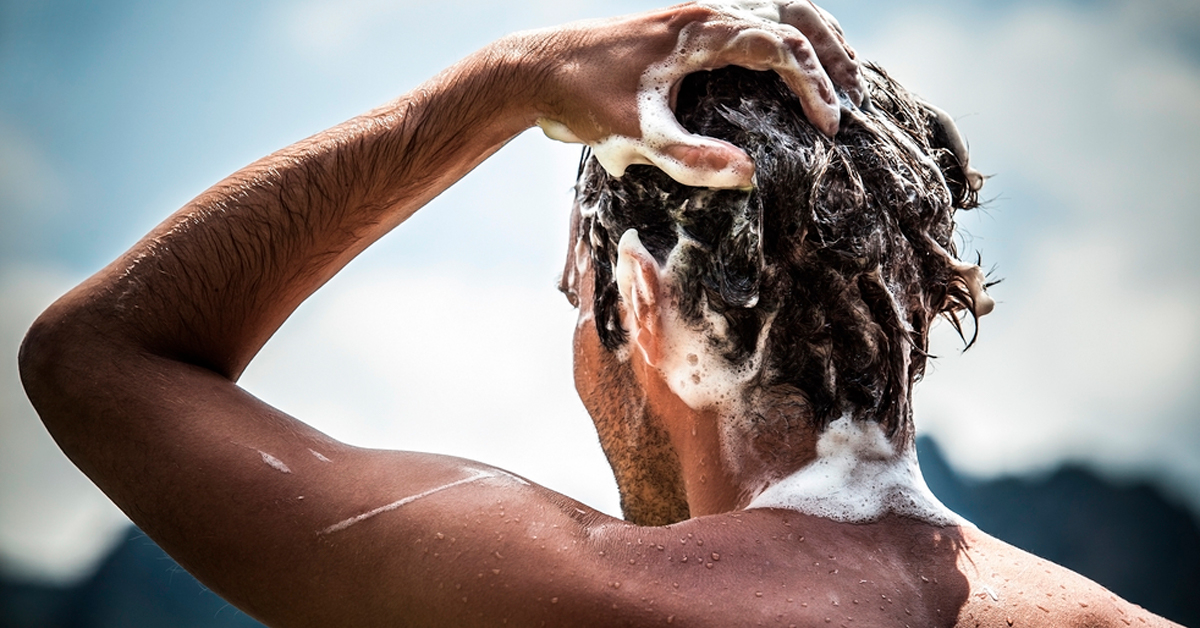 Choosing The Best Shampoo For Swimmers
With the hundreds, maybe even thousands, of different shampoos available these days, only a select few are going to be good for swimmer's hair. These products are designed to remove chlorine from your hair after a swim and leave moisturizing ingredients to return that smooth and silky feel you had once before. If none of the products in our list interested you and you still feel you need to look around at different products, here's what to look for if you're shopping for the best shampoo for swimmers:
Chlorine & Heavy Metal Removal
What separates conventional shampoos from swim shampoos is the ability to remove chlorine and heavy metal build up from the hair. If a shampoo cannot get this job done well, the culprits will continue to accumulate and damage your hair. Most of these products will have it right in the title or main description.
Moisturizers
When the process of removing the chlorine is done, you will still have damaged hair. This is where purchasing a shampoo with good moisturizers in them will do you good. What you will find in the options listed in this top five is that all of them have some type of natural ingredient that can rehydrate and stimulate hair growth. Most commonly sought out would be aloe vera and vitamin E, two components that are a part of the formula for our top-rated UltraSwim chlorine-removal shampoo. As products continue to innovate and grow, new types of oils and flowers are being introduced into formulas for optimal hair health. If you ever question an ingredient, go for a internet search and explore. You may find some supplements are less effective than others.
Regrowth
Just as important as moisturizers, your shampoo should have components that help grow damaged cells after being exposed to all that chlorine. Our rated shampoos have vitamin and antioxidant enriched formulas that help regrow and protect hair after the chlorine and heavy metals are removed. For added benefits, look into purchasing a conditioner that specializes in repairing damaged cells.
Bottle Size
This certainly sounds funny compared to the other two but I wanted to add this in for a reason. To get the most out of your chlorine removal shampoo, you need to wash your hair within 15 minutes after getting out of the pool. Having a compact, light shampoo is more efficient than carrying around a big bulky container of shampoo.
How To Prevent Swimmer's Hair
Preventing swimmer's hair can be tricky. If you are someone who is in the water five or six days a week, limiting your exposure will probably not work. One way to help prevent swimmer's hair is by rinsing your hair with fresh non-chlorinated water before you jump in the pool. This pre-rinse slows chlorine uptake into the hair while you swim.
You could also purchase a pre-swim gel. Many of your favorite swim shampoos may have a sister gel by the same company that work together for ideal protection. Swim caps aren't just a fashion statement, they double up as an effective way to prevent swimmer's hair. Regardless, swimmer's hair is difficult to beat but you can purchase a variety of products to help regrow damaged hair, lock in moisture and get you back to a silky feel.
Here's a video from Consumer Healthy Digest with even more tips on how to protect your hair and skin from the damaging effects of chlorine:
Final Thoughts
All in all, if you are passing horses and they are trying to nibble on the hay on your scalp, it's time to invest in hair products. As you excel as an athlete, don't leave your hair behind because one day you will be thankful for it. Take it from myself, I'm under 30 years old and keep my head buzzed because I'm balding (I blame genetics). The collaboration of botanicals and traditional chelation methods has allowed us access to the best products for treating swimmer's hair. For myself and my friends from the pool, the best shampoo for swimmers is UltraSwim Chlorine Removal Shampoo.