An adjustable weight bench is one of the most useful pieces of equipment you can add to your home gym. Think of how many exercises require one! Adjustable weight benches open you up to a massive playbook of new exercises to choose from, which is important in keeping variety in your workouts. Most models these days are adjustable between several different positions from 0-90 degrees, and some of the better models even offer a decline position as well.
To help you find the best adjustable weight bench for your home gym, we put together this simple buying guide and included detailed reviews of all of the top models so that the decision process is as easy as possible for you. Let's start with the comparison of the Top 5: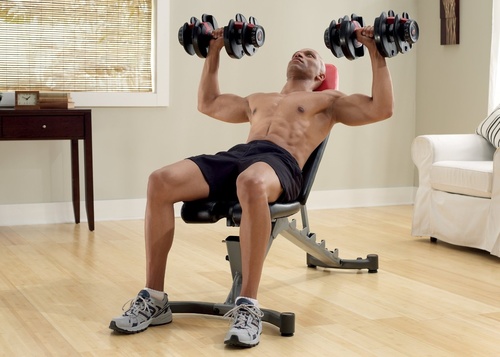 Comparison Guide: Top 5 Best Adjustable Weight Benches
 
Ironmaster
Super Bench
XMark XM-7472
Rep Fitness Adjustable Bench
Bowflex
SelectTech 5.1
CAP Barbell Deluxe Utility Bench
Rating 

4.8/5

4.6/5

4.7/5

4.4/5

3.9/5
# Seating Positions
11
7
7
6
7
F/I/D 
Yes
Yes
Yes
Yes
No
Weight Limit
1,000 lbs
1,500 lbs
1,000 lbs
300 lbs
500 lbs
Warranty
Padding: 1 year
Frame: 10 years
Padding: Excluded
Frame: 10 years
Padding: 30 days
Frame: 10 years
Padding: 1 year
Frame: 30 years
All Parts: 30 days
MSRP
$329
$299
$319
$279
$179
 
Top Pick: Ironmaster Super Bench
Without going commercial, the Ironmaster Super Bench is the best of the best. Founded in 1978, Ironmaster has been a trusted brand in home fitness and is based in the U.S. This bench is as sturdy as they come, and also EXTREMELY versatile.
The weight limit on this bench is a staggering 1,000 lbs, making it as tough as any commercial bench. But here's the real kicker: the Super Bench by Ironmaster adjusts to 11 different positions. Want to hit your upper pecs a little more, but not at the incline that a 45 degree angle offers? No problem. Go up either 10, 20 or 30 degrees. These 11 positions include the entire range between a full decline and almost fully upright (85 degrees, 5 short of completely upright). The exercise possibilities this bench grants you are pretty amazing, you'll be able to completely customize your workout.
Now for the specs: this bench features a 1000 lb rating, thick comfort padding, 11 & 12 gauge steel, foot lever adjustment, several different seat adjustments, a weight of 60 lbs and an extremely wide variety of add-ons and accessories made for this product by the manufacturer. Racks, curl additions, and entire cages were designed around this staple product for Ironmaster to provide as many options as possible for diversifying your home gym.
A large portion of the adjustable benches on the market are difficult to adjust, feel wobbly and have thin padding that can leave your butt sore after a benching session – this bench addresses all of those issues to deliver a truly dependable workhorse that can serve you for years to come.
If the slightly higher price tag seems a little steep and you think you might be better off just going commercial, be aware that a commercial bench comparable in durability to this bench will not have the versatility (the highest I've seen is 7 positions) and will run at least $400 or more, with most even being TWICE the price of this bench. The Super Bench might not be the cheapest bench on this list, but that's not what we're after here. We're after the best adjustable weight bench, and this is it.
With the Super Bench you're paying for an extremely high quality item that will last, well, forever. You could go for a cheaper option, sure, but when you have to replace it next year because the padding has ripped or the adjustments have broken, don't say I didn't warn you. The durability and versatility of this bench make it an easy pick. And, although it has a bit of a hefty price tag for a piece of home gym equipment, this thing is a tank and you can treat it roughly and workout with tiptoeing around your bench for fear of it falling apart.
Runner Up: XMark XM-7472
The XMark XM-7472 Bench, although lacking a creative name, is a fantastic adjustable weight bench. It actually has a higher weight rating than our top pick at 1500lb, has wheels and a leg rest. "Wait, so why is it the runner up?" I'll tell you why.
Though the XM-7472 has a higher weight rating than the Super Bench, it is limited in versatility. It does offer a decent range of positions in between flat and incline, but not as many as the Super Bench, and it only has one decline position whereas the Ironmaster has several.
In addition, the large horseshoe base that adds that extra 500 lb rating takes up a lot of space and the bench itself is more difficult to adjust, as it operates on the common ladder adjustment system. Unless you're benching over 1,000 lbs, the extra 500 lb rating won't be of much use, and it has a more complex design with more components, which means more things to potentially fail over time. The seat for the XM-7472, though adjustable, is not tapered for comfort like the Superbench's seat, so a long workout could take its toll on your inner thighs.
With all of that said, the XMark XM-7472 is still a fantastic choice if you're looking for the best adjustable weight bench. The 1500 lb weight rating demonstrates how solidly it was built. Featuring 11 gauge steel throughout, this bench is tough. Although it doesn't have as many positions as the Super Bench, it still has 7 positions, which is pretty good, especially compared to many benches in its price range.
The specs on this bench are as follows: 1500 lbs rating, 3 inch padding, 7 positions locked by ladder system, wheels for easy transport, leg rests to stabilize during decline position use, 3-way adjustable seat and the manufacturer offers 2 accessories: a preacher curl and leg curl/extension add-on.
A unique feature about this bench that many other benches don't offer is the fact that it goes completely upright. Most benches will go to 80 or 85 degrees, but not a full 90, which does make a bit of a difference with seated exercises requiring back support, such as the military press or seated dumbbell curls. Having that 90 degree setting on this bench helps support your back and keep the stress from a military press off of your upper chest and completely on your shoulders – it's a small difference, but a difference nonetheless. For the price, this bench is definitely a great value and a bench that can handle being a workhorse.
#3: Rep Fitness Adjustable Bench
From the youngest company on the list comes our bronze placer. Rep Fitness was started by two brothers in Colorado in 2012 with the goal of producing quality equipment for home and commercial gyms. This is reflected in one of their core pioneering products, the very-simply-named Rep Fitness Adjustable Bench.
This bench has a 1,000 lb rating (equal to our top pick) and features a ladder adjustment system as our runner up does. Rep Fitness' Adjustable Bench is a great pick for the value. From a young company based in the U.S. striving for quality, you would expect a hefty price tag, but this bench is actually the same price as the Ironmaster Super Bench. The Rep Fitness Adjustable Bench features 7 total positions ( including a decline position), and also features vinyl-covered rollers to keep your legs locked into place when doing decline or abdominal work.
Another solid feature that has earned this bench somewhat of a following is the minimal space between the seat and back pad. This gap is important because it determines not only your level of comfort while performing several different exercises; but if there is a big gap between the seat and back pad, your form could be affected, eventually leading to injury or muscle imbalances. The 1,000 lb rating shows in the stability of this bench – it's built like a tank.
However, tanks are bulky and hard to move around, just like this bench. At 85 lbs, this is a VERY heavy bench. If it weren't for the handle and wheels, this thing would be a major headache to move around. If you have a dedicated home gym where you can keep your bench in the same spot most of the time, this bench is a great choice; but if you have limited space and have to move your workout equipment around frequently, this bench could become a burden very quickly.
If you don't mind a heavy bench, and you require something on the sturdy side with an available decline position, this bench could be a good choice. It certainly has been a good choice for most of their customers, which has earned it an impressive 4.8/5 star rating on Amazon.com. Customers love the stability and ease of assembly of this bench, as several adjustable benches take forever to put together and can be wobbly during use. For the price, there are several lower-quality benches, commercial and non-commercial. The Rep Fitness Adjustable Bench isn't the flashiest piece of equipment, and it's a heavy piece of equipment to move around, but this bench is tough.
#4: Bowflex SelectTech 5.1
When you think of Bowflex, you might recall those infomercials selling their home gyms. Although the legitimacy of those complete home gyms has been called into question, there is no dispute that they make some pretty great adjustable benches. The Bowflex SelectTech 5.1 Adjustable Bench offers six positions, including the decline position. But why fourth place?
Unfortunately, after the Rep Fitness Adjustable Bench, non-commercial, adjustable weight benches have a sharp drop-off in terms of weight rating. The top three benches are able to handle 1,000 lbs or more, whereas the Bowflex is only rated for 300 lbs. This is a huge limitation, as a 200lb guy wouldn't be able to safely use heavier than 50lb dumbbells.
For an avid fitness enthusiast, that is simply not an efficient or sensible option. As such, this bench is a bench for beginners and will be better suited to smaller, lighter people who won't be throwing around as much weight. The SelectTech 5.1, like the XMark, takes up a bit of space, so it would be ideal for someone with a dedicated workout space, and not someone who would have to stow it away after use.
Now that we've addressed the SelectTech 5.1's shortcomings, let's take a minute to discuss its successes. Despite the low weight rating, within its supportable range it is pretty sturdy. This is important because some adjustable benches are wobbly and can feel like they're about to fall apart at any second, which can make you very hesitant to get in a nice, solid workout relying on its structural integrity.
This bench also has 6 positions – not as many positions as our winner or runner up, but still a respectable amount of options to choose from. Among these is a decline position, which is a highly desirable feature of adjustable benches and not one that is extremely widely available. The bench also has built-in leg support for the decline position, another feature you don't see in every bench.
Beyond its functionality, the Bowflex 5.1 has a pretty professional appearance, with a sleek design and two-tone upholstery. If style plays a part in your decision, this might be the bench for you. And although the MSRP is $279, you can usually find this bench for a great price on Amazon, making it a great value for your dollar. While not as strong as some of the other benches on the list, it still has plenty of function for those using lighter weights and has enough space to accommodate it.
#5: CAP Barbell Deluxe Utility Bench
When asked to name a fitness equipment brand, a good portion of fitness enthusiasts and professionals will name CAP – one of the most trusted fitness brands in the industry. You can find CAP equipment in the majority of gyms, ranging from their weights to – yes – their adjustable weight benches. The CAP Barbell Deluxe Utility Bench comes in at fifth place on our list.
As the fitness industry has come to know it, CAP is a solid brand which makes solid products. In that light, the CAP Barbell Deluxe Utility Bench is rated for 500 lbs. This is a full 1,000lbs less than the bench on the list with the highest capacity (the XMark), but it's also 200 lbs more than the Bowflex 5.1, making it a great option for those who like to put up some serious weight.
This bench features 7 position on the backrest and 3 different seat rest positions, letting you customize your posture during exercises to get the most out of your workout. However, one of the drawbacks to this bench is that there is no decline position. Now, this is not uncommon with adjustable weight benches (especially the benches with higher weight ratings), but the fact that it is a desirable feature for those of us who like to do decline work takes this bench down a peg.
This bench feels more like a commercial bench than a home bench, especially with the wheels and handle for easy transport that you would see on commercial gyms. Although, while we're on the subject, this bench is a little bit bulky. There are definitely bulkier benches out there, but most of them are commercial and meant for use in big box gyms. This bench weighs 50lbs and, while it adds to the stability, it can be a pain to lug around your home gym – especially if you're going to be storing it when not in use.
Just a heads up, there have been a few customer complaints about the seat being too far away from the backrest when in the incline position. This is an issue generally solved by stuffing a towel in the gap. It's not a huge deal, and certainly shouldn't be a deal breaker, but it's something to keep in mind.
Another great characteristic of this bench is the price. At under $200, this is the cheapest bench on the list, making this an extremely good value. If you're on a budget and have enough space for this bench, it's definitely a solid choice. However, make sure to consider the fact that this is a heavy bench, and moving it around a lot can be a chore.
#6: Bowflex SelectTech 3.1 Adjustable Bench
If the Bowflex SelectTech 5.1 is a little out of your price range, then the SelectTech 3.1 might be just what you need. Coming in at 55 pounds, the SelectTech 3.1 adjustable bench is solidly built, and rated to handle up to 300 pounds.
The SelectTech 3.1 is limited to just 4 different angles; A slight -10° decline, flat, and 2 incline angles at 45° and 90°. While you may find this limiting, I found I got along just fine with just these few options. Could I have used a little more adjustability? Sure, but I was able to make it work.
Adjusting the bench is simple enough, and it should not at all impede you fluidly switching from one exercise to the next while supersetting.
My only real issue with this bench is the 300 pound weight rating. 300 pounds may seem like a lot, but when you factor in your own bodyweight, that weight you can lift while laying on this bench shrinks down considerably. If you're a serious lifter, you'll likely want to look elsewhere.
Bowflex backs this product with a very generous 15 year warranty, so if you have any worries about the longevity of a more budget-friendly option, you can set those aside. 
Overall, the SelectTech 3.1 adjustable bench is a solid contender, and one that the casual lifter would be more than pleased with. If you're not looking to set any world records, this bench may be for you.
#7: Power Block Sport Bench
The last contender we have for best adjustable weight bench is the Power Block Sport Bench. Like everything Power Block makes, this is a heavy-duty piece of equipment, that makes no compromises on quality.
Rated at 550lbs capacity, the Power Block Sport Bench would be perfect for the aspiring powerlifter or super-bencher, looking to lift some serious weight. 
Unlike the previously mentioned SelectTech 3.1 bench, the Power Block Sport Bench has 5 adjustable positions, so you can fine-tune your lifting angle to hit your muscles from every which way!
Some added features that Power Block added to this bench that I really like are the flat feet at the front of the bench, which add stability, and wheels on the back, which make moving it around a whole lot easier.
Overall, the Power Block Sport Bench is a great option for an adjustable weight bench. I just wish that it was a little wider towards the upper area of the bench. For those with a wider back, it can be hard to dig in and get a solid foundation for benching, which makes this bench a no-go for some.
Benefits of Having An Adjustable Weight Bench
The benefits of having an adjustable weight bench are very clear: it opens up the possibility of doing several exercises at home that you would not be able to perform otherwise. If you currently work out at a big box gym and want to transition to a home gym, a bench is one of the first things you'll need. Let's talk about the benefits in detail.
Exercise Variety
The most important benefit of an adjustable weight bench is that it adds a huge surplus of new exercise options to choose from. Some of the most crucial exercises in fitness require a bench to perform, such as bench press, fly's, pullovers, and many more.
Having the ability to do these vital exercises will accelerate and skyrocket your results, as major power movements like bench press are scientifically proven to increase muscle strength throughout the entire body (even though the exercise itself only focuses on chest).
Seated variations of typical standing exercises also help isolate the muscle you're working and prevent you from using momentum to cheat on reps. For example, if you're doing dumbbell curls while standing, a lot of people have the tendency to swing their arms to help get the weight up. This is technically cheating the movement because you're not really using your biceps to lift the weight, you're using momentum.
Seated curls don't give you the ability to use momentum, so you're forced to use strictly the muscle to lift the weight. This is a lot more challenging, but also extremely beneficial in ensuring you get the best results from your workouts as you'll be using 100% muscle 100% of the time.
Working Muscles At Different Angles
In addition to the new exercise opportunities you'll have, you'll also have the ability to work your muscles at different angles. Why is this important? To put it in simple terms: muscles are very complex! You have to work them from different angles in order to get a thorough workout and the best possible results. There are multiple parts to each muscle, and depending on which angle you exercise a muscle at, you may be putting focus on certain parts over others.
Let's take bench press for example. If you're doing flat bench press, you're pretty evenly working the chest as a whole, but the main focus is on the middle of the chest. But if you change the angle of the bench so that it's at an incline, you're also changing the focus of the muscle and instead working mainly the upper chest rather than the middle of the chest. Same goes with decline.
Bench press is the easiest example to give because it's the most common, but this is applicable across nearly all muscle groups. If you're doing seated curls, changing the angle of the bench will utilize different parts of the bicep. Or if you're doing reverse rows, changing the angle of the bench will work different parts of the deltoid/back. The list goes on and on.
The importance of working your muscles at different angles cannot be stressed enough. Neglecting certain parts of your muscle can lead to bad results in both muscle development and strength.
Great For All Experience Levels
Adjustable weight benches have a lot to offer any athlete, whether you've been lifting for years or you're just getting started for the first time. They are extremely easy to use and help immensely with retaining correct posture and form during exercises, which is especially helpful for beginners who are still learning. As you read above, the variety it adds to your routine and the muscular benefits it offers really can't be matched with any other type of equipment, which is why many physical trainers recommend a adjustable weight bench as a must-have in your home gym.
Professional athlete trainer Jeff Cavaliere, one of the most respected strength coaches in baseball, actually lists a adjustable weight bench as one of the 4 essential pieces of equipment in his own home gym (the other 3 being an adjustable dumbbell set, resistance bands, and a doorway pull-up bar).
Things To Consider Before Buying An Adjustable Weight Bench
When shopping for an adjustable weight bench, research is important. As was mentioned earlier, adjustable benches have a pretty wide variety in quality, which can be tricky to deal with. Not all quality benches are expensive, and not all expensive benches are good quality, so here are the main points which you should be concerned to get yourself a good value and fill your fitness needs.
Price
You might have guessed that this would be the first thing to look at, but it is still important. Looking at benches that are out of your price range is a waste of time, and once you define your price range, you can cut out a vast majority of benches to ensure you find what you're looking for. Are you looking for a beginner-level bench, a mid-range bench, or a commercial bench that can support an elite-level lift?
Weight Rating
Once you've defined your price range, weight rating should be the next item on your checklist. If you weigh 250lbs and you want to put up some serious weight, you most likely won't be shopping for benches with 300lb weight ratings. Conversely, if you weigh 175lbs but you only want the bench for dumbbell bench press and split squats, you won't be shopping for an expensive bench with a weight rating over 2,000lbs. Out of concern of safety and comfortability, while also making a practical financial decision, make sure you have a weight rating in mind when shopping for your bench.
Versatility
Versatility is also a huge factor in deciding on a bench. An adjustable bench is an investment, as most manufacturers have warranties of up to 30 years on the bench frames. Picking a bench without very many exercise options can leave you stuck with a bad decision for a while.
Make sure the bench has all of the different positions you require. If you never do decline work, opt for a bench that has a few settings in between flat and incline, you'll most likely save some money. If you work decline, flat and incline pretty often, then go for a bench capable of those positions.
Manufacturer accessories are also a point to go over. If you like to switch up your workouts and lack the equipment, adding on to your bench can be a cost-effective and space-efficient way to build up your home gym if the brand offers accessories that fit your needs.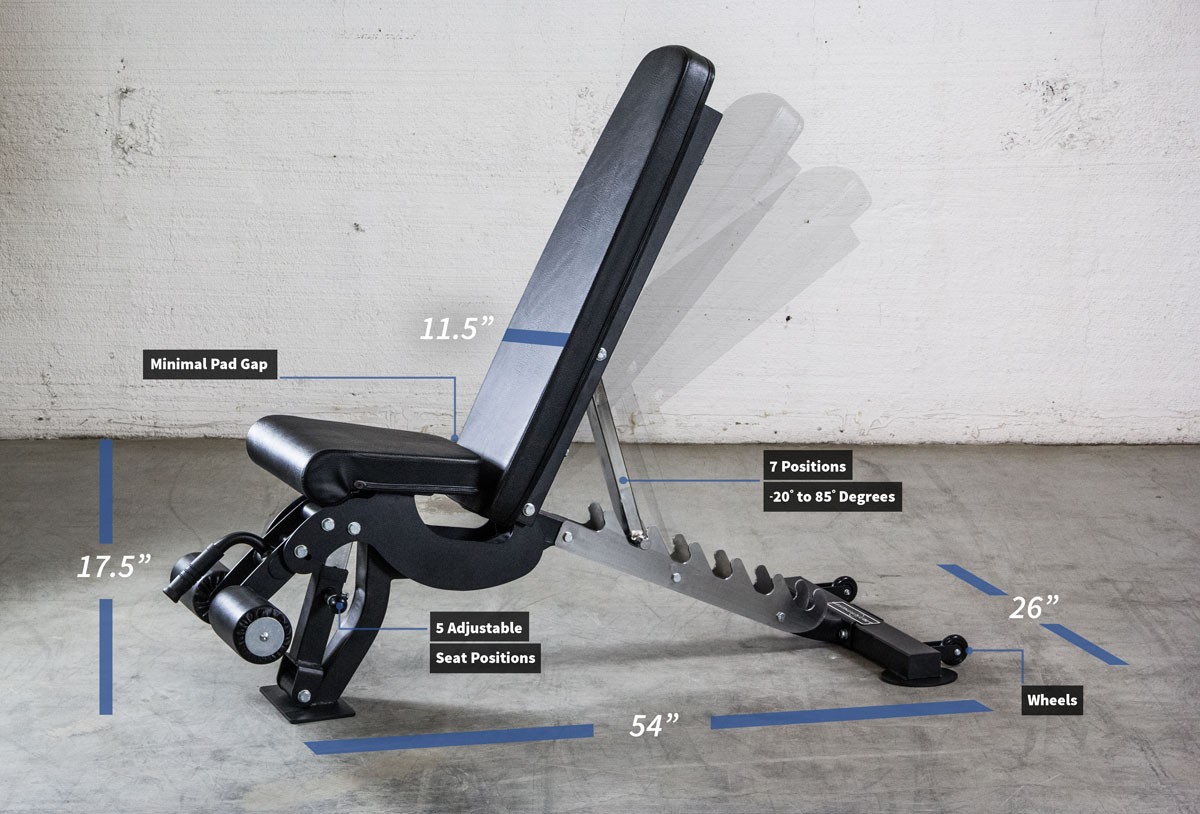 Space
Having a huge, clunky bench in a tiny home gym is going to be a problem, especially if you have to move it around frequently. Also, if you pick a folding bench on a space-saving premise, but have the room for a more solid bench that fits your needs better, you're shooting yourself in the foot and hindering the quality of your workouts. Space is extremely important in picking an adjustable workout bench, and can make a significant difference in your fitness routine and daily life.
Comfort
Last but not least, we all want a bench that's comfortable to workout on! Comfort is, for some, one of the most important considerations to make when choosing between models. Adjustable weight benches are an important support system when lifting weights, so you want to make sure you're going to be absolutely comfortable with whatever bench you choose. Benches vary in shape, size, and padding, which can all affect the way it feels to different people. And because everyone has different preferences, the best adjustable weight bench for you might not be the best for someone else.
Must-Have Accessories
There are several things you'll need besides a bench for a good workout. First, you should pick up some weights. If you have a cage (or are planning on getting a cage), there are several 300lb barbell sets available online that can be easily added on to. If you don't plan on including a cage in your home gym, dumbbells or dumbbell sets are also widely available.
Also, earlier in the guide we mentioned manufacturer accessories – these can be a great way to build up your home gym without breaking the bank or having an excessive amount of equipment laying around. Lat pulldown towers, cable attachments, preacher curl attachments, leg developer attachments, and wheels are available with several different models of adjustable bench, and can take your workout to a whole other level.
Final Thoughts
Choosing the right adjustable weight bench will have a huge impact on your workouts. Bench press, skull crushers, split squat, military press, incline bench press, decline bench press, flyes, seated curls, bent over DB rows, step ups and several other exercises require a bench – needless to say it's an integral piece of gym equipment for homes and big box gyms alike.
The Ironmaster Super Bench was our winner for the best adjustable weight bench, but if it doesn't fit your needs perfectly, do your research and choose a bench that is right for you. Make sure to take price, weight rating, versatility and space into consideration before making your big purchase.
Weights and other fitness equipment can be necessary to get the kind of workout you want, but the most important aspect of any home gym is the person using it, and the decisions they make to craft an environment which will allow them to work hard and make those results happen. So do your research, narrow it down and pick the adjustable weight bench that's right for you – it's in your hands.