by
If you've ever been in the market for a treadmill, then it's likely you've come across the Xterra brand. This company has been in the fitness industry for a while, specializing in work out gear and gym equipment for home use.
Currently, their hottest line of treadmill models is the TRX series. While they're not the cheapest choices, the Xterra TRX line-up just oozes with quality and efficiency. So I have no problems recommending them to anyone in search of a solid treadmill for their home gym.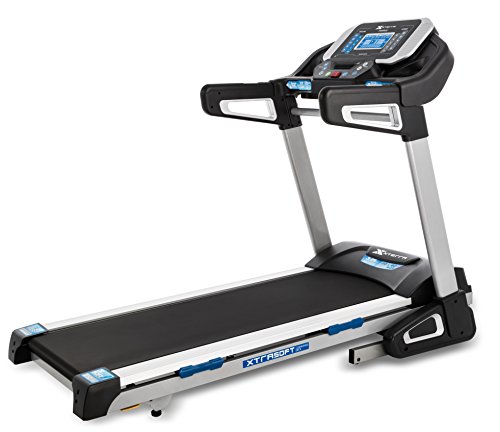 This premium line of treadmill models boasts a number of impressive features that make the whole home gym cardio experience easy to do and stick with. There are three different models in the series – the TRX2500, TRX3500, TRX4500. These three share the same key features, but come with minor differences that bump up power and performance.
Across the three different models, I'd have to say that I'm most impressed with the TRX4500. But of course, the 2500 and 3500 are pretty solid designs on their own, especially if you want something that really just gets the job done.
Interested in finding out which of these three elite treadmill models best suits your cardio needs? Read on to find out what each one brings to the table with this complete review and comparison.
Overall Construction and Build
What sets the Xterra TRX line of treadmills apart from other brands? Simple – they come with upgraded features that make their use more efficient and enjoyable. So at a glance, you'll notice that, while they do have the same build as any other treadmill in the market, they're significantly more intuitive.
Xtra Soft Cushioned Deck
Running on a treadmill that's flat and unresponsive can be dangerous for your joints. Plus, budget-friendly treadmill models that use nothing more than a belt that loops around solid metal are a lot more taxing to run on. So you end up throwing in the towel before time runs out.
A feature I particularly liked about the TRX line-up is the Xtra Soft Cushioned Deck. Engineered for comfort and safety, this responsive and slightly bouncy surface conserves your energy and reduces impact on your joints. So what you get is a longer run with lower chances of injury.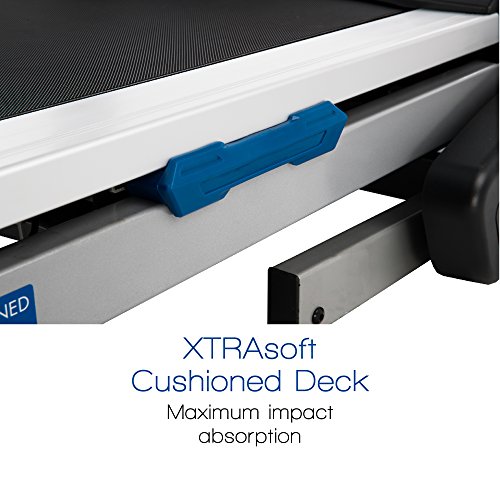 Sizes for the running belt change between models. For instance, the TRX2500 comes with the smallest running surface, at 20"x55". Despite having the smallest belt among the three choices, it still competes with industry standard treadmills. For instance, the crowd favorite Nordic Track C700 Treadmill which falls within the same price range features a belt that measures 20"x55" as well.
The other two treadmills in the TRX line-up share the same measurement at 20"x60". For individuals with longer legs and thus wider strides, these two models will give you a slightly larger space to move.
Fold Up Assist and Soft Drop
One simple feature that's often overlooked in treadmills is folding and dropping. Essential for compact storage, the folding feature isn't always the easiest or safest thing to use on most models. That's because majority of designs require the guidance of the user all throughout the folding or dropping process for proper execution.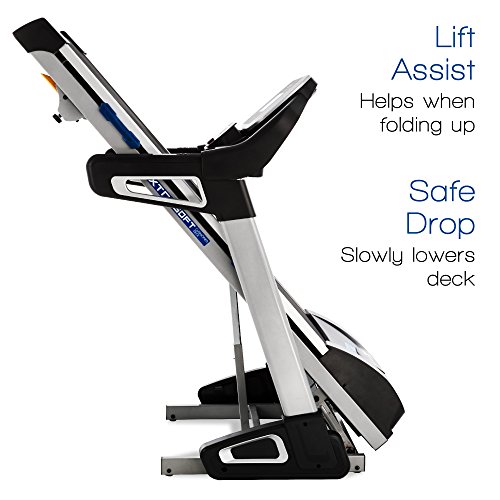 The TRX line-up features a soft drop and fold up assist feature that eases all of that. The fold up assist reduces the weight you would need to lift to fold the treadmill up, while the soft drop feature allows you to let go of the running belt as it gradually falls parallel against the floor.
Heavy Duty Unibody Steel Frame
Another feature that puts the Xterra TRX series a cut above the rest is its unibody frame. That is, the treadmills use a single piece of metal for its frame. This reduces the number of welded joints, giving you a stronger, more reliable piece of gym equipment that won't wear out soon after you buy it.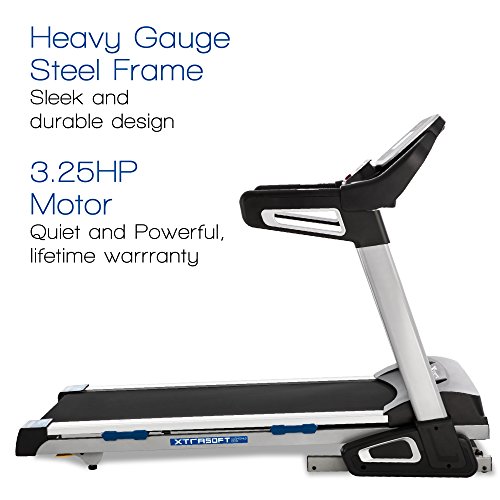 The TRX2500 has the smallest footprint compared to the other two models. Taking up only 72.3 x 35.5 x 56.1 inches when fully assembled, this treadmill can save you a lot of space. Plus, the fact that it fold up pretty neatly means you can easily gain back your free gym space for other exercises.
The other two models measure just about the same, with an added 5" to accommodate the extended length of the running belt. Despite that, they're still pretty compact, so they won't eat up too much space in your home gym even when they're not folded up.
Intuitive Controls at the Tip of Your Fingers
Probably the crowning glory on all three of these models is their LCD display. While all three have relatively larger screens compared to other choices on the market, the TRX4500 boasts the largest one in the series, measuring a whopping 7.5".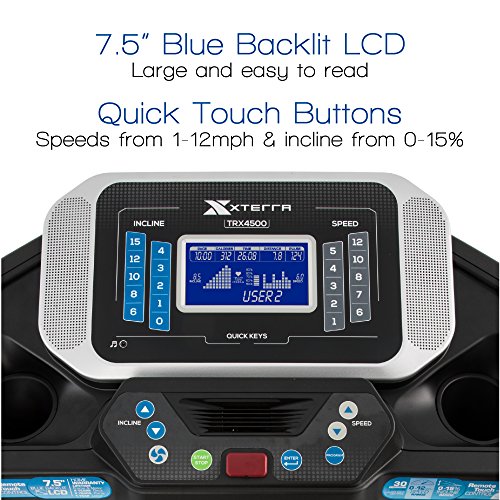 The console basically controls all of the functions of the treadmill. On the screen, you'll see all the important data for your current run. These include your heart rate, speed, distance, time, and calories burned.
The design for the console changes from model to model, and is significantly more sophisticated with the TRX4500. Nonetheless, all three designs have solid user systems that make the use of the treadmill easier and intuitive.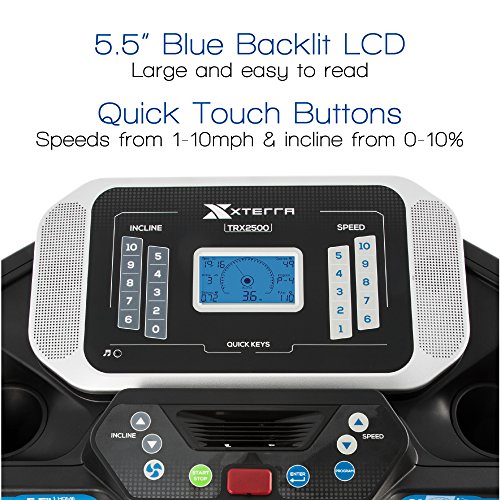 As for the consoles' features and programs, there are quite a number of differences between each model, several of which I've indicated in the table below:
| | | | |
| --- | --- | --- | --- |
|   | TRX2500 | TRX3500 | TRX4500 |
| Preset Programs | 24 plus manual | 30 plus manual | 30 plus manual |
| Custom Programs | 2 | 2 | 2 |
| Heart Rate Programs | 1 | 1 | 1 |
| Mobile App Compatibility | No | Yes | Yes |
| Bluetooth Compatibility | No | Yes | Yes |
All things considered, the TRX2500 has a smaller screen and less features, but that doesn't make it any less of a practical choice. If you want a reliable, effective treadmill minus any fancy bells and whistles that could compound the cost, the TRX2500 makes a smart purchase.
If you're willing to pay a little more though, the TRX3500 and TRX4500 offer a few extra features that could extend the fucntions of the console, including Bluetooth and mobile app compatibility.
A Powerful Series of Treadmills
The biggest consideration you should make when choosing among these three models is the motor rating. Deciding which one is right for you depends on how long you intend to use the machine daily and in the long run, how much you weigh, and how fast you want to go.
This concise table should give you a better understanding of how each treadmill's motor differs from the others:
| | | | |
| --- | --- | --- | --- |
|   | TRX2500 | TRX3500 | TRX4500 |
| HP Rating | 2.25 HP | 3.0 HP | 3.25 HP |
| Speed | 10 mph | 12 mph | 15 mph |
| Maximum weight capacity | 300 lbs | 350 lbs | 350 lbs |
| Warranty | Lifetime | Lifetime | Lifetime |
The takeaway here is that if you're a casual runner, then the TRX2500 would be the perfect match for your needs. It offers just the right power, weight capacity, and speed to be able to accommodate beginners and occasional users.
For those who want an elite piece of home gym equipment, the TRX4500 is the obvious selection. I found this design to offer the best power and performance with its 3.25 HP motor. So it can easily achieve speeds of up to 15 mph making it best for those who run frequently. It's also a hit for those who like challenging themselves by bumping up intensity.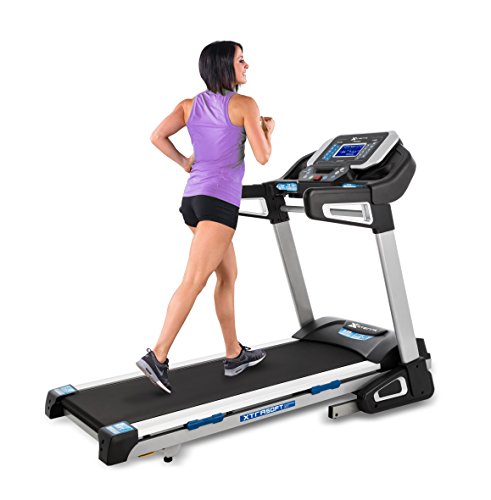 If you want the best of both worlds – that is, price and performance all in one – then the TRX3500 would be a solid pick. This model is the perfect marriage of power and value for money, falling right smack in the middle of the two other models.
Other Features and Key Points to Consider
All three models have their own built-in speakers that deliver some pretty solid sound quality to help you do your best on the belt. Plus, they also come equipped with a USB port built into the console. So they can also connect to your music player for convenient and easy listening.
Each treadmill can accommodate a special chest strap to monitor your heart rate. They also come with finger sensors that help keep track of your heart rate while you're on the machine.
I want to mention though that for the slightly higher price, the TRX4500 comes bundled with the chest strap monitoring cable. So if you want it with your TXR2500 or 3500, you need to purchase it separately. Nonetheless, the finger monitors can provide a reasonably precise reading if you're not too keen on the heavy details.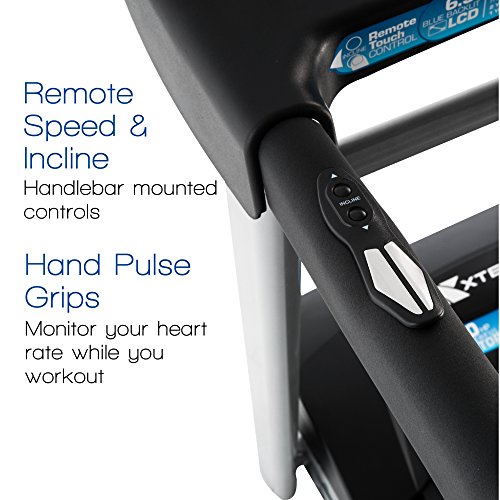 Finally, I want to talk about the warranty on these things. Obviously, with more features and functions, the TRX4500 comes with the longest warranty coverage, giving buyers protection for 5 years on the deck, 2 years on parts, and 1 year on in-home labor. On the other hand, the TRX3500 gives 2 years for the deck and parts, and just a single year for labor. Lastly, the TRX2500 gives just one year coverage for each of the three items.
As for the motor and the frame however, all three models offer a lifetime warranty that protects you against manufacturer damage and defects.
The Verdict
The TRX series from Xterra is a smart, efficient, and intuitive treadmill selection that caters to a wide variety of buyers. So making a choice really depends on what you need and what you're looking for.
If you're in search of a budget-friendly smart treadmill, then the TRX2500 can be a solid pick. While it lacks some of the features of its big brothers, it does have the basics that could make your running experience easier, simpler, and more enjoyable.
When you consider all the angles though, the TRX3500 and TRX4500 come with a world's worth of great functions and features. And while some of them might seem non-essential, they definitely help make that dreaded cardio a whole lot easier to stick to.
All in all, the TRX series from Xterra Fitness is a line-up I can strongly recommend. So if you want something that's guaranteed to last in the long run, any one of these treadmills will be sure to deliver.