The Bowflex home gym training system first hit the market in 1986. Nowadays the polymer rod based resistance trainer is a familiar sight for most of us. The Bowflex Ultimate 2 Home Gym is a good but older model that has been replaced by several new models with better features.  The Ultimate 2 allows you to work every major muscle group safely and effectively while also providing an effective cardio workout.
In this article, we get up close and personal with the Bowflex Ultimate 2 Home Gym to discover whether it belongs in your home.
Customer Reviews
There are 53 reviews of the Bowflex Ultimate 2 Home Gym on Ebay, with an average rating of 4.9.
Overstock.com has 23 ratings of the Ultimate 2 Home Gym with an average of 4.7 stars.
There are 83 reviews of this home gym on Viewpoints, with an average of 4.3 stars.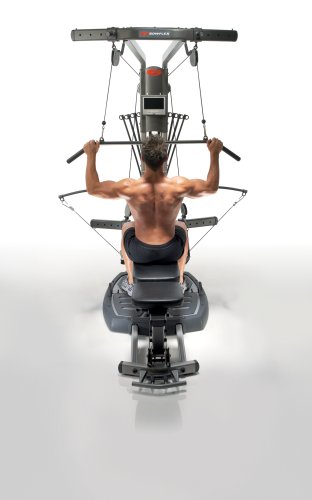 Pros
Power Rod Resistance
95 exercises
Built-in cardio rowing machine
Constant tension
Full range of motion
Cons
Space requirements
Rod integrity
Benefits
Huge Exercise Range
With the Bowflex Ultimate 2 you have the potential to perform more than 95 exercises. These work every area of your body and include such compound movements as squats, the bench press and deadlifts. Transition between exercises is quick , meaning that you don't lose training momentum having to adjust equipment after each exercise. There are no weights to carry around and no cable change pulley to worry about.
This home gym is bundled with a Lat Tower, leg extension, / leg curl station, preacher curl attachment, integrated squat station, and built-in rowing machine. That provides you with the resistance training versatility that you'd find in  commercial gyms.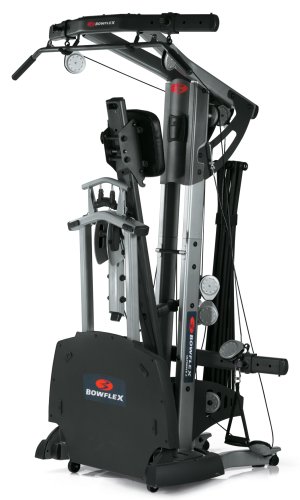 Safety
The resistance for the Ultimate 2 is provided by Bowflex's patented polymer rods. These are extremely lightweight so no longer do you have to lug around heavy weights. This makes it a whole lot safer for you while working out, reducing the risk of failing under a heavy load or even of dropping a weight on your foot.
Because there are no weight stacks with this machine, it is safe to exercise without a spotter, even when doing moves like squats or the bench press.
Working out on the Bowflex Ultimate 2 has been shown to be safer for the joints than using conventional weight training equipment. This makes it a great option for people who have joint issues.
Compactness
The Ultimate 2 is a surprisingly compact unit. It provides you with a comfortable workout area without taking up loads of space. It folds to a compact size of 44 x 46 inches. The recommended workout area is 9'4″ x 6'6″.
Huge Resistance Level
The Ultimate 2 provides you with a maximum of 310 pounds of resistance via Bowflex's patented power rods. These can be upgraded to 410 pounds at any time.
Natural, Full Range of Motion
The polymer rod based resistance system that is used with the Bowflex Ultimate 2 provides a natural feel to every exercise. It also allows you to go through a full range of motion on every exercise, providing a full flex and contraction on each and every repetition.
Constant Tension
When you exercise with barbells or dumbbells, the muscle undergoes a strength curve which gets easier as you near the top of the movement. This makes the last 20-30% of the movement not as effective at building muscle as the rest of the exercise.
However, when you work out on the Bowflex Ultimate 2 there is a constant level of tension on the working muscle. This makes the exercise harder than when using barbells and dumbbells. It also make it more effective as a muscle builder.
This constant tension feature of your workouts will increase your training intensity and provide you with  great muscle pump. As a result, your muscles will respond faster.
Comfortable
The bench on the Ultimate 2 is very high quality. It is a multi level adjustable bench, allowing you to perform angled upper body work. The surface of the bench is well padded, providing you with a very comfortable level of support. Unlike many benches, this one is not too wide to restrict your natural range of motion on exercises such as chest flys.
Good Support
The Bowflex Ultimate 2 comes with a very comprehensive instructional DVD. The DVD shows you how to put the unit together. It also includes a range of workout options for different training goals. Your purchase also comes with a comprehensive guarantee.
You get a 12 year warranty on the entire gym with a lifetime guarantee on the rods – you can't ask for better than that!
Cardio Option
The Bowflex Ultimate 2 comes with a built-in cardio rowing machine. This allows you to get in an awesome cardio workout any time. You can also mix up your training between cardio and weights for a great cross training workout.
Drawbacks
Rod Integrity
In 2007 there was a recall of the Bowflex Ultimate 2 Home Gym because about ten customers reported that the polymer rods were separating. Three of these incidents resulted in injuries including bruised arms, sore elbows and a sore back.
All registered owners are sent a repair kit. No further issues have been reported since then. Bowflex does offer a lifetime guarantee on their polymer rods.
Size
Even though the Ultimate 2 folds down to a compact size, it does take up quite a lot of space when in operation, especially requiring a good deal of overhead clearance. If you want to find the best compact home gym, check out our comprehensive Best Home Gym article.
The Competition
There are a number of competing home gym systems on the market that, like Bowflex, make use of an alternative system to traditional barbells and dumbbells to provide their resistance.
Let's consider the most popular.
Total Gym XLS
The Total Gym has been a hugely popular home gym option since the days when Chuck Norris was promoting it back in the '80's. It uses a combination of bodyweight resistance, an angled bench and cables to provide an effective alternative to barbells and dumbbells. The Total Gym XLS is Total Gym's top of the line model. It is ideal for all fitness levels as it works it's resistance based on the bodyweight of the user.
This unit has a 400-pound weight capacity and is able to perform in excess of 80 exercises, covering every muscle group in the body. Unlike with the Bowflex Ultimate 2, there is absolutely no assembly required with this machine. It folds for ease of storage and has a compact user foot print of 19 inches wide by 90 inches long and 43 inches high, making it more compact than the Bowflex. The folded dimensions are 19 inches wide, 51 inches long and 9 inches high.
The Total Gym XLS comes with an upgraded comfort system, a pulley and cable system, a squat stand, flexible nylon strap handles, a padded glide-board with head support, wing attachments, a leg pulley attachment and an ab curl attachment.
Total Gym provide you with excellent support with 5 DVDs that come with your purchase. You also get an exercise wall chart, a training deck and nutritional program and a meal planning guide. The Total Gym comes in at several hundred dollars cheaper than the Bowflex Home Gym Ultimate 2.
Marcy Diamond Elite Smith Cage with Linear Bearings
If you're after a more conventional alternative to the Bowflex Ultimate 2, you can't go past the Marcy Diamond Elite Smith Cage home gym for serious weight trainers. While this unit will demand quite a lot more floor space than either the Bowflex or the Total Gym, it will provide you with a lot of the equipment that is usually only found in a commercial gym.
To start with, the Marcy Diamond features an off the floor base frame design which provides you with a very secure base to work from. This ensures a high degree of rigidity and sturdiness to the unit when you are working out. You get a high functioning Smith Machine with the best quality guide rods to ensure that every rep of every exercise gives you a smooth, natural motion. The frame structure features a  7-degree slant that has been ergonomically designed to follow the natural movement of the upper and lower body.
This unit has a number of built-in safety features, including adjustable bar catches and safety stoppers. There is also a high quality diamond plated non-slip foot plate for performing the seated rowing exercise. An adjustable sliding track allows you to adjust your back pad angle for customized body positioning. The pulleys and sealed bearings on this unit are top quality, featuring 3/3/4 inch nylon pulleys with sealed ball bearings.
The frame of this machine is constructed from two inch by two and three quarter inch heavy duty tubular steel.
Overall, the Marcy Diamond Elite Smith Cage is an extremely sturdy, versatile and functional home gym. It does not come with a weight stack as you load your own plates onto the machine. It is about the same price as the Total Gym XLS.
Bottom Line
The Bowflex Home Gym Ultimate 2 is a complete home gym system that provides you with nearly a hundred different exercises. The polymer rod system has proven itself over the years to be a viable alternative to traditional free weights. It's main advantage over barbells and dumbbells is that it provides constant tension on the working muscle.
We recommend the Ultimate 2 as a high quality complete home gym system. For those who are looking for something a little bit simpler, cheaper and more compact the Total Gym XLS is a great option.
If you prefer to stick with traditional free weight resistance (i.e. weight plates), you won't find much better that the Marcy Diamond Elite Smith Cage with Linear Bearings.