Bottom Line Upfront: the Schwinn 460 Elliptical is high quality for the price and gets our recommendation.
Schwinn has established themselves as a premium player in the bicycle market and has taken that expertise into the home fitness market. Their range of elliptical trainers offer  great workouts coupled with superior ergonomics. In this review we'll zoom in on the Schwinn 460 Elliptical. Let's find out if this model lives up to the Schwinn reputation.
Featuring a back-lit touch screen LCD monitor, 16 workout programs, a 'V' stride from between 2 inches and 26 inches and a chest strap with telemetric , this is an excellent elliptical that will give you an excellent elliptical workout.
Pros:
Auto stride adjustment
Forward and reverse directional movement
16 workout programs
Chest strap
Articulating foot pads
Cons:
Limited Warranty
Noisy
Difficult to assemble
Benefits:
Automated Stride Adjustment
A lot of ellipticals for the home market don't provide you with a sufficient stride range, resulting in a disappointing workout. You certainly won't have that problem with the Schwinn 460. You get a max stride length of 26 inches, which is more than you find in many commercial gyms. What's more you can easily adjust the stride length automatically without interrupting your workout.
Forward and Reverse Directional Movement
The ability to pedal bi-directional is a huge advantage on and elliptical machine. It allows you to work your muscles in different ways and especially provides a way to target the glutes, which are often a problem are, especially for women.
Lots of Training Options
With the Schwinn 460 you get 16 different workout programs that are built into the computer module. 11 profiles were created by the Nautilus Institute. With these you get personalized guidance on how to maximize every aspect of your workout. The different types of programs provide you with lots of variety, with everything from interval training to challenge and fun workouts.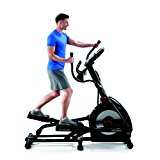 Magnetic Eddy Current Resistance
The Schwinn 460 comes with a magnetic eddy current resistance system. This provides you with a very smooth riding motion. You won't get any stuttering or jitteriness which is common with lesser models. instead you can enjoy a complete 360 degree range of motion to enjoy a full, complete workout experience.
You get 16 different levels of resistance with the 460. This makes it an ideal machine for every member of the family. It also makes it easy to progressively increase your training intensity. Transitions between resistance levels is smooth and fluid.
Quality Performance Tracking
The Schwinn 460 monitor features  backlit LCD display which provides you with ongoing feedback on your performance. You get readouts of your interval times, pulse, distance, speed, resistance levels, calories, course profile and rpm. You can also monitor your target heart rate to ensure that you are on track for maximum fat burn and cardio effects.
There are two ID settings on this machine, meaning that two people are able to record their personal data and keep their straining diagnostics recorded on the console. You are also able to connect to the Schwinn Connect app, which allows you to analyze your training data in depth.
Chest Strap
The Schwinn 460 provides you with a very accurate way to monitor your training pulse rate. While most competitors rely on inaccurate hand sensor systems, the 460 gives you a telemetric strap which you wear around your chest. This provides you with an extremely accurate method of tracking your pulse, allowing you to stay in your training heart rate zone.
Articulating Foot Plates
The foot plates on the Schwinn 460 have been ergonomically designed for ultimate performance. Each pedal pivots to allow you to move through your natural range of motion. This will reduce your workout fatigue and ward off any ankle problems.
Handy Extras
The Schwinn 460 comes complete with a cooling fan, an oversized water bottle holder and transport wheels for ease of transport.
Solid Build
The 460 is made from quality componentry and put together with Schwinn's care to detail. The solid tubular steel frame allows for  a maximum user weight of 300 pounds, which is quite impressive for a home use machine. The unit is quite heavy, but it does come with a transport handle and wheels, so you'll have no problem moving it around.
Dynamic Approaches
The 460 gives you stride options depending on which areas you want to target. If you want to focus on your quads and calves, choose the 'STEP' option. Selecting the 'WALK' options allows you to hit the glutes and thighs. To hit all of your lower body muscles simultaneously, choose the RUN option.
Drawbacks:
Limited Warranty
The Schwinn 460 does provide  better warranty than you find on many competing models. However, we believe that it is still not comprehensive enough.  Schwinn offer you a 10-year warranty in the frame, with 2-years on parts, 12 months on electrical parts and six months on labor.
Noisy
Quite a few of the  online reviewers of the  Schwinn 460 have commented that it is quite noisy when in operation. This can be a problem, especially of you're exercising in a room where other people are watching TV!
Assembly
Because the Schwinn 460 is quite heavy, it is a bit of a hassle to put the thing together. you'll probably need to few of your buddies (and at least and hour of your / their time) to assemble the unit.
The Competition:
NordicTrack C 7.5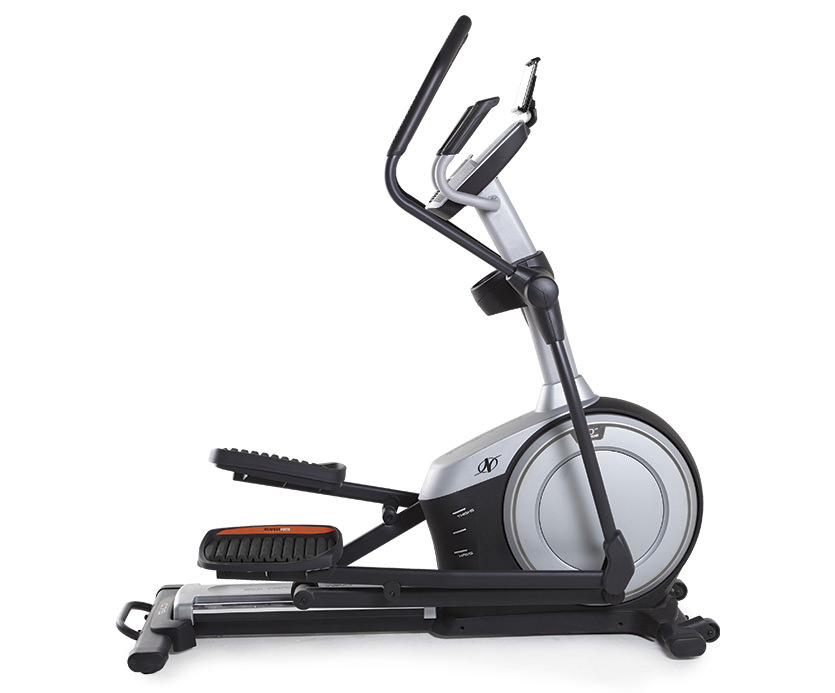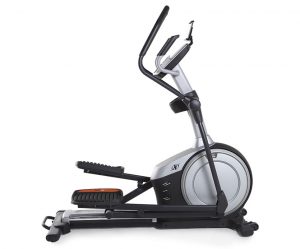 The NordicTrack C 7.5 is NordicTrack's most affordable elliptical, with a price tag of under $800. It provides you with a heavy duty 20 pound flywheel to give you a very smooth, natural range of elliptical motion. This also helps to anchor the machine for better stability. This is a very good flywheel at this price point.
The C7.5 also gives you an incline to allow you to adjust the angle of your stride motion. This allows you to work your muscles from a range of different angles. You get a 0 to 20 degree power incline. You can even change the incline level of your workout without interrupting the flow of your workout.
The C7.5 is fitted with iFit LIVE, connecting your elliptical machine to the internet. You can download new workouts and track your workout history online. You're also able to train on simulated tracks all over the world.  Above the console is a tablet holder. This allows you to enjoy your favorite entertainment while also being able to view all of your workout diagnostics.
The bright back-lit console of the C7.5  makes it easy for you to read from any angle. It is easy to read and provides you with feedback on your speed, time, distance, pulse and calories burned. You also get an iPod dock, allowing you to listen to your favorite tunes through the built-in speakers.
There are a few drawbacks with the Nordictrack C7.5. While you don't need the iFit LIVE app to operate the unit, you will need to pay $99.95 per year for a subscription if you want to make use of it. Also the console, while bright and backlit, is only dual color as opposed to multi color.
Unlike the Schwinn 460, the Nordictrack C7.5 does not provide you with a wireless chest strap. It has a hand held sensor system that is not overly accurate. But if you want a smooth stable elliptical with incline and extra entertainment options, the Nordictrack C7.5 is worth considering.
Exerpeutic 1000XL Heavy Duty Magnetic Elliptical
The Exerpeutic 1000XL is designed to be a heavy duty elliptical. It can handle up to 325 pounds of user weight, providing a zero impact workout without causing harm to hips, ankles or joints. It utilizes dual action arms for strengthening the upper body. Hand pulse pads are located on the stationary handles bars. As with the Nordicktrack C7.5, there is no chest strap heart rate allowance on this unit.
The Exerpeutic 1000XL is designed with  natural, smooth 360-degree elliptical motion. However it is limited in its stride length, with a max stride of just 13 inches. This will not be enough for many users. However, you won't get any of the bouncy motion that you may experience on other ellipticals when you use this machine.
This machine comes with an eight level tension control adjustment. This allows you to smoothly and easily adjust the tension of your workout. The precision balanced flywheel and V belt drive provide a smooth and quiet operation, allowing you to watch TV or listen to music while working out with no interference. And, just like the Schwinn 460, you get a dual direction flywheel, which allows you to stride both forwards and backwards.
The Exerpeutic 1000XL is quite a bit cheaper than the Schwinn 460. However its major limiting factor is its limited stride length, so we do not recommend it as a viable alternative to the 460.
Bottom line
The Schwinn 460 is a high quality home gym elliptical that you can pick up for less than a thousand dollars. That makes it a good value investment. With 16 workout levels you get plenty of training variety. The stride movement  is smooth and natural and the unit is strong and durable. This elliptical gets a thumbs up from us.
If you are turned off by that big price tag, check out the best elliptical machines under 500 in our article.