The home treadmill market is a hotly contested one. With the introduction of the newly released Bowflex BXT116 and the BXT216 the quality of that market has just gone up a notch or two. Bowflex has developed an enviable reputation over the last 30 years in the home fitness space. So, when they release not one, but two new treadmills the expectations are understandably high.
So, do they deliver?
Let's find out.
The Bowflex BXT 116 Treadmill
Pros:
3.75 CHP Motor
Burn Rate Console
Chest Strap Heart Rate Monitoring
Large Running Belt
Folding Frame
Cons:
Not tested for performance quality
Benefits
Lots of Power
The Bowflex BXT116 provides you with a 3.75 CHP motor to power the workout belt. This is more than you'd normally find on a home use treadmill, with the average ranging between 3.0 and 3.5 CHP. Marathon capable treadmills provide you with a 4.0 CHP motor, which is what you get with the Bowflex BXT216.  Yet, the 116 will give you plenty of grunt to allow you to walk, jog or sprint to your heart's content.
Advanced Heart Rate Monitoring
A lot of treadmills don't do a great job when it comes to monitoring your heart rate. That's definitely not the case here. In addition to the standard hand held grip pulse monitoring system, this treadmill ships with your own telemetric chest strap. When you strap this unit on, it will provide you with the most accurate pulse monitoring that's available. This allows you to benefit from fully heart rate controlled workouts.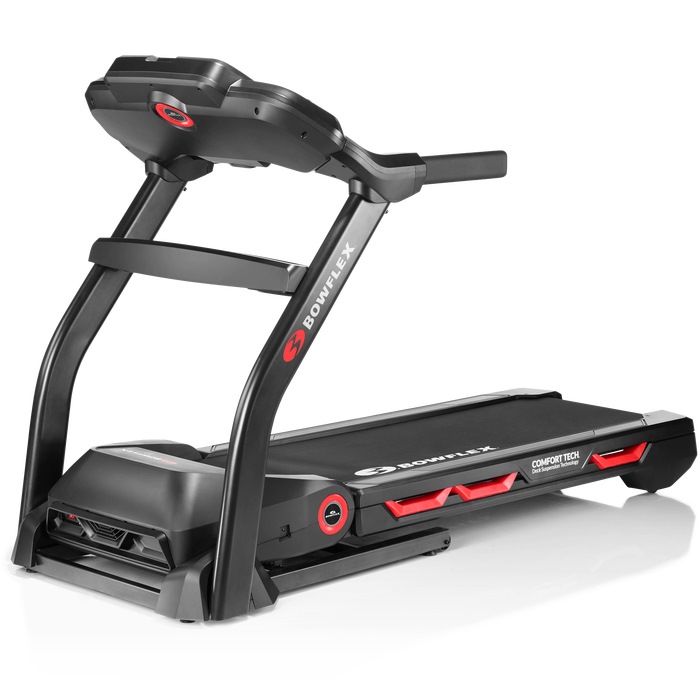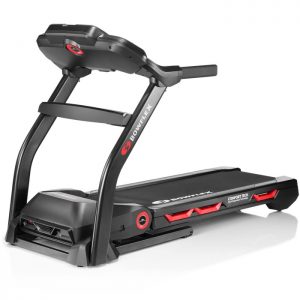 Burn Rate Console
A cool new feature on this series of Bowflex treadmills is the burn rate console. This provides you with a per minute burn rate calculator. This is in addition to all of the usual training feedback, such as time, speed, distance, heart rate, incline, and total calories burned). This extra feature provides an extra motivational factor to keep you on track to achieve your goals.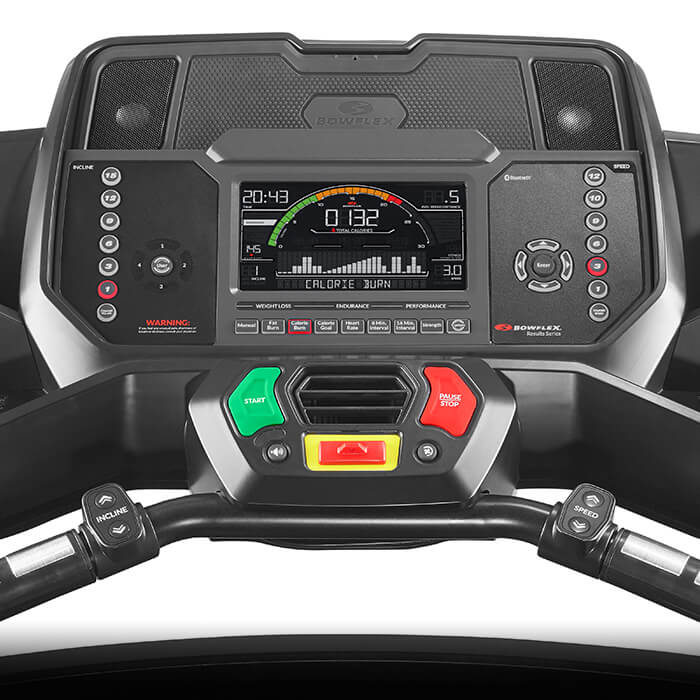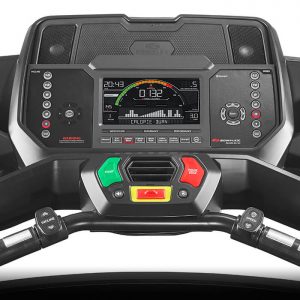 Bluetooth Functionality
The console on the BXT116 provides you with full Bluetooth functionality. This allows you to save all of your training diagnostics to the Bowflex Results mobile app. From there you are able to fully analyze your training results. You also get access to a full range of other apps including  MyFitnessPal and FitBit.
Daily Burn and Zwift Workouts
Your BXT116 comes with a Daily Burn free 8-week trial video training program. Access will also be opened to a range of virtual reality workouts from Zwift.
Extra Thick Belt
The running belt on the BXT 116 is 20 inches wide and 60 inches long, which is standard for a quality home treadmill. However, the thickness of the running mat is anything but standard. It is, in fact, three times thicker than standard. With this unit, you get a three-ply mat, in comparison to a one-ply for most of the competition. As a result, you will have absolutely no problems with the belt ripping. It also offers a superior level of comfort when you're running, giving a greater level of protection to your ankles. The belt is also far less prone to stretching. You will even notice that the treadmill will operate more quietly because of the extra thickness of the running belt.
As well as the high spec running belt, you also get a very good set of belt rollers with the BXT 116. These rollers are 2.75 inches in diameter, which is quite a lot larger than standard. The practical effect of this is that the belt will be more durable and there will be less stress on the motor.
Folding Frame
The frame on the BXT 116 is foldable so that you can easily store it away when not in use. That makes this an ideal choice if you have a limited workout space.
Plenty of Training Options
The BXT 116 comes with 9 pre-set workouts. These have been put together by fitness professionals to provide you with a full range of efficient training options. This provides for every member of the family and every fitness level.
Quality Console
The console of the 116 provides you with an impressive array of features. You get a 7.5 inch full color screen to display your workout programs. The screen is backlit to make it easy to view in all lights and from every angle. The console supports four user profiles, allowing up to four people to store their full training information. You can also sync all of your details to the Bowflex Results mobile app.
At the top of the console you will find a media shelf to allow you to watch your favorite entertainment without obscuring your view of the color screen and training data readout.
Generous Guarantee
The folks at Bowflex have established a reputation for providing quality back up for their products. With the Bowflex BXT116 you get a full two year warranty. You are also able to return the unit for a full refund at any time within the first six weeks.
Draw-Backs
Not Tested
Because the 116 is brand new to the market, it is too early to get quality feedback on the performance of the unit.
The Bowflex BXT216 Treadmill
The Bowflex BXT216 is the big brother to the BXT116. It offers some enhanced features over the 116 and costs a few hundred dollars more. In all other respects, however, it is the same.
Pros:
4.0 CHP Motor
Burn Rate Console
Chest Strap Heart Rate Monitoring
thick Running Belt
Folding Frame
Cons:
Not tested for performance quality
Benefits
Larger Workout Surface
The running bed on the BXT216 is 22 inches x 60 inches.  This is two inches wider than you find on the BXT 116. It is also wider than you find on most other home treadmills. The extra two inches may not sound like much, but it makes a big difference in terms of running comfort and natural gait.
In addition to the larger size of the running belt, you also get a thicker belt than most home treadmills provide. The majority of the competition will give you a one ply running belt. However, this unit (along with the BXT 116) gives you a three ply belt. This gives you a plusher running surface which reduces joint impact. It also reduces the possibility of the belt ripping and gives you better stretchability. In addition, it will give you a much quieter operating treadmill.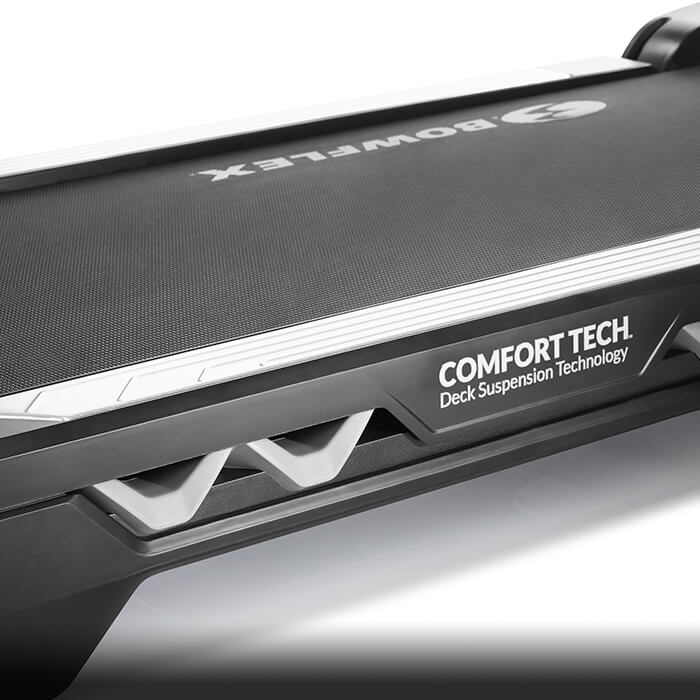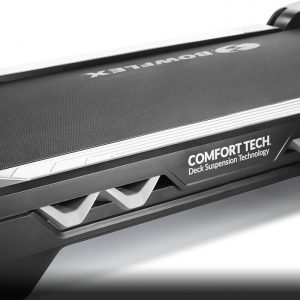 Powerful Performance
The BXT-216 provides you with a huge 4 CHP motor. That is a very impressive amount of grunt for a home based treadmill. You will have plenty of power to walk, jog or sprint to your heart's delight. The motor on the 216 is 0.5 CHP more powerful than the 116.
Burn Rate Monitor
The 216 monitor features the unique burn rate monitor, which shows you how many calories you are burning per minute. It will also calculate training zones based on your results. This proves to be a great motivator to keep you on track to achieving your goals.
Diverse Range of Programs
The console of the BXT 216 provides you with 11 workout programs. These are all created by top level fitness professionals and designed to give you the most bang for your exercise buck. Workouts are targeted for your specific exercise goals. You are also able to sync your data via Bluetooth to the Bowflex training app. Here you can fully analyze your training information. You can also pair with such apps as MyFitnessPal and FitBit. 
Quality Heart Rate Monitoring
When you purchase a BXT-216 treadmill, you also get a telemetric chest rate strap as long as handheld heart rate sensors. The chest strap is easy to apply, giving you an extremely accurate measure of your training heart rate. This allows you to train in your maximal heart rate zone.
Soft Drop Easy Folding
This treadmill easily folds up to be conveniently stored away when you are not using it. This makes it very convenient for people in cramped living quarters.
Draw-Backs
Not Tested
Because the Bowflex BXT-216 is so brand new on the market, there is no record yet of how well it performs over time. For that reason, we don't know how durable this unit is.
The Competition
The Bowflex BXT 116 and 216 are high-end treadmills in the $1000 plus price bracket. The closest competition we came cross is the NordicTrack T-6.5 S and the Lifespan TR1200i. Let's see how they compare.
NordicTrack T-6.5 S
The NordicTrack T-6.5 Scomes with a 2.6 CHP drive system. This is considerably lower than both the Bowflex BXT-116 and BXT-216. As a result, you won't be able to run as fast on the NordicTrack machine. The T-6.5 S provides you with a total of 20 built-in workouts that have been created by a certified personal trainer. That is significantly more programs than you get with either of the Bowflex treadmills.
The treadmill belt on the T-6.5 S has dimensions of 20 x 55 inches. This is somewhat smaller than both Bowflex models, meaning that your running space will be somewhat restricted in comparison. The NordicTrack treadmill provides you with automatic incline features. This allows you to adjust the incline up to 10% at the touch of a single button.
This treadmill also comes you with NordickTrack's own Flex Select cushioning. This provides you with a high degree of ankle and joint support when you are running on the belt. You actually have the option to choose between a cushioned deck or a form deck which more closely simulates running on the road. This is an impressive feature. Still, we prefer the three plies cushioning system that comes with the two Bowflex models, along with the enlarged belt roller size for even more running comfort and support.
Lifespan TR1200i
The Lifespan TR1200i treadmill provides you with a 2.5 CHP drive system. This gives you one horsepower less than the Bowflex BXT-116 and 1.5 horsepower less than the BXT-216. This is a significant difference. You will not have nearly as much grunt on this machine as with either of the Bowflex models. The running belt on this treadmill is 20 x 56 inches, which is about the same as the NordicTrack treadmill but quite a bit smaller than the two Bowflex models. You will have a significant amount of freedom when running on the two Bowflex models.
As with the two Bowflex treadmills, you can fold the Lifespan unit for easy storage. The Ezi-Fold technology makes use of a hydraulic shock to assist in folding and unfolding the unit. The soft drop system further enhances the folding and unfolding of this treadmill. You also get 21 exercise programs on this treadmill, which have all been created by top fitness professionals. Different programs have been created for the specific training goals of cardio fitness, fat loss and health boosting. This provides you with quite a lot more programs than you get with either of the Bowflex treadmills.
This Lifespan treadmill provides you with an exclusive feature that is known as Intelli-Step. Intelli-Step records every single stride that you take. This makes it ideal for walking competitions and daily goal management. Another exclusive Lifespan feature is Intelli-Guard, which ensures your safety by pausing the belt motion twenty seconds after you step away from the treadmill deck.
There is no Bluetooth connectivity available on the LifeSpan TR1200i. You are able to insert a USB drive to upload your training information and then insert the USB into your computer to download you data. This is, of course, far less, user-friendly than having Bluetooth. It also doesn't allow you to benefit from some great apps, like MyFitnessPal or FitBit.  
The Lifespan TR1200i is a high-quality treadmill that offers some unique features. However, in terms of basic functionality, it simply doesn't have the grunt or the running belt space that the two Bowflex models provide.
The Bottom Line
We are very impressed with both the Bowflex BXT 116 and the BXT 216. They both provide you with a lot of horsepower to provide you with the ability to really train with full out intensity. The three-ply cushioning on the running belts are also superior to anything else on the home gym market. Other features, such as the Burn rate monitor and Bluetooth connectivity lead us to the conclusion that these two new treadmills from Bowflex are a great investment for anyone looking to get a top quality home cardio exercise machine.