SUP (stand up paddle surfing) yoga is yoga done on a paddle board on a body of water, which can be inside or outside. I teach at a fitness club with a pool and they just added SUP yoga to the schedule because it apparently has become so popular, people can't wait for summer to try it outside.
To practice SUP yoga is very difficult, as you perform a series of poses while trying to keep your balance on the paddle board. Keep in mind how challenging it is to find balance in yoga on a hard, sturdy surface. Take away the stable ground, and replace it with the endless movement of the water, and you can understand why SUP yoga is so demanding.   It is a new, fresh way to change up your yoga routine!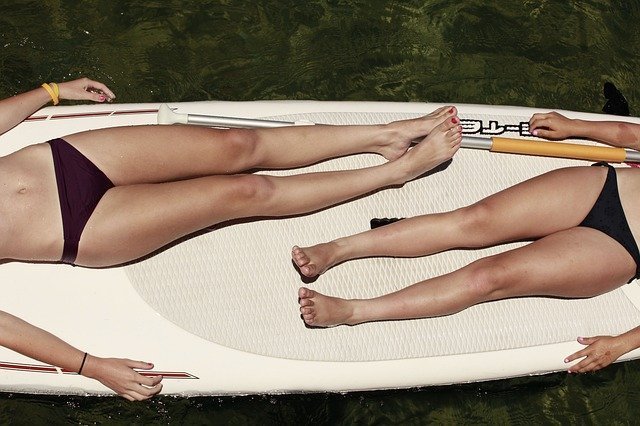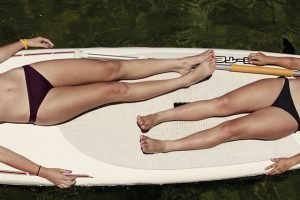 If you are ready for the SUP yoga challenge, you should set your sights on a reliable stand up paddle board. Below is a list of the seven best paddle boards for yoga on the market.
The 7 Best Paddle Boards for Yoga
Retrospec Weekender 10' Inflatable Stand Up Paddleboard Bundle
This paddle board by Retrospec made the top of the list for many reasons.
First of all it is a bundle, meaning it comes with not only the inflatable board, but also an aluminum paddle, three nylon fins that are removable, and a manual pump.  It is a 10' board, which is more appropriate for beginners (after the 7 best list I provide a paragraph about the different kinds and sizes of paddle boards) and it comes with a one year warranty.
The board is created with a drop stitch technique that provides the same sturdiness that traditional hard epoxy boards offer, and thick plastic threads bind your board together. This makes the construction of the board waterproof and very hard to damage.
Both the board and the paddle are collapsible, which makes this impressive product portable and easy to travel with.
One downside is that the manual pump is not very fast.
Pros
A "bundle" that includes board, fins, and pump
Sturdy drop stitch technique
Portable
Cons
Driftsun Top Rigid Stand Up Paddle Board
Driftsun is the top brand for hard boards, which are way more stable and indestructible than inflatable paddle boards.  However, the downside to a hard board, the Driftsun Top Rigid SUP included, is that you have to have a place to store it, because you can't just deflate them, roll them up and toss them in the trunk of your car.
So, because of the storage issue, I put this board at number two. However, it should be noted that my yoga teacher friend who offers SUP yoga classes says these are the best boards to use, so of course I had to include them on the list.
This version is offered in an 11 foot by 31 inch size.  The Driftsun company developed an EVA soft top for this board that creates a gentle padded feel but still maintains durability, which stands up to the harsh currents of water over time.
Also, it was designed with a flat bottom and a rocker, which makes it easier for beginners to find their balance.
All the Driftsun paddle boards feature a non-slip deck pad, and have a classic flat board shape, appropriate for flatwater (where SUP yoga is usually performed) or rivers and surf water.  Meaning, you can use this paddleboard for more than just SUP yoga.
Pros
Beginner friendly
Flat bottom and rocker for stability
GSS (glide surface shield)
Cons
Swonder Premium Inflatable Standup Paddle Board
The Swonder Premium Inflatable Stand Up Paddle Board is very affordable, which is one the reasons it makes the list at number three.
It comes with a backpack to store it in, once deflated, which makes it ideal for travel. Also included with purchase is an aluminum alloy paddle, a detachable fin, a high pressure hand pump, and a safety leash to put around your ankle.
Bonus: all accessories match the color of your board, making it a stylish option.  This one is 6″ thick in size, so it may be more suited for experienced SUP yogis. Once inflated, the Swonder board has unique technology that distributes the air pressure evenly across the top and bottom surfaces.
And, this paddle board comes with a one year warranty and a 30 day free return policy.
Pros
Many accessories included with purchase
One year warranty
30 day free return policy
Cons
For more advanced SUP yogis
Peak 10'6″ Navigator Rigid Stand Up Paddle Board
This Paddle Board by Peak, named the Navigator is designed with durability in mind so it makes for a good board for the whole family from beginners to experts.
It is a rigid baord made to last and advertised as very hard to scratch or ding. If you have kids who love the water this board is perfect. It is also fairly light weight for a hard stnad up paddle board at 29 pounds which makes it easier to get around.
Because it is also perfect for all levels of experience and forgiving, this makes the list because it is a "family stand up paddle board". It is made with an EPS foam core and a glass reinforced Thermoplastic Polycarbonate shell which means this rigid board can take the abuse from falls.
Everything you need to get started such as 10 foot ankle leash, a comfortable paddle and as a bonus a waterproof pouch for your cell phone is included with purchase.
This particular paddle board for yoga is a bit more expensive, but on the flip side of this, it will last a long time vs cheaper alternative stand up paddle boards for yoga.
Lastly, it does have a 30 day money back guarantee, so if you are not satisfied you can simply return it and try another.
Pros
Designed for expert to novice use
Comes with everything you need to get started
Big enough to transport a cooler or extra person across the lake
Lightweight for a hard board
Durable, forgiving and made to last
Cons
Isle 10' Airtech Inflatable Yoga Stand Up Paddle Board
The Isle leads the market for inflatable boards, hands down.  My SUP yoga teacher friend told me that while she prefers flat boards, if you are dead set on getting an inflatable board to use the Isle brand such as the Isle 10 foot Inflatable Yoga Stand up Paddle Board.   Isle has a plethora of boards on the market, but I am reviewing the Airtech Inflatable yoga board.
It is 10' so it's beginner friendly, and it has been designed with a firm and sturdy construction that supports up to 240 pounds of weight.  The Isle design also offers a wide nose and tail to help create a wide platform.
Included with purchase is also a paddle, a carry backpack and a high pressure pump. It doesn't come with a safety leash for your ankle though, so you'll have to purchase your own, especially if you are a beginner.
You'll receive a one year warranty and a risk free return after 30 days.
Pros
Top ranked brand
Hold up to 240 lbs
Suitable for beginners
Cons
Inflatable Stand Up Paddle Board by: Sudoo
This one is quite affordable, so this is a good choice if you want to try SUP yoga, but are on a budget. Sudoo's Inflatable Stand Up Paddle Board features a non-slip soft top deck, and employs special technology to make the board sturdy, yet lightweight, because the entire body of the board is double reinforced.
It has a flat table design which is suitable to both beginners and advanced yogis.  It should be noted however, that it is a 6' board. The paddle that comes with this board is adjustable, so you can adjust the length to match your height.
Also included with purchase is a high pressure pump, a coiled safety leash, removable bottom panel fins, a repair kit, and a waterproof backpack for storage. The high pressure hand pump inflates the board within five minutes, and you can use it on lakes, rivers or oceans.
Pros
Adjustable paddle
Safe to use on lakes, rivers, or oceans
affordable
Cons
Peak 10' Yoga Fitness Inflatable Stand Up Paddle Board
Another stand up paddle board by Peak, but this one is an inflatable version. The Peak 10′ Yoga Fitness Inflatable Stand Up Paddle Board is incredibly lightweight, in fact, it only weighs 18 pounds when inflated.
It comes with a stable yoga and fitness platform. The company uses a Korean drop stitch method to make the board extra firm and rigid, and it is durable enough for lakes, rivers, or oceans.
With the purchase of this board, you will also get an accessory bundle that includes a paddle with a nylon blade (it floats!), a travel backpack, a hand pump, a safety leash and a waterproof smartphone carry case.  Best of all, the accessory bundle is color coordinated to match your board.
It is on the more pricey side, but when you consider all that is included with your purchase, it may just be the right choice for you.
Pros
Lightweight
Accessory bundle matches your board
Waterproof smartphone carrying case
Cons
What Kind of Paddle Board is Right for You?
There are many factors that go into finding the right paddle board for yoga.  Consider your individual needs before you purchase one, because even the more affordable boards are still a big investment.  Here are a few things to consider in your search of the perfect stand up paddle board.
Flat or Inflatable?
A flat board offers more stability in a SUP yoga class.  If you are a beginner to SUP yoga, you may want to consider a more solid board, which features a flat bottom rocker.  Flat boards tend to ride lower to the surface of the water, which adds another layer of sturdiness.
You will feel more agile on a flat board because they offer a smoothness. They also come in more sizes and shapes than inflatable boards, so you are sure to find a board that is the right fit.  However, flat boards are not as portable as an inflatable board.
Also, you need to have the space to store them.
Inflatable boards have come a long way in recent years, mainly because SUP yoga has become quite popular.  The materials of an inflatable board have become more solid, and durable.
If you are on a budget, inflatables tend to be slightly less expensive than flat boards.  The great appeal to having an inflatable board is how easy to store they are, making them very travel friendly.
What are the Right Dimensions for You?
In the list featured, you may have noticed I mentioned the thickness of the board quite a lot.  Typically, stand up paddle boards come in two sizes; 6' thickness and 10' thickness. There are some brands with more thickness too, but for the sake of not overwhelming the list, I stayed with the two options.
A 10' paddle board has more stability so it is ideal for beginners to SUP yoga.
A 6' paddle board is for more advanced yogis.
The dimensions play a huge role in determining how the paddle board handles in the water, so do your due diligence in figuring out the factors that concern you most. Remember that for a SUP yoga class, the most important factor is solidness, not speed, so I recommend the 10' thick boards.
Conclusion
There are so many different formats of yoga to try; vinyasa, hatha, yin, restorative, and SUP yoga is currently on the rise in popularity.  And if you are going to try SUP Yoga, you need to know what the best paddle boards for yoga to be successful.
Hopefully you find the right yoga paddle board on this list to take your practice to the next level.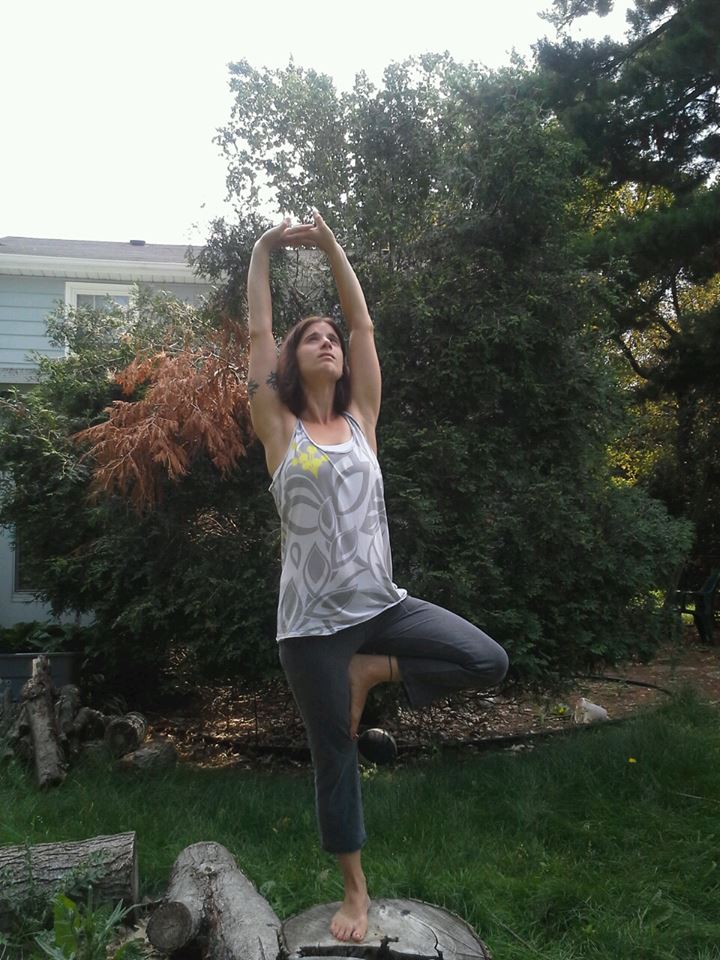 I am a devoted mother, wife and yogi with a passion for fitness and writing. I am a certified and registered 500 hour yoga teacher and have been teaching since 2013. When I am not teaching yoga or spending time with my family, you can find me somewhere on a hiking trail in the mountains of Southern Colorado or walking my dog Queenie.