Our Top Pick: is the Travel Trac Comp Fluid Bicycle Trainer based on its fluid based resistance technology and quality construction at a very competitive price point. Read on to learn why we chose this trainer and see some alternatives.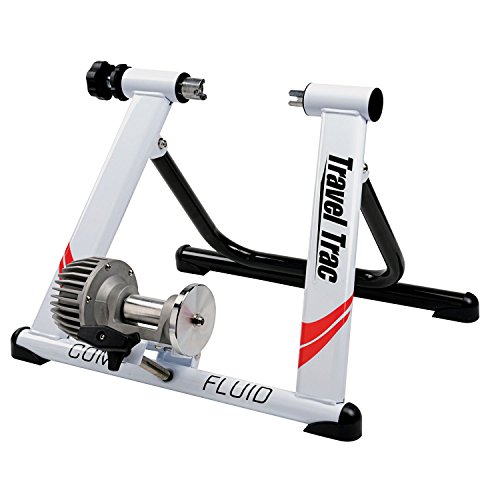 Cycling is a great way to get exercise and challenge yourself to be athletic. However, the weather isn't always cooperative, especially in states that have defined seasons. Riding through ice, rain and snow can take a toll on your body, so it's a good idea to have a back-up system in place. This system is called the turbo trainer, and cyclists rely on it to warm up and work out indoors so they can stay on the bike.
Turbo trainers are small devices that cradle and elevate the back wheel, either by bolting on or clamping onto each side of the wheel and feature a roller to provide resistance while the cyclist pedals. These devices allow cyclists to ride indoors and perform a variety of workouts without being exposed to the elements.
There are many options on the market today but here is my list of the top 3 budget turbo trainers to help guide your purchase. These trainers are great for entry-level cyclists, or seasoned cyclists not looking to spend a fortune on a trainer. Let's break the top choice down spec by spec, then take a look at some of the other leading budget trainers.
Of all of the budget turbo trainers out there, this one offers the best bang for your buck. The Travel Trac Comp Fluid Bicycle Trainer has many great features, and specifications that give it performance and durability. Travel Trac is a trusted brand in cycling, and their trainers are well-loved by consumers. Let's dive into the specs to see what we're dealing with.
Specs 
Fluid resistance for realistic, road-like feel
External flywheel to ensure that the pedaling isn't stiff or inhibited
Wide base for stability, even during the most intense workouts
Simple construction allows for easy setup
Takes up little space, and folds for storage

Why It's the Top Pick
One of the biggest reasons why this trainer is on the list is simply because it is a fluid trainer under $200, which is generally unheard of. Fluid trainers, as opposed to the magnetic trainers which make up most of the turbo trainers in the price range, have a few distinct features that make them superior. Fluid trainers operate via a disc suspended in fluid to increase resistance the faster you pedal and give a smoother, more realistic road feel.
Also, folding trainers aren't uncommon, but folding fluid trainers in this price range certainly are. This base folds simple in half to make it incredibly easy to store, which is a huge bonus for the quality you're getting. With the solid frame and sheer performance of this model, it comes as no surprise that it's at the top of this list.
Next, we have the other fluid trainer on our list: the Elite Qubo Fluid Trainer. Elite has several trainers on the market at all performance levels, and their Qubo trainer fits neatly into our list at the runner up spot. This is a high-performance device; and, although the price is slightly higher than our top pick, it is still a great value at under $200.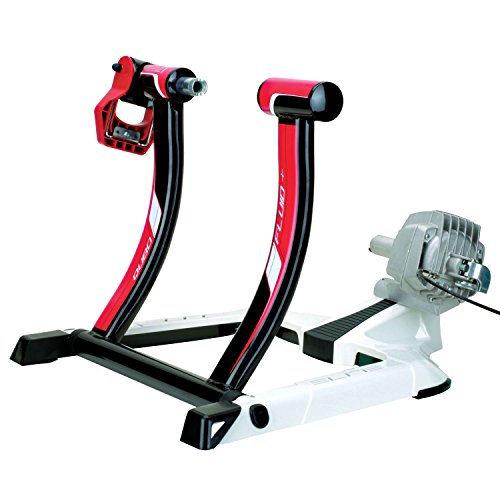 Specs
Flywheel encased in fluid for smooth resistance
Sturdy frame for increased leaning area
Seating mechanism that proportions resistance to rider weight
Included riser for increased balance
Quick clamp for easy rear tire placement 

Why It's the Runner Up 
The wide base, quick clamp and fluid-encased flywheel of the Elite Qubo Fluid Trainer make it a hot commodity. However, even with its bulky construction, it is not quite as stable as our top pick. This bulky construction also makes it difficult to store, as it does not fold down. Even with those drawbacks, this is a well-made turbo trainer that consumers love.
This turbo trainer by Health Line Products rounds out our list as the 2nd runner up. It is the cheapest trainer on the list, which can be a great benefit for those just starting out with indoor training. Although, there are some differences that make this trainer's performance a bit lacking when compared to our top 2. Viewing the specifications will highlight some of those differences before we examine more closely, here they are: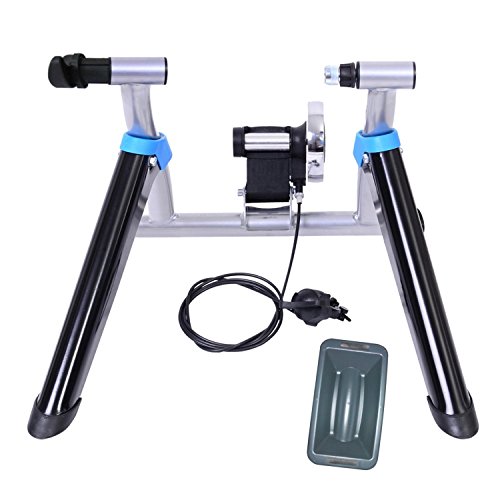 Specs
Magnetic flywheel with 8 levels of resistance for a varied workout
Heat dissipation fan for safe riding at high speeds
Foldable design for easy storage
Adjustable rubber feet for a stable ride on unstable surfaces
Why It's Last on the List
You may notice a few differences in the specs of the Health Line Magnetic 8 Levels Resistance Bike Trainer. The main differences are the magnetic flywheel and the heat dissipation fan. Magnetic turbo trainers are louder and provide a less realistic ride than fluid-based trainers. For this reason, most budget trainers out there are magnetic.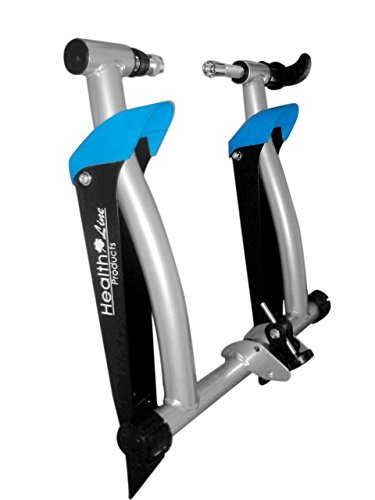 Even with those drawbacks, this trainer does bounce back with its 8 levels of resistance and stowage. These different levels don't quite simulate a road-scenario like fluid trainers, but they can give you a great work out.  Like our top pick, this unit folds in half for easy storage.
You can get your hands on one of these for under a $100, which is a great bang for your buck. For those who are just getting started in cycling and don't mind a little noise and a less-than-realistic feel, this magnetic trainer should be on the list of possibilities.
General Criteria for Turbo Trainers 
The construction of this list was complicated by all the options for turbo trainers on the market. Since there is a lot of variability between different turbo trainers, there are a few key criteria that each trainer was judged upon to see if it made the cut, or got cut out. Here are the key points we judged:
Noise
Realistic Feel
Smart Features
Size/Portability
Price
Type of Turbo Trainer
Noise
While not the most important criteria, it is one of the first to come up when riders first start turning the pedals. Noise won't affect your ride or workout, but it may annoy your neighbors or significant other.
Part of the reason why our top 2 made the top 2 were because of the quiet ride facilitated by fluid-encased flywheels. Magnetic flywheels operate on the principle of magnetic friction, which is why our 2nd runner up needs a heat dissipation fan – the magnetic friction builds up heat.
The combination of the friction produced and fan required to disperse the heat make for a noisy ride, which is a drawback any way you look at it.
Realistic Feel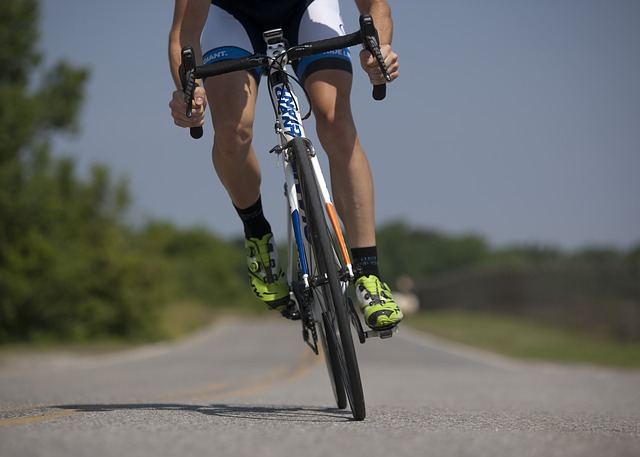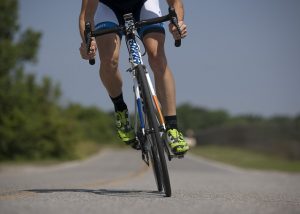 The main point of a turbo trainer is to simulate the feel of a road when outdoor conditions aren't conducive to cycling. The closer a turbo trainer can get to simulating that feeling, the better a trainer it is. Smooth resistance and stability are the main features that every good turbo trainer has.
Smooth resistance is achieved by our top 2 by the same device which allows them to be quiet – the fluid-encased flywheel. Because the disc is encased in fluid and faces more resistance the faster it spins, it simulated the road the best out of the budget trainers. Magnetic trainers can be a bit clunky in comparison, as the resistance is manually changed by a shifter mounted on the handlebars. This shifter simply changes the strength of the magnet to defined parameters, instead of providing a smooth transition. This inconsistent resistance takes some getting used to if you're used to the feel of a cycle on the road.
Size/Portability
Having a road bike indoors takes up enough space, adding to that space with a bulky turbo trainer will be even more bothersome. Turbo trainers are pretty versatile in that they come in many shapes and sizes. The vast majority of turbo trainers low profile and fold for storage, but there are also many that don't fold, and require more space to store.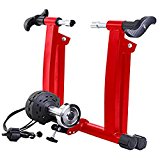 Two trainers out of our top three fold in half for easy storage, but our runner up must be stored in its operational form.  Since the other two fold down, there are a ton of storage options for them. Under the bed, in the closet, behind the couch and behind the TV are all good spots for a folded-up turbo trainer.
In portability, there is also weight that becomes an important factor. Finding a turbo trainer with the right weight can be tricky, since you want to find the sweet spot between stability and how easy it is to carry. If you have a turbo trainer that is as sturdy as the day is long, but you can't lift it to put it away, how useful is it?
Being able to stow your trainer easily, but still maintain enough weight to keep you stable during sprints and intervals is integral to any good trainer.
Price
There is a ton of variability in the price of turbo trainers. The trainers on our list are at a relatively modest price at under $200, but many are much more expensive. Direct drive turbo trainers, which we haven't mentioned on our list due to the extremely high price tags, can be well above $1,000. Magnetic trainers are the least expensive and lowest quality, with fluid trainers in between the two.
I chose to put the price range under $200 for budget trainers because many magnetic trainers and a few good fluid trainers exist in this range. This allows people just starting out, as well as intermediate cyclists to find something on our list that suits their needs.
Type of Turbo Trainer
Turbo trainers aren't all the same – there are many different varieties that all present their respective pros and cons. Let's break these down to take a look at why fluid trainers were at the top of our list, and why direct drive trainers are the best, even though they carry too high a price tag for our list. We'll start with magnetic trainers:
Magnetic Trainers
Magnetic trainers operate on the basis of magnetic resistance. There is a magnet connected to the roller to provide resistance to stop the roller from spinning too freely. This resistance is generally adjustable to either 5 or 8 different resistances to vary your workouts. Due to the inconsistent resistance facilitated by switching "gear", magnetic turbo trainers lack a realistic, road-like feel. This lack of realism turns many more experienced cyclists off to magnetic turbo trainers.
Fluid Trainers
Instead of a roller controlled by a magnet, fluid trainers have a flywheel attached to the axle that is surrounded by a fluid – almost always some type of oil. Having a fluid-encased flywheel presents several advantages over magnetic trainers.
As the flywheel on fluid turbo trainers moves faster through the oil, friction builds up and increases resistance. This action is very smooth and gives a realistic feel that cyclists love. Due to the fluid motion, there is also less heat generation, making fluid trainers much quieter than magnetic trainers. Fluid trainers are our top 2 picks for that reason.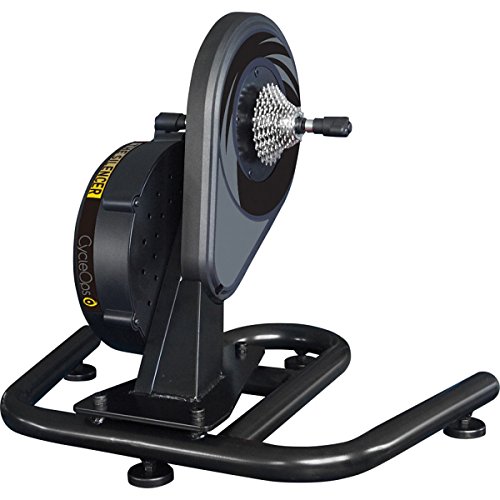 Direct drive trainers are the best out there; however, they are also way too expensive for a novice to consider. Instead of operating on rollers, like the other two varieties, direct drive trainers are basically a rotor with an attachable axle thread. Instead of placing the bike on top, you actually remove the rear wheel and bolt the rear axle directly onto the trainer.
Because pedaling rotates the axle directly within the trainer, it can provide the smoothest and quietest ride. Also, because the rear wheel is removed, you won't be burning through tires with a direct drive trainer. Experienced cyclists love direct drive trainers for the great features, but the price tag definitely makes them an investment. 
A direct drive trainer is also best for mountain biking because the tires may not do as well on other trainer types.
Conclusion 
Choosing the right turbo trainer for your price range can be tricky with so many differences between models. Take a look at my recommendations and supporting information – this will help to guide your choice if none of the trainers on our list catch your eye and help you land the right turbo trainer for you.