by
Finding a way to work out at home is the bane of modern men and women everywhere, as home exercise equipment can often be a never-ending battle of "this or that", and finding time to undergo this struggle can be difficult if you're always on the go. Many pieces of home exercise equipment take up too much room, they have a shoddy construction or they simply don't do what they advertised. The Marcy Folding Upright Bike provides a way for you to avoid all of the guesswork and land yourself with a great piece of home exercise equipment that is compact, easy to use and reliable.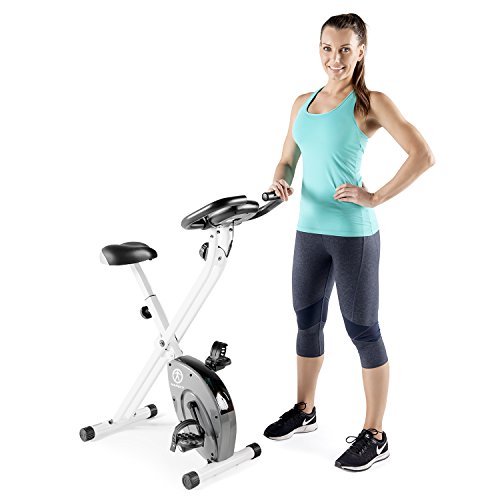 Consumer Ratings
I'm not the only one who approves of the Marcy Foldable Exercise Bike. Here are some of the average review scores on popular e-commerce platforms:
4.6 stars, 37 reviews – Target
4.5 stars, 129 reviews – Overstock
4.2 stars, 2 reviews – Dick's Sporting goods
Maintaining an average of above 4.5/stars on pretty much every ecommerce website is pretty much impossible for any product not worth its salt. Products generally get torn apart in reviews if there are one or more egregious faults, and that same fate has not only missed the Marcy bike, it has thrived on these platforms. This bike is a dependable and well-loved piece of exercise equipment, even among fitness nuts.
Next, let's take a look at some benefits and drawbacks of this piece of home exercise equipment to get a general feel for the product before we take a deeper dive. Here are the pros and cons:
Pros
At less than $200, this is an extremely affordable elliptical. Many ellipticals double, or even triple the price of the Marcy.
The screen is easy to read and keeps track of important metrics so that you can stay on top of your workouts and measure results.
The collapsible design of this exercise bike makes it easy to have around the house without getting in the way.
Durably built, the Marcy foldable bike will last you much longer than any other pieces of home gym equipment from department stores or infomercials.
Cons
Due to the nature of this piece of equipment, it does have limited uses, and home gyms are best equipped with versatile equipment.
This bike is suited for taller consumers, as shorter people can have trouble operating it comfortably.
Although there are 8 resistance levels, even the highest setting won't provide a huge challenge for hardcore gymrats.
Judging by this list, it's pretty easy to tell that the Marcy foldable bike is a solid piece of equipment. The only gripes are very specific qualities and aspects that fitness pros and hardcore exercises enthusiasts would be looking for in a piece of home gym equipment. For the average Joe, up to an athlete getting their challenges elsewhere and needing a stationary bike to work on cardio, the Marcy Foldable Exercise Bike is perfect.
Bike Storage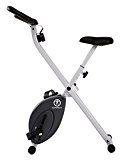 A huge benefit for the Marcy foldable bike is the fact that you can fold it up and stow it away. Having a home gym, or lacking one, is generally pretty dependent on the space a person has available. If you want to work out at home, but there is no place to put a bench or anything else, it's likely that you won't be working out at home after all.
Creating enough space to get a good workout can sometimes be impossible when you have kids running around or live in a small space; therefore, it is extremely advantageous to have a foldable piece of equipment which you can stow away against the wall or under your bed so that you only have to make room for the equipment during your workout.
This bike doesn't fold flat, of course, but it does fold enough to make a large difference in the total area required to store it. This is a unique feature on an elliptical, or any other piece of cardio equipment, because many of them are bulky, take up a lot of area in the room and can't be broken down after the workout. If you've ever seen someone's apartment that has a treadmill inside that is used for a table or clothes rack, that's generally what happens when people have exercise equipment that they really don't have room for.
Durability
 The construction strength of home gym equipment (especially bikes and treadmills from infomercials or department stores) is often extremely lacking. Creaks, frame twisting and eventual collapse is the shared fate of many of these home gym implements. However, the Marcy Foldable Exercise Bike was not created equally. This quality stands out as one of the beefier pieces of home equipment out there; even with its foldability and compact construction, this thing is sturdy.
This stability from this tough construction is something that can make you more confident on the bike and able to get a better workout – it can get scary going pedal to the medal on something that you're not quite sure will hold up to the strain. This Marcy exercise bike is made of 14-gauge steel, which is much stronger than many of the competitors in the same price range. Not only does this strength make it feel sturdier under you, it provides a higher weight limit than many home exercise bikes, which makes it accessible to people of different builds and body compositions.
Simplicity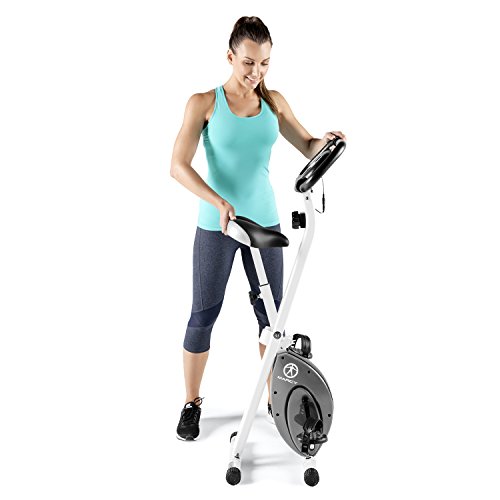 Instead of having many small components, this bike has a very simple construction, which allows fewer areas for fault and more strength throughout. The pedals of this piece of equipment are counter-weighted, which increases durability and gives you the feel of a real bike – more so than many exercise bikes that you pedal and feel you have two spatulas strapped to your feet that could break or bend at any moment.
Other Materials
The other components of this bike, besides the frame, are made from heavy-duty, hardened plastic. The seat of the bike is a durable rubber-wrapped high-density foam. The seat on this bike is so solid it has even received complaints for causing a bit of posterior soreness during long ride. If you're going to be doing long workouts on this (over 30 minutes), it might be a good idea to invest in a bicycle-style seat cover. Seat covers are widely available online or any big box department store.
Resistance 
You might be thinking, "I'm just trying to get some cardio in, why do I need resistance?" Resistance on an exercise bike does a few key things:
Challenges your muscles and allows you to activate more muscle fibers while still getting a cardio workout
Allows you to switch up your workouts and add in intervals and circuits for more efficient and advanced cardio programs
Strengthens your joints for rehabilitative purposes
Let's break these key points down:
Why Add Resistance?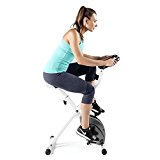 First, pedaling a bike with no, or very little resistance doesn't do much for activating your muscle fibers. Your legs will burn eventually, but if you're going at a quick enough pace, you will run out of breath long before your legs feel anything.
Increasing the resistance and making it tougher to get those pedals around will recruit more of the muscle fibers in your legs. These fibers will put more blood flow to your legs and give you a better overall workout. Resistance is the difference between a workout that improves your cardio and helps you lose weight and a workout that also strengthens and improves the muscle composition of your legs.
Why Should the Resistance Be Adjustable?
Adding circuits and intervals to cardio workouts can be a great tool. They can not only help keep workouts fresh, but make the most efficient use of this Marcy exercise bike. Circuits and intervals alike are implemented by fitness professionals and professional trainers everywhere to pack more efficiency into workouts and get results quickly. Having adjustable resistance, such as on this bike, gives you the ability to quickly switch back and forth between different resistances, which makes performing these exercise formats easy.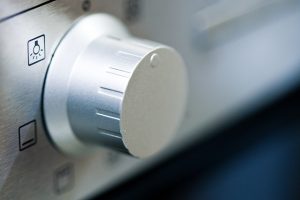 If your legs aren't getting the push they need from your freeweights or bodyweight workouts, this bike can help with its 8 levels of adjustable resistance so that you can push your muscles to the limit– as exercise bikes are extremely effective at engaging each individual leg muscle.
Lastly, strengthening joints and improving gait are important qualities of exercise bikes. This is a big reason why they are used so widely in physical therapy centers. The low impact and smooth motion of the counterweighted pedals on this bike and adjustable resistance allow people with physical disabilities, injuries or the elderly to exercise and improve some of the skeletal and muscular aspects of their legs, while working their way up the resistance scale.
Other Features
Another great feature on the Marcy Foldable Exercise Bike is the digital screen between the handlebars. Many commercial-grade bikes include in-depth displays, but the foldable versions meant for home gyms usually include a very bare-bones display, if one is included at all. The adjustable seat is also a great feature, even if not much more so than a standard seat.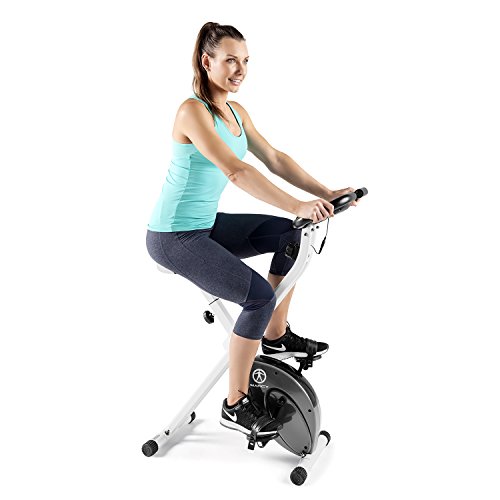 The Display
The display on this bike features on-screen measurements for speed, distance, time and calories burned. Having all of these metrics available right in front of you can be very useful for several reasons. Knowing the distance, speed and time can help you to mark your performance. With that knowledge, you can keep pushing yourself to your limit and track your progress. Tracking progress as you increase your levels of cardiovascular and muscular fitness can be great for motivation.
Knowing the amount of calories you've burned is also a great tool. This metric can help you set goals not only with your diet, but with your exercise too. For instance, if your maintenance calorie allowance is 3,000 and you've eaten 3,500 for the day, you'll know that to stay at the same weight, you should shoot to burn 500 calories. Whether through circuits, sprints or steady state exercise, you would cycle your legs off until you saw 500 pop up on the screen. After that, you can rest easy knowing that you're hitting all of your numbers for your goals, instead of guesswork. An oversimplified example; but useful, right?
The Seat
Another great feature is the highly adjustable seat, so that users of most sizes can ride comfortably, especially taller users. Most exercise bikes are adjustable up to a point. This bike especially goes above and beyond to provide several different seat settings. This design aspect accommodates the majority of fitness nuts and novices alike.
Price
It's no secret that exercise equipment can easily reach extremely high prices. This sentiment includes specialized pieces of equipment and basically every type of elliptical. While home gym equipment is more wallet-friendly than commercial equipment, it still climbs in price in comparison. The price of the Marcy Foldable Exercise Bike is very modest at well under $200. Compared to other ellipticals more than twice or three times the price, this bike still performs. Also, has the added benefit of its portable and foldable construction.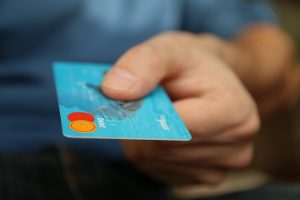 What Can Be Improved? 
Although the Marcy foldable exercise bike is a great deal and has solid features, it isn't immune to scrutiny. There are a few things about this exercise bike that could be improved upon. The following are points I would like to see in this model:
More resistance to offer hardcore gym rats more of a challenge
Softer seat to improve comfort on long rides
Larger display to see all of your metrics at once, instead of one by one
These are nitpicky improvements, but they would make a difference in the product and bring it to near perfection.
Conclusion
 Finding a solid home exercise bike that won't take up the den and the hallway can be tricky. Find a good bike can be even tougher if you're on a budget. The Marcy Foldable Exercise Bike gives you quality at a great price. The foldable design allows you to it away out of sight when not in use. This bike isn't perfect, and it could be improved in some areas. However, the average consumer reviews speak for themselves – this exercise bike truly is one of the best deals out there.