Tennis elbow is one of those dreadful repetitive motion injuries that can happen to anyone who performs the same activities every day. These types of daily actions are infamous for putting excessive stress on the tendons and muscle in the elbow region. Lateral Epicondylitis, or tennis elbow, can be treated by methods such as medication, steroid injection, surgery or picking up a specially designed tennis brace to help relieve pain – and that's what we're here to talk about today.
Tennis elbow braces compress carefully selected areas of the lateral elbow muscles where inflammation and swelling occur, allowing fresh blood supply to the area for improved healing. While I've never experienced tennis elbow symptoms myself, I recently helped my brother find a good brace for his own symptoms. I researched for a solid few weeks comparing different designs, features, and functionality until I found him the most comfortable and effective brace possible to relieve pain. I didn't want all that good research to go to waste, so I put together this comparison and review guide to help anyone else who may be looking for the best brace for tennis elbow.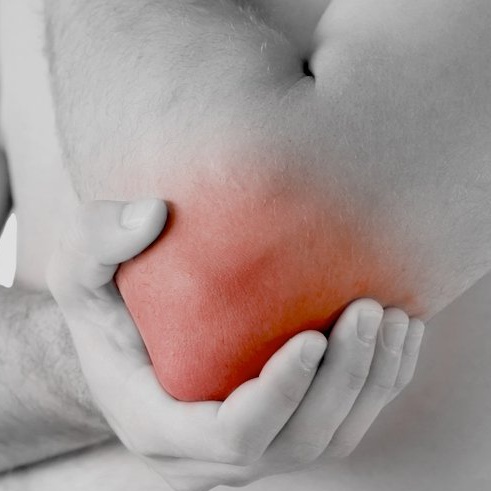 Comparison Guide: Top 5 Best Braces For Tennis Elbow
DashSport Elbow System
Bracoo Tennis Elbow Strap
Simien Sports Tennis Elbow Brace
Kunto Fitness Elbow Brace
ProBand BandIT
Purpose
Designed specifically to treat tennis elbow
Designed specifically to treat tennis elbow
Designed specifically to treat tennis elbow
Designed for general elbow/forearm support
Designed for general elbow/forearm support
Adjustable Tightness
Sizing
Multiple sizes available
One-size-fits-all
One-size-fits-all
Multiple sizes available
One-size-fits-all
Other
Sleeve & brace combo offers highest level of comfort & support
Thinnest design with unique EVA support pad
Includes 2 braces, compression pad, and wrist sweatband
Uses only compression sleeve as brace
Simple yet effective design
Top Pick: DashSport Elbow System
The DashSport Elbow System is the complete package. They've completely separated themselves from the competition by incorporating their own copper compression sleeve with a premium brace for an affordable price with effective results. This product combination makes it the only tennis elbow brace on the market to offer a total end-to-end support solution, making this an easy #1 choice as the best brace for tennis elbow because it provides the most support at an incredible value for your dollar.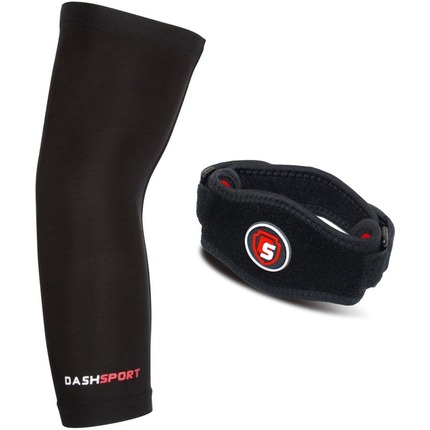 As open up your elbow system and slide on the compression sleeve, you'll notice the silky feeling material made up of a nylon/spandex blend for maximum flexibility. Although the sleeve uses compression, your arm still has full rotation and flex potential; the compression aspect of this system is used to increase blood flow to the area allowing the body to heal without causing strain on the inflamed area. This compression sleeve has little gray grips inside the lip that helps secure the sleeve onto the bicep. This gripping feature stops the sleeve from falling down your arm as you play tennis, workout, etc., which we know is a pretty common problem with tennis elbow braces.
DashSport also uses flatlock seam stitching for comfortable mobility without skin irritation. Using quality material, the compression sleeve is snug with the added beneficial properties of copper. While you are working up a sweat, keep your mind at ease knowing your sleeve is anti­-bacterial, anti-microbial, anti-­itch and anti­-odor. That's a mouthful, huh? However, it's nice to know ahead of time that you're protected in all of those cases.
The addition of a wrist brace that works cohesively with the compression sleeve makes this a two-for-one deal. If you were to buy the two of these products separately from two different companies, you will definitely be spending more than $26 if you want a quality combo. The brace has a target compression design to combat the soreness and pain associated with tennis elbow. Simply unstrap the velcro and slide the tennis brace up your sleeve until you've reached the sore spot. Straps from both sides allow you to have more control over how tight you want the brace. You'll also feel the benefits of the gel pad as this counter-force brace takes the pressure off of your overworked tendons.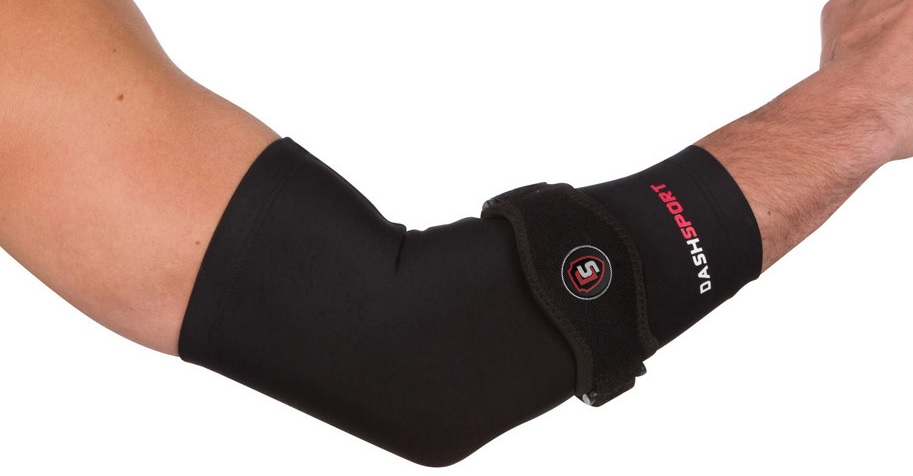 Sizes for this product come in X-Small through X-Large. For the X-small size, your bicep should measure between 9″-10"­. Small will be for those with biceps between 10″-11″, medium will be between 11"­-12", larges will be between 12"­-13.5". And fortunately, for those with big ol' biceps, your guns should fit the extra large size of 13.5"-16.5". If you fall right in the middle of two sizing categories, know that going a size down will provide a more snug fit and a larger size with being a bit looser. I prefer snug fits, to begin with, especially if I am trying to heal a sore muscle, but everyone is different and you don't want to cut off the blood circulation in your arm.
The system is offered in black or white and is pretty indiscrete with labeling. As a bonus, these guys will even send you an ebook PDF on exercises to help you relieve the pain and strengthen the arm to prevent future pain. The ebook will be sent to you by the company after a purchase is confirmed.
As I said in the introduction, the DashSport Elbow System is the complete package, offering a unique two-for-one brace system, great (and comfortable) support, and fantastic value for your dollar. What more can you really ask for? While the retail price is $39.99, you can usually pick the system up for a pretty hefty discount on Amazon, where you can read from over 750 customer reviews raving about this brace's comfort and results.
Runner Up: Bracoo Tennis Elbow Strap
For price and quality product, take the Bracoo Tennis Elbow Strap with you onto the courts and get through the match without any pain. Although only 5% of sufferers of Lateral Epicondylitis actually play tennis, I still feel using tennis analogies are fitting for these types of tennis braces. Anyway, the Bracoo strap is a bestseller on Amazon for its supportive design and quality features. Bracoo has a reputation for delivering quality tennis braces by doing something extremely unique – listening to the needs of the community. In other words, other people who were experiencing tennis elbow symptoms literally helped craft and create this product, which is exactly why it works so well.
The Bracoo Tennis Elbow Strap is unique in design compared to the bulkier tennis elbow braces out there. The strap has a simple setup and can be assembled by anybody. Start by locating the injured muscle, whether the muscle is inner or outer, and slide the slim brace up the arm. For this brace, be sure to bring the EVA pad over the soft spot as this will be the counter-force that relieves the tension/aches.
The design of the Bracoo strap optimizes body fluid uptake as well as stabilizes the muscles. As you fasten the one strap, be aware of how tight you are strapping in. Don't strap too tight, but ensure a snug fit for optimal results. The velcro straps are bound so the material will not rub against your skin. If you've been testing out tennis braces for a while trying to find the best brace for tennis elbow then you know the feeling. I'm not a fan of the velcro material against my skin, but then again, who is? Any brace that can ensure that won't happen is a good brace in my books.
Also, note that this strap supports elbows from 7.5" to 11.5", falling underneath the range of bicep sizes that the DashSport brace can help and making this a good choice for people with a smaller arm. Remember, the best brace for tennis elbow is going to be one that fits snug and properly – not too tight, not too loose.
The patented EVA pad is a very beneficial feature of this brace and a big reason why this was chosen as our runner-up. Ethylene Vinyl Acetate (EVA) is a durable foam rubber that is easy to mold and commonly used throughout various industries. EVA has impact and vibration absorption properties while creating thermal insulation, offering excellent protection and support for tennis elbow. Being able to incorporate this product into an elbow brace is genius, which is probably why Bracoo patented the design so that they've had a serious selling point over other tennis braces. Enjoy the benefits of this EVA pad for stellar spot compression and relief from soreness. Flip this device around and target golfers elbow as well. This product overall is versatile in that matter, is used to alleviate symptoms of both injuries.
Unfortunately, compared to our number one, this brace falls short of the amount of support it offers. To be fair, the DashSport Elbow Brace is a system with multiple components to combat tennis elbow. You will pay slightly more for it, but the value you're receiving for those extra few bucks is well worth the added cost. If you do not want a compression sleeve, then obviously our number one would not be for you. The Bracoo Tennis Elbow Strap is ideal for those that simply want a brace with a low-key design and maximum benefits. Read more about it here.
#3: Simien Sports Tennis Elbow Brace
The Simien Sports Tennis Elbow Brace pulled into the tennis elbow brace market and rather quickly became a best seller on Amazon, currently holding an impressive product rating of 4.7/5 stars from over 1,000 customer reviews. Similar to the DashSport, this Simien Sports brace is a combo that comes with two elbow braces, a sweatband and an ebook called "Addressing Tennis Elbow Pain". Even if you are not a fan of sweatbands, you are still getting quality tennis braces for $15 a piece with added reading material!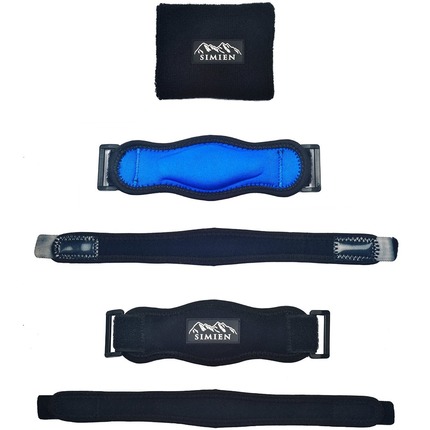 Simien Sports brand was created by a tennis player himself who suffered from an intense tennis elbow injury, leaving him out of the sport for months. I found the concept really inspiring, taking a bad experience and turning it into a passionate company that can help others that are having similar experiences. When purchasing this brace, you know you are getting a product that comes from the heart so quality won't be sacrificed for profit. Plus, if you love mountains as much as myself you'll really enjoy sporting their logo while you are performing your chosen activity.
These simple hook and loop strap braces are made up of 65% neoprene and 35% nylon. Neoprene is a common material used among all types of tennis braces for heat retention and insulation. Using neoprene for tennis elbow retains heat while performing activity as well as periods of inactivity. The high percentage of neoprene used in these tennis braces allows ample blood flow to the muscles for healing.
There is no universal size area, the velcro straps on both sides give users with all sizes of biceps the benefits of using this style of elbow brace. If you feel your strap is too tight on the right side but not the left, you can simply readjust that one side. In terms of design, the neoprene area is larger than the velcro straps so you don't have to be scratching and itching while you are mid-­activity.
The specs emphasize the benefit of their gel­-like compression pack versus other air pads on the market. The compression pack will do the job of relieving tension however so do our top 2 picks. In comparison to the Bracoo brace, their compression pads are very different in terms of material. Which is better? I like the EVA material for comfort, tension release and affordability. Bracoo brace offers an e-book as well so don't feel like you will be missing out if you were to choose the number 2.
Like we mentioned before, this product gets really awesome reviews and you are getting two plus more for a price of $30. Definitely, something to consider if you want the extras. If you already have a compression sleeve and want a brace to complement the sleeve, this brace or the Bracoo may be a better fit. However if you are new to the whole buying a brace thing, the DashSport system has you covered with everything you need for maximum relief from tennis elbow.
#4: Kunto Fitness Elbow Brace Compression Support Sleeve
Are you the type of person that enjoys adding a little color to your life? If so, the Kunto Fitness Elbow Brace Compression Support Sleeve has a quirky colored design woven into a knit black brace. Let the colors guide you into the contouring elbow areas to know you've put this compression sleeve on correctly. If you're bending your elbow in the purple zone, you did it! Now take your sleeve and get back to the activities you enjoy doing most… or go back to work, whichever you happen to be up to at the moment.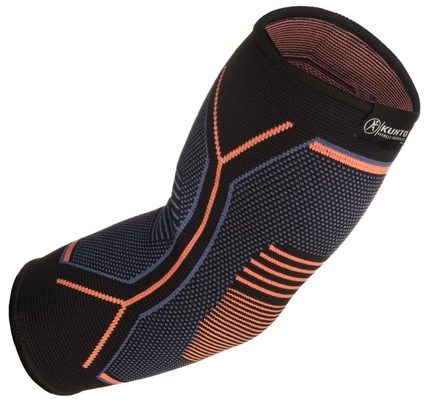 The use of compression technology has taken over athletic product design and may leave you questioning the sports medicine community. Do compression sleeves actually work? In short, yes. In long, yes and here's why. Compression sleeves, like the Kunto Fitness Elbow Brace Compression Support Sleeve, keep oxygen flowing through your blood during whatever physical activity you are doing. With these type of medicinal claims comes "recent studies show that…" and I hate to do it to you but hey, we want you to know you are not getting a sham product.
In recent studies, consistent compression opens up the walls of the arteries for increased blood flow while providing fresh blood flow by constricting the veins. This sends deoxygenated blood back to the source for a fresh oxygen infusion. This means you are getting nutrient­dense, muscle-building, blood flowing through the area around your elbow to help relieve pain and soreness.
The Kunto sleeve is designed for easy fit and maximum flexing. Just match your elbow to the orange horizontal stripes and you are ready to experience the benefits of this 4­-way stretch technology. These types of sleeves do not cure a repetitive motion injury but they can be used
for preventative measures and alleviate the symptoms if you do begin to experience them. What I appreciate about this sleeve is the ability to provide space for flexing while maintaining support in all the right areas. For flexing, you are given the space in your upper inside elbow. For support and compression, you will feel this product working alongside the muscle from your elbow to forearm and bi's and tri's to the elbow.
This brace is made up of 70% nylon, 15% rubber and 15% spandex and knit for breathability and comfort without sacrificing mobility. This product really fits all starting from those with measurements below 7.5" (extra small) all the way up to 12+" (large). If you are concerned about having much larger biceps you can always pick up a more adjustable brace to fit your needs.
This would be a better product for those who do not want to use spot compression for treating their symptoms. Our top pick, the DashSport combo, gives you the added benefits of a copper compression sleeve plus an elbow brace versus this product which is solely a compression sleeve. This works better for people though! Luckily you have options so if you like a compression sleeve, this product could be ideal for you. If you just want an elbow brace, we've previously reviewed two high quality products that can help you with your tennis elbow. What I like about this sleeve is the colorful design and mobility I have when wearing. There are no pinching or velcro straps to account for so your skin cannot end up irritated. Mind you, if you have an allergy to any of the materials used you may feel different!
#5: ProBand BandIT
ProBand's BandIT therapeutic forearm band is a minimalist designed brace for treating repetitive motion injuries like Tennis Elbow. Well received by the sports medicine community and public, BandIT made a name for itself with over 1600 reviews and maintaining a 4.5/5 star review on Amazon.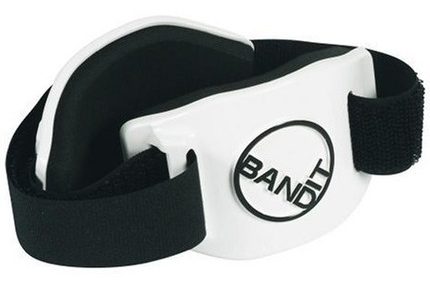 Securing this brace into place is simple but needs to be done correctly for optimal benefit. To locate the area the compression pads need to be, take two fingers and place them under the elbow crease. You want to make sure to do this because if you don't, the brace will bang or pinch the arm when practicing curls or performing a similar movement. You'll want to line up the device so the brand is facing outward, then simply fasten the strap until the fit is snug and you feel some relief. Make sure the strap is equal in length on both sides of the arm. A pretty simple device that can be worn on the left or right arm and can accommodate a variety of bicep sizes with an adjustable strap.
The two compression pads are covered by two durable plastic plates. These foam compression pads have similar shock absorbing properties as the EVA compression pads in our top rated. A nice feature to have when dealing with tennis elbow. The pads are strategically set to compress the muscles used during repetitive activity to assist in normal circulation and normal muscle functioning. The device lets you move freely above besides when not secured properly with the two­finger method previously mentioned. The use of plastic for a therapeutic elbow brace was also a slight turn off toward the product. What if the plastic breaks?
There have been plenty of really good reviews about the BandIT and its success in treating symptoms of tennis elbow however all of these products have great reviews and each has something great to offer.
Different Types of Elbow Braces
The search for an elbow brace that works best for you may seem daunting and never-ending. Every product you consider has great reviews on Amazon, has the company been around for a long time… or not that long at all? Should I get a compression sleeve? Elbow Support Brace? Both? Let's talk a little bit about the different style of elbow braces so that you can minimize your choices and figure out which style is the best tennis elbow brace for you.
You type into the Google search bar, "elbow braces" and bang, up comes something with a weird gel pack, a muscular arm with a little strap on it and a sponsored ACE listing for their tennis elbow braces. What are all these different styles and what can they do for you?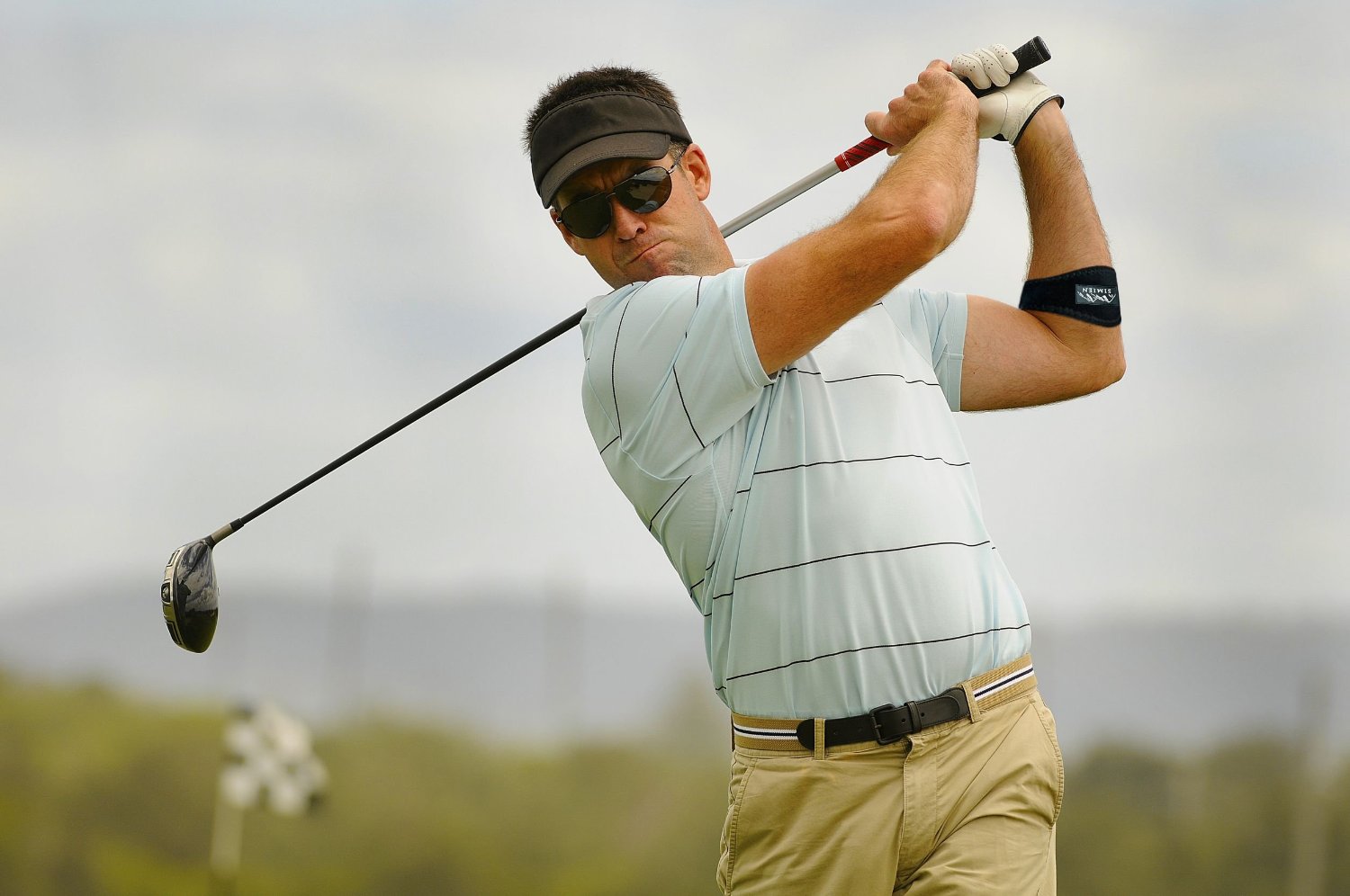 Compression Pads
Compression pad braces have become a popular approach in the treatment of tennis/golf elbow because of their relatively slim design and effective results compared to original treatment, and this style is most often recommended as the best brace for tennis elbow. The compression pads themselves can be made from gel, foam, EVA, rubber or any material that has a shock-absorbent property. Due to their smaller design, compression pads need this type of material to maintain proper support and stabilization of muscles during their healing. You don't want the same repetitive vibrations that caused the injury to affect your healing. This style of tennis brace allows the muscle to remain relaxed during activity rather than constrict. One major benefit of this style of brace is their ability to be adjusted for the best tightness that works for you.
Compression Sleeves
Similar to the compression pads, compression sleeves are larger and made from different materials for comfort and function. Sleeves are known to have all the circulatory effects of the pads as well as regulating body temperature in the area where the sleeve is worn. This style of brace prevents swelling, prevents muscle soreness which in turn all aids in the recovery of injuries like tennis elbow. You can combine sleeves and pads like our rated DashSport Elbow System and soak up all the benefits in one package!
Others
The others section, a section where all other muscle stabilizers will be mentioned. However, this may be what you need for your injury! Although most braces can be worn overnight, the market has produced wrist braces strictly for overnight wearing. These types of braces will probably have more cotton material, be bulkier but are good for stabilizing the muscles while you sleep.
A night-time brace will most likely come with a removable splint for customization and possibly smell after a while! Athletic tape can also be worn whenever you need it for compression, stabilization and support when needed as well as an arm sling at the MOST extreme measures. If you think you need something more than a brace you should check in with an orthopedic as soon as possible.
Most braces do not fully heal the problem, repetitive motion injuries have a pretty direct cause. A change in your routine could benefit your health. Job modification has been one way to actually fix repetitive motion injuries because you are not performing the same tasks that were causing the issue. However, if you are an athlete and you don't want to give up, you can invest in a brace that will let you continue to perform at your best without pain.
Benefits of Using A Brace For Tennis Elbow
The benefits of using an elbow brace to relieve pain caused by tennis elbow are the same for everybody. Whether you are an athlete, factory worker or a gamer, you will need to get back to doing your thing as soon as possible. Elbow braces were invented so you could continue to do those repetitive tasks while innovative technology takes care of the rest. All you have to do is slide on this little brace and you start to feel the effects! Thousands of people all over the place have taken the leap into using braces for injuries in the wrist, ankles, elbows, shins, etc. You name the body part and someone out there has got a brace for it.
If you decide to let the pain continue and not take action, you can end up with permanent nerve damage. Leading up to the state permanent nerve damage are rounds of injections, medications and possible surgery that you don't need. Use these braces as a preventative measure so you don't have to end up in those situations where you can't turn back. For some ideas on exercises to help treat your tennis elbow symptoms, check out the video below:
Final Thoughts
If you perform the endless activity of twisting and extending the wrist and you are experiencing soreness and pain, pick up one of these wrist braces for this condition known as tennis elbow. This type of injury doesn't need to progress very far before you start to experience the pain associated with the swollen and inflamed muscles. My brother and I researched for weeks and the results are in! You can get yourself a simple, compact design like the Bracoo Tennis Elbow Strap or an advanced copper infused system like our top rated DashSport Elbow System and begin to bring optimal function back to your arm in no time!