Bottom line upfront: The Adidas Climacool Water Shoes are by far my top choice.
Water shoes have come a long way in the past decade or so. What was once known as hideous slip on water shoes for a rocky beach, water shoes have evolved into a beautifully crafted, form-fitted piece of footwear that you can wear anywhere whether it's the beach or the mall. But with this design evolution comes another challenge that all of us ladies have trouble with no matter what type of shoe we're looking for: finding the best kind.
I've tried every type of water shoe from the basic ones at Walmart to the expensive ones online, and I can tell you right now that you get what you pay for. The $10 Walmart brands are nothing like my $50 pair of Adidas – and when it comes to keeping my feet happy and dry, you can't put a price tag on comfort.
After trying nearly 40 different brands in search of the best water shoes for women, I've written out this detailed comparison & review guide highlighting the top 5 choices for my fellow ladies in need. Let's start by comparing each shoe below: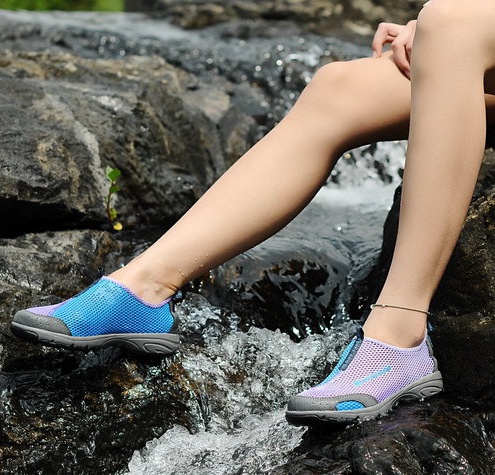 [cs_element_text _id="13″]
Adidas Climacool Water Shoe
KEEN Newport H2 Sandal
Chaco Outcross Evo MJ Shoe
Speedo Offshore Amphibious Shoe
NRS Kicker Remix Wetshoes
Purpose
Made specifically for water use
Made for general outdoor use
Made for general outdoor use
Made specifically for water use
Made specifically for water use
Design
Traditional lace-up
Sandal with laces
Open top with laces
Slip-on with top strap
Slip-on with drawcord
Protection
Full coverage
Moderate coverage
Moderate coverage
Low coverage
Full coverage
Rubber Sole
Colors
5
27
8
5
1
Other
Unique Climacool system drains water for max breathability
Rugged design makes this great for tough trails
Uses 25% recycled materials
Easy to get in and out thanks to design
2mm plastic shim in sole to protect from sharp rocks or objects
Retail Price
$60.00
$100.00
$100.00
$49.00
$54.95
Top Pick: Adidas Climacool Water Shoes
The perfect shoes for kayaking on the lake, hanging out at the beach or even walking around town on a sunny day. The Adidas Women's Climacool Water Shoes are not only versatile, but they're stylish, extremely comfortable to wear, and use an innovative Climacool material to enhance water drainage and keep the shoes dry and breathable throughout the day. Take all that and add the affordable price tag, and we've got ourselves the best water shoes for women hands-down.
The Adidas Women's Climacool Boat Sleek Water Shoe is lightweight and perfectly sculpted for a woman's foot. Right when you take the shoe out of the box and slide it on your foot, you can feel the breathable mesh upper  fabric. This open weave, mesh upper fabric is perfect for keeping moisture out of the shoe by allowing it to dry. Adidas uses their patented Climacool technology in their clothing and shoes for ventilation and moisture control, giving this shoe a top notch drying system that will keep your feet dry and happy.
You'll notice the pull tab in the back, making these great slip ­on water shoes. I like how Adidas managed to add this traditional water shoe aspect into their design while still having the shoe look good. The tongue of the shoe is made from EVA, a soft material that will keep shape as well as keep you comfy. The EVA tongue with the help of a neoprene heel cup provides extra support and grip to help keep your foot in place during any activity.
The traditional lace up system is assisted by an overlace to ensure comfort and keeping your foot from flying out of the shoe as well. To add to the comfort of this shoe, the collar has significant padding, an admirable aspect for water shoes. You also have a variety of colors to choose from, from traditional black to highlighter yellow.
In terms of versatility, you can jump on your boat, get these shoes soaked then proceed walking into town to grab lunch and they'll be dry. In addition, you can choose to wear these with socks… or without! I don't know about you, but with shoes like these you can be sure I am rockin' them sockless while I hit up Intelligentsia for my morning coffee on my way to the beach. If you want to wear another shoe on the way to your aquatic destination, no worries – these water shoes are slim, flexible and easy to pack in a backpack or even a purse due to their versatile mesh material.
So we've talked about the comfort and the style, but what makes these the best water shoes for women? The Adidas drainage system. This drainage system controls water-logging of the shoe by little mesh packed holes in the outsole. These holes literally transfer water straight through the shoe as you go about walking. If you were to pour water into your shoe, you would see it immediately drain out the mesh upper holes like a waterfall.
The mesh upper is fine enough to let small particles drain out of the shoe so you don't have to shake them out because of sand or little rocks! Look at the top view below to get an idea of how the drainage system works within the shoe:

In addition to draining easily, the ideal water shoe needs to have traction. In this case, the Adidas's quick­-dry non-marking rubber sole adds traction and grip for walking on slippery surfaces without losing your stability. With that said, I probably wouldn't recommend these for a sea-­to-­summit adventure. These are more durable for leisure than extensive activity like hiking.
All-in all, the Adidas Climacool ranks as the #1 best water shoes for women because they've got everything one wants in a water shoe – versatility, design, comfort, and affordable price. While the retail price of the Climacool's is $60, but as with any type of product these days you can always find them cheaper if you buy online. I shopped around for quite a bit prior to writing this article and the lowest price I found was Amazon. If you're kind of skeptical buying water shoes online (which is totally understandable because I used to be that way too), Amazon also has a super accurate sizing guide made from compiling customer feedback to help you pick the right size. Check it out here, it's listed right under the price and above the color choices.
Runner Up: KEEN Newport H2 Sandals
Known as "The Original Hybrid Sandal", it should come as no surprise that the KEEN Women's Newport H2 Sandal reigned in as our second best water shoe for women. This hybrid sandal combines the benefits of a water shoe with the open, airy feel of a traditional sandal. Designed for adventure, this carefully executed footwear will take you from trekking the river to hanging out at the house without ever changing a shoe… or a sock! KEEN is based "Straight Outta Portland" so you can rest assured their water gear is made from experience, not imagination.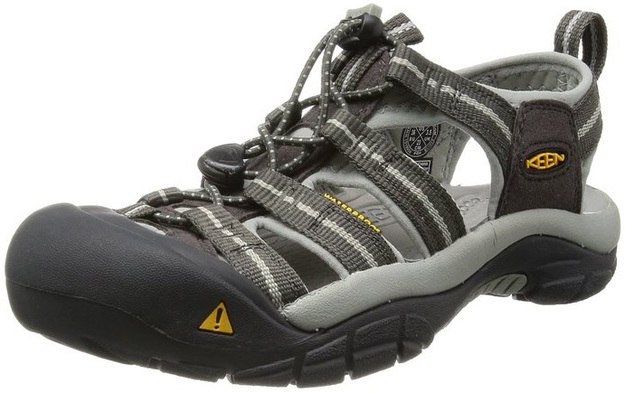 Comfy. Although the Newport H2's appear very rugged, that will be the first thought that comes to mind when you slide into KEEN's anatomical footbed. Different from the original Newport sandal, this hybrid is strapped with fast drying nylon straps backed by neoprene for a quick dry so you can keep moving. The mesh upper material is lightweight and will be sure to dry out before you even know they are wet!
There are two loops for your fingers to put the sandal on and you'll feel secure as you tighten with the bungee lacing system. This quick lace system is an easy way to adjust the wearability of your sandal and one of the quality specs which makes this sandal our second rated. This differs from our traditional lacing system in our top rated Adidas, a feature that puts it at top for versatility between street and water shoe. However, these sandals were designed more for trekking in water, so you may prefer the bungee.
The footbed is designed for comfort and has an AEGIS microbial finish to eliminate the bacteria that causes odors. This water shoe can be worn all day if you please! The rubber toe cap is prevalent in KEEN shoes allowing this sandal to protect your toes anywhere you go. The toe cap is strong and acts as a safeguard from sharp rocks and underwater objects that you can't see. On the underside, carbon rubber multi­terrain treads give you the stability you need when walking on wet rocks.
Have you hiked a long day and got your water shoes a bit dirty? No sweat (get it?), besides the added microbial finish, the cleanup of this shoe is simple and straightforward. You can hand wash, hose 'em down or throw them in the washer machine. The shoe's durability will amaze you as you see after months of use they still don't appear to be ratty and over worn. While the sandal-style design is not for everyone (which is precisely why I prefer the Adidas), the people I know that wear these love them.
The KEEN sandals rate highly for adventurers in tropical climates from Central America to Hawaii compared to the Adidas which would rate higher for lake days or beach days. Essentially, if you are looking for a water shoe that you can wear in the water, on the boat and into town, I would recommend the Adidas.
For those who are looking for a water shoe you can hike in with ample protection and traction, the KEEN Women's Newport H2 Sandals are for you. These two style water shoes are ideal for their terrains, however I do find that Adidas has a better drainage system than the hybrid sandal. Just a thought to keep in mind.
#3: Chaco Outcross Evo MJ
The Chaco Women's Outcross Evo MJ was designed as a fashionable yet durable water shoe to meet all the needs for women. Taking the traditional silhouette of a Mary Jane (hence, the MJ) style shoe and combining it with innovative, quick­dry aspects is how this design made it into the spotlight as our third best water shoes for women.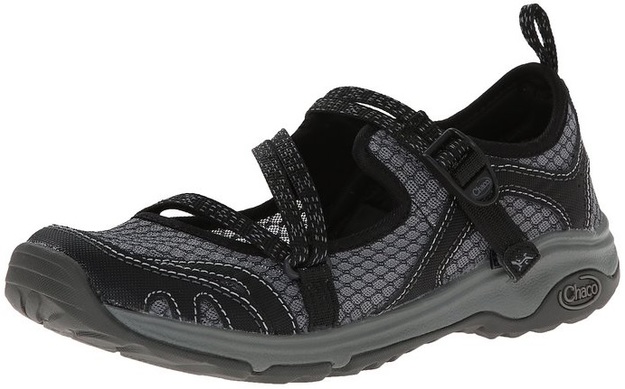 The classic Mary Jane shoe was once a registered trademark and a popular staple for women in the 1920's. The MJ design is a closed, low­cut shoe secures the foot by a strap (or two) over the insole and fastens by buckle or button. If you open up a tab and "Google" Mary Jane style shoe you will know exactly what we are talking about here. The water shoes are "easy­-on, easy-­off", something that we want to look for in a water shoe. Enough with the history lesson, let's talk about the shoe already.
The shoe has a synthetic mesh upper, which, if you've been following us so far, is crucial for water shoes. The synthetic material allows a quick dry, drainage system, ensuring fine particles and water do not stay logged in the shoe while walking. Different in style from our #2 hybrid sandal, this Lycra-­lined heel is enclosed.
The open­-heel design of the Newport H2 sandal is ideal for those who want maximum breathability with ample support. Although these two differ in design, the Outcross Evo MJ still offers adequate breathability and durability. To make sure the foot stays in place, Chaco uses their well­ known adjustable jacquard webbing straps with ladder lock buckles. That is something you'll want while you're wading around in the water.
For comfortability and structure, Chaco uses their patented, women specific LUVSEAT midsole in this water shoe. This technology is contoured to the women's foot for arch support and dependability. In addition, every LUVSEAT style that Chaco uses is certified by the American Podiatric Medical Association. Thumbs up for comfy feet! I like knowing that when I strap on a pair of Chaco's I won't have achy feet after a long day of walking and hanging out.
To ensure you don't stub your toe or bang up on a rock, the toe is covered by a synthetic toe cap. Big difference here between the KEEN and Chacos. Although less fashionable, the KEEN design has a solid rubber top cap versus the synthetic in the Chacos. If you are walking and can't see beneath you, I would prefer to have the protection of a big rubber toe covering my little toes. The Chacos use a non­marking, patented EcoTread rubber outsole with heavy duty lugs to ensure you won't be slipping and sliding all over the place.
All in all, the Chaco's are a solid water shoe and will for sure fulfill your needs in all occasions. If you find these fashionable, many do, you can wear them around all day during the summer if you're outdoors and active. People use these for biking, hiking, walking, etc. They are versatile and dry fast. They don't look like a regular shoe like my Adidas Climacool's and they do not offer a drainage system like them, but they get the job done. Depending on where you look on the internet, you can get the Adidas for much cheaper than these as well. For outdoor recreational activity, the KEEN hybrid sandal simply offers more protection but is less attractive as an all­around shoe.
#4: Speedo Offshore Amphibious Water Shoes
Speedo is one of the best swimwear brands around, sporting products for the relaxed lifestyle at the beach. My mom, a long time beach bum, loves Speedo water shoes and will swear by them until she is old and gray. She may even be mad reading this that I mentioned the possibility of her going old and gray, she's a forever-young kind of woman. Anyhow, regardless of my mom's hair color, the Speedo Offshore Amphibious Water Shoe combines an innovative drainage system with the traditional slip on water shoes design, earning this the #4 spot on the list.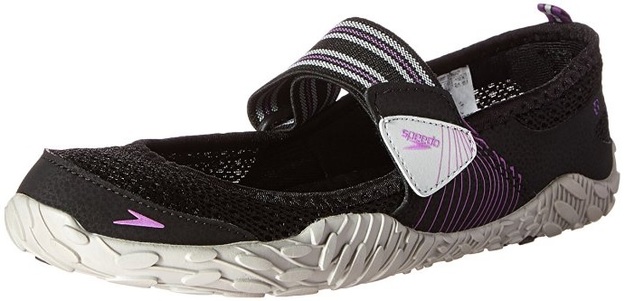 The Speedo water shoe slides on like the rest, a single loop above the heel that helps get the foot in place. Different from our previously reviewed water shoes, a stretch Velcro strap secures the foot in. Similar to the Mary Jane design, the hook and link single strap secures into the insole of the foot. This style strap allows for a quick adjustment if you feel the shoe is too tight or too loose. The Velcro on this product brought it down into fourth place. Velcro can wear out in time and with the retail price of this shoe you can spend a little more and get quality water shoes without the Velcro addition. The rest of the upper material is a soft, breathable mesh for quick drying.
What brings the innovation for this shoe is Speedo's FluidFlow technology. Similar to the Adidas drainage system, the FluidFlow drainage pushes water and fine particles out through the bottom of the shoe, leaving no room for anything to get back in. This works by having a perforated removable footbed as well as a perforated area underneath the footbed. When water makes its way into the shoe, it flows through the perforated base and exits through the outsole. Water is passed through small screens in the outsole so nothing can be brought back in through the bottom. I know that may sound confusing and technical so just know that… the system works well! The thick, thermoplastic rubber (TPR) outsole is perfect for flexibility and walking on wet surfaces.
Overall, this is a solid water shoe. The design is traditional yet holds many aspects that our higher rated water shoes have. These are a cheaper option compared to paying for a pair of Chaco's or KEENS but you are sacrificing comfort and appearance, which is why I wouldn't call them the best water shoes for women. Don't be hesitant about the cheaper option though, the Speedo's have held their own according to a multitude of customer reviews. I believe it is more a matter of what you are looking for in your water shoe. If you want a shoe that you are going to pack into your bag for a day out by the water then by all means let this be your shoe! If you want a more versatile product that can double as a water shoe and street shoe, that's where my beloved Adidas's come in.
#5: NRS Kicker Remix Wetshoes
Last but not least, the NRS Kicker Remix Water Shoe. NRS is a company based out of Moscow, Idaho (no, not Russia) and specializes in everything associated with rivers. A dedicated and employed­-owned company, you know these guys are putting in their time and effort to come up with quality products for you. For a shoe that has no purpose outside of the water and looks awesome, look no further than the NRS Kicker Remix.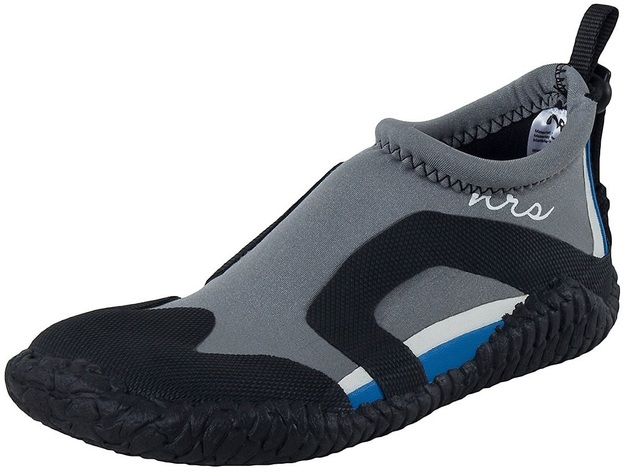 This water shoe is designed specifically for a woman's foot for ideal comfortability and fit. The upper material is a 3mm neoprene with titanium which helps keep the feet warm in colder waters. Seeing that NRS creates products for river runners, making sure those feet are warm is crucial. One of the cool features with this shoe is their naturally shaped toe box to keep all your piggies in one comfy blanket. With all this neoprene and comfortable features, you may wonder how this shoe could possibly keep one safe?
The bands on the side of the NRS Kicker Remix Water Shoe are there to help maintain stability. Adjusting the tightness of your bootie is easy with a drag cord at the collar of the shoe. To protect you from possible unseen objects, NRS created a rubber armor over the toe box and the heel. They added a 2mm plastic shim along the outside of the boot for protection as well. Isn't it nice to have someone looking after your feet so intimately? The pattern rubber outsole of the shoe has excellent traction for wet surfaces in and out of the boat.
According to other reviews, the rubber outsole is not "non­marking", meaning there is a possibility they will mark up your kayak. I was surprised to hear that given the company mission and I have not tested these in a kayak so I do not know. There is no mention of a specific drainage system which sets this shoe apart from our top rated products.
That basically sums up this shoe and right now they are on sale (on the NRS website). However if I were to pay full retail price for these, I would much rather go and purchase the Adidas Women's Climacool Boat Sleek for function and fashion. Although we know we're not here for a fashion show, we can still comment on how nice a shoe is. You probably won't be taking these shoes with you from the kayak to the restaurant unless you are really dedicated to it's…style. However, I like this water shoe and I respect what this company is doing in terms of being 100% employee owned.
Things To Consider Before Buying
The above reviews should've given you some pretty good insight as to what to look for in the best water shoes for women, but here are a few other considerations to make in case you're still up in the air about which type of water shoes to go with.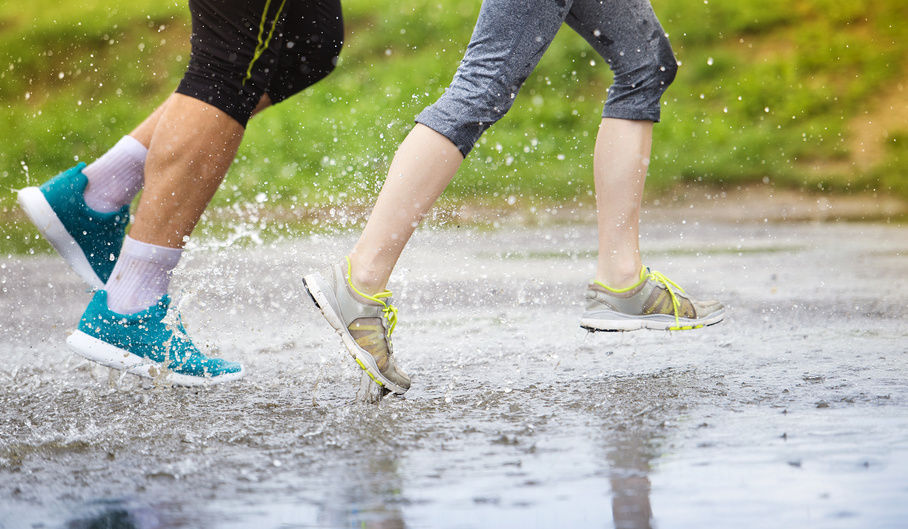 Traction
The reasons why you are purchasing a water shoe could be to hang out on the beach, work on your boat or go on a multi­day floating trip. Regardless, you are in need of a shoe that will provide excellent stability while walking on slippery surfaces. This is why we say check the traction. When you flip the shoe over, we are looking for a relatively thick and aggressive treads. These heavy duty treads will allow you to move gracefully across potentially harmful slick surfaces.
Toe Protection
In case it isn't already obvious, those little guys are important to your everyday existence. The purpose of our toes is to balance the entire weight of the body, therefore, we must protect them. Seek out a shoe with quality rubber protection on the toes and heels if you plan to be outdoors. This will protect you from sharp objects, stubbing your toe and possibly breaking one while you are out in the woods!
Synthetic Material
One thing all of our rated water shoes have is a core made of synthetic materials. The synthetic mesh is a generally waterproof material allows the shoe to dry easily as well as gives your foot the breathability it deserves while you are out there working up a sweat in the sun. If the material is good quality, it will be for comfortable as well. Synthetics are easy to care for and can be thrown in the wash when they get too dirty.
Drainage
How does the prospect shoe drain water? This question can be crucial to you which you are buying. If you are looking for a quality water shoe, you don't want one that takes forever to dry. The Climacool Water Shoes is a great example of quality drainage systems. The water flows right out of the shoe through mesh holes, leaving no entry for large particles to be sucked up through the outsole. When you combine a good drainage system with good synthetic materials, you are looking at an ideal shoe!
Quality
There are plenty of knock off brands out there that may claim to have the best products. Do not sacrifice quality for a cheaper price. You will recycle through pairs of lower­-quality water shoes versus a good quality pair from a reputable brand. If you have any questions regarding a company's status, do a simple Google search or refer back to our guide here. Brands like Adidas, KEEN, Chaco, Speedo, etc. produce quality products that can be thoroughly researched and accounted for.
Who Are Water Shoes Good For?
What are the reasons you are getting a water shoe? Do you spend long summer days at the beach in and out of the water? Do you kayak your weekends away? There is a water shoe in store for everyone.
Beach Bums
If you love the feeling of the sun on your skin and the salty sea breeze ravaging your sense all day… you may be a beach bum. Fortunately, that's a good thing! Growing up with beach bums, I've learned how important a good water shoe or sandal can be! Spending the summers out in Montauk or the coast, you want a versatile water shoe. This ideal shoe will be just as good in the water as out. There's nothing like coming up from the beach and not having to run back to your room to change your footwear.
For beach bums, the Adidas's will be the shoe for you if you want a cute shoe for dinner right from the beach. If you bring extra water shoes in your bag, pick up the Speedo Offshore's. They are lightweight, flexible and won't take up much room in the beach bag.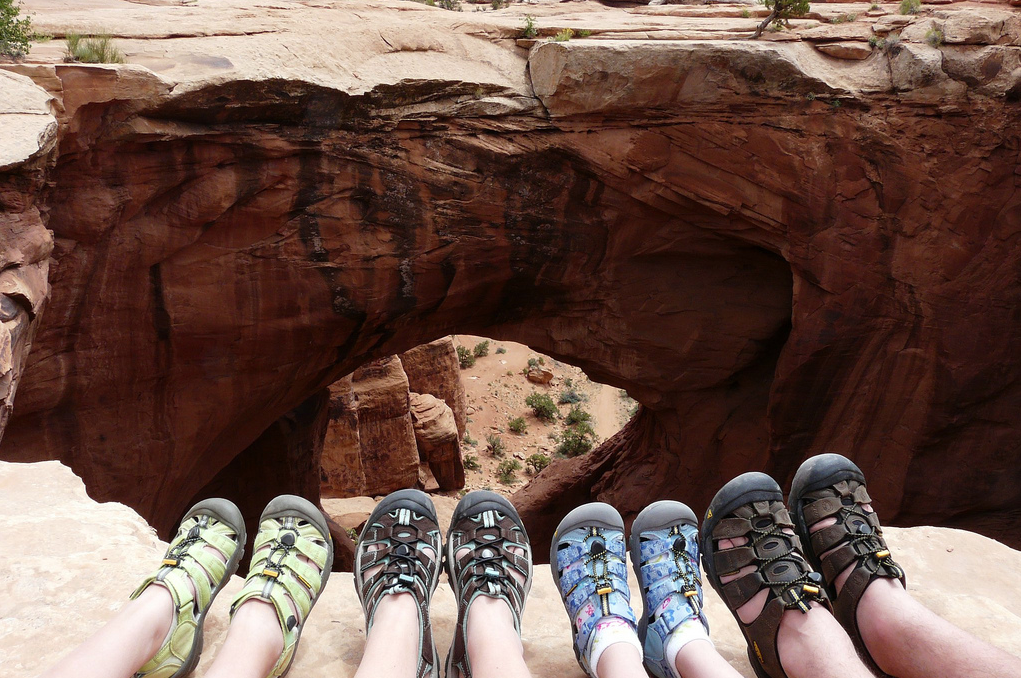 Adventurers
You like sun, you like rivers and you probably own camping gear. If you are the adventurer, you know your water shoes are crucial to your well­-being. You don't want to be setting up camp in soggy shoes after kayaking or hiking. The ideal water shoe for you will have increased protection from hard objects, breathability and be made from quick dry materials. The KEEN Newport's can offer you what you need for everything from lazy water tubing to kayaking and more. Although this is not a substitute for a long distance hiking boot, these types of water shoes are durable for moderate hikes that involve trekking through wet areas.
We know that everyone will not fall into these rigid categories so easily which is why we tried to make them as broad as possible. Even if you don't think you may be the Beach Bum or the Adventurer, use the concepts as a guide to what you see yourself doing in your water shoes.
Final Thoughts
Buying a new pair of shoes is always a good time especially when they are for fun outdoor activities! When it comes to water footwear, a good quality product is more crucial than regular street shoes. Water shoes are normally purchased with a purpose in mind so take your time and find the perfect shoe for your needs. Quality water shoes, like the Adidas Climacool's, will have great drainage and breathable material for drying on the go. There are shoes that will offer more protection and shoes that will offer better pricing, it's all a matter of choice! If you plan to get out into the sun next summer, pick yourself out a good pair of water shoes for swimming, kayaking and straight up relaxing (hint, it's off season so you may find some good sales right now!).