by
An inversion table is a base that you can lie on as you are inverted in order to bring relief to the lower back.
The Teeter Inversion Table EP560 gets our strong recommendation. It is proclaimed by many people as the ultimate solution to lower back pain, muscle tension and nerve pressure. In this review, we dig deep to discover what makes the Teeter difference and why it should be your number one choice when looking for an inversion table.
We'll also compare the Teeter to its leading competitors to help you make the smartest buying decision.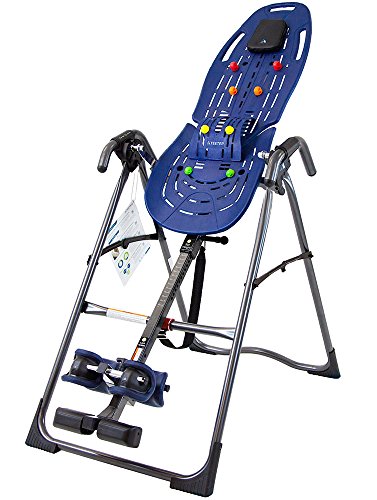 Customer Reviews
Customer have rated the Teeter Inversion Table EP560 gets solid reviews:
4.5 stars, 105 reviews, Walmart
4.8 stars, 324 reviews, Dick's Sporting Goods
9.3/10 stars, 340 reviews, Trust Pilot
The majority of reviewers were very impressed with the stylish and attractive finish of the unit, its sturdy build, accurate and controlled balance and easy set up.
Pros
Only FDA cleared inversion table for back pain and muscle tension
Acupressure nodes for trigger pressure release
Patented wrap-around ankle cuffs
Precision rotation
Extremely sturdy design
It looks fantastic!
Cons
Constructed of metal and plastic, which may break
Benefits
FDA Approved
Teeter manufacture the only FDA approved inversion table on the market. In 2017 the Federal Drug Administration issued an FDA-Class -1 medical device certificate for the Teeter EP560. This gives you total confidence that it will effectively work to alleviate your back pain, sciatica, muscle tension, degenerative disc disease, herniated discs, muscle spasm and spinal curvature due to tight muscles.
Unprecedented Ankle Support
The Teeter EP560 provides you with a unique patented wrap around ankle support. Many competing tables tend to be rather uncomfortable in terms of their ankle bracing, which makes this a major feature. The ergo-embrace supports surround the ankles in order to offer an even weight distribution around the ankles, heels and feet.
The ankle support also provides you with the ability to customize the brace to your individual requirements. It has a dial that allows you to move the height of the ankle support platform to suit.
 
Patented Comfort Trak Bed
Many competing tables feature an upholstered bed which force the torso to sink into it. This prevents the natural body slide which is essential to bringing relief. The Teeter EP560 has a smooth bed surface so there is no body sinking. This ensures a smooth body glide, allowing for maximum spinal decompression and body glide.
Grip and Stretch Handhelds
Hand holds have been built into the Comfort Trak bed and frame to allow for targeted stretching and decompression support in any position.
Progressive Decompression
The Teeter EP560 makes use of progressive decompression. This means that each disc is decompressed by the same bodyweight that compresses it while upright, providing for a far more natural and effective treatment.
Fully Customizable
The Teeter 560 is fully customizable to your height and user requirements. You are able to set your height requirements as well as your angle of inversion. Your degree of rotation is adjusted by simple arm movements.
Acupressure Nodes
The Teeter EP560 features a strategically placed number of nodules along the surface of the Comfort Trak bed. The nodes have a range of heights in order to release trigger point pain and provide focused relief.
DVD
Your purchase of the Teeter EP560 comes with a full instruction DVD to provide you with know-how that you need to get the most out of your purchase.
Ease of Assembly
The EP560 comes to you with 90% of the assembly already done for you. From there it will only take about fifteen minutes working on your own to get the table ready to use, including customizing it for your individual requirements.
Very Well Constructed
Teeter have built a reputation for building high end equipment and the EP560 is a case in point. The frame is made from heat-treated steel carbon. It features auto-locking hinges along with special squeak-free pivot bearings. The sturdiness of the unit was the most commented on feature among reviewers.
Ease of Use
The Teeter EP560 is one of the most user-friendly inversion tables on the market. It is easy to set up, smooth and comfortable to use and a piece of cake to fold up and put away. The table will flex with your body, preventing the sinking that you get with lesser models. It also allows for a high degree of air circulation around your lumbar area, providing for a high degree of comfort.
Ease of Storage
The Teeter EP560 is easy to fold up and store away. In fact, it will only take about 30 seconds to completely dismantle and store away in your closet.
5 Year Warranty
Your purchase of the Teeter EP560 comes with a full 5-year warranty. This is one of the most generous guarantees you will find in the entire industry.
Disadvantages
Rather Heavy
The Teeter EP560 is nowhere as light as some of its competitors. However, those competitors are not as sturdy as this unit, so the extra weight is a solid trade-off.
No Extended Reach Ankles System
More expensive units in the Teeter range, such as the EP-960 feature an extended reach set up which is beneficial for people who lack the flexibility to bend over in order to reach their ankles. You do not get this feature with the EP560.
Summary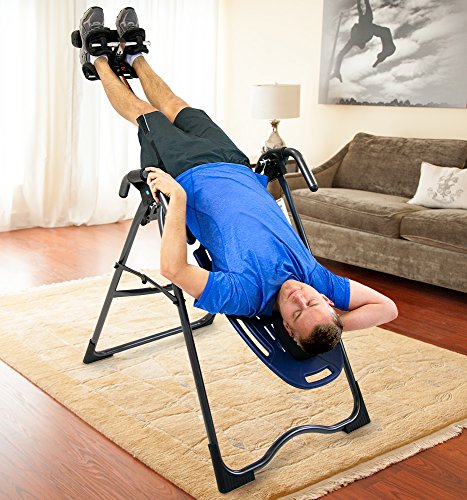 The Teeter EP560 makes use of some unique patented technology to provide a next level back inversion experience. It is very easy to use, you just lock in, recline and relax. What's more this unit is very solidly constructed, looks great and comes with a 5-year warranty. That makes it a winner in our books
Teeter Inversion Table Competitors
Exerpeutic 975SL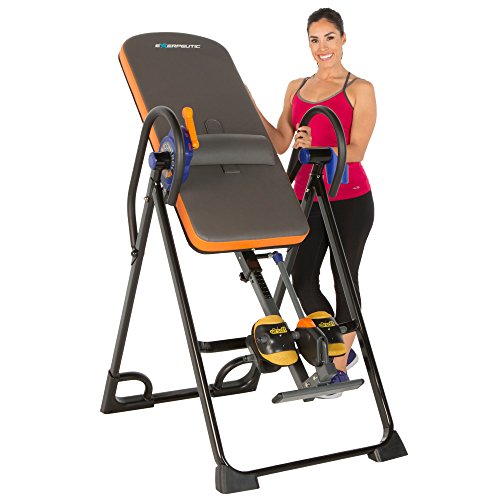 The Exerpeutic 975SL is a larger, less streamlined inversion table than the Teeter EP560. It is made from heavy duty tubular steel framing and can support up to 350 pounds of weight capacity. The unit features a patented iControl Disk Brake System that allows you to lock and unlock the system at an infinite range of inverting angles. A Palm Activated Surelock adjustable ratchet locking system gives you an added measure of safety in the inverted position.
The ankle holder cushions feature Exerpeutic's patented Airsoft technology, providing you with a comfort level to match that provided by Teeter's wrap around ankle support.
The backrest is made of 2.3-inch-thick soft foam. This provides a high degree of comfort but does result in a measure of the body sagging into the bed, which has a restrictive result on mobility and leads to heat build-up in the lumbar region.
Overall the Exerpeutic 975SL is a functional, solid bed that comes in at a great rice. However, it does not provide you with the overall quality experience and style that is inherent in the Teeter EP560.
HealthGear ITM5500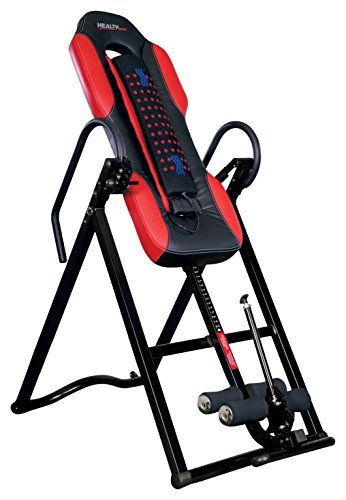 The HealthGear ITM5500 Inversion Table with Vibro massage and heat provides two complementary avenues toward pain relief. Firstly, it provides you with all the benefits of traditional inversions therapy. Secondly, it adds a vibro massage pad to give your relief through three invigorating massage functions along with pain soothing heat relief. A multifunction hand controller makes it easy to adjust the heat and massage effect.
This table features an ergonomically designed foam racing style back rest which provides comfort and safety as you invert at a range of poisons from 20 to 90 degrees. The vibro massage pad that comes with the unit is removable so that it can be used in other applications, such as when sitting in your favorite armchair watching TV.
The HealthGear ITM5500 has a maximum user weight of 300 pounds and can be used by people from 5'1" to 6'5" in height. It is made from heavy gauge steel tubing and finished in a scratch resistant powder coat.
The 3-position side inversion pin on this table allows you to set it at either a 20, 40 or 60-degree position without having to use the lower strap. The fold and roll design of this unit makes for easy set up and dismantling.
The HealthGear ITM5500 offers the extra feature of heat and massage therapy. However, the basic inversion table function is not as advanced as what you get on either the TeeterEP560 or the Exerpeutic 975SL. Unlike the Teeter table it does provide a straight back so there will be a measure of body sag. In addition, the lower back area is prone to heat and sweat build-up leading to discomfort in this area.
The warranty on this product is only 30 days, compared to 5 years on the Teeter EP560.
Innova ITX9600 Inversion Table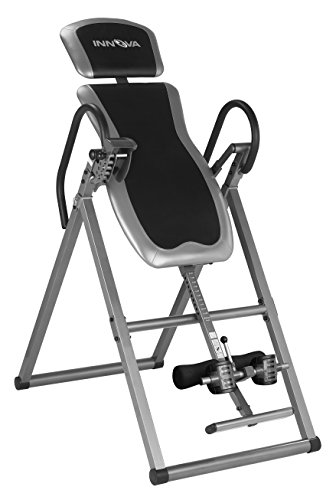 The Innova ITX9600 heavy duty inversion table is a compact stylish unit that features a six angle in system to provide a multi angle inversion experience. This table has three adjustable features; the headrest, the height and the foot pads. This allows for total user customization.
The ankle support system makes use of foam rollers with either front or back u-shaped supports. This system is nowhere near as comfortable on the ankles, shins and feet as the patented system used on the Teeter EP560 or, for that matter, the system used on the Exerpeutic 975SL.
The heavy-duty A-Shaped steel frame makes this unit quite robust. It can take user heights of from 4'11" to 6'6" and at a maximum weight of 300 pounds. This unit comes with a generously sized adjustable headrest, soft foam handlebars.
The assembly on this table is a little tricky, requiring between 30 and 40 minutes. Unlike the Teeter EP560, it does not come to you partly assembled.
The Innova is a great option because it supports so much weight and it's so affordable. In fact, it tops our Best Fitness Inversion Table list.
The Bottom Line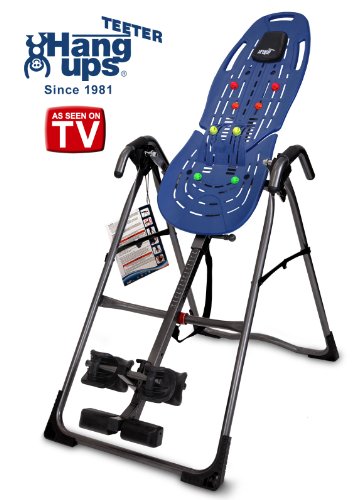 After carefully considering a lot of inversion tables, we are confident that the Teeter EP560 will provide you with the most complete, comfortable and easy to use back inversion experience on the market today. It's stylish looks, extra patented features and solid reliability put it head and shoulder above the competition.