by
Which is the Better Elliptical?
 When it comes to elliptical trainers for the home, Schwinn provides some of the best quality, functionality and value for money on the market. Their two flagship ellipticals are the Schwinn 430 and the Schwinn 470. They are both excellent home gym fitness machines.
Our pick for most people is the Schwinn 430. Read on to see why.
Main Differences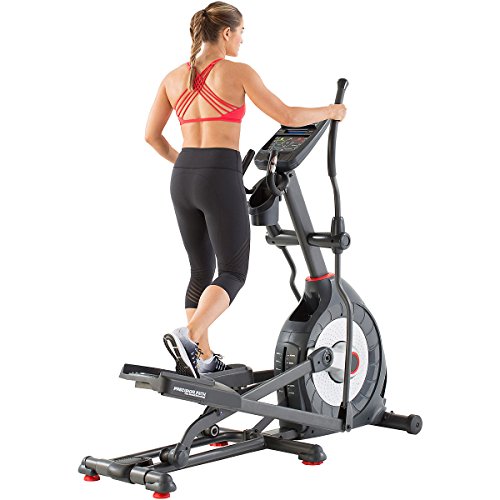 Both the Schwinn 430 and the 470 are very popular front driven elliptical exercise machines. Both trainers offer a 20-inch stride length, a charging station for your electronic devices, a 3-speed fan and 2 window LCD display.
The higher end 470 is a few hundred dollars more expensive than the 430. It has a backlit console which is easier to see, a motorized ramp, 5 more levels of resistance and the capacity to store data for up to four users, as opposed to two for the 430. The 470 also gives you 7 more workout programs than the 430.
For the average user, we believe that the 430 will provide you with everything that you need. The big advantage of the 470 is the motorized ramp, which allows you to adjust the incline from the console. If you know that you will be regularly adjusting the ramp during your workout, the extra expense will probably be worth it. If not, we suggest sticking with the 430.
 The Schwinn 430 Up Close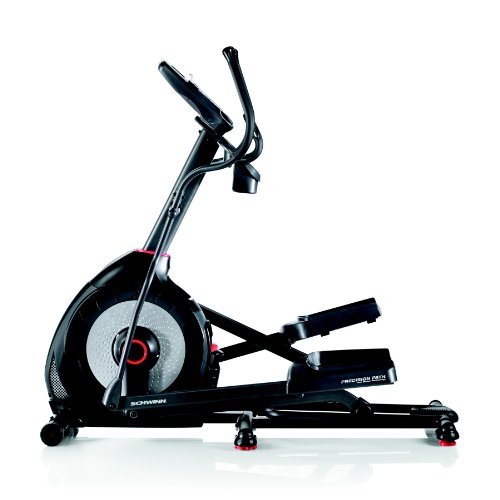 The Schwinn 430 Elliptical looks a little different to the run of the mill ellipticals that you come across. That's because it's got a leveler and a stability bar in the middle of the machine. This innovation ensures that you get a nice steady ride throughout your workout. Let's check out the other benefits of the 430.
Benefits
 Smooth Rotation – the 430 provides with a high-speed inertia perimeter weighted flywheel. This ensures that you get a smooth, natural revolution each time. There is no unsteadiness or, even worse, jerkiness, when you move on this machine.
 Easy to mount – sometimes on an elliptical machine, the pedals are set too high for an easy mount. Not so with this machine. The pedals are set at the ideal height to allow you to easily get on and off.
 Plenty of foot room – the foot pedals on the 430 are nice and wide, so your feet have plenty of room to move without your toes hitting the sides.
 Natural Stride Movement – the stride length of the 430 is twenty inches. This feels very natural and comfortable, as it mimics our natural stride length. The stride movement also allows you to maintain an upright posture, with ideal spinal alignment. You won't find stride lengths like this on even the best ellipticals under $500.
 You Can Multi-task – The dual console of the 430 monitor allows you to place a tablet on the console and watch your favorite Netflix show while you're working out.
 Meanwhile, a secondary display screen allows you to see your time, distance, speed and calories. In addition, you can program in your name, age, weight and height to get personalized calorie burning and other feedback. The 430 allows two people to input their personal data.
Check Your Training Pulse – the hand grips of the 430 feature pulse sensors to allow for an easy reading of your training heart rate. However, this pulse monitoring system is not very accurate and prone to malfunction.
 Great sounds – while you don't want an exercise machine that is noisy, you do want one that provides you with top quality music options. The 430 delivers on both counts. While it's operation is whisper quiet, it does come equipped with an excellent pair of speakers.
 High comfort level – the 430 comes with a built-in fan that you can actually tilt. This allows you to focus the breeze just where you need it the most.
 Incline for added intensity – you do get an incline adjustment with the 430. While it is manual, Schwinn has made it super easy to operate. There are six levels of adjustment operated from a single adjustment on a level handle. You will, however, have to get off the machine to adjust the height.
 Track your goals – the 430 comes equipped with Schwinn Connect goal tracking. You can easily download your training data to the Schwinn Connect app for detailed analysis of your workout diagnostics. This includes monitoring your progress toward your goals.
By teaming with the myfitnesspal app, Schwinn also allows you to analyze your nutritional intake.
Dual handle bars – the 430 provides you with two sets of handles. One set is movable, mimicking the natural stride motion of your feet. The other set is fixed, allowing you to rest your arms when you wish to focus on a lower body workout.
 Drawbacks
 Console can be difficult to see – the Schwinn 430 does not feature a backlight. While this may be a problem, it can make it difficult to see from certain angles.
You have to dismount to adjust the incline – for those who will be regularly using the incline function, getting on and off the unit to change the incline will get very tired very fast.
Unreliable pulse monitor – the handheld heart rate sensors that are used in the 430 do not give an accurate reading of your pulse rate. They will give you a ball-park figure, which will be ok for most users. But when you are trying to stay within your target heart zone, accuracy becomes important.
The Schwinn 470 In Detail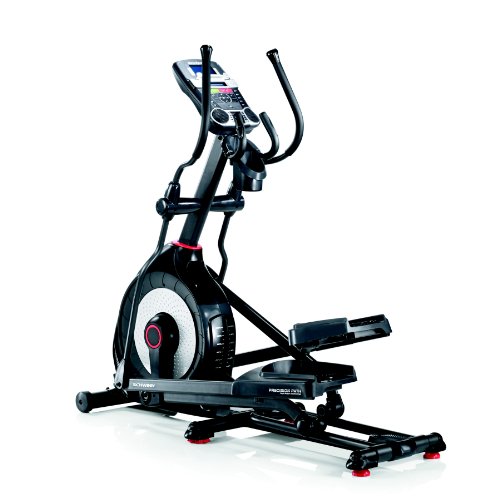 The Schwinn 470 is Schwinn's top of the line model for in-home use. This is a popular home gym option that has a lot of positive reviews online. Let's find out if it deserves them.
Benefits 
Easy to read console – the console of the 470 is backlit. This allows you to be able to easily see your training diagnostics as displayed on the screen. While non-backlit machines can be hard to see from certain angles, you won't have this problem here.
Long stride length – the longer your stride length, the more muscles you will engage and the more calories you will burn. The 470 gives you a 20-inch stride length, which is a couple of inches more than you'd get with most other home ellipticals.
As well as giving you a more intense workout to the glutes and hamstrings, a longer stride length feels more natural and smooth.
Instant ramp adjustment – a motorized ramp is quite an advanced feature for a home elliptical. The 470 is the only Schwinn elliptical to offer it. It means that you can instantly adjust the angle of the incline from the console without stopping your workout.
An elliptical incline changes the slope of the elliptical path. This makes it great for cross-training.
Greater foot comfort – the 470 provides you with cushioned articulating foot pedals. The pedals have been ergonomically designed to follow the motion of your ankle as you move.
The pedals are also very spacious, allowing for natural foot movement. You'll also notice that the pedals are positioned closer together than on many competing models. This provides you with a more natural stride motion, while also reducing hip strain.
Charge your tablet – the 470 provides you with the ability to charge your tablet or other device right there on the console. That means you can watch movies or surf the net without having to worry about your battery running out.
Monitor your goals – the Schwinn Connect fitness app allows you to upload all of your training data to your tablet or phone for detailed app analysis. It will provide you a wealth of useful diagnostics, including tracking your goal progress.
The Schwinn Connect app also features a connection to myfitnesspal, so you can monitor your nutritional progress.
Plenty of workout choice – The 470 comes with 29 built-in workout programs. This incudes 12 pre-set heart rate programs, two fitness tests, a recovery test and four custom programs. This provides you with the expertise of a personal trainer right in your home.
Progressive resistance – with 25 levels of eddy current magnetic resistance, you have plenty of scope to increase the intensity of your training. This allows you to keep challenging yourself as you get fitter and stronger.
Dual handlebars – the Schwinn 470 has two sets of handlebars. The main set moves in tandem with the stride motion of the pedals, allowing you to work the upper and lower body together. The secondary set of handles are located under the console and are for when you want to only work your lower body.
Drawbacks
Unreliable calorie counter – the handheld sensor heart rate monitor is not overly accurate. In fact, the rate seems to be a little low when compared to fitness trackers. It would have been good to have included external chest strap monitoring, as is provided with the Schwinn 170 upright bike.
 Display constantly changing – the display on this unit has been designed to toggle back and forth. This can be good to give you an overview of your training data, but not so good when you want to keep a constant eye on your time, speed or heart rate.
It's a heavy machine – the Schwinn 470 weighs in at 163 pounds. This makes it a heavy unit. You won't have issues with rigidity, but it may be a hassle moving the unit around your home.
Expanded wireless capability – the updated 2017 version of the 470 comes equipped with Bluetooth connectivity to expand your wireless potential while training.
Comparing the 430 and the 470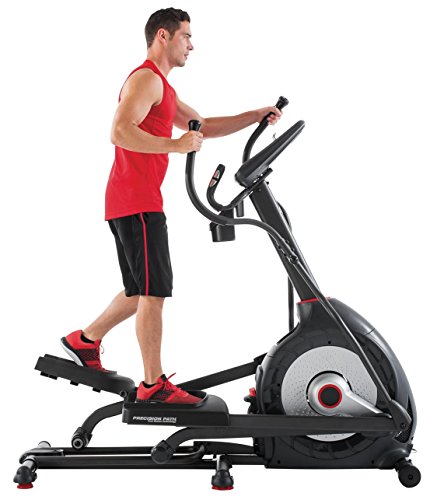 So, now that you know the details of each machine, let's reflect on the differences between them.
Incline – The biggest point of difference is that the 470 allows you to automatically adjust the incline adjustment of the stride. With the 430 you have to get off the machine and do this manually. Of course, if you aren't planning to change the incline half way through your workout, you can just set the incline before you start.
Cross-trainers may want to have the comfort of auto adjustment. Most people, however, don't seem to use the incline function very often so this may or may not be a big deal to you.
Resistance Levels – as you'd expect, you get more levels of resistance with the more expensive 470 (25 compared to 20 on the 430). However, this does not mean that you are provided with a higher maximum resistance level. Instead, there are smaller divisions between each resistance level.
Most people will find that 20 levels of resistance will suit them just fine, so we don't see this as a major point of difference.
Programs – You get 29 workout programs with the 470, compared with 22 for the 430. As with the resistance levels, we feel that 22 programs should be ample for the majority of users, so the extra seven shouldn't really be a major motivator.
Display – The Schwinn 470 comes with a backlit display, while the 430 does not. This can make a big difference to your ability to view the screen from a range of angles. It will appear brighter and more visible.
User Programs – Both units allow for personalized input of user data for more accurate monitoring, However, with the 470, four people can do this, as opposed to just two on the 430. So the more advanced model has double the functionality on this feature.
 Bottom Line
 The Schwinn 430 and 470 are both great looking home fitness machines that offer a high degree of functionality and comfort. You will get a very good stride motion from both machines, with a 20-inch stride length in both cases. The 430 provides you with enough grunt for the average home user, including twenty-two workout programs, twenty levels of eddy current resistance and a high speed inertia perimeter weighted flywheel.
The big difference between them is that the 470 provides you with motorized adjustment of the incline. If this is a function that you'll be regularly using, it may be worth the extra few hundred bucks to get it. Otherwise, the 430 will give you everything you need for an awesome sweat session.