The ready to drink protein shake is a rapidly growing segment of the massive protein shake market. Due to their convenience and relative inexpensiveness, r-t-d proteins shakes have become an increasingly popular option among gym goers and general protein consumers alike. One of the most heavily marketed a and readily available r-t-d protein shakes is Premier Protein. In this article, we'll go in-depth on Premier Protein to discover whether or not this product is a good on the go protein option for you. We'll also compare Premier with 3 competing r-t-d protein shakes.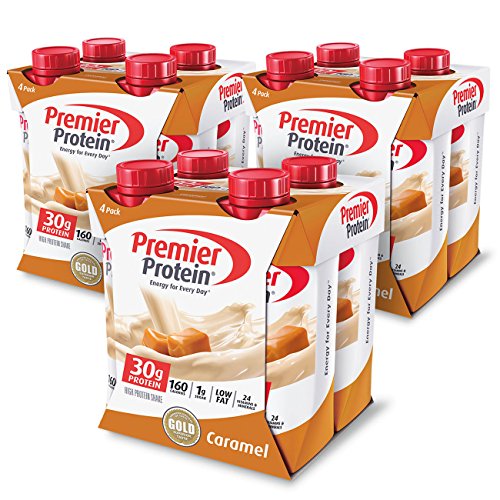 Premier Protein Overview
Premier Protein is a ready-to-drink protein shake that contains 30 grams of protein in a 160 calorie formula with one gram of sugar and, low-fat content and 24 vitamins and minerals. It does contain artificial flavors and colorings. The product has been out for some time and the company changed the formulation some time ago. However, after customer feedback that the taste was not good, they went back to the original formulation. Still, many people complain about the taste, especially when it comes to the chocolate version. Other flavors available are vanilla, strawberry, banana and caramel. If you go with these flavors you will no doubt enjoy the taste. Chocolate lovers should opt for CytoSport's Muscle Milk Pro Series
Premier Protein Pros
30 grams of protein per serve
Essential amino acids
1 gram of sugar
Low carb
24 vitamins and minerals
5 flavors
Premier Protein Cons
Contains artificial flavors and colorings
Chocolate flavor taste does not impress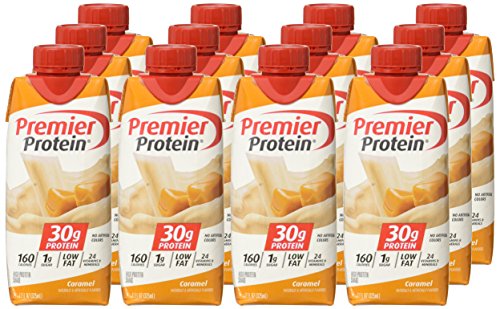 Premier Protein Features
Ingredients
Premier Protein has a very long list of ingredients. It contains a number of things that are hard to pronounce, which is never a good sign. However, the key ingredient mix is the protein blend, which contains a mixture of . . .
milk protein concentrate
calcium caseinate
whey protein concentrate
Protein concentrate leaves both fat and lactic acid in the powder and does not do anything to speed up the rate of absorption and digestion of the protein. This is opposed to whey protein isolates or hydrosalates which reduce the size of the protein molecules and remove fat and lactose. The inclusion of calcium caseinate will help to effect a slow release of protein over the course of the day. This may not be what you want, however, if you are taking Premier Protein as a post-workout supplement.
Premier Protein contains branch chain amino acids, which are the three key amino acids needed for muscle growth; leucine, valine and iso-leucine. With this product you get 30 grams of protein per drink. That is more than you get with the average protein powder sold on the market and most other r-t-d drinks and is an ideal amount to consume at each meal, especially if you are working to put on lean muscle mass.
The biggest concern with the ingredients in Premier Protein shakes has to do with the large number of artificial ingredients and processing that have gone into the product. This has resulted in the Fooducate website giving Premier protein a rating of D, which is its lowest rating. However, it should be noted that many people take this product as a meal replacement. Therefore, the manufacturers have added some ingredients to replace vitamins and minerals that the user would not be gotten through whole foods. An example of this is pyroxidine hydrochloride to replace vitamin B6. This is typical of many meal replacement formulations, which also have long ingredient lists as a result.
Premier Protein uses artificial sweeteners to enhance the flavor of the shakes. There is a lot of debate on the subject of artificial sweeteners, with the general consensus being that the best option is to use stevia as a sweetener. Premier Protein uses sucralose.
Another key ingredient in Premier Protein is carrageenan. This is a seaweed extract that is used as a thickening agent in many processed products. It has no nutritional value and has been used as a laxative and a treatment for intestinal issues. Studies have shown that it may also be linked to health issues, including inflammation, cancer and bowel ulceration. However, the dosage to cause problems would be much greater than what you find in this product.
Taste
Taste is a very subjective matter, but when large numbers of people voice their concerns it is time to sit up and take notice. When it comes to Premier Protein, most of the reviews on most of their flavors (vanilla, strawberry, banana, caramel) are favorable. However, almost without exception, people say that they do not like the chocolate flavor. If you are a person who absolutely loves chocolate flavored protein shakes, you are better off going elsewhere (see the competitor reviews to follow).
Effectiveness
Premier Protein is a good protein drink to have on the go, when you're in a hurry or on your off days from the gym. It should not be relied upon as your everyday post workout protein formula. It does not contain the fast release protein sources that you can get from whey isolate based protein powders such as Optimum Nutrition Gold Standard Whey.
Summary
Premier Protein is a high protein ready to drink shake that allows you to get the convenience of a ready to grab drink on the go. It contains more protein than most but also contains artificial ingredients including flavorings, colors and thickeners. This product is good as an occasional protein source or meal replacement when you are on the go, but stay away from the chocolate flavor.
Premier Protein Alternatives
Muscle Milk Pro Series Protein Shake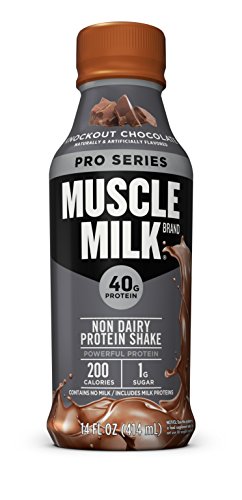 The Muscle Milk Pro Series Protein Shake contains a whopping 40 grams of protein per serve in a 14 fluid ounce bottle. This includes 9 essential amino acids and the vital branch chain amino acids. Each bottle contains 200 calories, 1 gram of sugar and 5 grams of fiber. You also get 20 essential vitamins and minerals in this gluten free formulation.
Muscle Milk Pro Series Protein Shake is manufactured by Cyto Sport who put out a complete line of ready to drink products. The protein blend used in their Pro Series drink features milk protein isolate, which is protein with the fat and lactose removed, making it palatable for people who have a lactose intolerance. This is a key point of difference with Premier Protein which retains the lactose in its protein blend. It also contains calcium sodium caseinate, which is a protein derived from milk and cheese and contains added calcium and phosphorous. They third part of the protein blend is whey protein concentrate, which is the same full protein that is used in Premier Protein.
With 40 grams of protein, Muscle Milk is the highest protein containing ready to drink shake that we have yet come across, being a full 10 grams more than Premier Protein. This is ideal for bodybuilders but may be a bit excessive for the everyday user. It contains almost no sugar and a high level of fiber. However, it is also quite high in sodium. Muscle Milk comes in a range of tasty flavors. Each shake gives you 200 calories, and contains 20 vitamins and minerals. This makes it a suitable meal replacement when you are on the go. We recommend it for bodybuilders who are after as much protein as they can get into their body over a 24-hour period.
Evolve Protein Shake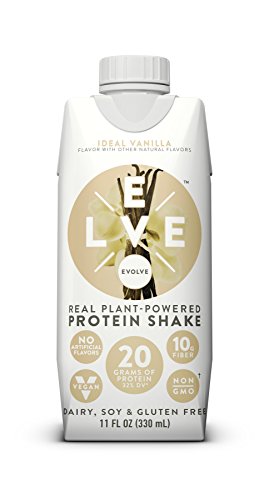 The Evolve Protein Shake is another ready to drink protein product put out by CytoSport. This one, however, is specifically being marketed toward women. It contains just 12 grams of protein per serve in a 110 gram serving. Evolve is geared toward the woman who is concerned with losing weight. It contains an ingredient called Tonalin CLA which is intended to help reduce body fat, increase lean muscle tissue and improve body composition.
The composition and taste of Evolve is a lot thinner than either the Premier Protein or the Muscle Milk drinks. It is, as a result, less filling. The taste, too, is weaker than those two other products. Most guys will not find this product to be anywhere near filling enough to keep them going between meals. However, ladies who are restricting their calories as they work to reduce the pounds will find it a useful supplement.
A highlight of this product is the range of tasty flavors that are available, which include chocolate, vanilla crème, strawberry, mixed berry and caffe latte. Another bonus is that is uses stevia instead of sucralose, which is in Premier Protein, as its main sweetener.
Atkins Ready to Drink Protein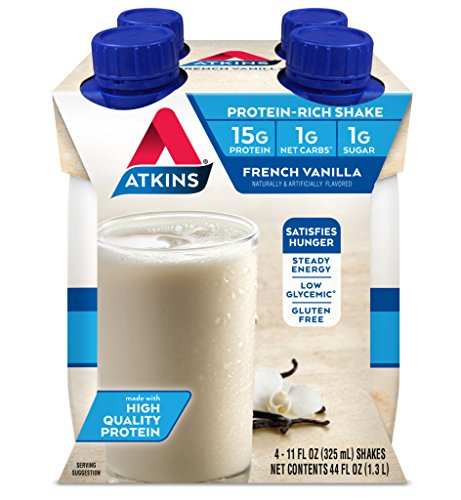 The Atkins Ready to Drink Protein shake provides you with 15 grams of protein in each 11 fluid ounce serving. That is just half the protein content of Premier Protein and nearly a third of what you get with Muscle Milk. Each serving also contains 9 grams of fat. The protein blend used in this product is a blend of dairy and soy. It also contains additives, colorings and sweeteners, including sucralose.
Atkins Ready to Drink Protein shakes come in a range of flavors, which includes strawberry, moccha latte, milk chocolate delight, French vanilla, dark chocolate royale, café caramel and cookies and crème. The sugar and fiber content of the flavors varies slightly, with the average being one gram of sugar and three grams of fiber. In terms of taste, reviewers report that they taste best when ice cold. Many people have found the vanilla based flavors to be quite chalky.
The Atkins Ready to Drink shake also comes in a larger sized option which provides you with 23 grams of protein per serving. This option is limited to just two flavors, however; Creamy Chocolate and Vanilla Crème. Most guys will probably find the smaller version does not fill them up. It will certainly not be sufficient for a post workout protein shot.
Summary
Premier Protein provides a good ready to drink product at a good price. 30 grams of protein is a good amount for any user and the sugar, fat and carb content is low to keep nutrition conscious users happy. The product tastes best when ice cold but you will probably want to stay away from the chocolate version. If you do have a choc craving we suggest going with CytoSport's Muscle Milk Pro Series instead.