No matter how advanced fitness technology continues to get, there are a lot of people who will still always prefer the feel of a traditional old fashioned iron dumbbell. I'm talking cast iron weight plates, knurled steel grip, and something that can take a tough beating in the gym.
If you're one of those people, then the Ironmaster Quick-Lock adjustable dumbbells are definitely for you.
This was one of my favorite models to test, and they happen to be one of the highest rated adjustable dumbbells sets on the market. In other words: people absolutely love them. If you're thinking about buying a set, we have everything you could possibly need to know about the Ironmaster dumbbells in this review.
Fair warning, since the dumbbells are so popular Ironmaster has been hard pressed to maintain enough supply for all their customers.  They may not have stock available at all times, so check back frequently to make sure you get a pair if you do intend to buy one.  
Product Overview
There are a lot of people who consider the Ironmaster Quick-Lock dumbbells to be the best adjustable dumbbells on the market, and for good reason. Ironmaster is no stranger to high-quality fitness equipment. This company is one of the pioneers in the fitness industry, designing and producing home gym equipment since 1978, so needless to say these guys know what they're doing.
While the fitness industry continues to change and most exercise products continue to move towards a more futuristic look and feel, Ironmaster continues to hold true to their traditional roots, and that's really what sets their products apart from the rest. Take one look through their catalog and you'll notice that all of their equipment still bears that old-school look and feel that we all know and love.
Appearance might not seem like a big deal, but when you take a look at Iron Master vs PowerBlock in our Best Adjustable Dumbbell article, you'll notice that appearance and functionality vary across brands. And this set certainly lands on the extremely traditional end of the spectrum.
But don't be fooled by their traditional appearance, there is more to the Ironmaster adjustable dumbbells than meets the eye. Beneath that old-school exterior is a patented locking-screw mechanism that Ironmaster has designed to make changing weight fast and easy (hence the name, "Quick-Lock").
Because you have to add the weight plates manually to each end of the dumbbell, Ironmaster knew they had to create an easy-to-use adjustment system if they wanted to their set to be great for home use. Thanks to the Quick-Lock system, they've accomplished exactly that. One slide and a twist of the wrist, and the weight plates are secured tight into place and ready to go.
Features & Specifications
• Weight range of 5-75 lbs (per dumbbell)
• Expandable to 120 lbs or even 165 lbs
• Each set includes: 2 handles, 4 locking screws, twenty-four (24) 5 lb weight plates, and four (4) 2.5 lb weight plates
• Handles weigh 5 lbs each
• 32 different weight settings: 5, 7.5, 10, 12.5, 15, 17.5, 20, 22.5, 25, 27.5, 30, 32.5, 35, 37.5, 40, 42.5, 45, 47.5, 50, 52.5, 55, 57.5, 60, 62.5, 65, 67.5, 70, 72.5, and 75 lbs
• Heavy duty construction
• Weight stand included (dimensions: 14.5″ wide x 19″ deep x 26″ tall)
• Lifetime warranty
• Dimensions: 6.5″ x 6.5″ x 14.5″ (W x H x L)
Adjustability
Ironmaster's patented Quick-Lock adjustment system is pretty simple to use. It's honestly not a completely new concept to the world; they've been using guided locking screws in construction equipment and heavy duty tools for years now. So if it's good enough for them, you know it's a safe system to use.
Here's how it works: first, you manually add or remove the weight plates until you have the amount you want. Then, you slide the locking screw through the end of the dumbbell until it reaches the stopping point, at which point you give the screw about a half twist where it locks into place. There are grooves on the screw that help you guide it into the dumbbell too. And the best part, once the Quick-Lock screw is set into position, there are absolutely no rattling or loose weights, which some people worry about. Rest assured, the Ironmasters are one of the more secure systems you can buy.
Check out the video below for an example of what it would be like to change out 20 lbs on each dumbbell.
Now, I'll be honest here, because you manually have to add the weight, the Ironmaster Quick-Lock dumbbells do take a little longer to adjust than some of the other popular models that use a dial adjustment system or a selector pin. But the Ironmasters weren't designed to be the absolute fastest, they were just designed to be fast.
So if you're okay with spending the extra 15-20 seconds to change out weight, the Ironmasters will work just fine for you.
Weight Range
With 75 lbs of standard weight included, the Ironmaster adjustable dumbbells offer quite a big weight range to choose from. There are 2.5 lb plates, 5 lb plates, and 10 lb plates, so you can adjust in increments as big or as small as you need.
Because you are manually adding weight plates to each dumbbell, you have ultimate control over the weight settings you want, and I really like that about the Ironmasters. A lot of other models only allow you to adjust in 2.5 lb increments up until 25 lbs, and from there you have to adjust in 5 lb increments.
With the Ironmasters, you can adjust in 2.5 lb increments at any point in the weight range, giving you the most customization options for precise weight settings.
Add-On Kits
So you have a huge weight range to work with on the standard set, but let's say you needed more weight than the standard 75 lbs that the Ironmasters offers. That's where add-on kits come in.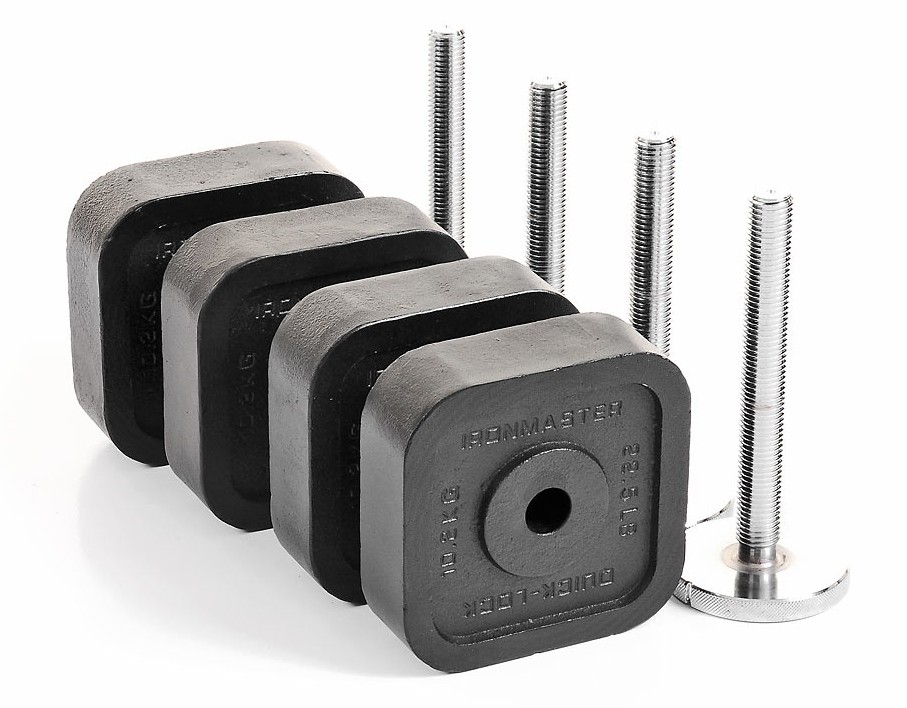 One big benefit to the Ironmaster's traditional design is that you can easily add weight expansion kits to get a bigger weight range, giving you a ton of room to grow. Right now there are two add-on kits available, and to put it simply, they're massive. The first add-on kit increases the max weight to 120 lbs, and the second add-on kit increases it to 165 lbs…PER DUMBBELL.
Now, I'm going to make a wild assumption here and say that unless you're pumping iron like Arnold Schwarzenegger did back in the day, you'll never need the second add-on kit. But I do know a lot of people who will take advantage of the first one, so it's great that the Ironmasters are capable of this.
Nevertheless, each add-on kit includes extra weight plates as well as extended-length locking screws because the standard ones aren't long enough with the extra weight plates on each end.
Quality & Durability
While the Ironmaster Quick-Lock dumbbells may have an old-school look, they're definitely made with new-school quality. These are not your traditional iron dumbbells from 1985. As a company, Ironmaster is a firm believer in excellent quality, and their products reflect that.
I wanted to point out a few things that you may not be able to tell from the pictures; most notably, each iron weight plate is precision-cut to not only look good but to perform great as well. The grooves on each plate were designed so that the plates would seamlessly fit together when added to the end of the dumbbell, which is why you get no rattling or shaking when the locking screw is secured into place.
As funny as this sounds, this is one of the things I liked most about the Ironmasters because rattling weight plates is generally one of the bigger worries associated with adjustable dumbbells, so it was really reassuring to have such a solid set.
In addition to the well-designed plate fitment, both the handle and locking screw are made with heavy-duty commercial-quality steel, which again just beefs up their durability.
There's literally not a single piece of plastic on the Ironmasters, and that's super rare to find in adjustable dumbbells nowadays. It's these iron and steel materials, combined with their more traditional design, that makes the Ironmaster Quick-Lock dumbbells so incredibly tough.
These are by far the most durable adjustable dumbbells I've personally used, but I'm not the only one who felt this way. One of the most common things you'll read in any review of the Ironmasters is how impressive their durability is.
Lifetime Warranty
There's nothing that says, "this product is going to last you forever," quite like a lifetime warranty. Any company can get out there and say their products last you a long time, but a lifetime warranty is the ultimate seal of product approval.
Like I said above, Ironmaster is a big believer in quality, but what they're even bigger on is customer service. They're personal, and people love it. Unlike a lot of companies who will do anything they can to get out of warranty work on your stuff, Ironmaster is quick to help out if you ever have a problem with your dumbbells.
They want you to be completely satisfied with your dumbbells for as long as you have them, so they do a really good job in the whole customer service/warranty category.
Additional Images
How Do They Feel?
Another great benefit to their traditional design is that the Ironmasters have a very natural dumbbell feel, probably the most natural out of any other set of adjustable dumbbells I've tried before. With a regular set of dumbbells, as you move up in weight, the dumbbell gets progressively bigger and wider so of course, it naturally feels like more weight.
The issue most adjustable dumbbells have with trying to mimic this natural feel is that their framework is often big and long no matter how much weight you have attached, so it just feels a little awkward.
The Ironmaster Quick-Lock dumbbells do not have this problem whatsoever because, like a regular set of dumbbells, their overall size grows wider as you add more weight. This gives you a nice, well-balanced set to work with whether you're using 10 lbs or 100 lbs.
Anything Bad About The Ironmasters?
I'm a pretty blunt person, so I'm usually the first to point out the things I don't like instead of the things that I do like. But honestly, there really isn't anything bad to say about the Ironmaster Quick-Lock dumbbells. If you've read this far into the review, chances are you're not looking at the Ironmasters to get the latest technology or the best-looking equipment, you're looking at them for one reason: to get a badass pair of tough dumbbells. And for that, they work flawlessly.
Their traditional design of manually adding weights does make them slower to adjust than other designs that use a dial or selector pin, so if you're looking for a set to use with a super fast-paced routine like P90X, there are certainly better options for you (like the Bowflex SelectTech's or the PowerBlock's).
The only other thing I can think of is if you're going to be frequently using the 2.5 lb micro-settings, the dumbbells will feel slightly unbalanced. That's because, in order to achieve those settings, you'd only be putting a 2.5 lb plate on one side of the dumbbell rather than both, so that side will have an extra 2.5 lbs on it. There's an easy fix though; just slide your hand a fraction of an inch towards whichever side of the dumbbell has that extra plate, and it will feel balanced again.
Even though I didn't have anything bad to say about the Ironmasters, I was curious to see how other people's experiences have been with them, so I read through a bunch of threads on Bodybuilding.com as well as all of the critical reviews on Amazon to see if there was anything else I could find that might be an issue with these dumbbells.
Now, I knew people loved these things, but wow was this an eye-opener for how highly-regarded the Ironmaster Quick-Lock dumbbells really are. First off, I couldn't find a single bad thread about the Ironmasters on the Bodybuilding.com online community and forum. Everyone there swears by either these or the PowerBlocks if you're looking at adjustable dumbbells.
So I took to Amazon, and out of the 120+ reviews on the Ironmaster's listing, there are literally only 6 bad reviews, 5 of which were people complaining about the adjustment system taking too long to change weight settings, which we already talked about, so nothing new here. The last critical review was complaining about the locking screw coming loose, but I read the comments and it was determined that this was user error, so nothing to report on here either.
Ironmaster Quick-Lock Video
The Verdict
Pros
• Extremely durable thanks to traditional design
• Quick-Lock system provides a tight fit so weights do not rattle at all
• Easy to adjust the weight
• Adjustable in precise 2.5 lb increments
• Add-on kits available to reach higher weight ranges
• Nice, well-balanced feel
• Lifetime warranty and great customer service
Cons
• Slower to adjust weight than other models because you have to manually add weight plates
• Dumbbells get somewhat long if you're using higher weight ranges (over 80 lbs)
Overall, the Ironmaster Quick-Lock dumbbells are a phenomenal choice for anyone looking for a tough traditional-styled set of adjustable dumbbells. These are everything that Arnold Schwarzenegger himself would have loved to use back in the day.
They have massive weight potential for anyone looking to lift super heavy, which makes these really nice for strong weightlifters. In addition, these are definitely the most durable adjustable dumbbells on the market, so if you have a tendency to be rough with your weights, these can withstand just about any abuse you throw at them. In the end, no matter what reason you're considering them, the Ironmaster Quick-Locks are definitely recommended.