The Bowflex SelectTech 552 adjustable dumbbells are without a doubt the most popular home dumbbells set on the market, and I love them. (Note: the SelectTech 1090's have a wider weight range than the 552's).
The 552's have the highest user rating out of any other set, and have built a seriously impressive reputation throughout the fitness industry. Bowflex reportedly sells thousands of these things every month. But besides the attractive design and the popular Bowflex name, the feature that really sets the SelectTech's apart from the crowd is their unique dial-a-weight adjustment system.
I had the opportunity to get my hands on a pair of these and workout with them for a few weeks, so I put together a detailed review for anyone thinking about buying the Bowflex SelectTech 552 dumbbells.
Product Overview
Like all top-notch products, it's not about who does it first, it's about who does it best. And I think Bowflex had that in mind when creating the SelectTech series. The concept of adjustable dumbbells has been around for years now, tracing all the way back to PowerBlock in the early 1990's, so it's not like Bowflex introduced this totally new idea to the world. Instead, they took this existing concept and figured out a way to make things faster, easier, and more desirable to the average home athlete. When they finally released the SelectTech 552, their innovative design was not only a total game-changer to the home dumbbells category, but also to the home gym equipment industry as a whole.
It's not hard to see that Bowflex beats out their competitiors, like PowerBlock. We have a Best Adjustable Dumbbell article that breaks down PowerBlock vs Bowflex vs Iron Master that has all the details.
The main reason for this was the introduction of Bowflex's unique new SelectTech dial adjustment system. It was an industry-shock to say the least. Prior to the Bowflex dumbbells, the only way to change weight settings on an adjustable dumbbell was using some type of pin or screw and manually adding or removing the weight plates yourself. With the SelectTech's, there was now a numbered dial on the end of each dumbbell, and all you had to do to change weight was simply twist the dial and go. It was straightforward, easy to use, and most of all: lightning-fast. Naturally, the Bowflex SelectTech 552 flew off the charts and eventually became what we know it as today: the best-selling adjustable dumbbells set of all time. It's the hottest set on the market and is still to this day the fastest and easiest system to use by far.
Features & Specifications
• Weight range of 5-52.5 lbs per dumbbell
• Adjustable in 2.5 lb increments for the first 25 lbs
• 15 different weight settings: 5, 7.5, 10, 12.5, 15, 17.5, 20, 22.5, 25, 30, 35, 40, 45, 50, and 52.5 lbs
• 2-year warranty
• 6-week Fitness Results Guarantee (money-back guarantee)
• Each set includes bonus workout DVD
• Dimensions: 8″ x 9″ x 15.75″ (W x H x L)
Weight Range
The Bowflex SelectTech 552's offer a fairly wide weight range to work with, from as little as 5 lbs to as much as 52.5 lbs (per dumbbell). There are 15 different weight settings to choose from, and what's really nice about the SelectTech 552's is that you have the ability to adjust weight in 2.5 lb increments for the first 25 lbs (once you get to 25 lbs, it moves up in 5 lb increments). Small, precise weight increments like these are crucial if you want the most versatility out of your adjustable dumbbells. Most other sets only offer the ability to adjust in 5 lb or 10 lb increments, so I liked that Bowflex gives you the extra micro-increments to get the most precise weight settings. For most people, trying to increase weight in bigger increments (like 5 or 10 lbs at a time) is too difficult for your muscles to do, so you struggle with keeping good form and can't complete your reps, which means you don't build strength as well. Fortunately, because the SelectTech 552's can adjust in such small increments, you have the ability to increase weight at a more steady pace which allows you to keep perfect form, get your full rep range, and gain strength faster and easier.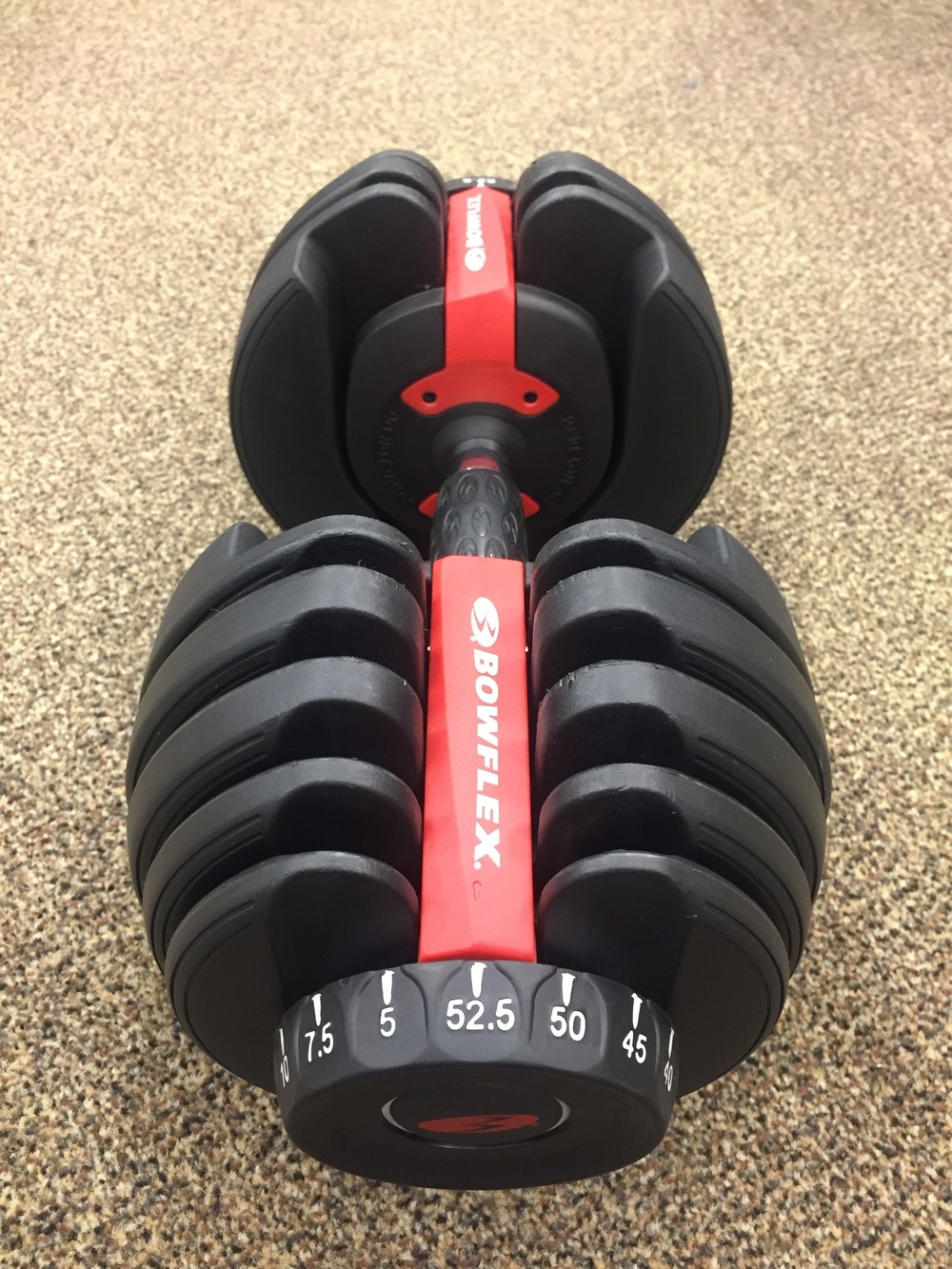 The only downside for stronger or more advanced weightlifters is that the weight range is not expandable, so if you ever needed more weight than the 52.5 lbs they offer, you'd have to buy an entirely new set of adjustable dumbbells that had a higher weight range. This isn't really a make-or-break for most people as the current weight range is suitable about 90% of people, but if you're a stronger weightlifter or if you envision yourself getting stronger in the future (to the point where you'll need more than 52.5 lbs), you should definitely plan accordingly.
Adjustability
Bowflex's patented SelectTech dial-a-weight adjustment system is hands-down the best feature about the Bowflex 552's. This is the very reason that the Bowflex set is the most popular adjustable dumbbells set on the market, so let's talk about how it works. On each end of the dumbbell, there is a numbered dial that you twist to select different weight settings. Weight plates attach to the dumbbell using brackets inside each handle, so when you turn the dial and select a weight setting, these brackets are essentially "grabbing" the appropriate weight plates to match the dial's weight setting. Any weight plates that aren't grabbed will be left behind in the dumbbell's base cradle. The base cradle is basically a tray fitted to the shape of the dumbbell that holds all of the weight plates in an upright position so that you can easily slide the dumbbell in and out when changing weight settings.
The video above shows the adjustment system in action, but let's give another example. So let's say you want to select a 25 lb weight setting. Simply turn both dials to the 25 lb indicator, pull the dumbbell out of the tray, and now you've got a 25 lb dumbbell. The brackets will have grabbed the necessary weight plates to make the dumbbell 25 lbs, and left the remaining weight plates sitting in the cradle. It's really that easy. Changing weights takes literally two or three seconds, making these by far the fastest and easiest dumbbells to adjust. And because of this quick adjustability, the SelectTech 552's are great for fast-paced routines like P90X, Body Beast, or any workouts that requires quickly switching between different dumbbells.
Quality & Durability
Bowflex is a premium brand that's known for its high-quality products, so I expected nothing less of the SelectTech 552's when I first received them. Something I like about Bowflex in general is that they always put a lot of effort into development and design so that when their products come out, they are among the best in their category. And the SelectTech 552's have proved that yet again. The 552's are the best-selling AND the highest-rated set of adjustable dumbbells on the market (and that's statistically proven, not just my opinion). They currently have over 2,400 reviews on Amazon, of which a massive 96% are positive, with many people calling these "the best adjustable dumbbells ever made." To me, that speaks volumes. In my personal experience with them, the SelectTech 552's have been nothing short of the perfect adjustable dumbbell. Over the past several weeks, I've put them to the test with a good mix of both fast-paced and rough workouts, and the SelectTech's have held up incredibly well. Everything works smoothly as it should, and they're actually quite durable despite the dial system's intricate design. The handle, core, and brackets are all made with high-strength metal for a secure fit with no rattling weights, and the weight plates have a thick hard plastic coating to withstand any regular gym use.
However, there is one thing to note about the durability of the SelectTech 552's. Because the dial adjustment system uses brackets to attach the weights to each handle, the SelectTech's aren't made to handle being dropped frequently. Lifting weights can normally be a little rough, so you just have to be careful that you're not dropping these a lot as it may damage the core brackets that are used to secure the weight plates. I don't really see this being a major issue though, as long as you're not dropping these after every set, you should be fine.
Warranty & Money-Back Guarantee
Bowflex offers a 2-year warranty on the SelectTech 552's that covers both parts and labor (if you have to send them back to fix an issue), which I thought was cool because most companies only cover parts on their products. However, some people are also more worried about at sooner problem: what if you get your dumbbells and you don't like them? Well, Bowflex has a solution for that as well, offering a 6-week Fitness Results Guarantee on every purchase. They're so confident you'll love your SelectTech's that they'll completely refund you if you're not absolutely happy with them. This was impressive to me because I like a company that stands by their stuff, and I think a guarantee like this is important because it makes your purchase 100% worry-free and gives you the opportunity to try them for awhile, almost like a free trial, but you still have to pay upfront. If you buy a pair and don't like them, you can return them and get your money back with no questions asked.
Additional Images
How Do They Feel?
The rubber handles are a little larger than traditional dumbbells which provides a much more comfortable grip, and I liked that Bowflex kept a rounded weight design because it helps make the dumbbell feel more natural as you lift it. However, I did have a slight issue with the length. Each dumbbell is nearly 16 inches long, and because of Bowflex's bracket-style weight design, the overall length of the dumbbell doesn't change with the amount of weight you have attached. This means that no matter what weight you have selected, whether it's 10 lbs or 50 lbs, the dumbbell will always be 16 inches long. It doesn't prevent you from doing any exercises or anything like that, but it just feels a little awkward from time to time. It's something you have to get used to. I did actually notice one benefit to this longer design, though! The long design requires you to use your stabilizer muscles more to combat the wider weight, which in turn gives you a more challenging workout because you're engaging more types of muscles at once. I found that this helped me learn to control the weight a lot better as well, which is extremely useful in any free weight exercises.
Anything Bad About The Bowflex SelectTech 552's?
I love pretty much everything about the Bowflex SelectTech 552's, so I definitely wouldn't say there was anything bad about them. However, there are a couple things to take into consideration before buying just to make sure these are absolutely the best adjustable dumbbells for you.
The main consideration is the fact that the weight is not expandable. The weight range of 5-52.5 lbs is honestly going to be more than enough for the majority of people, but you should always plan for the long term. If one of your fitness goals is to get a lot stronger, then you may want to consider taking a look at Bowflex's higher-weight model, the SelectTech 1090. It's essentially the same exact dumbbell, just with a higher weight range (10-90 lbs). I'm only telling you to consider the weight range issue now because if you buy the SelectTech 552's and eventually need more weight down the road, your only option will be to buy an entirely new set of dumbbells (which can be costly).
The second consideration would be the size, which I discussed in detail above in the How Do They Feel? section. The overall size of the SelectTech's are significantly longer than other models which can feel a little funky or awkward to those that are used to a more traditional dumbbell size. I personally don't think it's a big deal, it just takes a little getting used to.
Since I didn't really have anything bad to say about the SelectTech 552's, I decided to read through all of the critical reviews on Amazon to see how other people's experiences have been. Funny enough, most of the reviews mentioned the long size like I did. Nearly all of them came to the same conclusion as me though, that the size was just something to get accustomed to and wasn't a deal-breaker. I'm glad I wasn't the only one who thought that. On another note, one of the main complaints you'll find while reading past customer reviews is that the weights rattle a little bit while in use because of plastic parts used on the weight plates and brackets. These reviews are wildly outdated, and if you'll look at the date, you'll notice those reviews are all pre-2009. In 2009, Bowflex updated the SelectTech 552's and replaced all plastic parts with high-strength metal, which created a much tighter, stronger fit between all of the system's moving parts and eliminated the rattling problem. I wanted to address this just in case you had any worries about the weights rattling.
Bowflex SelectTech 552 Video Review
Pros
Extremely user-friendly design
Best-selling adjustable dumbbells on the market with a 96% positive user rating
#1 fastest and easiest dumbbells to adjust weight
Adjustable in precise 2.5 lb increments
Comfortable, contoured rubber-gripped handle
Money-back satisfaction guarantee
Cons
Weight range is not expandable beyond 52.5 lbs
Long, larger size makes dumbbells somewhat awkward during first few weeks of use
Weight brackets susceptible to damage if dropped too much
The Verdict
Overall, the Bowflex SelectTech 552 dumbbells are one of the best sets of adjustable dumbbells I've ever used. What impressed me the most about the 552's was that they excelled in nearly every category you can look at when comparing different models. They have a great weight range to work with, small and precise weight settings, nice design, but most of all, they are incredibly easy to use thanks to the SelectTech dial adjustment system. In fact, my brother and I were so impressed with them that we awarded the 552's with "Best Adjustable Dumbbells Overall" in our adjustable dumbbells buying guide where we compared the top 6 models against each other. After testing out each model, the SelectTech's really are the best all-around set, and it's no wonder they're the highest-rated set in the industry. If you want an amazing set of adjustable dumbbells at a great price, the Bowflex SelectTech 552's are for you.