They say that 80% of a healthy lifestyle happens in the kitchen – and that is true! Without the right food in your system, you ultimately put all your effort in the gym to waste. So a major investment you should consider making aside from anything you might need for fitness should include a few nifty kitchen tools.
A popular pick for lots of dieters and fitness enthusiasts are Egglettes. These little pods feature a design that lets you hard boil eggs without the shell. Ultimate, this should allow you to enjoy a light, healthy snack or meal without having to go through the often tedious process of peeling eggs. They can also be used to cut down the prep time for a variety of recipes that you can
Personally, I thought something like this could be useful. If you enjoy an occasional salad, or if hard boil eggs are a major component of your day to day meals (since they are one of the best foods to eat to gain muscle), then perhaps Egglettes would make a suitable purchase. The only question is – are they worth it?
I dove right into to it to find out more about these promising little pods. I went through countless verified user reviews, read up on the company behind them, and basically dug up everything I could find on Egglettes. And unfortunately, you'd be better off hard boiling your eggs the old fashioned way. What made me say that? Discover why I find Egglettes to be a dud and discover alternatives you might enjoy better with this complete guide.
The Concept of Egglettes
The concept behind Egglettes is that the little pods let you cook your eggs without the shell. Not only is this a convenience for people who don't necessarily enjoy the process of peeling fickle hard boiled eggs, but also provides users the opportunity to try a variety of recipes. (Like poached egg whites, which are a great Fat-Free Protein Source)
This is because when you hard boil an egg the old fashioned way, there's no way you can add ingredients to them until they're cooked and peeled. With the Egglettes, you can toss in a variety of spices, vegetables, and even meats into the pod with the egg and thus cook up hard boiled eggs in more ways than one.
While all of that might make Egglettes seem like a promising kitchen tool, I have to point out that there are a number of design flaws that make it difficult to achieve those picture perfect meals that the company uses on their Egglette advertisements.
The Problem with Egglettes
Egglettes are an As Seen On TV product, which as we all know, kind of makes their reliability and effectiveness slightly questionable. As Seen On TV products tend to come with a lot of promises which they're not always able to fulfil.
With the Egglettes, it seems that reputation continues to be true. Firstly, the company promises that once the eggs are cooked, all you need to do is pop them out of the pods. Simply "popping them out" isn't really as easy as it seems as lots of users claim that it's necessary to use some sort of oil or cooking spray on the inside surface in order to prevent the eggs from sticking.
Another concern is that even when they're oiled up, the vacuum created by the Egglette can prevent the egg from popping out anyway. So, to effectively get it out with as little damage to the egg as possible, it's recommended that users take a spoon and scoop it out of the pod.
One thing I can't help but think of is this: is boiling in plastic safe? The consensus is yes, but there is some evidence that the chemicals in the plastic can bother those with sensitive systems.
Keeping them upright while boiling is another issue that many buyers won't anticipate at the start. Of course, you would expect that the pods should stand up straight while boiling, but when you reach that rolling boil, expect these little Egglettes to start turning over.
The problem with this is that the caps aren't necessarily tight enough to keep the eggs from leaking. So once they do turn over in the water, runny egg whites can easily seep into your boiling water and cause a giant mess. Not to mention, destroy your hard-boiled egg outcomes all together.
With that, it's easy to see that the Egglette could require significantly more time, resources, and steps compared to your traditional methods for hard boiling an egg.
A Few High Notes
I wouldn't say that Egglettes are complete junk. For one, the recipes you can make with them can actually be pretty impressive, especially if you manage to get them to work right. I particularly appreciate the fact that the pods make it possible for you to upgrade an egg with a variety of ingredients before they're cooked – a benefit you won't achieve if you plan to hard boil the traditional way.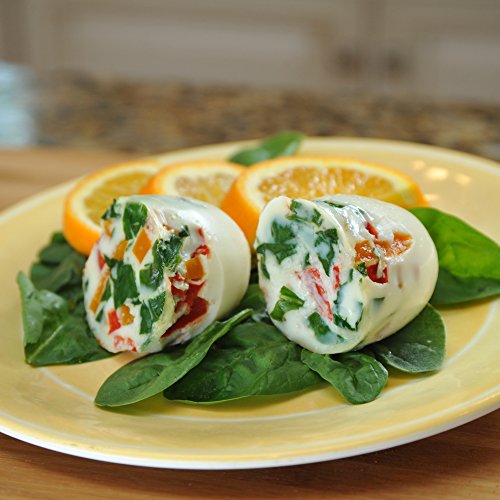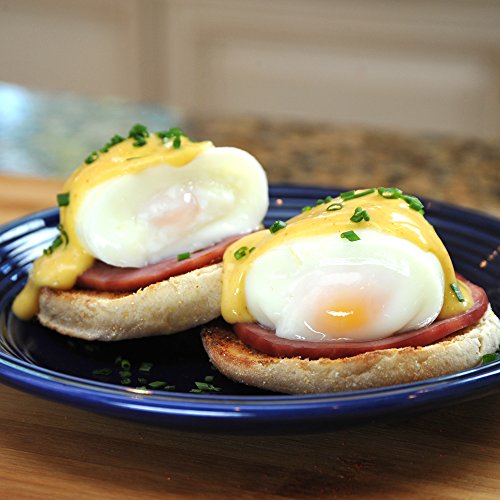 Another thing I like about Egglettes is that they're dishwasher safe. Cleaning them and maintaining them is incredibly easy, so there's really nothing to worry about if we're talking post-meal clean-up.
If you don't like peeling hard boiled eggs, then that's another thing Egglettes have going for them. They come out of the pods completely shell-free. So you don't need to slouch over a running tap for half an hour just trying to get the shells off of your hard boiled eggs.
Finally, they're cheap. At less than ten bucks for a package of 4 Egglettes, I would say you're not really tossing out a fortune if you find they're not up to your standards. Besides, there were a bunch of clever buyers who found them to be better for other purposes. One buyer said he decided to use them to make homemade popsicles for his kids instead, which I can definitely see working given the shape and size of the little pods.
What I Like About Egglettes
Easy to clean.
No more tedious hard-boiled egg peeling.
Versatile, allowing you to try a variety of recipes with simple ingredients.
Affordable.
Some Points for Improvement
Pods turn over in boiling water causing egg whites to leak.
Interior surface isn't non-stick, so you still need some sort of oil or cooking spray.
Even when they're oiled, it's still necessary to run a spoon around the edges to get them out of pods.
Cap isn't tight enough.
Require a lot more steps and time compared to traditional methods for hard boiling an egg.
The aesthetic of the cooked eggs might not be as presentable, so they can be a challenge to serve to guests at parties.
The Verdict
Don't get me wrong – I wanted to like Egglettes. But while the concept was great, the product's execution just kind of leaves a lot to be desired.
With that, I really can't bring myself to recommend Egglettes to anyone. If you still want to give them a shot though, they're really cheap. So you can rest assured that you're not really going to feel too much buyer's remorse once you discover they don't meet expectations.
Are There Alternatives?
There are a few other similar products on the market that promise the same benefits and results. Here are just a few that we recommend.
Egg Poaching Cups
These Silicone egg poaching cups, for example, are another As Seen On TV-type product that lets you hard boil eggs without the shell. Before you dive in to make that purchase though, I will tell you that there are very few differences between these cups and Egglettes. The biggest difference is that there is no lid with these silicone cups, so the chances of achieving the results you want with them is yet again, questionable at best.
Egg Cooker
If the reason that you wanted to purchase Egglettes was to have a fast and easy way to cook eggs because you eat them often, then I would definitely recommend an egg cooker. The Dash Rapid Egg Cooker can hold 6 eggs. You can hard boil them, soft boil them, poach them, scramble them, and even make mini omelettes. It can do all the same things as the Egglettes, but you don't need a stove.
This loud, but effective machine comes with everything you need to make all types of eggs. It's perfect for life in a small apartment or dorm setting. And for just a tiny bit more money than the Egglettes, I think it's a better use of your money.
Egg Peeler
Personally, I think it would be better to invest in other tools. For instance, if you don't like the process of peeling, the Negg Boiled Egg Peeler can be a suitable alternative. Keep in mind though that while the Negg can work as advertised, certain factors can affect the outcomes. These include the freshness of the egg, the intensity of shaking, and the amount of time the egg was left to boil.
Egg Cookbook
If you were hoping to buy the Egglettes for the sake of the recipes you can achieve with them, I would suggest that you look for a cookbook instead. For egg-specific recipes, I can suggest The Egg Cookbook: Top 50 Most Delicious Egg Recipes. The quick, easy, and simple procedures are perfect for people who want to step up their egg cooking game without spending too much time or effort in the kitchen.